NFL Odds & Picks For Rams vs. Buccaneers: Your Guide To Betting Monday Night Football
Credit:
Getty Images. Pictured: Jared Goff, Tom Brady
NFL Odds: Rams vs. Buccaneers
Rams Odds

+4 [BET NOW]

Buccaneers Odds

-4 [BET NOW]

Over/Under

48 [BET NOW]

Kickoff

8:15 p.m. ET

TV

ESPN

Odds via PointsBet, where you can bet $20 on the Rams or Buccaneers to win $250 if they cover.
The 7-3 Tampa Bay Buccaneers will host the 6-3 Los Angeles Rams in a popcorn-worthy NFC showdown that will likely have major playoff seeding implications.
These teams actually met last season when Tampa Bay pulled off a shocking 55-40 road upset as a 10-point underdog in a game that featured nearly 1,000 yards of total offense. Jared Goff threw for more than 500 yards but had three picks and lost a fumble that was returned for a touchdown. I doubt we see a similar type of game on Monday night, but let's take a closer look at each team before digging into the matchup and how I'm betting it.
Los Angeles Rams
Who exactly are the Rams?
We know they're 6-3, but five of those wins came against the Bears and the entire dreadful NFC East. That didn't inspire much confidence in their underlying metrics. However, the perception definitely shifted after an impressive win over the Seahawks last week.
Yes, the schedule has helped inflate some of the Rams' performance measures. However, there are some aspects to like, primarily as a result of scheme changes on both sides of the ball.
Rams Offense
After a disappointing 2019 season, Sean McVay went back to the drawing board and tweaked the offense. The results speak for themselves: The Rams have the sixth-ranked offense in Football Outsiders' DVOA, up from a finish of 15th last season.
It all starts with the three-headed backfield monster of Darrell Henderson, Cam Akers and Malcolm Brown. The trio has helped rejuvenate a Los Angeles rushing attack that ranks first in DVOA. The offensive line has also significantly improved, ranking in the top two in Adjusted Line Yards and Power Success Rate (per Football Outsiders).
Goff still has his limitations — he has a very long, mechanical throwing motion and struggles mightily under pressure. However, McVay has implemented changes to cater to Goff's strengths and weaknesses: Overall, it's a fairly short passing attack that utilizes plenty of two tight end sets with Tyler Higbee and Gerald Everett. McVay is also putting Goff in more comfortable situations by moving him outside of the pocket more frequently and using more play-action.
Goff has used play-action on 38.4% of his dropbacks, second to only Cam Newton and up from 32% last season. (Tom Brady sits on the other end of the spectrum at only 18.9%). When Goff has thrown for six touchdowns and no interceptions on play-action compared to seven touchdowns and six interceptions otherwise.
On third down passing situations, the Rams will heavily rely on Cooper Kupp, who leads a group of wide receivers for an aerial attack that's vertically challenged.
Rams Defense
By most measures, the Rams defense has performed at an elite level this season. Yes, facing a bottom-three schedule of offenses so far has helped, but so have the schematic changes implemented by new coordinator Brandon Staley.
Staley has brought a lot of college concepts to a much more modern looking defense. He utilizes much more two-high safety looks (No. 2 in explosive pass defense) and has altered the defensive front formations. The key is lots of disguise and pre-snap movement with hybrid man/zone coverages that are intended to confuse opposing quarterbacks.
It helps to have the NFL's best defensive player up front in Aaron Donald, whose 92.5 pass rush grade from Pro Football Focus leads all defensive lineman. It also doesn't hurt to have a lockdown corner on the outside in Jalen Ramsey (although he's lining up in many different positions in Staley's new defense).
It's still a stars and scrubs defense, but the emergence of cornerback Darious Williams has given the Rams a legitimate outside corner duo, which is just a massive advantage in today's NFL.
With Troy Hill moving to slot, Williams has thrived on the outside. Ramsey and Williams actually rank No. 1 and 2 in the NFL in coverage snaps per reception (min. 100 snaps), trailing only Ravens cornerback Jimmy Smith. Williams also boasts a league-leading 41.4 quarterback rating when targeted with only one touchdown allowed and four interceptions. What's promising to me is that the undrafted rookie out of UAB also played well in limited time last season.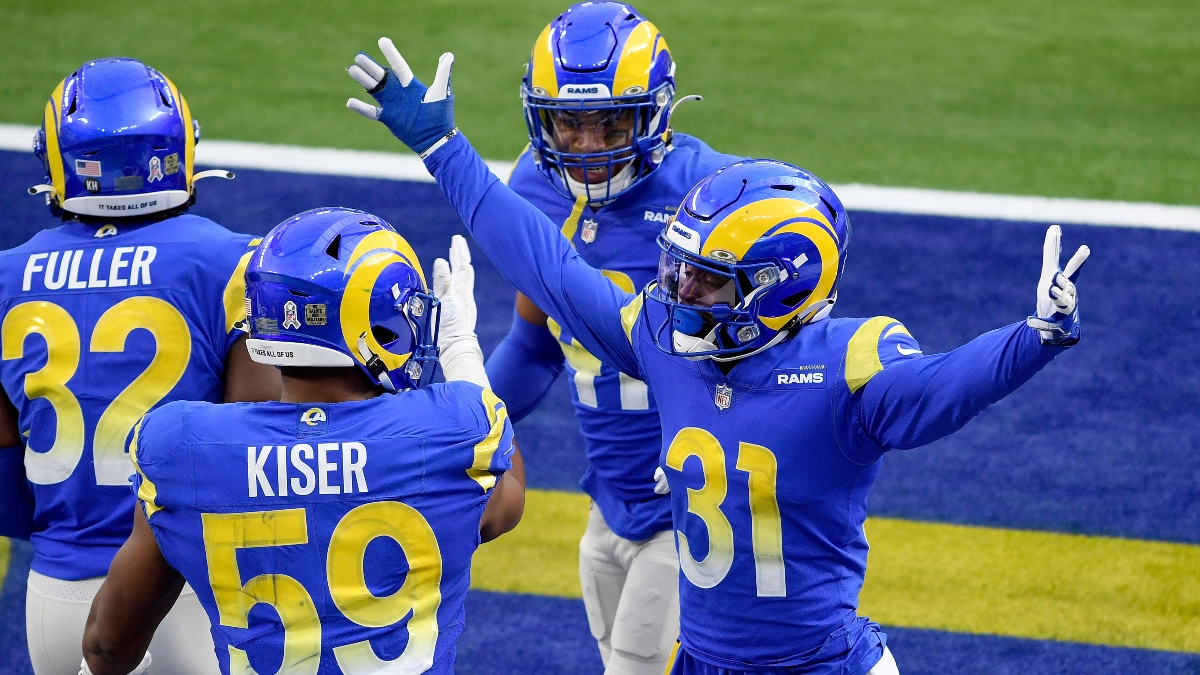 The safety play has also been better than expected, especially now with rookie Jordan Fuller returning from injury to slide in at free safety. John Johnson has been tremendous, too — whether it's as a deep safety, in the box or covering in the slot. Per PFF, he has the fifth-best coverage grade among 70 safeties with at least 300 snaps in 2020.
Rams Jet Lag?
The Rams have had the most brutal travel schedule of any team in the league so far this season. They made back-to-back trips to the East Coast in Weeks 2 and 3, then returned in Week 5 to face Washington and again in Week 8 to face Miami.
Amazingly, this will mark the Rams' fifth trip out to the eastern time zone in 11 weeks.
Could we potentially start to see all of that travel catch up to the Rams here? Personally, I don't think it will be much of an issue — they recently had a bye and also get an extra day off ahead of this Monday night affair.
For what it's worth, West Coast teams playing in the eastern time zone have gone 118-112-7 (51.3%) since 2003, per our Bet Labs database. There was a time when fading the road team was profitable in this spot, but teams have become smarter about travel and the market generally prices away any of those types of inefficiencies over time.
McVay has also had no issues getting his team ready for these East Coast games. He's 8-3 (72.7%) against the spread (ATS) on the other side of the country, covering by an average of more than seven points per game. He's 2-2 ATS in this spot in 2020 with two easy wins, a flukey loss to the Dolphins and a last-second loss to the Bills — although you could argue the Rams came out a little sluggish in the latter two.
Tampa Bay Buccaneers
Whether you go off the eye test or statistics, this is one of the most complete teams in the NFL. I personally have the Bucs power rated as the third-best team in the league.
Bucs Offense
I don't need to say much about the passing attack — Tom Brady is growing more comfortable in this new system and has as many weapons as any quarterback in the league.
The wide receiver group is also as healthy as it's been all season and has added Antonio Brown to the mix.
The biggest surprise of the offense has been Ronald Jones, who has provided a welcome boost to their ground game, ranking second in average yards after contact (trailing only Dalvin Cook).
It could be random, but I have to point out that the Bucs have struggled immensely whenever they've gone up against top-tier defenses this season: They're 0-3 vs. top 10 defenses, averaging 15 points per game, while they're 7-0 vs. defenses I have ranked outside of the top 10, averaging 35.8 points per game. Those defenses had an average rating of 22nd.
We'll see what they can do in their fourth game against a top-10 defense this week.
Bucs Defense
While Brady's bunch gets all of the publicity, Tampa's defense is no slouch. In fact, it ranks No. 1 overall DVOA.
Todd Bowles is one of the best coordinators in the NFL. His aggressive 3-4 base defense has been extremely stout against the run for the second straight season, once again grading out as the best run defense in the NFL. The defensive line ranks No. 3 in Adjusted Line Yards, No. 1 in running back yards, No. 2 in open field yards, No. 1 in second level yards.
That'll work.
The Bucs do miss Vita Vea, who had become a top-five interior defensive lineman, but signing Steve McLendon has really helped fill Vea's void. Even at age 35, McLendon is still very good against the run. They needed to do something other than rely on Rakeem Nunez-Roches, who has major flaws. The rest of the defensive line is great with Ndamukong Suh and William Gholston, who help eat blocks to free up the linebackers can also provide pressure on opposing quarterbacks.
Speaking of the linebackers, this group can really get after the quarterback. Jason Pierre-Paul and Shaq Barrett can wreck havoc off the edge, while Bowles will aggressively blitz his interior backers. Devin White has thrived as a pass rusher. Meanwhile, Lavonte David is arguably the best linebacker in the NFL right now. His game has no holes.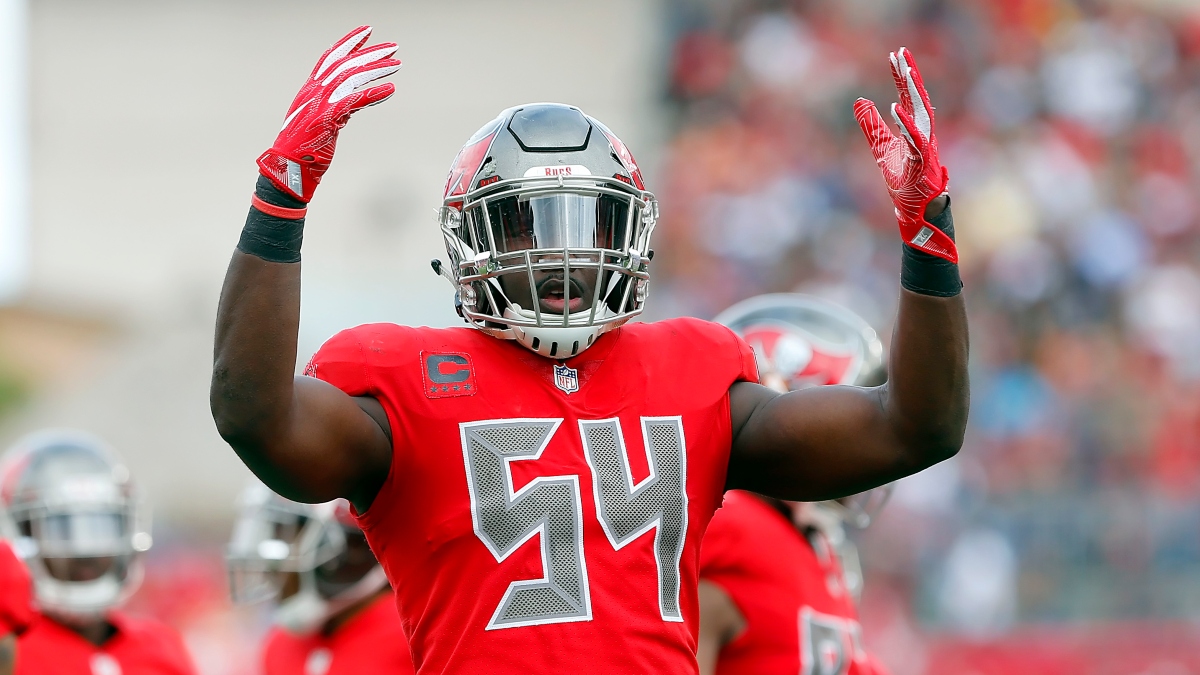 Additionally, the outside corner group is one of the best in the NFL with Sean Davis and Jamel Dean. Safety Antoine Winfield Jr. has also played extremely well for a rookie on the back end. Sean Murphy-Bunting has struggled some in the slot (fourth-highest quarterback rating allowed), which is something the Rams may look to exploit with Kupp.
Overall, this is a top-three defense in the NFL with strengths at all three levels.
Are the Bucs Morning People?
For whatever reason, the Bucs have looked sluggish in both of their primetime games so far this season. Both of their losses came at night against the Bears and Saints, and while it might just be all noise, head coach Bruce Arians did alter the practice schedule to include more night sessions leading up to this game, so it's at least worth pointing out.
Rams-Buccaneers Pick
Ultimately, this is a great matchup for the Bucs defense.
As I mentioned before, Goff really struggles under pressure:
Under Pressure: 2 TDs; 4 INTs; 38.5 com%; (31st of 35 quarterbacks with at least 100 dropbacks); 54.7 adjusted com% (31st); a 36.8 Passer Rating (32nd)
Clean Pocket: 11 TDs; 2 INTs; 85% adjusted completion percentage (second); 113.5 Passer Rating (ninth)
And the Bucs can certainly get pressure, ranking No. 3 in Adjusted Sack Rate. Expect Bowles to bring plenty of pressure throughout, which should lead to a few key Goff mistakes.
Also, don't forget the Rams will be without star left tackle Andrew Whitworth. The impact of his loss can't be overstated. Whitworth owns a gaudy 90.5 PFF pass blocking rate, which ranks second among all offensive linemen with at least 250 snaps, trailing only the now-injured Ronnie Stanley.
I also mentioned how the Rams offense relies on its rushing attack and short passes. Goff has attempted only 32 deep balls (20 or more yards) — 20 fewer than Brady. Of 30 quarterbacks with at least 15 deep attempts, Goff ranks 24th in deep ball percentage at 10%.
Well, that should play right into the hands of a Tampa Bay defense that has a historically-dominant rush defense and ranks fourth overall against short passes.
On the other side of the ball, while I'm a believer in Staley's scheme in L.A., Brady is a master of diagnosing defenses, so the disguises may not be as effective. Brady can also attack the intermediary part of the field and exploit a vulnerable group of Los Angeles linebackers. Plus, his receivers are simply too talented on the outside to not make a few critical plays.
It's also worth noting the Rams' kicker situation is not ideal at the moment. That could come back to bite them.
Regarding the kicker position, Rams HC Sean McVay said Matt Gay and Austin MacGinnis will compete tomorrow. The team will make its decision for Monday night's game afterward.

— Stu Jackson (@StuJRams) November 21, 2020
Since I made this line Bucs -5, I scooped up -3 earlier in the week, but I do still see a bit of value at -4 given the matchup advantages — I just wouldn't play it any higher than that.
As for the total, the pace could be above average. The Rams and Bucs rank fifth and 12th in situational neutral pace, respectively. However, each defense has excelled at limiting explosive plays. I also think that Donald could cause some issues with interior pressure and expect the Bucs to fluster Goff all night.
Tampa Bay can also take away everything L.A. wants to do. Therefore, from a matchup perspective, I'd lean under. I'm not sold on the total yet, though, so follow me in the Action app to see if I end up playing anything there.
PICK: Buccaneers -4
How would you rate this article?