Sunday NFL Picks, Spread & Total Bets, More Week 4 Predictions
Credit:
Thearon W. Henderson/Getty Images. Pictured: Josh Jacobs
With Cam Newton's positive COVID-19 test postponing the Patriots-Chiefs showdown, this Sunday will look a bit different than anticipated. But there's still plenty of action to get down on the main slate.
Our staff highlights their favorite Week 4 NFL picks below, including a case for both sides of the Colts-Bears spread and a few total angles.
NFL Picks For Week 4
Click on a pick to skip ahead to that analysis.
Travis Reed: Dolphins +6 (or better) vs. Seahawks
Kickoff: 1 p.m. ET | TV: FOX
Seattle is off to a 3-0 start and Russell Wilson is currently the media's favorite pick for NFL MVP. The great quarterback play has hidden some shortcomings of this Seahawks team, though, namely on defense.
The Seahawks have allowed 86 points over their first three games and at least 25 points to each opponent. It should be noted that the quarterbacks they've faced so far are elite, but this is no longer the Legion of Boom.
The big question heading into the season for Miami was how long Ryan Fitzpatrick would start before giving way to Tua Tagovailoa, but Fitzmagic has put that question on the back burner as he's performed admirably for both the Dolphins and fantasy owners.
The total for this game sits at 54.5 (find real-time odds here) as of Saturday afternoon, so we should expect a high-scoring affair. With the Seahawks having to fly across the country to play an early game, they could get off to a slow start.
I liked this line best at +7 but would bet it down to +6. The spread is now at 5.5 across the market, but could tick back up before kickoff, so be sure to shop for the best available line across multiple sportsbooks with our NFL odds tool.

[Compare real-time odds to find the best line]
Mike Randle: Seahawks-Dolphins Over 54.5
Kickoff: 1 p.m. ET | TV: FOX
The Seattle secondary has struggled to defend the pass all season.
The Seahawks rank 29th in Football Outsiders' pass defense DVOA and have allowed the most fantasy points per game to opposing wide receivers. Seattle has allowed an average of 47.9 fantasy points per game to opposing wideouts, more than 40% more than the second-worst team (Dallas). The Seahawks will also be without two key pieces of that secondary, cornerback Quinton Dunbar (knee) and safety Jamal Adams (groin). In addition, starting cornerback Shaquill Griffin is questionable with a shoulder injury.
Miami should be able to score points behind aggressive risk-taker Ryan Fitzpatrick, and both Miami wideouts DeVante Parker and Preston Williams are close to healthy after being limited over the first three weeks.
Seattle offensive coordinator Brian Schottenheimer has finally unleashed Russell Wilson on the NFL, and fantasy owners are forever thankful. Seattle ranks second in the league with 37 points per game and Wilson leads the NFL in passing touchdowns (14) and fantasy points per game (33.3).
Both Tyler Lockett and D.K. Metcalf have been spectacular this season. Last week, Wilson connected with Lockett for three touchdowns passes en route to the overall QB2 and WR1 performances, respectively. Lockett ranks sixth in targets (29), third in receptions (24) and second overall in PPR fantasy points per game (24.6) while Metcalf ranks fourth in air yards and is eighth-best with 19.2 fantasy points per game.
The Dolphins were scorched by Stefon Diggs (8/153/1) and John Brown (4/82/1) in their Week 2 loss to Buffalo, and their top cornerback Byron Jones (groin) is listed as doubtful, making the path to scoring even easier for Seattle.
The second-highest projected game total on the Sunday main slate belongs to Seattle at Miami. I can't see how this game stays competitive unless it's high scoring, and per our public betting data, 87% of the bets and 92% of the money is on the over as of writing.
While I usually prefer to fade the public, I simply can't in this matchup.
Fifty-five is a key number when betting totals, so I would only feel comfortable betting the over up to the 54.5 points.
[Bet Over 54.5 at DraftKings and get a $1,000 bonus, including a $500 risk-free bet]


Sean Koerner: Jaguars at Bengals Under 49.5
Kickoff: 1 p.m. ET | TV: CBS
Scoring is way up this season — the average score per game is 5.6 points higher than in 2019 and the median total score so far has been 49 points. There could be many reasons for the rise in scoring given the unique circumstances of the 2020 season, which is why I'm going to be very careful with totals in the meantime, especially when it comes to betting unders — I've been getting crushed by them so far.
That said, I'm projecting this Jaguars-Bengals matchup to be a slower-paced, lower-scoring game than league average. Therefore, I'm comfortable taking the under here given it's in-line with the median score of a historically high-scoring season so far.
If the high scoring has been due to sheer randomness so far, we would inherently benefit from the league regressing toward the mean this week.
I have this total projected closer to 47 points.
The Bengals' 69% pass rate ranks second, but is mainly due to them playing from behind 61% of the time so far. They've passed 75% of the time when trailing, which ranks third. Now as favorites (find real-time odds here), the Bengals could be in a leading game script for much of Sunday, which will allow them to lean on Joe Mixon quite a bit and take some pressure off Joe Burrow.
Burrow has been sacked a league-high 14 times through three weeks, so the Bengals will need to protect their franchise QB, and this should be the perfect game to do that.
On the other side of the ball, the Jaguars play at a snail's pace of 34 seconds per play, which is dead last according to Football Outsiders. They should also run the ball against a Bengals defense that currently ranks eighth against the pass according to Football Outsiders' DVOA and 21st against the run.
I expect a lower-scoring environment and would bet this down to 49.

[Bet the Under 49.5 at BetMGM and get a $500 INSTANT deposit match]
Stuckey: Raiders +3.5 vs. Bills
Kickoff: 4:25 p.m. ET | TV: CBS
The Bills come into Week 4 with a perfect 3-0 record, but it's a bit of a mirage. Yes, Josh Allen has played well, but they have wins over the Jets and Dolphins in addition to a very fortunate last-second win over the Rams.
Buffalo's rush defense also remains a liability. The Bills rank 26th in rush defense DVOA as a result of a defensive front seven that ranks 24th in Adjusted Line Yards and 26th in Second Level Rank. Now, the Bills will go up against one of the NFL's best offensive lines and one of a premier back in Josh Jacobs.
Vegas is fully capable of exploiting a vulnerable defensive interior.
Even without the likely services of both of their promising rookie receivers Henry Ruggs (doubtful) and Bryan Edwards (out), I still see value in the banged up Raiders at +3 or better.
[Bet Raiders +3.5 at BetMGM and get a $500 INSTANT deposit match]

Kickoff: 4:25 p.m. ET | TV: CBS
The Bears are a fraudulent 3-0 team.
The Lions dropped a winning touchdown in the final seconds, the Giants came up just short in the red zone late, then the Falcons had a 16-point meltdown in the final seven minutes. Chicago has barely survived against teams that are a combined 1-8.
The Bears are due for a major regression.
Nick Foles certainly helps, but he's far from a panacea. Foles has been mostly average over his career, and Chicago still can't run the ball and just lost dynamic RB Tarik Cohen for the season. Foles may have caught the terrible Atlanta secondary off guard, but Indianapolis has been shutting opponents down — the Colts are the No. 1 ranked defense in DVOA.
The Colts have been overlooked after their disappointing Week 1 loss to Jacksonville, but they've been very good since and were honestly pretty good in that one, too. The records here say 2-1 vs. 3-0, but the true ability of these teams has been much closer to 3-0 Colts vs. 1-2 Bears.
Indianapolis rates as the better team on offense, defense and special teams, and Chicago has no real home field advantage. I love this line below a field goal, so I'm grabbing it before the hook comes, but I'll play at -3 if needed.

[Bet Colts -2.5 at FanDuel completely risk-free for $1,000]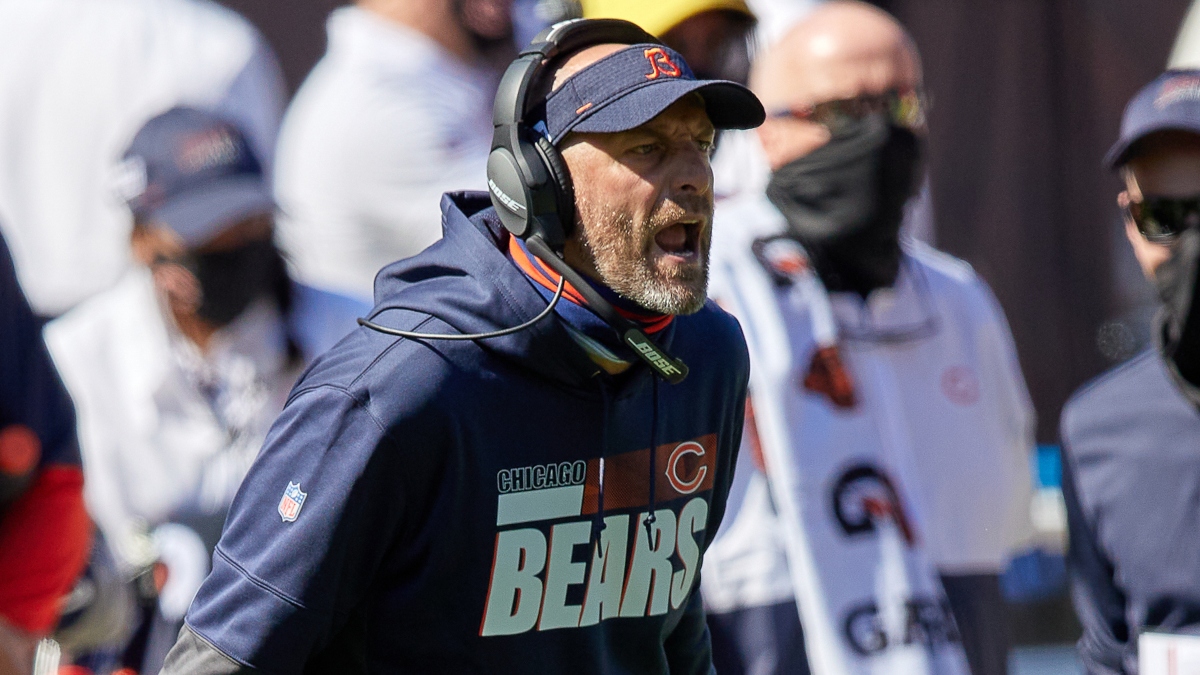 Kickoff: 4:25 p.m. ET | TV: CBS
Oddsmakers opened the Colts as 2.5-point road favorites over the Bears with the line sitting between 2.5 and 3 as of Saturday afternoon. Every line tells a story, and the lack of movement on this game paints an interesting one in regards to the perception of both these teams.
The Bears and Colts have played six teams with a combined 2-17 record, so what do we actually know about these two teams?
The Colts are first in run defense, fourth in pass defense, seventh in takeaways and first in overall DVOA. For those reasons, you can see why the market is telling us the Colts are 5-6 points better than the Bears on a neutral field.
Personally, I'm not buying it.
The Bears' schedule isn't anything to write home about, but the Colts have played quite possibly the easiest schedule in the league against the Jaguars, Vikings and Jets and sit at only 2-1. Against three of the worst defenses in the NFL, the Colts are dead last in third down conversions, going 10-33 (30.3%) and have three giveaways, all of which are Phillip Rivers interceptions.
Now the Colts head out on the road against the Bears, who are sixth in defensive DVOA, and will be without wide receivers Parris Campbell and Michael Pittman due to injury. Given T.Y. Hilton's pedestrian start to the NFL season, these are significant losses.
The upgrade from Mitchel Trubisky to Foles is massive and opens up the playbook for Matt Nagy to do more. One interesting caveat is that both head coaches are from the Doug Pederson tree as past assistants with the Eagles, so both teams should be familiar with what each wants to do.
In a defensive game where we don't expect much scoring, I like the Bears +3 and think this is a good value play. Given the low total, the points are more valuable. This should also make a great six-point teaser leg to pair with the Buccaneers -1 (down from -7).
[Bet now at PointsBet and get $150 if the Bears score a point]


PJ Walsh: Colts-Bears Under 43.5
Kickoff: 4:25 p.m. ET | TV: CBS
When it comes to offensive and defensive efficiency, these two teams are mirror images of each other — and the reflection shows a low-scoring matchup.
Indianapolis and Chicago rank 18th and 26th, respectively, in offensive efficiency per DVOA. Sure, it's reasonable to expect the Bears to improve with Foles replacing Trubisky under center, but they'll face a tough task against Indy's defense.
The Colts are currently the top-ranked defense in the league according to DVOA with the Bears not far off at sixth overall.
And even if either team finds success moving the balls, neither has shown an interest to pick up the pace this season, with the Bears sitting 20th and the Colts 24th in situation-neutral pace.
The betting market agrees that the under is the valuable side of this total, evidenced by our new NFL PRO Report, with four of the five possible signals triggered:

Sign up for a FREE PRO Trial and track the biggest betting edges, including sharp action, large bets, historically profitable betting systems, model projections and expert picks, for every NFL Week 4 game!
---
As you can see above, sharp bettors have been dropping big bucks on this under, forcing oddsmakers to adjust for the influx of professional betting action by moving the number from 45 to 43.5.
This bet is good down to 43, but I'd be hesitant to play the under any lower.
[Bet the Under 43.5 at BetMGM and get a $500 INSTANT deposit match]
How would you rate this article?