NFL Odds & Picks: 4 Ways to Bet Bills vs. Titans on Tuesday Night Football
Credit:
Silas Walker/Getty Images. Pictured: Derrick Henry
The primary storyline heading into this rare Tuesday night NFL matchup will be the Tennessee Titans' 16-day break from football that was prompted by a wave of positive COVID-19 tests.
Our staff is factoring the potential impact(s) into their betting strategy for this matchup against the Buffalo Bills in different ways. Find their picks below.
Bills vs. Titans Picks
Remember the Titans?
No, seriously — do you remember them? Do you remember who plays on this team? Do you remember the last time the Titans played a real NFL game?
Real question: What team did the Titans last play, and how many days ago was it? I'll wait.
Give up?
It was the Minnesota Vikings, and the game happened a full 16 days ago.
The Titans have barely been to the practice facility since then, unless you count checking in for another failed COVID test. I've lost track of how many players have tested positive at this point or who is even suiting up for this game. Will players on the same unit even recognize each other? Will the team have any chemistry? Will there be residual locker room turmoil from a team that's either not on the same page or maybe a little too much on the same page?
I didn't trust the Titans even before this whole thing. Sure, they're 3-0 but they've won by one, two and three points against teams that are a combined 3-11 right now. A few more missed Stephen Gostkowski kicks, and the NFL would just be forfeiting these games by now toward a lost Titans season.
The Bills are undefeated, too, and actually look the part — at least more than the Titans. Josh Allen is a legitimate dark horse MVP contender, and Brian Daboll's offense is lighting opponents up down the field. Tennessee's defense has been average even against Denver, Jacksonville and Minnesota — what will it look like against a real offense?
I'm going to have to see real Titans football before I bet on this team again. The Bills are good and should take care of business against a disjointed, unpracticed team. I'll wait until game time to see if this line drops to -3, but I'm happy to lay the points up to -4.
[Bet now at PointsBet and get $125 if the Bills score a point]
Raheem Palmer: 6-Point Teaser Titans +9.5/Colts -2 (-120)
The Titans come into Tuesday night's game against the Bills decimated by a COVID-19 outbreak that has derailed Tennessee's season. The Titans haven't played a game since Sept. 27 and have just one practice under their belt since then.
Although conventional wisdom says that the Bills should have an advantage coming into this game, how do you quantify that? How many points is it worth to the spread that the Titans haven't played a game in two weeks? Is rust worth two points? Three points? Six points?
What if this is actually an advantage for the Titans?
Although the market is pricing this to the Titans' detriment going from Bills -1 to the current line of -3.5, you could argue this is just an extended bye week. Football is a gruesome sport, and injuries and wear and tear play a significant impact. The Titans come into this game well rested while the Bills are coming off two additional weeks of football and the injuries that come with it.
Josh Allen suffered a left shoulder sprain in last week's game against the Raiders. He'll be good to go, but it's still something to think about going forward. The Bills will be missing linebacker Matt Milano, which should certainly hurt their chances of stopping Titans running back Derrick Henry and tight end Jonnu Smith. The Bills will also be without cornerback Levi Wallace and could be without star cornerback Tre'Davious White (questionable) as well. Should A.J. Brown (questionable) make his return tonight, the Titans could have a significant advantage on offense.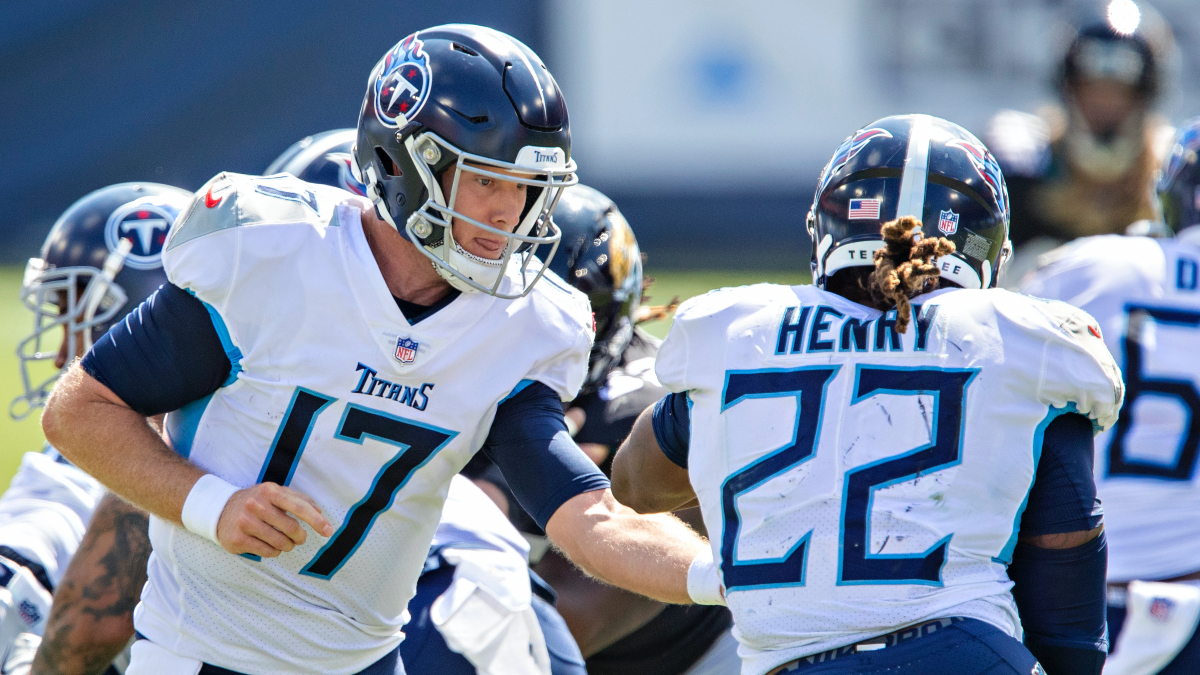 Allen and the Bills offense have been scoring at will, averaging 30.8 points per game. However, the defense has struggled this season, going from seventh in Football Outsiders' defensive DVOA to 22nd this season. They've allowed 61% of run plays to be successful this season, which ranks 31st. The Bills have also allowed 12 explosive runs this season, good for 23rd in the NFL.
These aren't statistics you want to hear when you're facing a rested Henry on the road.
My projections make this game Bills -1, so at +3.5, I believe there's some value on Tennessee from a numbers perspective depending on how you price their absence from football over the past 16 days.
That said, from what I've seen this season, the Bills are the better team and I'm in no rush to back the Titans coming off a COVID outbreak. The true value lies in using the them as a Stanford Wong 6-point teaser leg, crossing out key numbers of 6, 7 and 9. Even if the they don't win, they should do enough on offense to keep this game close.
Combine the Titans and Colts in 6-point teasers, and you should have a positive expected value proposition.
[Bet now at William Hill. NJ only.]
The Bills enter Tuesday's game as one of the highest scoring teams in the NFL. They rank third with an average of 30.8 points per game, led by the third-most efficient passing offense in DVOA.
Josh Allen is an early MVP candidate, ranking first among all quarterbacks with 332 passing yards per game. He's currently second in touchdown passes (12) and fantasy points per game (29.8).
Tennessee's defense will need to slow down the Bills high-octane offense without defensive tackle Jeffery Simmons (COVID). The Titans have allowed the 11th-most fantasy points per game to opposing wide receivers, opening up opportunities for Stefon Diggs (100.8 receiving yards per game), John Brown and Cole Beasley.
The Titans, however, will fade a Buffalo defense that has underachieved this season. The Bills rank a mediocre 22nd in team defense DVOA and will be without several key defensive players. Linebacker Matt Milano, cornerback Levi Wallace and potentially top cornerback Tre'Davious White.
Buffalo has allowed the following stat lines to opposing quarterbacks over the past three games:
Ryan Fitzpatrick: 328 passing yards, 2 touchdowns
Jared Goff: 321 passing yards, 3 total touchdowns
Derek Carr: 311 passing yards, 2 touchdowns
Tennessee is expecting the return of star wide receiver A.J. Brown, who had missed the last three games with a bone bruise in his knee. They have crested 30 points even in those two games without Brown.
Look for tight end Jonnu Smith to take advantage of the Milano-less Bills defense, which has allowed the second-most receiving yards to opposing tight ends in only four total games.
With extra rest for both teams against short-handed defenses, this should be a higher-scoring game than most anticipate. I'm taking the over in this Tuesday night standalone battle.
[Bet the Bills-Titans Over now at PointsBet risk-free up to $250]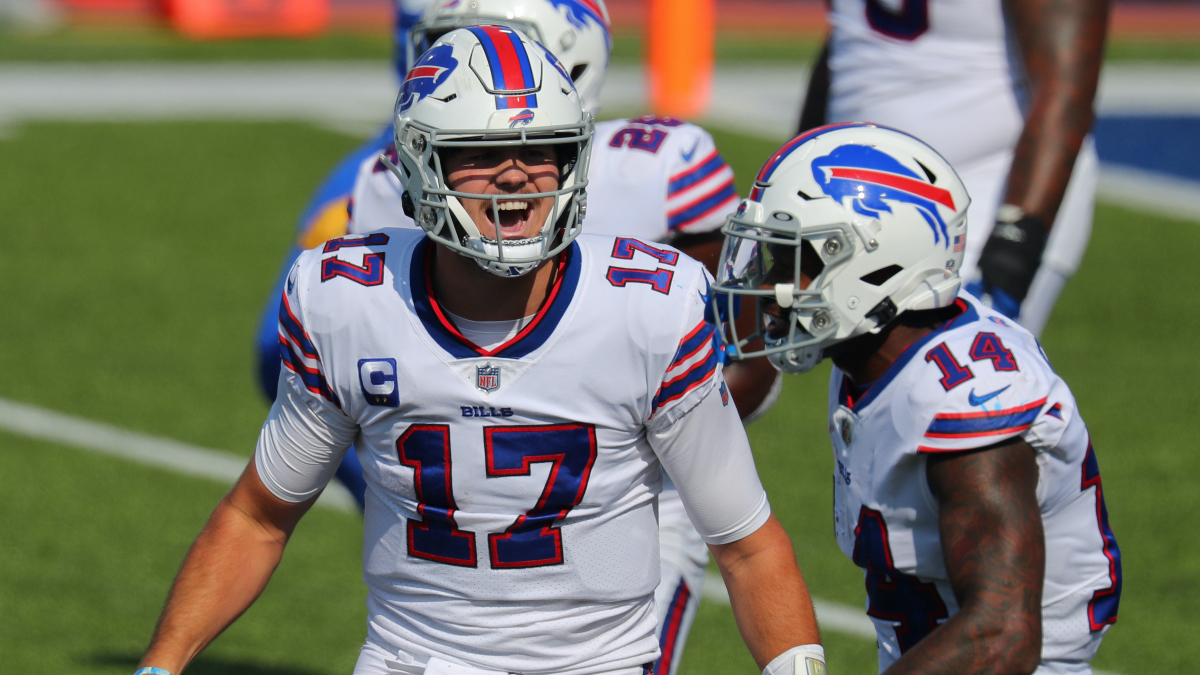 It's been 16 days since the Titans last played a football game.
Thankfully, there wasn't a more serious issue and Tennessee's players are now testing negative again. However, one has to wonder about how prepared the Titans will be to play in this game particularly without being able to have practice for a number of days. Football coaches are very regimented, and it's a massive boost to have your players together and on the practice field when you're trying to install a game plan. Quarterbacks and wide receivers need to continue to practice their timing on routes.
While there were reports of some Titans players getting together for outside practices, not having access to their facility still puts them at a grave disadvantage coming into this game.
In May, PointsBet released odds for every game on the NFL schedule and they had the Bills as a -0.5 favorite against the Titans. Now the Bills are 3.5-point favorites across the board despite both teams being undefeated.
I agree with the move, especially when you consider Buffalo's 3-1 record against the spread to Tennessee's 0-3 record. Both teams closed as favorites in each of their games this season. The mark of a good team is one that can still beat the number as a favorite even as oddsmakers tinker with their power ratings to adjust their numbers accordingly.
I don't like to lay -3.5 in a game. It's just a bad number, and in most cases, I would prefer to buy the number down to -3. That led me to consider another option in the first half since I fully expect the Titans to come out sluggish in this game — not just because of their inactivity due, but because they've started slow all season.
The Titans are 1-2 ATS in the first half this season, and I can't imagine that they're all of a sudden going to improve that number against a Bills team that seems to be flying on all cylinders this season. The Bills are ranked fourth in the league with 6.4 yards per play while the Titans are the only undefeated team that has a negative net yards per play at -0.9.
Oh, by the way, the Bills are a perfect 4-0 in the first half with back-to-back wins over the Raiders and Rams — who are a combined 7-3 on the season — while Tennessee's opponents are a combined 3-11 on the season.
DraftKings is hanging a first half line at -1.5 with a little juice at -117. We've seen wacky things happen already this season with missed PATs, so I'll gladly swallow the juice and back the Bills at -1.5. If you can only find Buffalo at -2.5, I think it's still worth a look.
[Bet now at DraftKings and get a $1,000 bonus, including a $500 risk-free bet]
How would you rate this article?