NFL Picks & Predictions: The Week 12 Spreads & Totals We Bet Right Away
Credit:
Jonathan Bachman/Getty Images. Pictured: Minnesota Vikings star running back Dalvin Cook.
One key to betting the NFL? Locking in early-week value before lines move.
Our staff details the picks they've already made, including spreads and totals.
NFL Picks & Predictions
Browns-Jaguars Over 48.5
Kickoff: 1 p.m. ET | More Odds
Raheem Palmer: For the first time in longer than a month, the Browns won't have to contend with heavy winds and torrential rain suppressing their offensive output. Forecasts for their matchup in Jacksonville project a temperature of 75 degrees with a 0% chance of precipitation, which is certainly a relief for the Browns and for sportsbooks, who dealt with Cleveland totals moving as many as seven points off opening lines based on the wind and rain.
Despite the weather suppressing their offensive performances to an average of only 26 points per game against the Raiders, Texans and Eagles, I wouldn't consider the Browns an "under" team. Before that stretch of games, they were 5-2 to the over, with blowout losses to the Ravens and Steelers squeaking under the total as the Browns lost 38-6 and 38-7, respectively.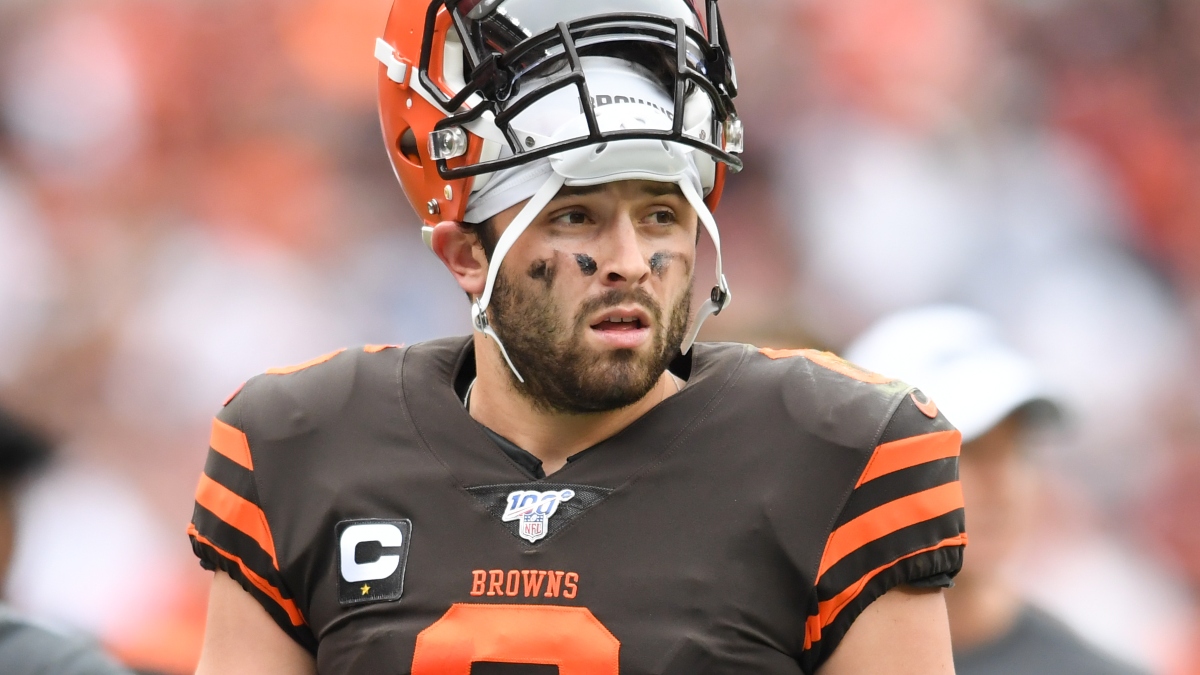 Through the first six games of the season, Browns games were averaging a whopping 60.14 points per game. Here are the totals from their matchups through their first seven games:
Week 1 at Ravens: 44
Week 2 vs. Bengals: 65
Week 3 vs. Washington: 54
Week 4 at Cowboys: 87
Week 5 vs. Colts: 55
Week 6 at Steelers: 45
Week 7 at Bengals: 71
Despite a vaunted front seven featuring Myles Garrett, Cleveland's defense ranks just 18th in defensive efficiency, including 20th against the pass and 18th against the run. On the other side of the ball, Jacksonville is 30th in points allowed (29.8 per game), 31st in defensive efficiency, 31st against the pass and 20th against the run. And both teams rank toward the bottom in defensive success rate and early down success rate.
If you remove the last three games, the Browns are averaging 28.57 points per game on offense — and that's including games against the Ravens and Steelers in which the Browns scored only six and seven points, respectively.
We've seen the Browns make a living beating up on inferior competition this season, and with their defense not completely shutting offenses down, we should see this game soar over the total.
I would play this over up to 48.5 as 49 is a key number.
Raiders-Falcons Over 54.5
Kickoff: 1 p.m. ET | More Odds
Brandon Anderson: The Falcons can pass and stop the run. That's it. That's the 2020 Falcons in a nutshell, and probably the 2019 Falcons and/or 2018 Falcons, too.
They aren't going to beat you on the ground, and you're probably not going to beat them there, either.
As unpredictable as the Falcons have been, that's felt like the best way to play them. Their offense can spike a big point total or occasionally go missing, like they did in New Orleans with eight sacks last week. Mostly they're fine, the defense is worse, and they're going to lose a shootout.
The Raiders also tend to find themselves in shootouts — they just win more of them. How much more evidence of that do we need than coming two minutes away from sweeping Patrick Mahomes and the Chiefs in their season series? The Raiders score 28.6 points per game and allow 27.6 — that's more than 56 points per game, and those numbers go up to 30 for and 30 against, if you throw out that bad-weather game in Cleveland a few weeks ago.
The Falcons can pass, and the Raiders can't stop the pass. The Raiders can pass, and the Falcons can't stop the pass. Sounds like a formula for a lot of points.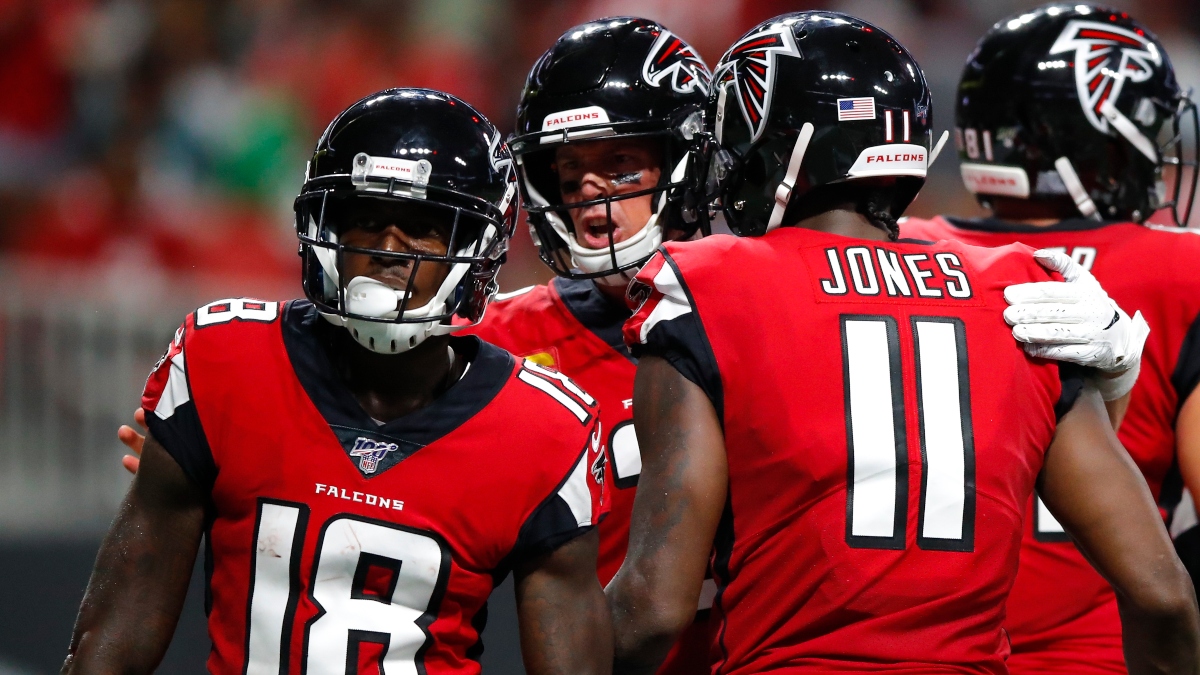 I expect this 55 total to increase by multiple points before kickoff as the over money comes pouring in (track public betting data here). Raiders totals have gone over 55 in eight of their 10 games this season, and they hit 53 in another — their only game all season that went under 53 points was that ugly Browns game.
You never know when the Falcons offense will go missing, but this is a letdown spot for the Raiders after coming so close against the Raiders on national TV. This has big shootout potential and the Raiders may need to point up a big total to keep up. I'm grabbing the over 55 before the line jumps.
Vikings -4 vs. Panthers
Kickoff: 1 p.m. ET | More Odds
Mike Randle: The Vikings were coming off three consecutive wins when they were upset by the Cowboys, 31-28, last Sunday. This was a bad betting spot for the Vikings, who were 7.5-point favorites to a rested Cowboys team coming off their bye.
Now the Vikings welcome a Panthers team that ended a five-loss streak with a 20-0 shutout of the shorthanded Lions, and I'm betting on a Vikings bounceback.
Carolina still ranks among the NFL's worst run defenses, sitting 25th in Football Outsiders' DVOA, which is certainly bad news against the league's second-leading rusher, Dalvin Cook.
Cook trails only Derrick Henry with 1,069 rushing yards, but he leads all running backs with 1,303 total yards. The Panthers have allowed the sixth-most fantasy points to opposing running backs, and have been particularly generous in the passing game. They've allowed 68 receptions to opposing backs, second-most in the league. I expect Cook's 9.5 yards per reception average to take advantage of this mismatch.
The Vikings out-gained the Cowboys in yardage, but suffered two critical lost fumbles by Cook and Kirk Cousins. Well, the Panthers rank second with nine recovered fumbles, something the Vikings will be more cognizant of after giving away the game to Dallas.
Mike Zimmer has improved the Vikings defense all season, especially against the pass. They now rank 11th in DVOA, and limiting the explosive Dallas passing attack to just 203 yards.
Carolina has major injuries on the offense with the status of Teddy Bridgewater an Christian McCaffrey unknown. While former XFL quarterback P.J. Walker and veteran running back Mike Davis have filled in admirably, both are significant positional downgrades.
I'm laying the short number of 4.5 that I anticipate increasing all week. Mike Zimmer has historically been great against the spread at home, so I am backing that last week was an outlier. I would bet this line up to Minnesota -5.
Dolphins -6.5 at Jets
Kickoff: 1 p.m. ET | More Odds
Brad Cunningham: Well, it is official — the Jets have been eliminated from the playoffs. We've also reached the point where they haven't even shown any signs of trying to be competitive.
They are allowing a whopping 5.9 yards per play and have been one of the worst defenses against the pass this season. They're 31st in defensive passing success, 25th in passing explosiveness allowed and are allowing 8.0 yards per attempt, per Sharp Football Stats.
For the Dolphins, it really doesn't matter who starts at quarterback, because both Tua Tagovailoa and Ryan Fitzpatrick would both be able to throw all over this secondary. The Dolphins are ninth in passing success and are throwing the ball for 7.2 yards per attempt.
Miami shut out the Jets, 24-0, last month and held New York to only 148 yards passing on 44 attempts from Joe Flacco. Not that its surprising, but the Jets have the NFL's worst passing attack, ranking 32nd in passing success and 27th in passing explosiveness.
I have Miami projected as 11.58-point favorites on the road, so there's some value on them at -6.5. With 65% of the spread dollars on the Dolphins as of writing, I would lock this in soon because it's likely to reach -7 or higher.
How would you rate this article?