NFL Playoff Odds, Picks, Predictions: Bet 49ers-Packers, Bills-Chiefs Unders? Divisional Round Total Analysis
Credit:
Getty Images. Pictured: Packers QB Davante Adams, Chiefs QB Tyreek Hill
During the postseason, NFL lines become even sharper since oddsmakers and bettors have a full season of data to inform their decisions. It's when the market is as close to full efficiency as it will get all season.
That makes shopping for the best lines even more important, especially when spreads and totals sit around key numbers as they do for this week's Divisional Round of the 2022 NFL playoffs. I'm going to focus on totals in the following analysis before diving into three of the four on my radar for this weekend.
---
What's a key number? Read more about them and their importance here.
---
NFL Over/Unders
The chart below shows the frequency of total points scored in all NFL games (including the postseason) since 2015, when the NFL moved the extra point back.
Key Numbers For NFL Totals
It's worth noting that 80% of all games in this seven-season sample ended with between 30 and 65 total points scored. The 10 most frequent combined points — which all had a frequency of at least 2.65% and are highlighted in the darker green above — include the following:
33 (2.66%)
37 (2.92%)
40 (3.72%)
41 (3.29%)
43 (3.24%)
44 (3.77%)
47 (3.4%)
50 (3.03%)
51 (3.77%)
55 (2.81%)
You should always shop for the best possible number when betting totals, but especially when they're around a key number. Simply becoming more familiar with those key numbers for totals will make you a smarter bettor. From there, you can monitor your available books and will learn more about the market over time. That's the art part of betting that simply takes experience, information and a little bit of intuition.
For the Divisional Round, all four totals are sitting right around one of the above key numbers (listed in order of kickoff):
Bengals at Titans: 47
49ers at Packers: 47.5
Rams at Bucs: 48
Bills at Chiefs: 55
For what it's worth, playoff unders with a total between 47 and 55.5 points have gone 48-36-2 (57.1%) since 2003, per our Action Labs data. The under hit rates improve even more for games played outdoors at 37-20-2 (64.9%), falling short of totals by an average margin of 2.65 points per game.
All four games this weekend will be played outdoors.
In regards to weather, it will be cold in Nashville and Kansas City, but nothing crazy. The forecast to watch is in Green Bay, where we will likely see frigid conditions with potential impactful winds and even a chance of snow.
I think the Titans-Bengals total is about right, so I have no interest in betting it. However, I do have my eyes on potential under bets in the other three games. Let's dive deeper into each.
---
49ers at Packers
Spread
Packers -6
Total
47.5
Day
Saturday
Time
8:15 p.m. ET
Odds via DraftKings
I'm looking at this under, especially if I can get it above 48 (compare real-time NFL odds here). There are variables worth monitoring, namely Nick Bosa's status and the weather forecast — both could have a significant impact on how this game plays out.
In contrast to the Rams-Bucs affair (which I'll dive into next), this NFC matchup involves two teams that rank bottom-five in almost every pace category. This game won't be played at lightning speed.
The Packers' run defense issues are well documented. They ranked 29th in both Expected Points Added (EPA) per Rush and Rush Success Rate on early downs during the season. However, part of that was driven by scheme. I don't think their run defense is as bad as it has been in years past, primarily due to a significant improvement in tackling.
The defense as a whole should also receive a major boost with the return of a pair of Pro Bowlers who missed the majority of the season in Jaire Alexander and Za'Darius Smith.
You can expect the 49ers to come out and run, run, run, and run some more. Their game plan might resemble what we saw when these two clubs met in the 2019 season's NFC Championship Game. San Francisco won it 37-20 despite Jimmy Garoppolo finishing only 6-of-8 for 77 yards. Green Bay's run defense simply had no answers for a San Francisco backfield that ran it 38 times for 286 yards on a gaudy average north of 7.5 yards per carry.
Not only is that the 49ers' identity, but questions linger about Jimmy G's health. He now has a shoulder injury to go along with a thumb injury, both of which could get worse in the freezing cold temperatures at Lambeau Field. I'm sure the Packers  will load the box and middle of the field, daring Jimmy G to beat them by throwing to the sidelines.
When these teams met earlier this season in San Francisco, the Packers held on for a 30-28 victory. The total in that game closed at 50.5 and went over thanks to a 27-point outburst in the fourth quarter.
What has changed since then? Well, the 49ers offense is much better than what the Packers saw that day. Elijah Mitchell, who ranks fourth in the league in yards after carry among qualified backs, didn't play that day. Deebo Samuel has also been unleashed in the running game of late.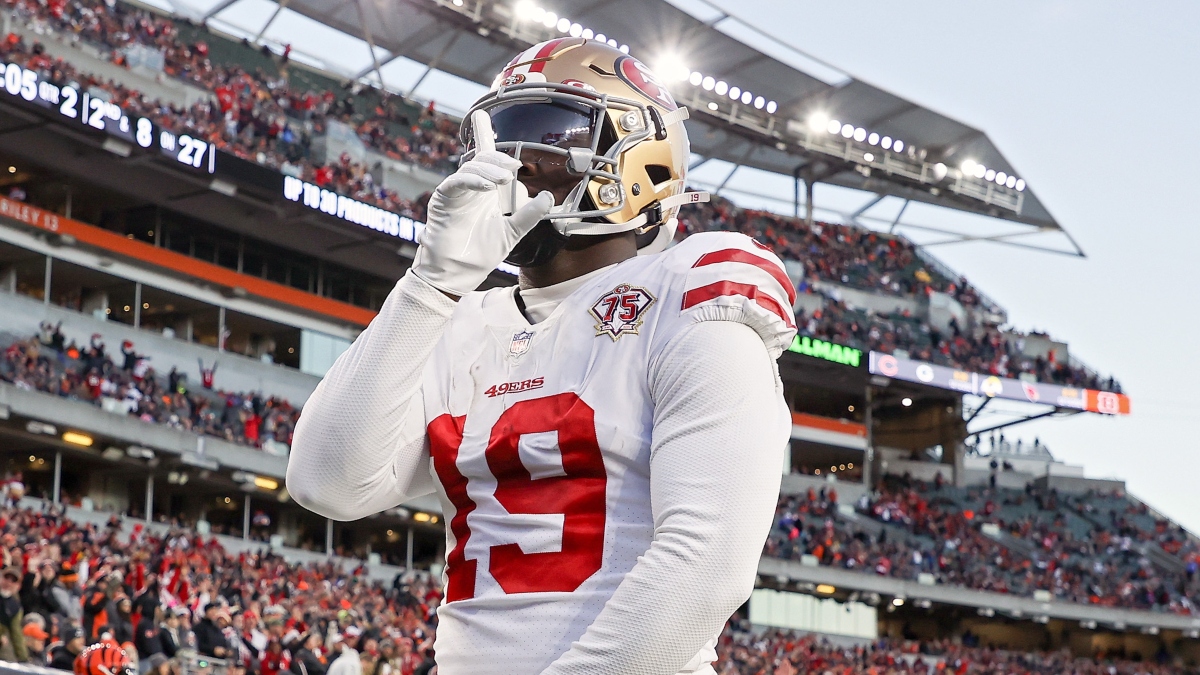 The 49ers defense is playing at a much higher level as well.
The secondary was in shambles for the first meeting due to injuries and the defensive line has played at an elite level in the second-half of the season after some schematic changes and under-rated, under-the-radar acquisitions. The defensive line is dominating the line of scrimmage every week and the secondary is arguably in the best shape it has been all year.
It's still worth noting that the Packers defense held the 49ers to 67 yards on 21 carries in that first meeting. The Green Bay offense has also started slow all year, ranking 25th in average points per first quarter. Therefore, a first-half under might be also worth exploring.
Things could get dicey if Rodgers goes into comeback mode against a 49ers secondary that's trending up but still has holes. And Jimmy G trying to bring the 49ers back with his arm wouldn't be doing under backers any favors — whether he's throwing it to his receivers or Packers linebackers.
Pick: Under 48 or better
---
Rams at Bucs
Spread
Bucs -3
Total
48
Day
Sunday
Time
3 p.m. ET
Odds via DraftKings
These teams met earlier this season in Los Angeles when the Rams pulled out a 34-24 victory. Interestingly enough, the game went over a closing total of 55. Now, the total is a full touchdown below where it settled for the regular-season matchup.
In fairness, this is a postseason game, and it will be played in Tampa this time. Also, the Bucs have lost a few key offensive weapons since, although they didn't have Antonio Brown for that first meeting and Rob Gronkowski left with a rib injury. The more important factor here is the status of a few key offensive linemen.
Pro Bowl right tackle Tristan Wirfs left their wild-card game with an injury as did swing tackle Josh Wells. If neither are able to go, Alex Cappa would likely get the nod at right tackle and Aaron Stinnie at guard. Additionally, Pro Bowl center Ryan Jensen left that game with an injury to add insult to injury. He's likely to play, but his status is worth monitoring, and I'm sure neither he nor Wirfs would be at 100% if they do.
The offensive line issues could spell trouble against Aaron Donald and Co. The Rams finished in the top-seven of both Pressure Rate and Adjusted Sack Rate. And the way to neutralize Tom Brady is to generate natural pressure, especially up the middle — something Donald has succeeded doing in the past.
It's also worth noting that the Bucs defense got a few reinforcements back last week. As a result, they looked as strong as they have in quite some time.
This is still an elite run defense that can neutralize what Rams head coach Sean McVay wants to do to set up the offense. However, if Matthew Stafford can ride the momentum of last week to carve up the Bucs secondary once again, the Rams do have a path to victory through the air against the much more vulnerable area of the Bucs defense. He has had success against the blitz, which Bucs defensive coordinator Todd Bowles loves to bring.
If I were to bet this total, I'd look at the first-half under. The Bucs offense has started slow in the second half of the season, and these are two fairly conservative coaches early in games.
The full-game total scares me a bit if either team has to go into comeback mode, especially once Brady gets cooking. I also fear the Bucs may utilize a super up-tempo pace in order to neutralize the Rams pass rush, especially if the offensive line isn't at full strength. Tampa's offensive numbers were elite when it went no huddle this year and the pressure rate dropped to almost nothing in those sets.
Head coach Bruce Arians even hinted at such: "When you look back and do the self-scout, that's when we've been at our best this year, so why not do it more?"
This is still a matchup of two very capable offenses that operate at top-five situational-neutral pace, so an explosion of points could come at any time.
---
Bills at Chiefs
Spread
Chiefs -2
Total
55
Day
Sunday
Time
6:30 p.m. ET
Odds via DraftKings
Totals this high are becoming more normal in today's offensive-friendly NFL, but still not the norm. We have seen 83 instances in the regular season with the under cashing at a 59% clip (49-34) and another 15 in the playoffs.
With this total sitting right at the key number of 55 and just above a semi-key number of 54, getting the best number is critical regardless of which side you prefer.
As you could see in the chart at the top of this story, games have landed on 54 or 55 in more than 5% of games since 2015, including the postseason.
We've seen only nine totals in the playoffs that have closed above between 54 and 56 points since 2003, per Action Labs. In those games with totals that span that key range, the under has cashed eight out of nine times by an average margin of 13.5 points per game.
Interestingly enough, the one game that did go over was Bills-Chiefs in last season's AFC Championship Game. None of the others even eclipsed 50 total points. For a larger range, totals that closed between 52 and 56 and in the postseason have gone 17-8-1 (68%) — going under by 6.25 points per game.
It's also worth mentioning that unders in outdoor games with a total of at least 51 — tied with 44 as the most frequent total points since 2015 — have gone 17-7-2 (70.8%), going under the total by just fewer than six points per game on average.
I do like this under — especially if you can get at least 55 even at -115. I prefer it at 55.5, though, and wouldn't play it at 54 (shop for the best line here). There's a chance this comes back up closer to kick with the over most likely being the overwhelmingly public play.
So, why am I looking this way in a matchup between two teams that have combined for 62 and 58 points in their two meetings over the past two seasons?
One, I'm apparently an insane person based on other's responses to when I tell them I'm looking at this under. That may be true, but here's my reasoning.
Last year, the Chiefs offense did almost all of the damage before the Bills added points in garbage time. Well, in the offseason, the Bills made it a point to bolster the defensive line just for this particular matchup. It knew it had to generate natural pressure on Patrick Mahomes. The results have been great this season as the Bills' 30.8% pressure rate led the league by more than two full percentage points. Last season, that number was 22.2%.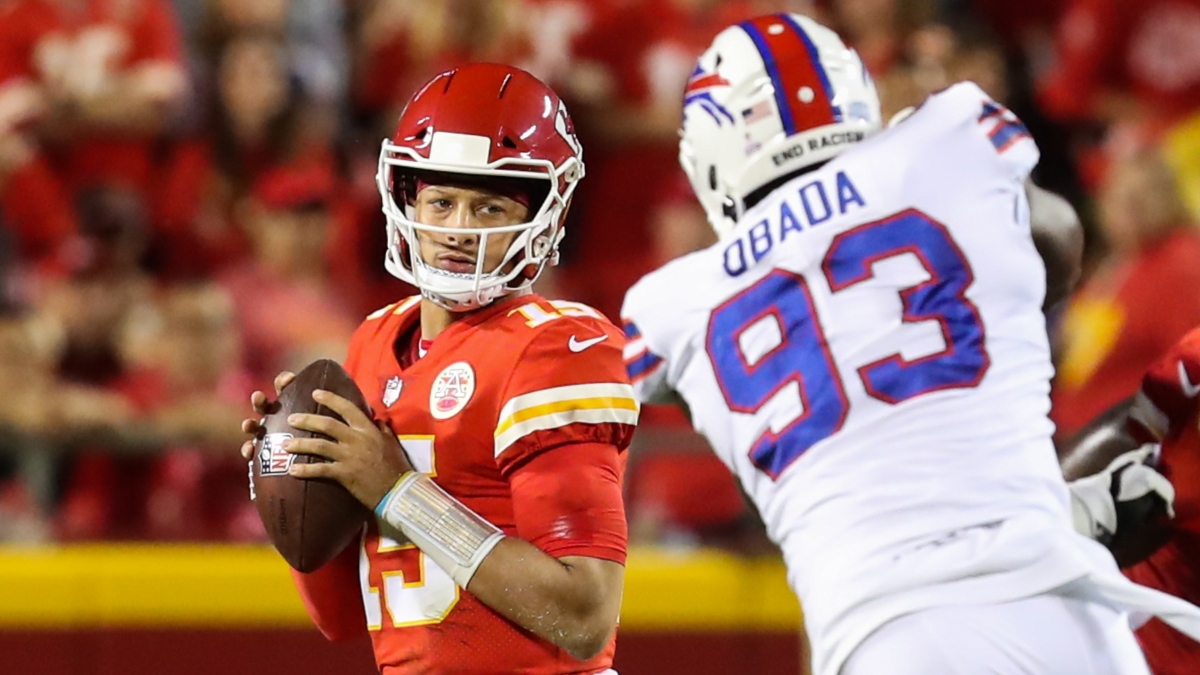 You saw the Bills' defensive improvement when these teams meet earlier this season, when the Bills held Mahomes to 4.9 yards per attempt while forcing two interceptions. In last year's playoff meeting, he averaged 8.3 yards per attempt without a single interception.
It's also worth mentioning this Chiefs offense is much more methodical in nature in response to opposing defenses (sans the Raiders) making consistent scheme changes to take away the explosive play.
It's still an elite offense, but we've seen some more inconsistencies and the drives are taking much longer on average. Plus, the Bills ranked No. 1 in explosive pass play rate allowed. I do have some concern about the loss of corner Tre'Davious White for this particular matchup, but Buffalo's secondary has held together without much issue since his injury — although the caliber of opposing pass offenses hasn't been spectacular to say the least.
Now, in the meeting earlier this season at Arrowhead, the game went over because the Bills offense exploded. Well, that came against a Chiefs defense that was playing at an atrocious level, grading out as the worst in the league in many metrics. That's no longer the case after getting some guys back healthy and making some schematic changes.
Coordinator Steve Spagnuolo usually has his defense peaking come playoff time, as the Chiefs defense routinely over-performs expectations relative to their regular-season metrics. A lot of that has to do with figuring out which schemes work best as Spags likes to really switch up looks based on the opponent.
Through the first eight weeks of the season, the Chiefs ranked 30th in EPA per Play and 32nd in Success Rate. If you charted them over that span, they were in the same neighborhood as the Texans and Jaguars. However, since Week 9, the Chiefs rank seventh in EPA per play and 17th in Success Rate. That's a remarkable turnaround and illustrates how different of a unit the Bills will be facing compared to the one they saw earlier this season.
Now, Kansas City did get a bit fortunate in regards to points per opportunity allowed, but there's no denying the drastic improvement. This is now a competent defense. Buffalo saw a completely helpless unit earlier this season.
These teams also have a lot of familiarity with each other, which I believe favors the defenses in this particular case. This will mark their fourth meeting over the past two seasons. I'm sure the Chiefs will focus on taking away the deep ball, and they now have some tape on Bills offensive coordinator Brian Daboll unleashing Josh Allen in the run game.
There are many more paths to an under than there are to seeing another shootout, which is certainly possible with these two offenses, but it's not like we haven't seen both offenses have a few clunkers this season. And it's just so hard to duplicate back-to-back sparkling performances in this league after putting up 40+ as both teams did last week.
If you're looking for another trend to push you over the edge, unders in Chiefs home games with Andy Reid at the helm have gone 47-36-1 (56.6%), including the postseason. That also includes a 5-2 under record in games with totals of 55 or greater, going under by 8.2 points per game albeit in a very limited sample size.
I might end up looking like a fool, but it won't be the first or last time. I'm biting on the under at 55 or better.
Pick: Under 55 or better
How would you rate this article?
This site contains commercial content. We may be compensated for the links provided on this page. The content on this page is for informational purposes only. Action Network makes no representation or warranty as to the accuracy of the information given or the outcome of any game or event.