Under & Underdog? Betting Picks For Saints vs. Buccaneers
Credit:
Chris Graythen/Getty Images. Pictured: Michael Thomas
At this point in the NFL season, the betting market is uber-efficient. There aren't generally many surprises from a side or total perspective at this point, but I do think there are still some small edges and opportunities based on matchups and how I see these four games playing out.
Let's dig into what, for my money, is the best NFL weekend of the year.
Editor's note: Games that already kicked off have been moved to the bottom of this story.
Buccaneers at Saints
I'll spare you the narratives surrounding two teams playing each other for the third time in a season. Yes, the Saints won both meetings, but they benefited from facing the Bucs in the season opener then in their first game with Antonio Brown.
This is a different Bucs team. If you can get over 3, you have to take them, in my opinion.
I'm also taking a shot with the under. I do see some value in the number at 52 or better, but I'm putting my faith in Todd Bowles making adjustments this time around. Bowles' signature 3-4 defense puts plenty of men in the box, which is why they're elite against the run.
They also play a lot of zone underneath, which enables them to best disguise which linebackers are bringing pressure.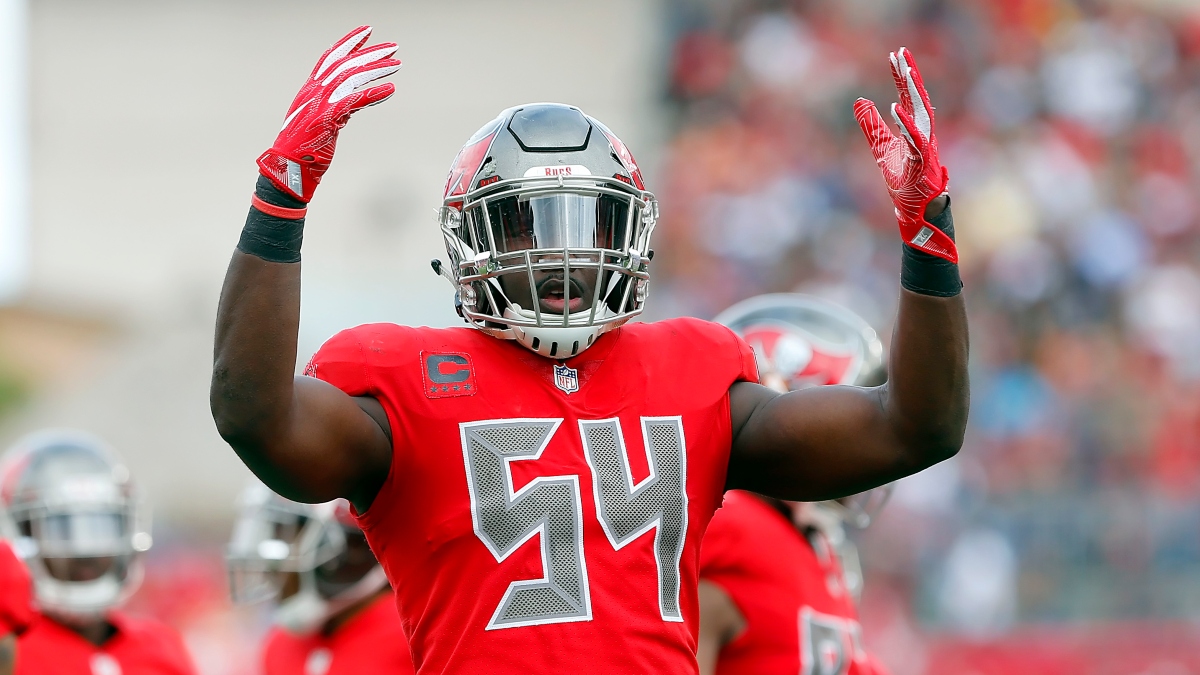 On the back end, they do aggressively try to jump routes and make plays, but they also use a lot of off-coverage at the line of scrimmage. That's a nightmare against Drew Brees, who picks apart off-coverage with the Saints' quick passing attack, which is exactly what happened in their last meeting.
I fully expect to see much more press man on the outside, especially now that the Bucs' secondary is fully healthy. That should make it much more difficult for a vertically-challenged Saints offense to move the ball, especially since Tampa can take away exactly what New Orleans wants to do on the ground.
On the other side of the ball, I love this Saints defense. They can get pressure (sixth-highest rate in the league) without blitzing. That's exactly the formula you need to slow down Tom Brady, who had a 6.7% interception rate against the Saints this season compared to 1.2% against the rest of the NFL.
I've also seen too much talk coming out of Tampa about running the ball after rushing for only nine yards in the last meeting against New Orleans. Personally, I disagree with that sentiment, but it would be a bonus boost for the under.
What could go wrong? Brees is able to move the ball at will with short passes against potential off-coverage from Tampa, while Brady continues his hot streak against a New Orleans secondary that can have off days.
PICK: Under 52 or better
---
Note: All analysis after this point is for games that already started.
---
Rams at Packers
I do think the Rams have a bit of value at +7 (-120 or better) since I make the spread closer to 5. I do get why this line was inflated with lingering questions surrounding quarterback for Los Angeles, but I didn't pass up the chance to take such a key number in a game that points should come at a premium.
That brings me to my favorite play for this matchup: The under, which I bet for the full game (anything over 45) and first half (anything over 21.5).
There's no question that Green Bay's passing offense has been elite all season. Aaron Rodgers is simply playing on another level and Davante Adams has been the top receiver in the NFL. Rodgers threw deep at the second-highest clip in the league (trailing only Tom Brady). On those throws, Rodgers posted a gaudy 128.7 quarterback rating with 12 touchdowns and zero interceptions.
However, the same can be said for the Rams' pass defense, which is first in most metrics, including explosive passes on which they allowed only a 24.6% completion percentage, 37.9 passer rating and two touchdowns to five interceptions.
One of the most eye-popping stats you'll see is their deep right passing DVOA (per Football Outsiders). Just take a look at the top-three rates in the NFL (negative is better):
Rams: -97.9%
Seahawks: -2.9%
Buccaneers: +3.0%
And don't forget that the Packers have faced the easiest schedule of opposing defenses when it comes to explosiveness. They also won't have star tackle David Bakhtiari.
Rams defensive coordinator Brandon Staley has done a tremendous job with mixing up coverages on the back-end and disguising looks pre-snap. It also helps to have Aaron Donald to lead a defensive front that can not only get pressure (second in Adjusted Sack Rate), but also stop the run without loading the box.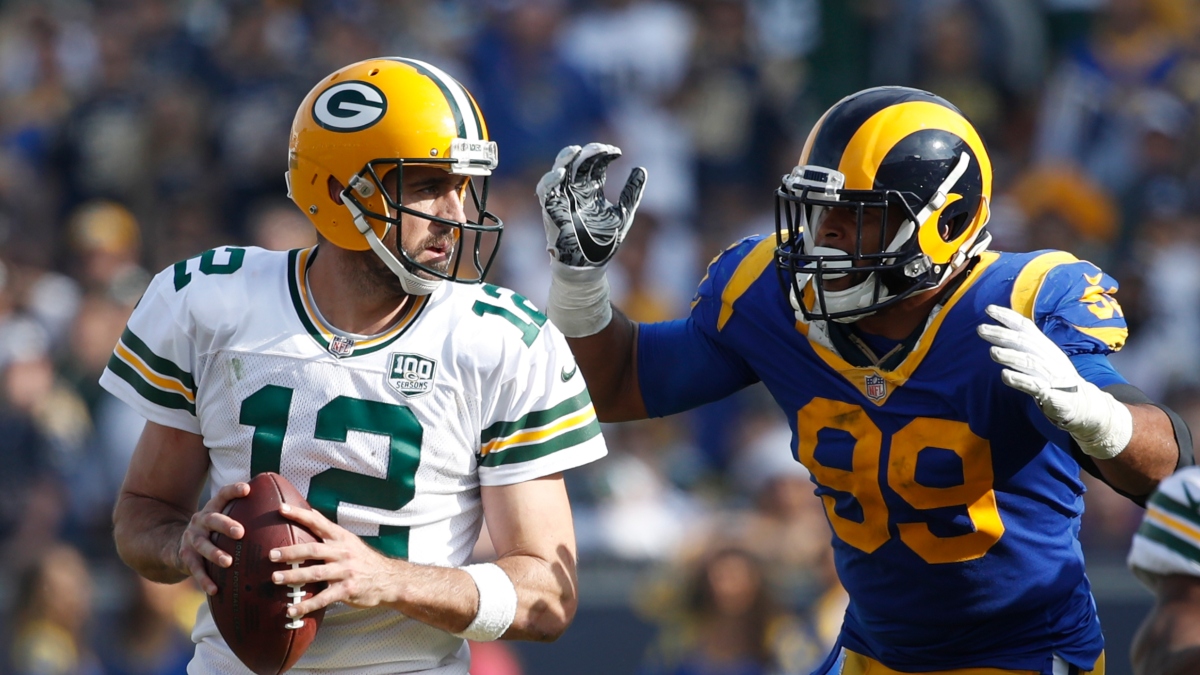 The Rams also have three corners who rank inside the top 20 of Pro Football Focus' coverage grades for the season. I'm sure we could see Jalen Ramsey shadow Adams at times, but remember that the Rams also run a ton of zones on the back end.
If any team has a shot of containing this Packers aerial attack and duplicating what the Bucs did earlier this season, it's this Rams team — though they are a bit vulnerable over the middle of the field (especially against play-action), so you may want to target Robert Tonyan props.
When the Rams have the ball, I'm assuming that Sean McVay will go with a very conservative game plan that relies on his rushing attack and ultimately the defense. I'm not sure how much he'll trust an injured Jared Goff (or maybe Blake Bortles) against an aggressive Packers defense, especially in the cold after recently getting pins inserted into his thumb.
Additionally, Cooper Kupp won't be 100% if he plays, and the Rams' offensive numbers without him have been downright disgusting in recent years. Plus, the Packers have been solid defending the slot and have a lockdown cornerback in Jaire Alexander, who they can use to take someone away.
The Rams do run tempo at times, but I don't see them utilizing it that much in this spot, which would certainly help the under. For what it's worth. Green Bay ranks 32nd in pace in neutral situations, per Football Outsiders.
Ultimately, I'm assuming Rodgers will get a few scores, but the Rams can keep him under 24 without flukes. And I just don't see the Rams offense doing much other than controlling the clock.
What could go wrong? A few things could jeopardize this under.
Goff turnovers are the biggest concern in addition to special teams flukes (both teams have been sloppy in that department this season). Also, if the Packers jump out to a big lead, this could get very messy, in which case we could see some garbage-time Rams points.

PICKS: Under 45 or better; 1H Under 21.5 or better
Ravens at Bills
The Ravens offense has found its mojo over a current six-win streak. But in fairness, that streak has come against some horrific defenses. On the surface, the Bills' run defense would appear vulnerable here, but their defense has played much better overall in the second half of the season after getting healthier and making a few key schematic changes at linebacker.
The Bills also faced this Ravens offense last year and did as good of a job containing Lamar Jackson as any defense in the NFL. Not only will that experience pay off, but the Bills clearly won't play the same run-inviting defense they do against other teams.
The Ravens should be able to sustain some long drives, but I don't believe it will be as easy on the ground as some may think. Look for Baltimore to attack Buffalo through the air with its tight ends — the team's strong suit and a position Buffalo has struggled to defend this season as we saw last week.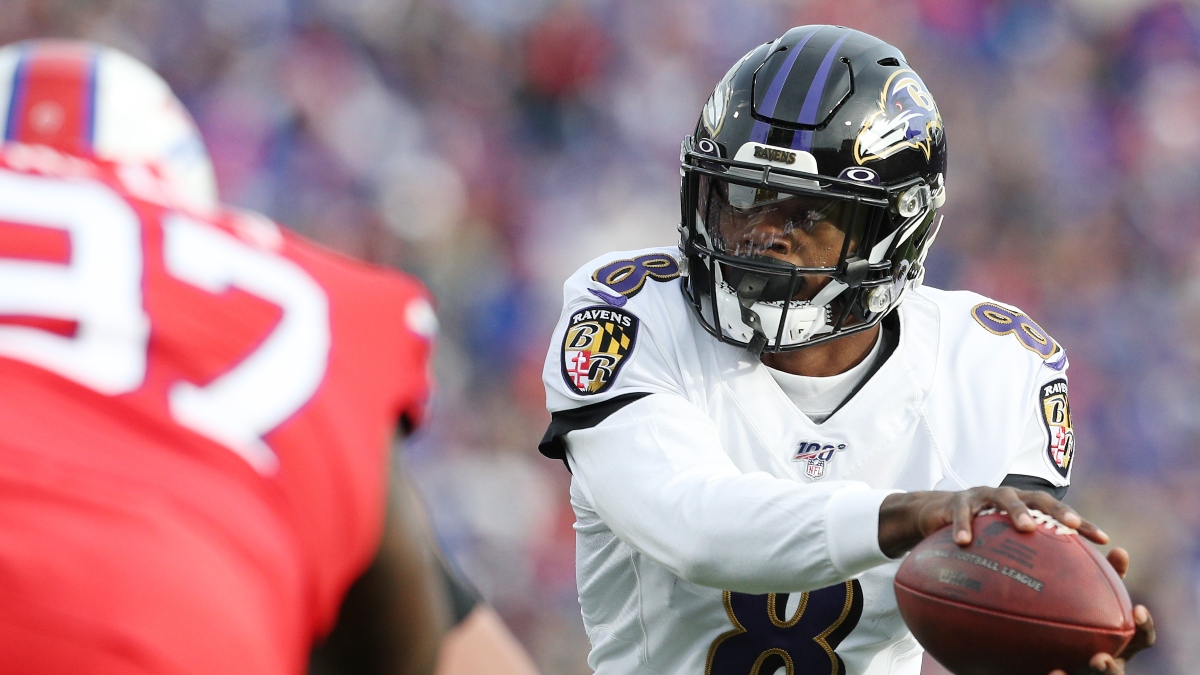 This game will likely be decided on the other side of the ball in a fascinating chess match between Ravens defensive coordinator Wink Martindale and Bills offensive coordinator Brian Daboll.
From a scheme perspective, Baltimore's man-heavy defense is the perfect match for Josh Allen, who has thrived against man coverage but struggled at times against zone. Allen has also excelled against the blitz this season, which the Ravens do at the highest rate in the league. And the Ravens also blitz most frequently out of Cover 1, which Allen has shredded this season.
So Allen should have an enormous day, right? Not so fast.
He doesn't usually face a secondary the caliber of Baltimore's. The Ravens arguably have the best trio of corners in the NFL withMarlon Humphrey (who can really line up anywhere on the field and will play in the slot frequently), Marcus Peters and Jimmy Smith (who led all corners in yards per snap).
This is a defense that held quarterbacks to an outstanding 80 quarterback rating when in Cover 1. Also, unlike last year, the Ravens defense played extremely well when not blitzing after upgrading their defensive line.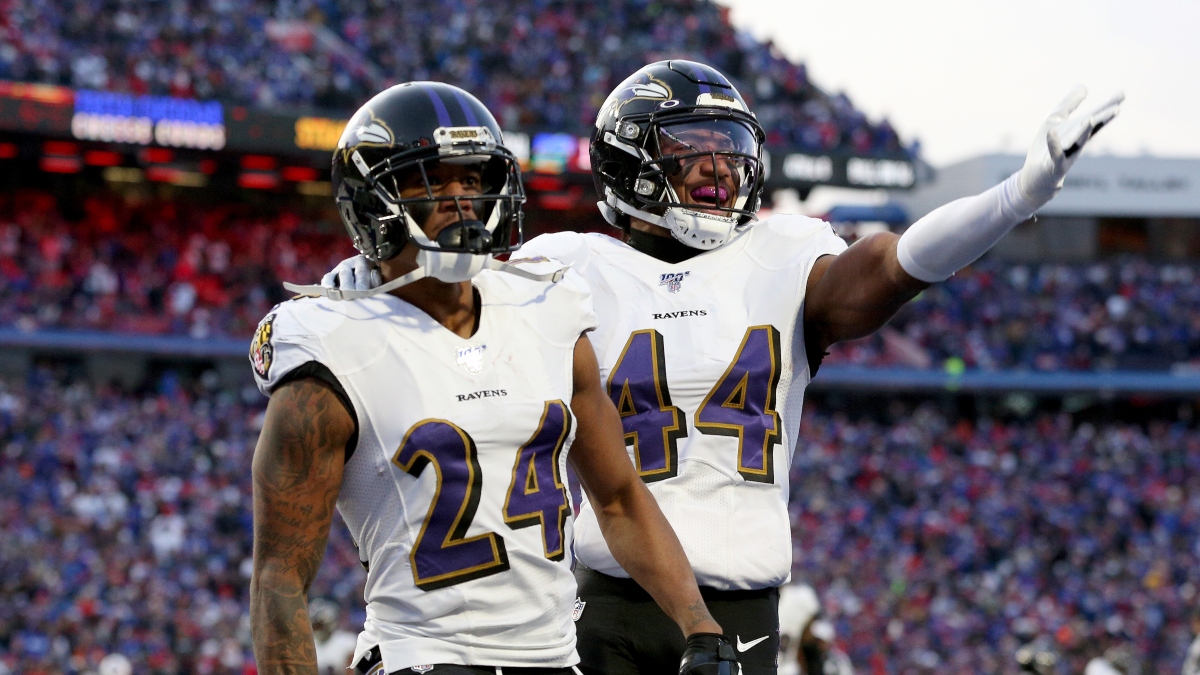 Some have pondered if the Ravens should play man and/or should blitz. They will certainly mix in some zone looks as they've done all year. And there's no reason they shouldn't deviate from their aggressive, blitzing style. After all, Allen's production drops substantially when under pressure, where he's completing fewer than 50% of his passes (21st in NFL) and averaging two fewer yards per attempt. For reference, Jackson has a higher passer rating when under pressure.
I assume Martindale will mix up this looks throughout the game to keep Allen off balance. Last week, Baltimore blitzed 65% of the time in the first half, but did so only 30% of the time in the second half and added some zone concepts underneath. It worked like a charm.
This Bills offense is rolling, but the Ravens — who ranked second in defending pass explosiveness — have the personnel to slow it down.
Ultimately, this is just a numbers play for me at +3 (-120) or better since I make Buffalo a very small favorite. I fully expect a war that could simply come down to which team jumps out to a lead — or maybe even whether Peters jumps a route for a key interception or gets burnt for a long touchdown on a double move.
In regards to the total, I see it playing out lower-scoring than most but want to get more clarity on the weather in Buffalo as we get closer to kick.
What could go wrong? The Ravens are the definition of a frontrunner. If they can get a lead, they can continue playing how they want to on offense and defense. But if they get down by two touchdowns early, it could get out of hand.
Also, Allen could just shred this secondary as he's done against a very difficult schedule of opposing defenses all season.
PICK: Ravens +3
Browns at Chiefs
Even after adjusting for the bye and Andy Reid's success when coming off one (16-9 against the spread), I still make this line only Chiefs -8. Therefore, I gladly grabbed +10 with the Browns.
I don't think Cleveland will have any issues moving the ball against a Kansas City team that really struggles to defend the run and play-action pass. The Browns should dominate the line of scrimmage and open up holes for their two dynamic running backs all day.
It's also undeniable how well Baker Mayfield has been playing of late. In fact, over the past 10 games, he and Aaron Rodgers rank first and second in passer rating on first-read throws. You can expect plenty of play-action and short passes to neutralize a Chiefs defense that blitzes at the fourth-highest rate.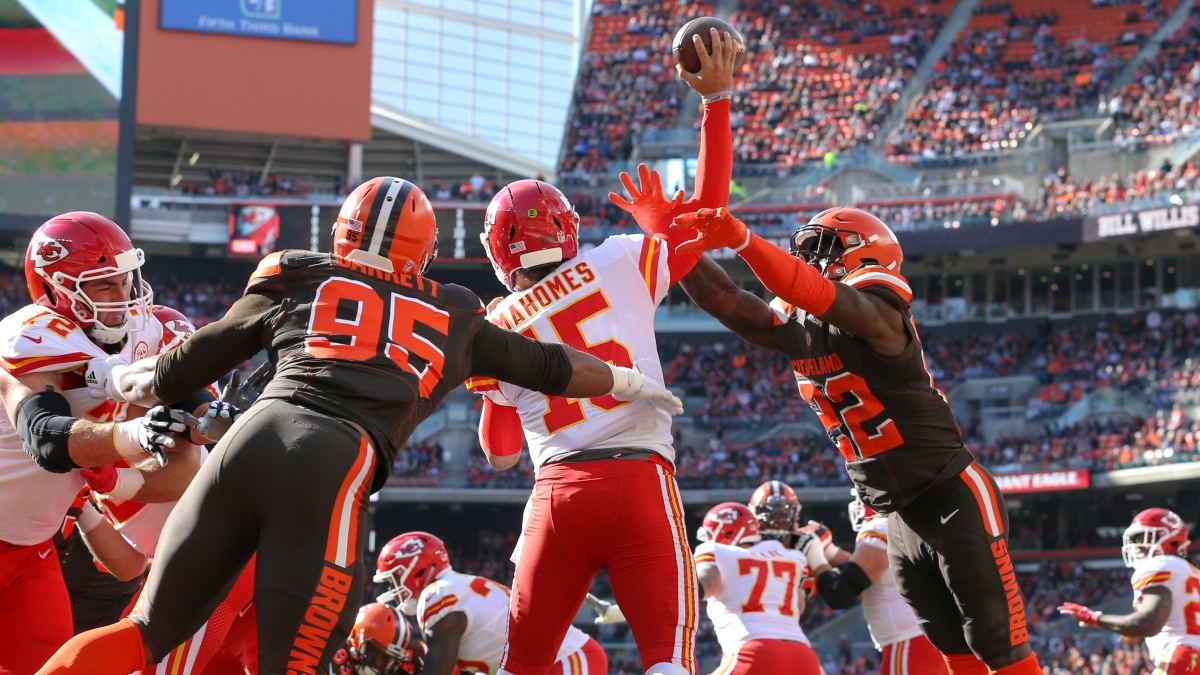 On the other side of the ball, getting Denzel Ward back should help Cleveland's defense, but let's not put lipstick on a pig. This defense is atrocious. If you remove the three heavy wind games they played, the Browns rank second-to-last in points per drive. It's a unit that's very reliant on turnovers, which you can't really depend on against the Chiefs.
I don't think Patrick Mahomes and Co. will have any issues putting up points. That said, the offense just isn't humming at the same level as it was last season — there's a reason they've covered only once over the past two months and haven't won by more than a touchdown since Week 8 against the Jets.
What's the issue? The offensive line certainly has seen a drop in production due to injuries, but some believe it's just complacency.
Look, if Kansas City can simply flip the switch and come out firing on all cylinders right out of the gates here, I will tip my hat. However, I will pay to find out, especially since we could see some rust after coming off a bye after resting their starters in Week 17.
Over the past 10 seasons, Divisional Round favorites coming off a bye after resting their starters in Week 17 have gone 0-5 against the spread. And if you recall, Kansas City went down big early in this spot last year before exploding against Houston.
I just don't see any reason the Browns can't duplicate what we saw from the Raiders in two matchups with the Chiefs this season. Vegas actually won in Arrowhead and lost a tight one at home, covering both while allowing 30-plus points.
As for the total, I'd bet the over at the key number of 55, but am more hesitant where it's sitting now at 57 only since I'm not sure how the Browns will approach this matchup. Will they go extremely run-heavy (and slow) in order to keep Mahomes on the sidelines? Will they play extreme prevent on defense, forcing Kansas City to march methodically up and down the field? Both are certainly possible.
What could go wrong? Similar to the Ravens, the Browns can't get too far behind early. Cleveland needs to be able to utilize its rushing attack and play-action passing, which it would have to abandon to some extent if Mahomes and Co. jump out to a two-touchdown lead in the first quarter.

How would you rate this article?