NFL Picks & Predictions For Wild Card Weekend: Bet the Under In All of Saturday's Games
Credit:
Nic Antaya/Getty Images. Pictured: Tom Brady
Wild Card Weekend is here! The NFL playoffs get underway with a three-game slate this Saturday.
The Bills will host the Colts, the Rams and Seahawks will face off in an NFC West showdown, then the Buccaneers and Washington will close it out.
Senior NFL betting analyst Stuckey highlights why he's betting the under on all three of those totals.
Historically, Wild Card Weekend has been an under weekend for games played outdoors. Per our Action Labs database, those have gone a ridiculous 38-14 (73%) to the under since 2003. That's not necessarily predictive, but extreme splits like those warrant mention.
This weekend, five of the six games will be played outdoors. It just so happens that I saw value in four of those five unders and also like them for a variety of matchup reasons that I'll detail below in addition to any sides I like.
A weekend full of NFL unders? What could possibly go wrong?
Let's dig in.
NFL Picks & Predictions
Colts at Bills
Colts Odds

+6.5

Bills Odds

-6.5

Total

51.5

Time

1:05 p.m. ET

Day

Saturday

Odds as of Friday and via BetMGM, where you can bet $1 on any NFL moneyline to win $100 if the team you pick wins.
Coming into this week, I really didn't want to fade the Bills, who have been rolling over the past two months.
Their passing attack has been nearly flawless with a vastly improved Josh Allen, who has certainly benefited from the offseason acquisition of Stefon Diggs, who led the league in receiving. The pass protection has also been rock solid. And on the other side of the ball, the defense has improved significantly since the Bills' bye as a result of some schematic changes and improved health.
Buffalo is a bona-fide Super Bowl threat.
However, since I only make this line about 4.5, I had to take a piece of +7 with the Colts, who have only closed as an underdog once this season (+1 at the Browns).
For you trend lovers, NFL playoff underdogs of seven or more points have gone 37-28-1 (56.9%) ATS since 2003, covering by an average of 1.74 points per game according to our Action Labs data. Philip Rivers owns a career 10-3-1 ATS record as an underdog of seven or more points, including a perfect 3-0 in the postseason. And despite his well-documented playoff shortcomings, Rivers is a perfect 4-0 straight up in the Wild Card Round.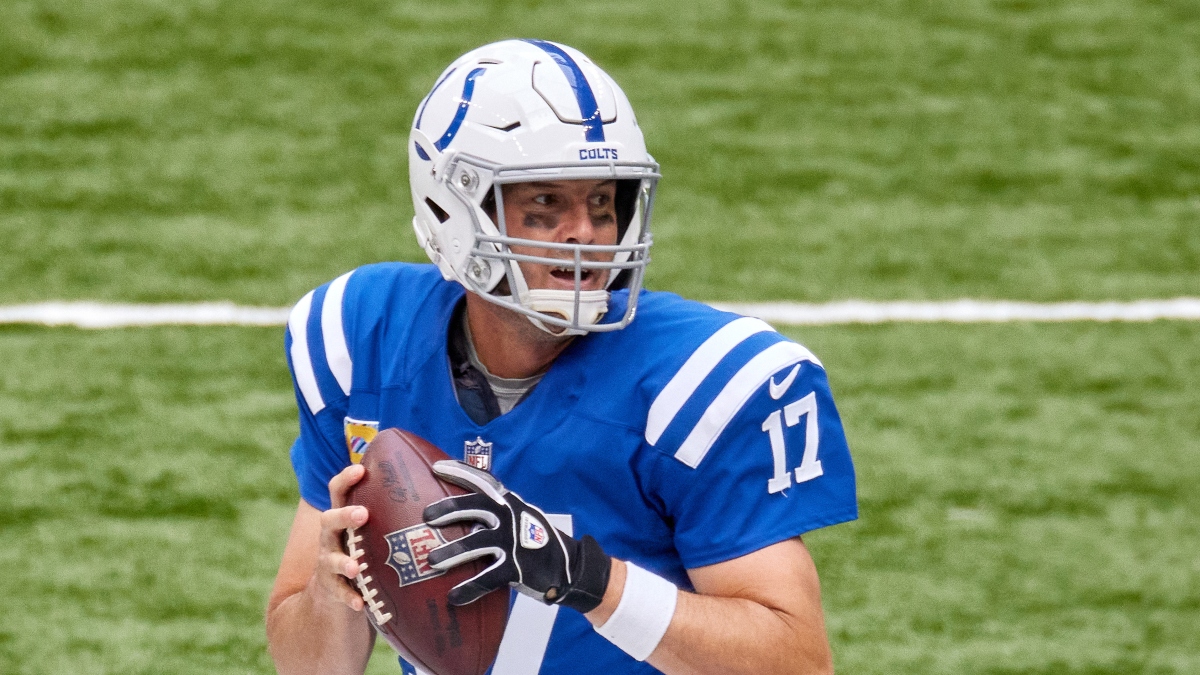 Seven is obviously one of the two most important numbers when it comes to NFL betting. Getting that key number also opens up more backdoor opportunities to either get a push or cover if down 10-14 late.
All that said, I still fear I'm not high enough on a Bills team that finished with the NFL's top against the spread (ATS) mark (11-5) and exceeded expectations almost every week of late. So I wouldn't take anything less than a touchdown here (shop real-time lines).
Why Under?
Since a flat 7 isn't currently available, my favorite play in this game is the under at the key number of 51 or higher.
I believe the Colts' offense is a bit overrated after facing the easiest schedule of opposing defenses. From the perspective of Football Outsiders' DVOA, the Colts only faced three above-average defenses this season and went 1-2 in those games (Ravens, Steelers, Bears) and averaged only 5.0 yards per play. For reference, only the Jets averaged fewer than 5.0 yards on the season.
And as I mentioned before, this Bills defense has made tremendous strides down the stretch. They will face a Colts offensive line that will be missing starting tackle Anthony Castonzo. Indy will likely turn to 33-year-old Jared Veldheer, who was coaching high school football this fall. I assume he will get a lot of help, which will restrict some of what the Colts can do offensively.
Buffalo can also put Tre'Davious White on T.Y. Hilton, who has really come on down the stretch. That could take away Rivers' most dangerous weapon. Plus, at 39 years old, Rivers clearly doesn't have the arm strength he once possessed. That could be an issue in the cold weather, which has historically given him problems, albeit in a small sample size. The ex-Charger is 1-5 (0-3 in the playoffs) when the temperature is under 40 degrees.
I assume the Colts will go with a very slow, run-heavy game script in order to attack Buffalo's primary defensive weakness while also keeping the ball out of Josh Allen's hands.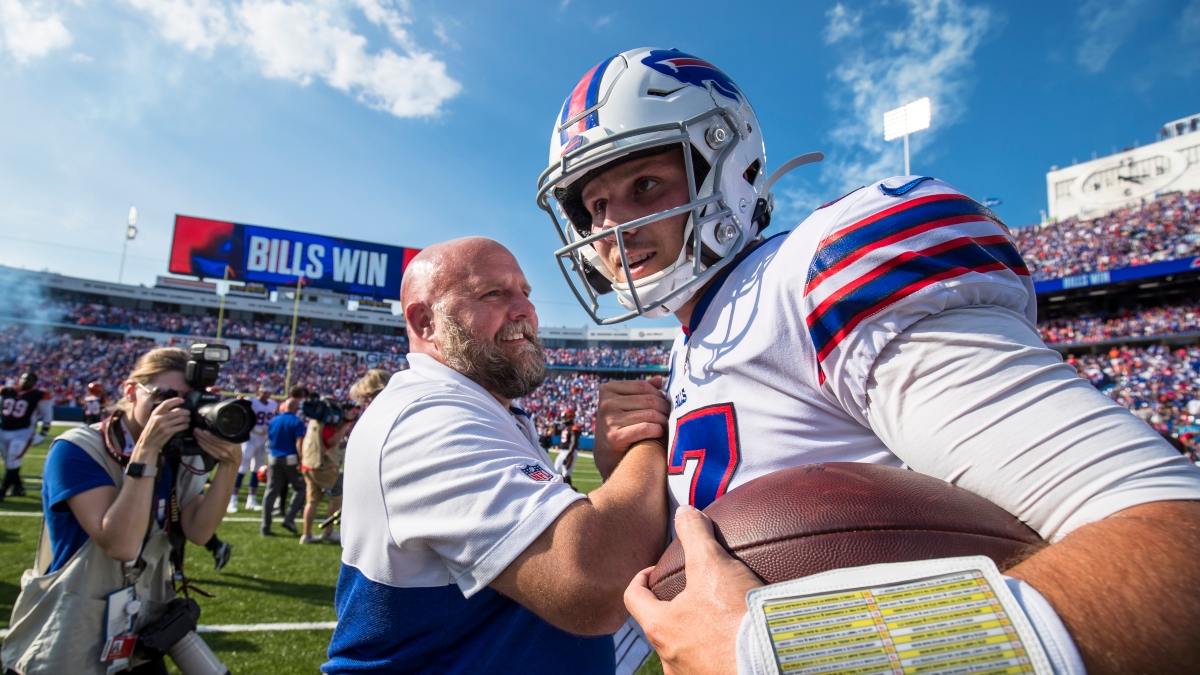 Speaking of which, defensive coordinator Matt Eberflus could have some success containing this Bills offense. Buffalo shouldn't get much on the ground against a very stout Indianapolis run defense, led by first-team All-Pro selections DeForest Buckner and Darius Leonard.
However, Buffalo doesn't really rely on its rushing attack, so it will come down to the pass defense.
Playing man coverage against Allen has been a death wish this year. Not only has he torched secondaries with deep balls against single coverage, he can also use his legs to torment opposing defenses.
This season, Allen has 25 touchdowns to two interceptions against man coverage compared to 12 TDs to eight INTs against zone. Despite his monumental progress, Allen can still be forced into mistakes against disciplined zone defenses.
Fortunately for the Colts, they play the second-most zone defense in the league. They've actually struggled a bit in Cover 2 and Cover 6 while excelling in Cover 3, which I think we see plenty of this weekend.
Indianapolis should get Khari Willis back at safety, which will help. They may be without Rock Ya Sin, but I actually prefer his backup T.J. Carrie. Regardless, there's not a material difference to me. I am interested to see how they utilize cornerback Xavier Rhodes and whether they decide to have him shadow his ex-teammate Diggs.

Ultimately, this Bills defense matches up quite well with an overrated Indy offense without a starting tackle and likely relying on its run game to chew up the clock. Meanwhile, the Colts defense at least runs a high frequency of the ideal scheme you want against this potent Buffalo aerial attack.
---
Rams at Seahawks
Rams Odds

+3

Seahawks Odds

-3

Total

42

Time

4:40 p.m. ET

Day

Saturday

Odds as of Friday and via PointsBet, where you can bet $20 on any NFL spread or moneyline to win $125 if the team you pick scores.
There's a lot of uncertainty heading into this game in regards to a few key players. Sean McVay won't say who will start at quarterback for the Rams until gameday. That means we could see either undrafted John Wolford make his second career start or Jared Goff if healthy enough. The Rams could also get starting tackle Andrew Whitworth back. Meanwhile, Seattle still doesn't know if safety Jamal Adams will be able to go.
I make this line around Seattle -1 with Goff, closer to -5 with Wolford. I do think Goff has a slightly better than 50-50 chance to play, so my adjusted line is a tad under three after weighting for both scenarios. Therefore, I did take a stab with some Rams +4, which wouldn't be ideal if Wolford gets the start.
However, catching over a field goal with Wolford might not be the worst thing in the world in a game where points could come at a premium.
Why Under?
My favorite play in this game is the under, which I'd suggest trying to get at the key number of 43 or above. I also sprinkled some on the first half under.
I've been on this Seattle under train quite a bit in the second half of the year and have no problem going back to the well with these two teams that totaled 29 and 39 points in their two previous meetings this year. If not for a complete fluke fourth quarter in the season finale, Seattle would've finished with eight straight unders to close the year.
After letting "Russ cook" in the first half of the season, head coach Pete Carroll pulled in the reins and went back to his roots. Seattle has since played much more conservatively on offense with a heavier run-first attack. That bodes well for an under.
Wilson will face a Rams defense that has played as well as any unit in the NFL this year. Jalen Ramsey and Aaron Donald are the stars of the show, but defensive coordinator Brandon Stanley has mixed up zone coverages and disguised pre-snap looks as well as any coordinator in the league. The concepts are very strong.
There's really no arguing that the Rams had the NFL's best coverage group during the regular season. Just take a look at the pass defense categories they led the league in:
EPA per pass
Explosiveness (only 36 passes of 20+ yards allowed, tied with Washington for fewest)
Yards per passing attempt (only team under 5.0)
Yards per game
The scheme and play calling have been superb. It also helps to have three corners in Ramsey, Hill and Williams who each rank in the top 25 of PFF's corner rankings.
L.A. has also been very stingy against the run and can generate pressure, especially up the middle or really from wherever Donald lines up. The Rams rank second in Adjusted Sack Rate, which spells trouble for a Seattle offensive line that ranks 30th in that same category.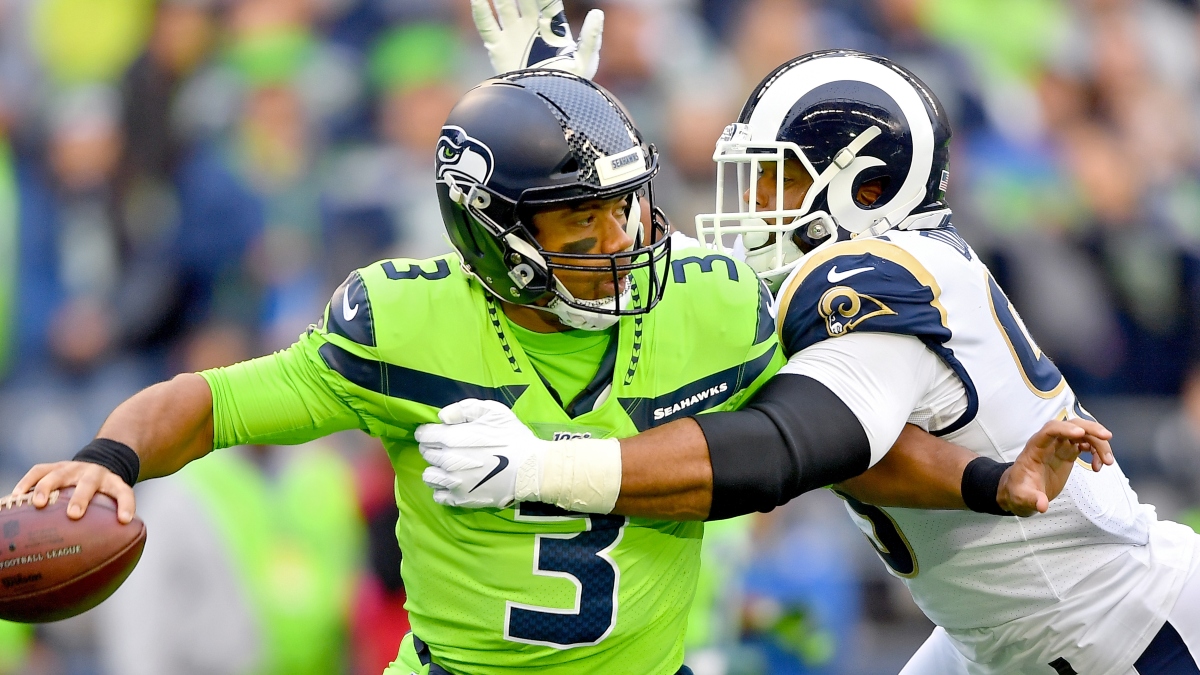 Russell Wilson might be in for a long day against a defense that will not only get pressure but also matches up well on the outside and takes away the deep ball. In two games against the Rams this year, Wilson threw for only one touchdown with two interceptions, while averaging only 236.5 passing yards.
On the other side of the ball, I think Seattle's defense can keep the Rams in check, regardless of who starts at quarterback. Whether it's a potentially limited Goff or Wolford, I fully expect McVay to lean heavily on his run game and defense. That bodes well for a Seattle defense that ranks seventh in DVOA against the run.
Seattle's defense has improved overall as the season has progressed. It's a much better unit than the horror show we saw early on. They rank 11th in weighted DVOA, which puts more emphasis on recent results. After only recording a paltry 10 sacks in their first seven games, the Seahawks had 36 over their final nine, which were the most in the NFC over that stretch.
In fairness, Seattle did benefit from a very favorable schedule down the stretch, but the opponent-adjusted numbers are promising. I do still think they can be exploited with deep passes, but that's not really L.A.'s game.
I think this is a slugfest similar to the first two meetings. Without flukes, I think first to 20 comes out on top of what should be a tight game throughout.

---
Buccaneers at Football Team
Buccaneers Odds

-7.5

WFT Odds

+7.5

Total

42

Time

8:30 p.m. ET

Day

Saturday

Odds as of Friday and via PointsBet, where you can bet $20 on any NFL spread or moneyline to win $125 if the team you pick scores.
We have only seen two home underdogs of more than seven points in NFL history. Both teams actually won outright:
2010 Seahawks (+10) over New Orleans
2012 Broncos (+7.5) over Pittsburgh
The quarterbacks in those two games were Matt Hasselbeck and Tim Tebow. And for what it's worth, since 1980, home underdogs in the NFL playoffs have gone 26-14-1 (65%) ATS.
So can Alex Smith (or potentially Taylor Heinicke) make it three for three? I'm not willing to go out on that limb, but I did bet Washington +9 earlier in the week. Since I make this line around Tampa -6, I gladly took the home dog catching over a touchdown here.
Contrary to some incorrect narratives out there, Tom Brady has been great this season. He's clearly got plenty left in his arm.
However, for whatever reason, Tampa really struggled against top-tier defenses this year, especially those that can get pressure, which has always been Brady's kryptonite.
Tampa went 0-4 against defenses ranked in the top 10 DVOA
Brady went 2-2 against defenses that ranked in the top 10 in pressure rate with 7 TD/5 INT and 6.7 yards per attempt. Against all other defenses, he had 33 TD/7 INT with a 7.9 yards per attempt average.
Well, Washington ranks in the top three in overall defense DVOA and pressure rate. I believe its defense can keep them in this game. Tampa wide receiver Mike Evans also may not be at 100% if he suits up.
And hey, maybe there's also something to Brady's struggles in primetime after what we've seen this year.
Why Under?
Washington's pass defense has been stellar all year, primarily due to one of the most dominant and deepest defensive lines in the league. Kendall Fuller and Ronald Darby have also exceeded expectations on the outside at corner although they certainly benefit from the pressure.
Tampa's offense has been very reliant on downfield passing as you'd expect with a Bruce Arians offense. If Washington can get pressure on Brady, it would really disrupt a Bucs offense that is not as efficient with checkdowns as former Brady offenses in New England.
On the other side of the ball, Washington's offense has been nothing short of dreadful. It's one of the worst to ever make the playoffs.
The passing offense, which ranked dead last in DVOA, has been especially impotent. The rushing attack has been a bit better, especially when Antonio Gibson has been healthy. I expect the Football Team to rely on its run game, defense and punter Tress Way for field position.
However, Tampa has one of the best defenses in the league when it comes to defending the run (No. 1 DVOA) and short passes. Coordinator Todd Bowles' defense stacks the box and plays very aggressive on the outside, which does leave them a bit vulnerable to explosive passes at times. However, they do not have to worry about that against Washington's anemic passing attack.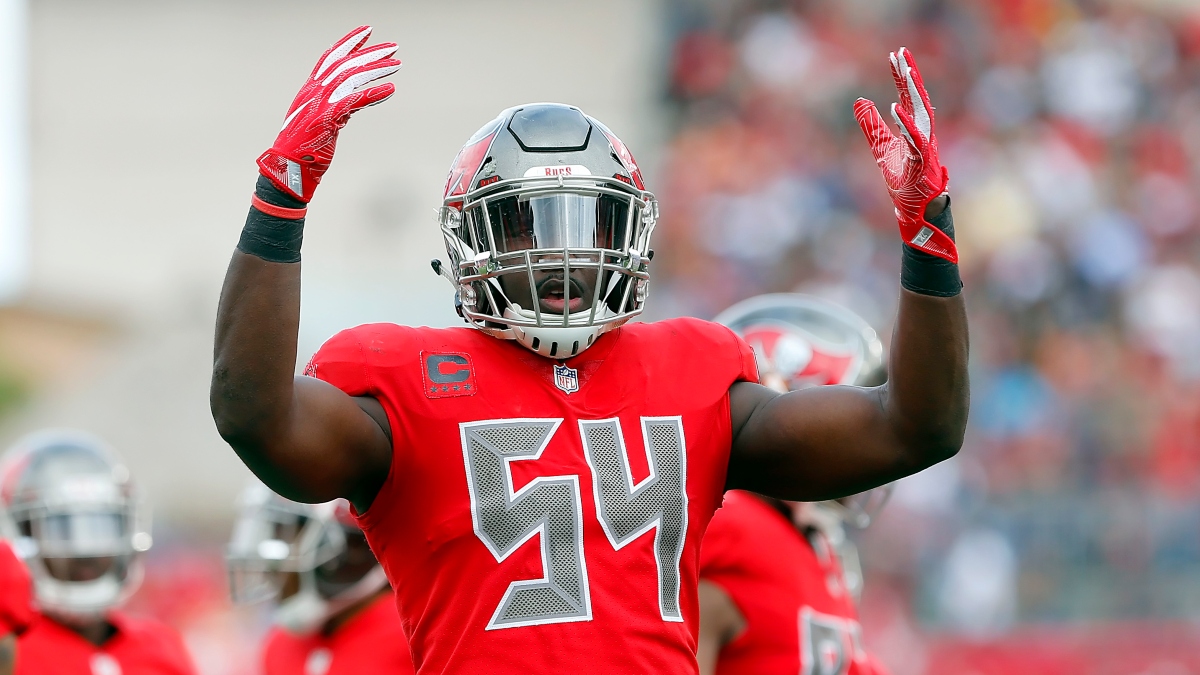 Also, it looks as if Tampa's defense will be at full strength this weekend with Carlton Davis and Shaq Barrett practicing on Thursday. I just can't see Washington's offense doing much at all.
I played this under 46 (and some 1H under 22.5) since I project it at 43. In the interest of transparency, there are a few things that do concern me:
Heinicke getting the start or playing time introduces more variance — both from a downfield passing attack and turnover perspective. I'd be more worried about the latter based on the historical production of quarterbacks making their first playoff start against quarterbacks who have playoff experience (which Brady certainly has). First-time quarterbacks in that scenario are 13-32-1 ATS (28.8%) since 2002.
Washington's defensive line creating turnovers that potentially lead to short fields and/or defensive touchdowns.
Washington trying to throw the ball if they get behind. That could get messy.
Regardless of those factors, I still see value at 45 or above in a game I think will be dominated by both defenses.
---
Ravens at Titans
Ravens Odds

+3.5

Titans Odds

-3.5

Total

54.5

Time

1:05 p.m. ET

Day

Sunday

Odds as of Friday and via BetMGM, where you can bet $1 on any NFL moneyline to win $100 if the team you pick wins.
This is your narrative "revenge" game of the weekend, as the Titans defeated the Ravens twice in 2020, with both victories coming in Baltimore.
The first was a shocking upset in the divisional round last year in the playoffs and the other came during this regular season when Tennessee came from behind in the second half to pull out a victory in overtime.
As a result, I've heard a lot of people say Tennessee has Baltimore's number.
I think that's nonsense.
Last year in the playoffs, the Ravens  ran 40 more plays and averaged more yards per play. They outgained the Titans by over 200 yards but just had awful turnover and fourth-down luck. Baltimore finished the night minus-three in turnover margin and went 0 for 4 on fourth-down conversion attempts. Derrick Henry did run wild, which led to Baltimore addressing their run defense in the offseason through free agency and the draft.
In the meeting earlier this year, Baltimore actually held Henry to under 50 yards rushing through three quarters — before he broke out in the fourth quarter and overtime.
However, the Ravens played without two of their most important pieces along the defensive line in Calais Campbell and Brandon Williams. The run defense is astronomically better with those two in the lineup, which we'll see on Saturday.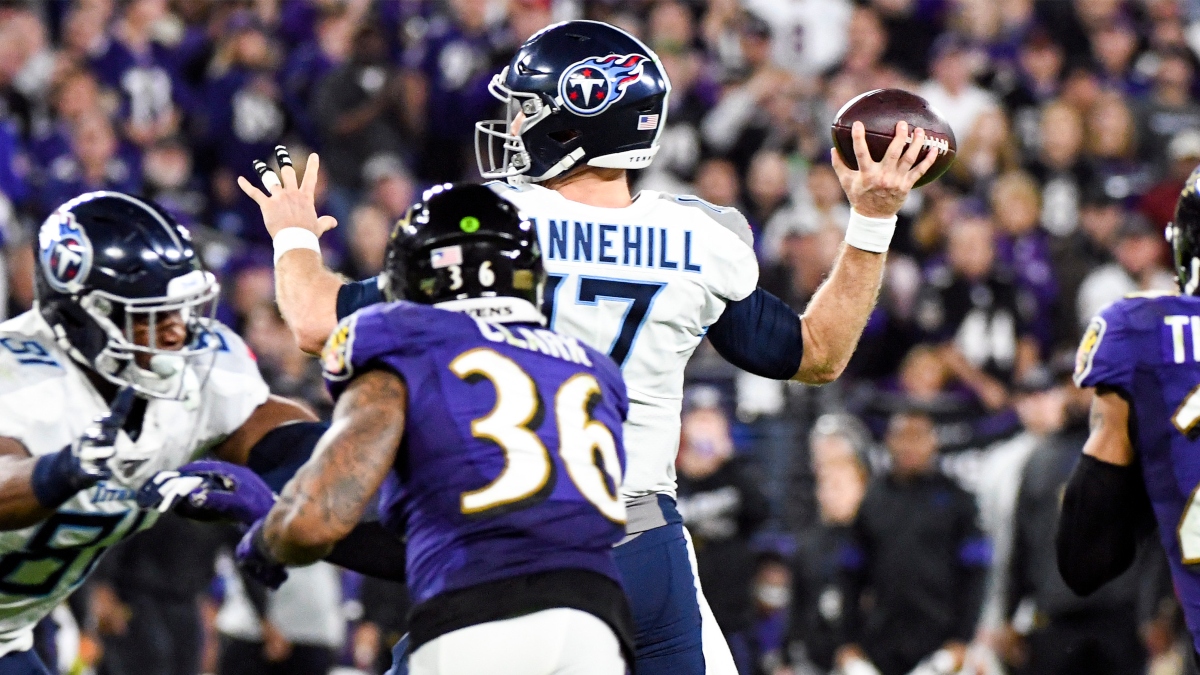 I fully expect the Ravens' run defense to hold its own on Sunday, forcing Ryan Tannehill to beat them through the air. He's certainly capable but will be facing one of the best cornerback groups in the league. Tannehill also will be operating behind a beat up offensive line against a defense that will blitz as much as any team in the league. And Tannehill, who tends to hold the ball too long at times, just isn't the same quarterback under pressure when forced to drop back in passing situations.
On the other side of the ball, the Baltimore offense is rolling of late during a five-game winning streak to close out the year, setting the NFL record for most rushing yards over any five-game stretch in the process. The young and inexperienced offensive line has shown significant improvements, and the emergence of JK Dobbins as the No. 1 back makes this offense much more explosive. Lamar Jackson and the Ravens have seemingly found their mojo again at the perfect time.
Yes, it came against a very favorable schedule of opposing defenses, but Baltimore will face another bad defense this weekend in Tennessee.
The Titans' secondary was a sieve and they couldn't generate any pressure, which is a deadly combination in today's NFL. In fact, they had the fewest sacks of any playoff team in the past 40 years. That said, if you were going to face one team in the AFC with those issues, it's the Ravens.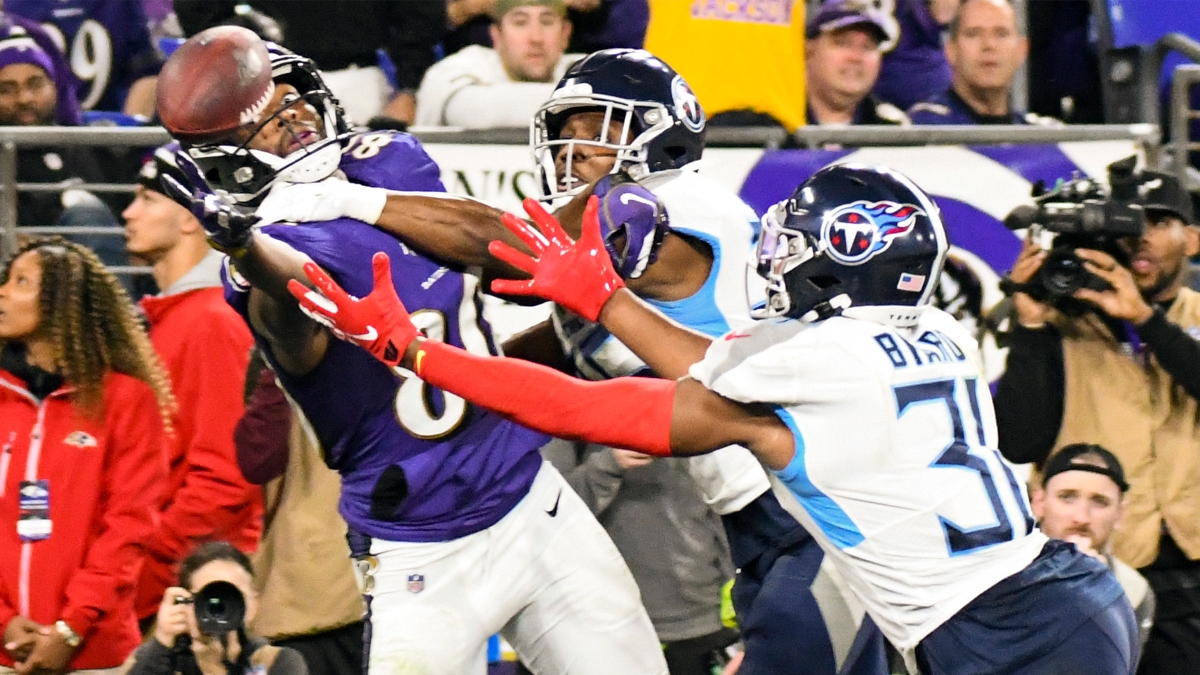 I'm fairly confident the Ravens win this game. I don't see a ton of value in the number but did throw them in a ML parlay with the Saints. If I had to boil it down to one stat, it would be third-down conversions. I believe Baltimore will have substantially more success sustaining drives. On the season, Baltimore ranks No. 2 in the NFL in third-down defense at 34%. Meanwhile, Tennessee ranked dead last at 51%, which is actually the worst single-season mark in NFL history.
Also, don't forget Baltimore will have a massive edge on special teams.
Why Under?
Playing a Tennessee under is very scary, as the Titans have been an absolute over machine since Tannehill took over at quarterback.
That said, I see value in this total at 55 and see it playing out as an under game. I think the Ravens will be able to sustain drives and chew up the clock in the process.
However, I don't think it will be as easy as most think. Tennessee's run defense has been much better than its pass defense and it has seen this unique Baltimore offense twice in the past 12 months. That experience should pay off here, especially since I still have many questions about the Ravens' passing attack.
And as I said earlier, I think the Baltimore defense really shows up here. Tennessee's offense has been tremendous by every metric this year, but the Titans benefited from one of the easiest schedules of opposing defenses in the league. I think their numbers are also a bit inflated due to other circumstances, such as oodles of garbage time points against the Browns, playing the Bills before their defensive resurgence and facing the Ravens without two of their best defensive lineman, I don't think this offense is invincible by any stretch of the imagination.
How would you rate this article?