Ranking All 14 NFL Playoff QBs Based on Their Worth To the Spread
Credit:
Getty Images. Pictured: Patrick Mahomes, Aaron Rodgers, Josh Allen
With two quarterbacks already questionable for Wild Card Weekend and the potential impacts of COVID-19 making sudden scratches an all-too-familiar reality in the NFL, it's a good time to revisit how much each quarterback is worth to the point spread.
My colleagues and I used our power ratings to project how many points all 14 starters and their backups are worth to the spread. Those can be found in the table below, followed by a run-through of each starter's value heading into the postseason.
NFL QB Spread Ratings
We've included individual ratings for our experts — Chris Raybon (CR), Sean Koerner (SK) and Matthew Freedman (MF) — as well as their consensus ("con.") ratings for starters and backups.
The "net rating" that's highlighted in the far right column is intended to capture the true value of a team's starter by factoring in the value of his backup. For example, Aaron Rodgers' backup Tim Boyle is worth -1.1 points, making Rodgers that much more valuable than his individual worth of 5.9 points. By contrast, Nick Foles has positive value to the spread, making Mitch Trubisky less valuable.
"Net rating" = full adjustment from starter to backup.
NFL QB Spread Rankings
Starting quarterbacks are ranked in order of their consensus rating. Ties were broken by their net rating.
1. Patrick Mahomes, Chiefs
| | |
| --- | --- |
| Rating | 6.3 |
| Backup QB | Chad Henne |
| Backup's Rating | -0.4 |
| Net Rating | 6.7 |
In Mahomes' three years as a starter, the Chiefs haven't finished outside the top-three in Football Outsiders' offensive DVOA or outside the top two in passing DVOA.
Aaron Rodgers has been even better than Mahomes this season, but Mahomes still gets the slight nod in our ratings because he showed us last season that his floor is essentially "spot every opponent a 20-point lead, still win championship."
Mahomes threw 50 touchdowns in his first full season. His backup, Henne, has thrown 48 over the past decade. I personally have the difference between them rated at more than a touchdown (7.5), but the difference in our consensus ratings is still close to seven points.
2. Aaron Rodgers, Packers 
| | |
| --- | --- |
| Rating | 5.9 |
| Backup QB | Tim Boyle |
| Backup's Rating | -1.1 |
| Net Rating | 7.0 |
I was wrong: Rodgers is absolutely back.
He posted a 48-to-5 touchdown-to-interception ratio and finished No. 1 in the league with a 33.1% passing DVOA, narrowly edging Mahomes (31.7%).
I've come around on Rodgers not because of the monster season — which I always figured was possible given the schedule — but because he appears to have finally gotten pressure figured out: After the early-year hiccup against the Bucs, Rodgers went on  finish with an 89.3 passer rating under pressure, the third-best among 42 quarterbacks with at least 145 dropbacks (per Pro Football Focus).
Similarly to Mahomes and Henne, I have the difference between Rodgers and backup Boyle at more than a touchdown, and our consensus is at exactly seven points.
If Rodgers were to go down, I would make Marquez Valdes-Scantling the quarterback — if he's throwin' 'em, he can't be droppin' 'em.
T-3. Josh Allen, Bills
| | |
| --- | --- |
| Rating | 5.1 |
| Backup QB | -0.9 |
| Backup's Rating | Matt Barkley |
| Net Rating | 6.0 |
My, how far we've come from the guy who was last seen in the postseason making a backwards bee-line to an early vacation against the Texans.
Allen is officially #good now. His 7.82 adjusted net yards per pass attempt was fifth-best in the NFL, trailing only Rodgers, Mahomes, Deshaun Watson and Ryan Tannehill. Allen's 81.7 mark in ESPN's Total QBR was also third-best behind Rodgers and Mahomes. And finally, his 69.2% completion percentage registers as one of the top 25 marks in NFL history.
According to Pro Football Reference, Allen has cut his "bad throw" rate down from 25.7% as a rookie to 20.3% in Year 2 and now 16.0% in Year 3. He's also been less reliant on his legs than ever, setting a new career-low with 6.4 rushing attempts per game (though he still punched in eight rushing touchdowns).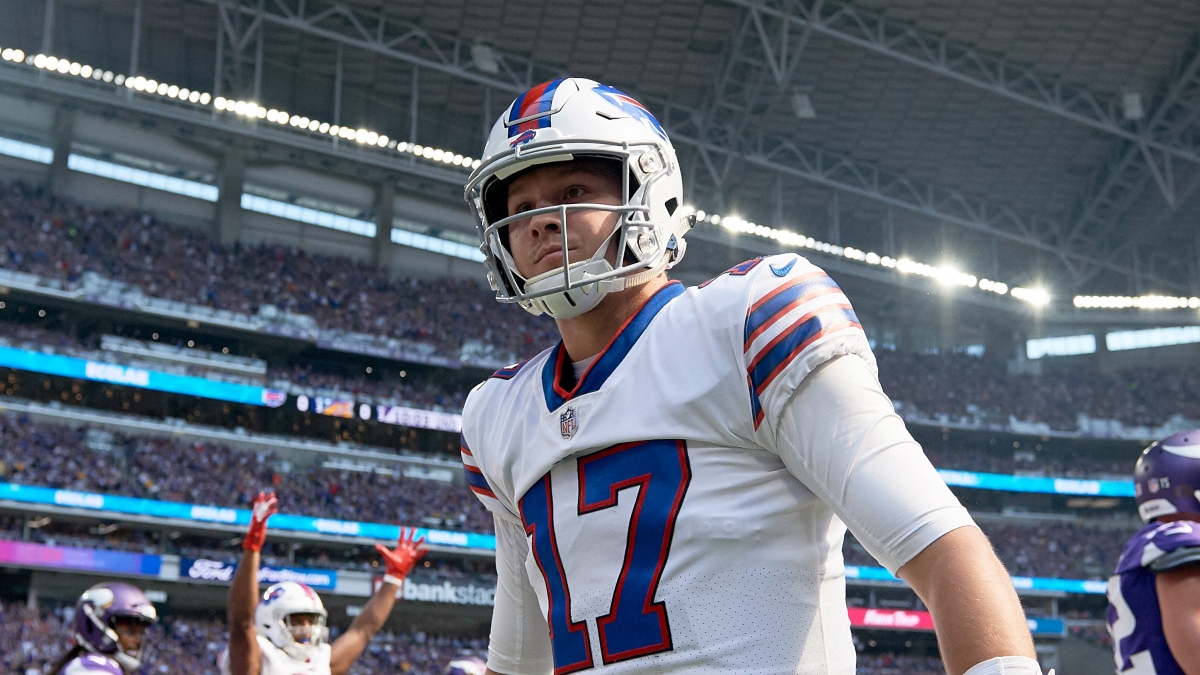 Just how good has Allen been? Consider that in our consensus quarterback ratings, as well as my own, taking Allen off the Bills would be akin to taking Tom Brady off the Buccaneers.
Quarterbacks notoriously struggle in their first postseason start, going just 13-32-1 against the spread (ATS) since 2002 when facing an experienced starter, so I'm expecting Allen to fare much better this time around.
Sean McDermott has done a great job surrounding Allen with talent and coaches who have allowed him to develop, and the pair is now up to a 62% ATS win rate in their careers together, per our Action Labs data.
Allen's Barkley has never been afraid to throw downfield, and I now consider them Eskimo brothers after they combined to smash Miami's playoff chances with a 56-26 beatdown in Week 17 — but that's where the similarities end. Barkley has run 23 times for -12 yards in his career and has a career completion rate of just 58.4%.
T-3. Tom Brady, Bucs
| | |
| --- | --- |
| Rating | 5.1 |
| Backup QB | Blaine Gabbert |
| Backup's Rating | -0.9 |
| Net Rating | 6.0 |
Brady's only kryptonite this season has been top-10 defenses and primetime games. He faces both this weekend. But backup Gabbert's kryptonite had been every single NFL defense ever — until he rattled off a career's worth of stats in a half of work in mop-up duty in Week 16 against the Lions, that is.
5. Russell Wilson, Seahawks
| | |
| --- | --- |
| Rating | 5.0 |
| Backup QB | Geno Smith |
| Backup's Rating | -0.4 |
| Net Rating | 5.4 |
Pete Carroll was letting Russ cook early in the year, but the pilot light has gone out of late.
From Weeks 1-9, Seattle threw 59.1% of the time on first and second down. Since Week 10, that figure has fallen to 52.5%. Wilson has struggled over that span, averaging just 6.4 yards per attempt with 12 touchdowns passes over his last eight games after posting an 8.6 mark with 28 touchdowns through his first eight.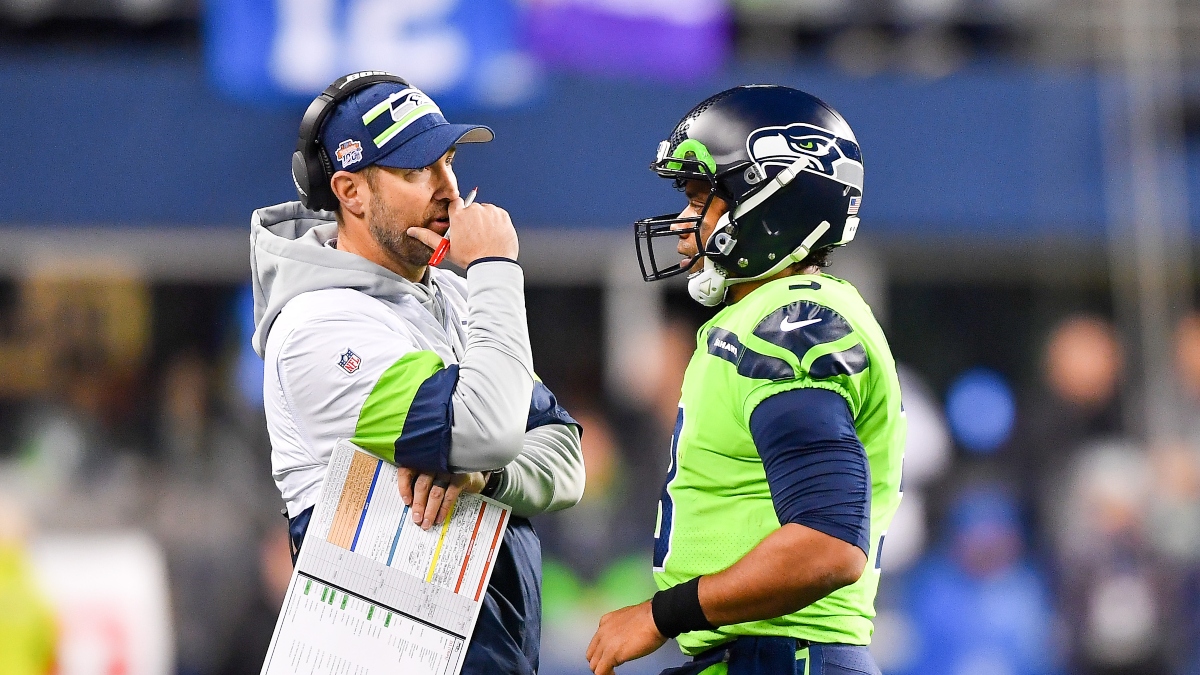 Just like we all thought after the Seahawks played historically bad defense to start the year, defense is now their calling card in lieu of Wilson, as the Seahawks are giving up just 16.0 points per game since Week 10.
Even with the apron coming off, the Seahawks would be cooked if they had to turn to Geno Smith, who represents a 5.5-point drop-off in my model.
6. Ryan Tannehill, Titans
| | |
| --- | --- |
| Rating | 4.6 |
| Backup QB | Logan Woodside |
| Backup's Rating | -0.9 |
| Net Rating | 5.4 |
Last year you got the feeling that the Titans coaching staff wasn't quite sure if Tannehill was for real, or if he was just a fraud like Super Bowl Jimmy Garoppolo turned out to be, so they hid him for most of the playoffs.
This year, though, he's just as key to the Titans' offensive formula as Derrick Henry. Head coach Mike Vrabel is so confident playing shootout ball with Tannehill, that Vrabel gave his entire defense the second half of the season off.
In 26 starts as a Titan, Tannehill has thrown 55 touchdowns to only 12 interceptions while averaging 8.5 yards per attempt, because there's nothing more pleasing to the football gods than for a former bust under Adam Gase to move on an suddenly play like a legitimate Hall of Famer.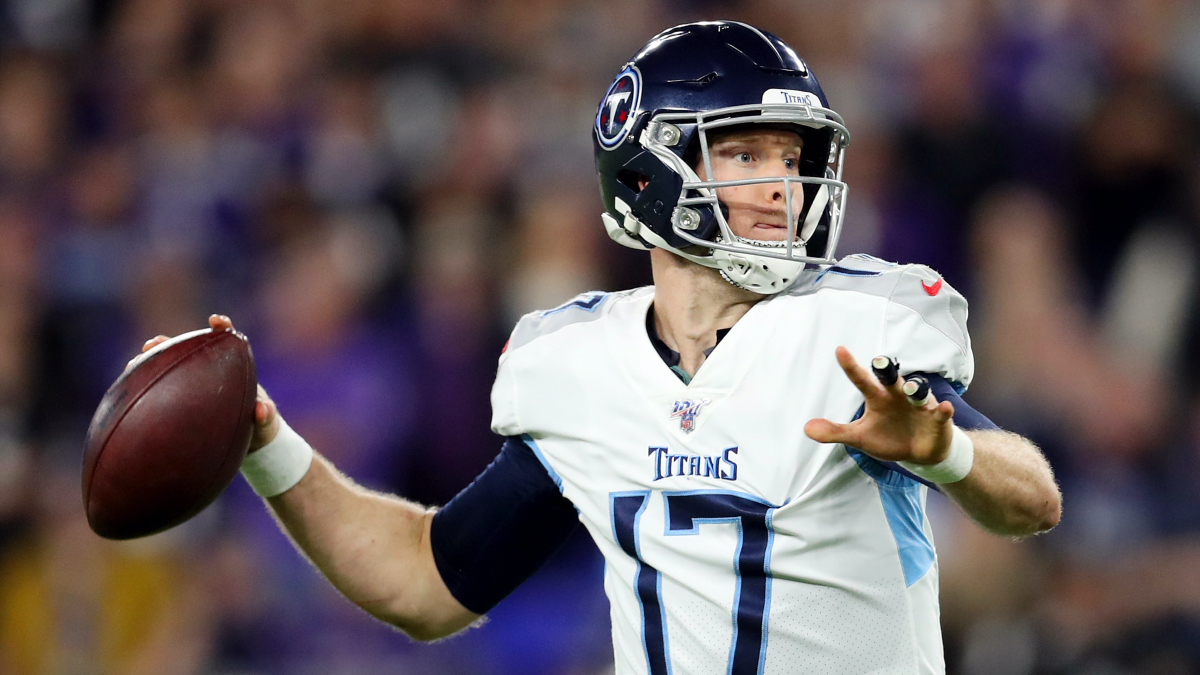 Tannehill has also run in another 11 on the ground in his Titans career and posted a monster 42.9% rushing DVOA this season, second among quarterbacks.
Tannehill's backup, Woodside, set passing records at Toledo but got waived by the Bengals in the pre-Joe Burrow days and didn't go until the third round of the AAF draft, which is probably not a good sign. I personally have the drop-off at 5.5 points, but Woodside could close the gap by spending the offseason at an Adam Gase clinic and then losing his number.
7. Lamar Jackson, Ravens
| | |
| --- | --- |
| Rating | 4.6 |
| Backup QB | Robert Griffin III |
| Backup's Rating | 0.1 |
| Net Rating | 4.5 |
Because rushing is less efficient than passing and Jackson has never posted elite passing yards per attempt (YPA), he doesn't pop in these kind of models as much as one might think.
Despite finishing with more than 1,000 yards on the ground, Jackson finished with a slightly negative rushing DVOA (-3.6%). And interestingly enough, he also finished with a slightly negative passing DVOA.
But Jackson is one of the rare players whose value extends beyond the plays in which he's directly involved. He doesn't get direct credit for it, but the threat of him keeping the football helped propel Ravens running backs to a league-high 5.21-yard per carry average — they were one of only six teams to finish with a positive rushing DVOA overall.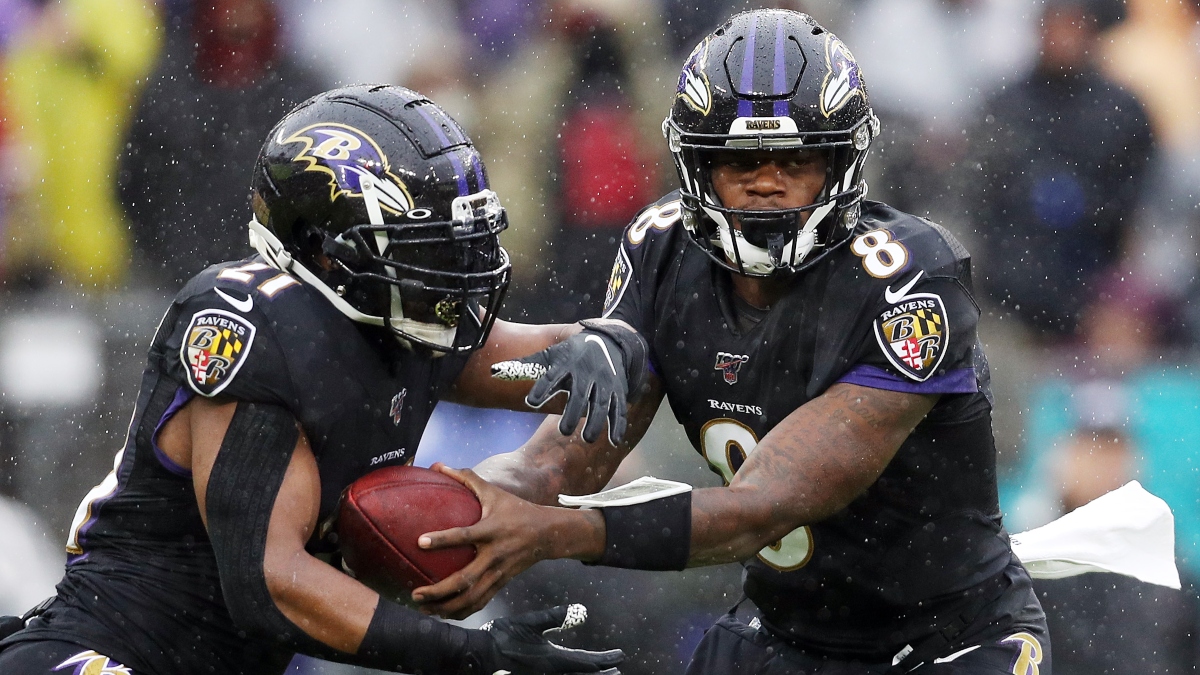 Oddly enough, Jackson's ability to fully get over on the Titans defense has proven even more elusive than their ability to defend.
In last season's Divisional Round, the Titans sacked him four times and picked him twice while holding the Ravens to 12 points. And in Week 11 of this season, they held Jackson to just 51 yards rushing — his second-lowest total since Week 6 — in a comeback win in which Jackson was dropped for a drive-killing sack en route to a three-and-out on the first possession of overtime.
In both of those matchups, the Titans were able to take away one of Jackson's top two playmakers: Mark Andrews and Marquise Brown.
In Week 11, Andrews had five catches for 96 yards and a touchdown in Week 11 while Marquise Brown was held catch-less. And in the Divisional Round, Brown went for a meaningless seven catches and 126 yards while Andrews posted just 39 yards on four catches.
The Titans rank 30th in pass defense DVOA, but they do a good job over the middle — the most efficient area an offense can throw — ranking seventh.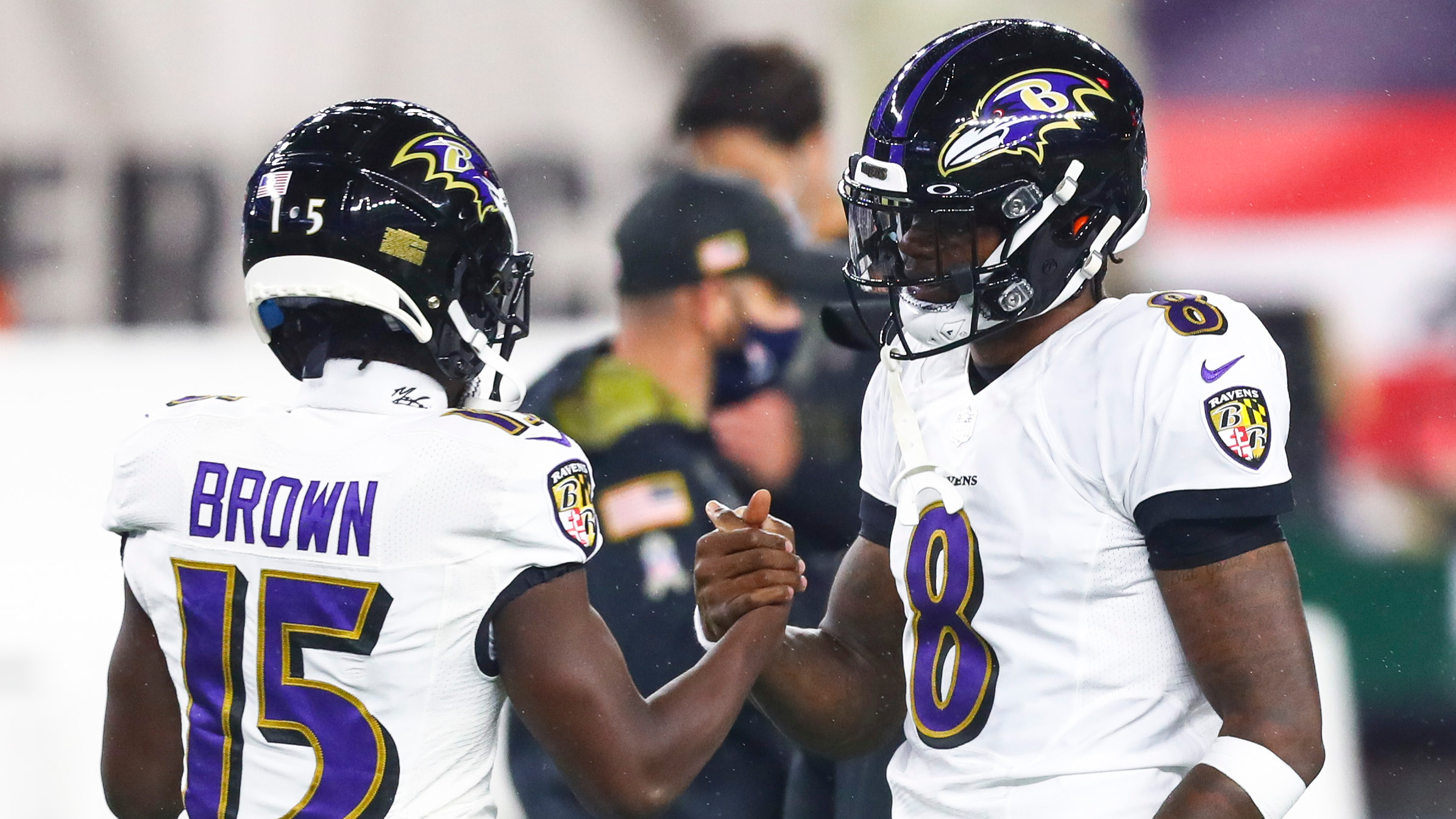 With the steep drop-off after Brown, Jackson's overall numbers targeting wide receivers weren't good in the first matchup, and he predictably struggled even more with Brown shut down in the rematch:
2019 Divisional Round: 18-of-31, 238 yards, 0 TD, 1 INT, 4 passes broken up
Week 11 of 2020: 9-of-18, 70 yards, 0 TD, 1 INT, 3 passes broken up
Total: 27-of-49 (55.1%), 308 yards (6.3 YPA), 0 TD, 2 INT, 7 passes broken up
Jackson has also struggled to throw outside the numbers in general against Tennessee, going a combined 18-of-34 for 243 yards (7.15 YPA) with one touchdown and two interceptions across the two matchups.
In any case, Jackson is obviously a big step up over any backup quarterback on the Ravens roster, as evidenced by their season-low 210 total yards and 90 passing yards in Week 10 against Pittsburgh with Jackson on the reserve/COVID-19 list. Robert Griffin III (hamstring) and Trace McSorely (knee) are both on Injured Reserve but could return as soon as this week, while the new rules for 2020 would allow Baltimore to continue elevating practice-quad quarterback Tyler Huntley if Griffin III or McSorely aren't ready.
I make it a 4.5-point drop-off from Jackson to Griffin III or McSorley, and 5-plus with Huntley.
8. Drew Brees, Saints
| | |
| --- | --- |
| Rating | 3.6 |
| Backup QB | Taysom Hill |
| Backup's Rating | 1.5 |
| Net Rating | 2.1 |
It's hard to get a read on Brees this year, as he's been injured and only nine of his 274 completions have gone to Michael Thomas. But one thing is for sure: Brees has become increasingly immune to the deep pass. His average air yards per pass attempt dropped from 7.1 in 2018 to 6.4 in 2019 and 6.0 this season.
Taysom Hill can bring to the table what Brees can't and is a better backup option than Jameis Winston at this point, but given the daunting track record for first-time postseason starters, you wouldn't want Hill up against Russell Wilson, Aaron Rodgers or Tom Brady.
Still, I have the drop-off from this version of Brees to Hill at only two points.
9. Ben Roethlisberger, Steelers
| | |
| --- | --- |
| Rating | 2.8 |
| Backup QB | Mason Rudolph |
| Backup's Rating | -0.3 |
| Net Rating | 3.2 |
Roethlisberger has taken multiple sacks in only four games this season and only 13 on 621 dropbacks over the full year. His interception rate is also the lowest it's been in longer than a half-decade, and since the NFL doesn't call holding penalties anymore, all of this combines to ensure that every Steelers drive is a threat to last beyond infinity.
Every once in awhile, a 50-yard touchdown from Chase Claypool will offset the endless loop of Diontae Johnson drops and JuJu Smith-Schuster completions for negative 2 yards — but don't count on it.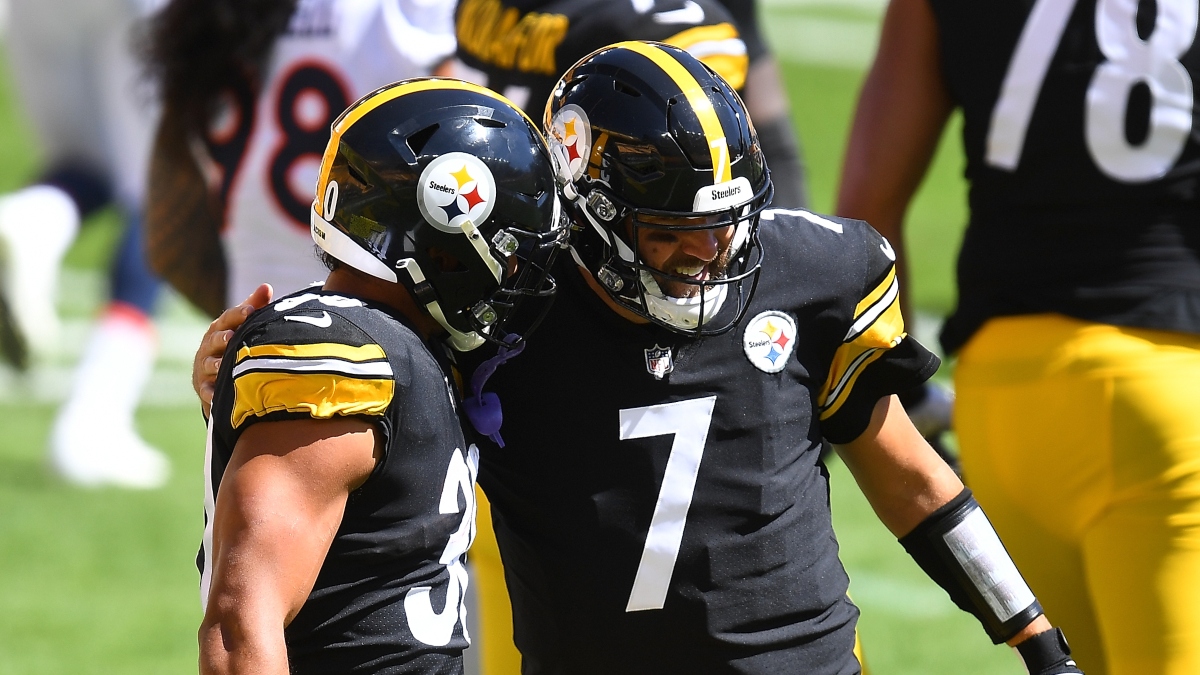 Even this weird version of Roethlisberger has catapulted the Steelers from 8-8 team to one that at one point was being talked about as a potential threat to go undefeated.
Roethlisberger's 6.27 adjusted net yards per pass attempt is slightly below the league average of 6.4, but it's still a full yard more than Rudolph's career mark. I have the drop-off worth roughly a field goal.
10. Philip Rivers, Colts
| | |
| --- | --- |
| Rating | 2.5 |
| Backup QB | Jacoby Brissett |
| Backup's Rating | 0.2 |
| Net Rating | 2.3 |
Rivers has been mostly fine this season, though he's struggled mightily in the second half of games.
First half: 211-of-293 (72.0%); 2,605 yards (8.9 YPA); 19 TD; 3 INT; 116.3 rating
Second half: 158-of-250 (63.2%); 1,564 yards (6.3 YPA); 5 TD; 8 INT; 74.1 rating
Rivers has one of the league's better backups in Jacoby Brissett, so I make this only a 2-point drop-off (and a bit less on the second-half line).
11. Baker Mayfield, Browns
| | |
| --- | --- |
| Rating | 2.5 |
| Backup QB | Case Keenum |
| Backup's Rating | 0.3 |
| Net Rating | 2.2 |
Mayfield has a competent backup with playoff experience in Case Keenum, and we could see some Keenum in a worst-case scenario.
Pittsburgh is a brutal matchup for Mayfield, who generally resembles a legit NFL quarterback when he's not under pressure. According to Pro Football Focus, Mayfield's 47.7 passer rating under pressure ranks 33rd of 39 qualifiers, and his 43.7% completion percentage ranks 34th.
On 23 pressured dropbacks against Pittsburgh, Mayfield has completed just 6-of-17 passes for 100 yards with one touchdown and two interceptions.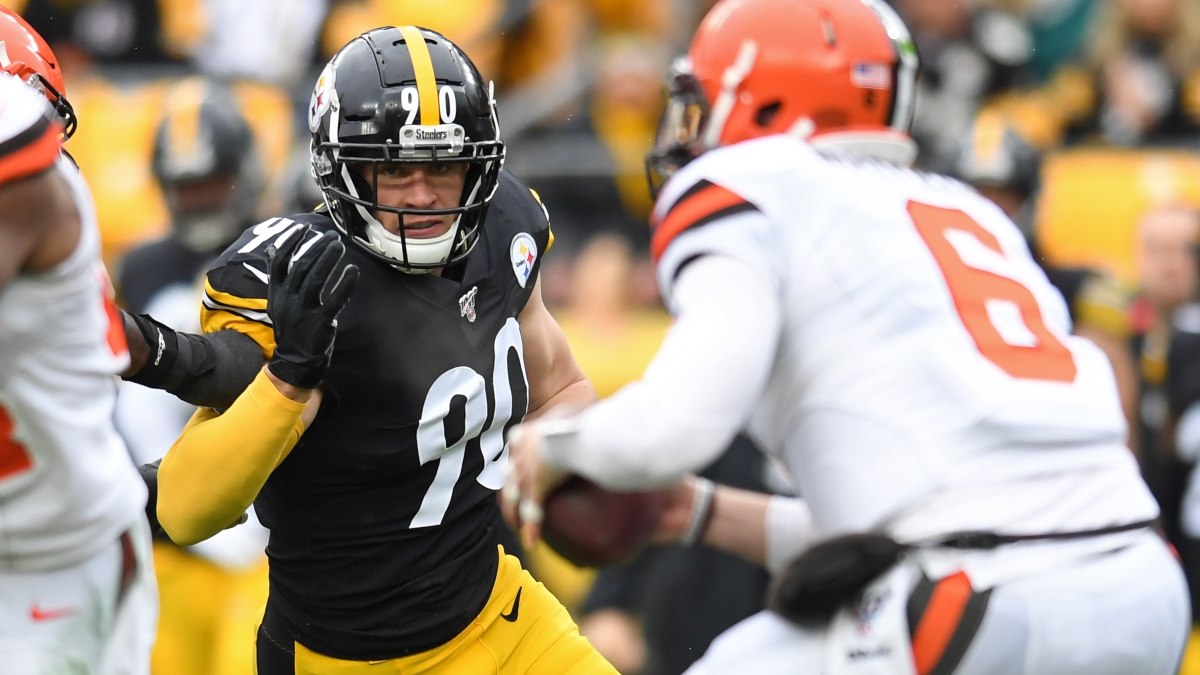 Keenum has never been great under pressure, but he did finish a respectable 19th in rating under pressure last year (64.2). I have the drop-off at 1.5 points, but I'd knock that down a tick given that Mayfield is in a daunting spot for his first postseason start.
12. Jared Goff, Rams
| | |
| --- | --- |
| Rating | 2.3 |
| Backup QB | John Wolford |
| Backup's Rating | -0.2 |
| Net Rating | 2.5 |
Goff is one of my lower-rated quarterbacks in the postseason, but I would still project a healthy Goff 2.5-3 points above John Wolford.
Wolford's yardage numbers looked decent last week, but the Rams scored nine points on defense and nine more on field goals, meaning Wolford has yet to contribute to the bottom line. Against a Seattle defense that held the Rams to 9 points with Goff, I wouldn't hold my breath if Wolford has to make career start No. 2 in Seattle.
13. Alex Smith, Football Team
| | |
| --- | --- |
| Rating | 1.2 |
| Backup QB | Taylor Heinicke |
| Backup's Rating | -0.9 |
| Net Rating | 2.1 |
Props to Smith for defying the odds and becoming an inspiring comeback story … but we both know that was just the obligatory qualifier before I tell you how bad he's playing.
It speaks to how dreadful Smith has been that Ron Rivera has given Taylor Heinicke first-team reps in practice because Smith was "a little bit sore," and is considering giving Heinicke action against the Bucs.
Taylor Heinicke. In the playoffs. Against Tom Brady.
In six starts, Smith has cracked 7.0 yards per attempt just once (barely at 7.09), and he's managed to throw more touchdowns than interceptions in only one of his eight appearances this season.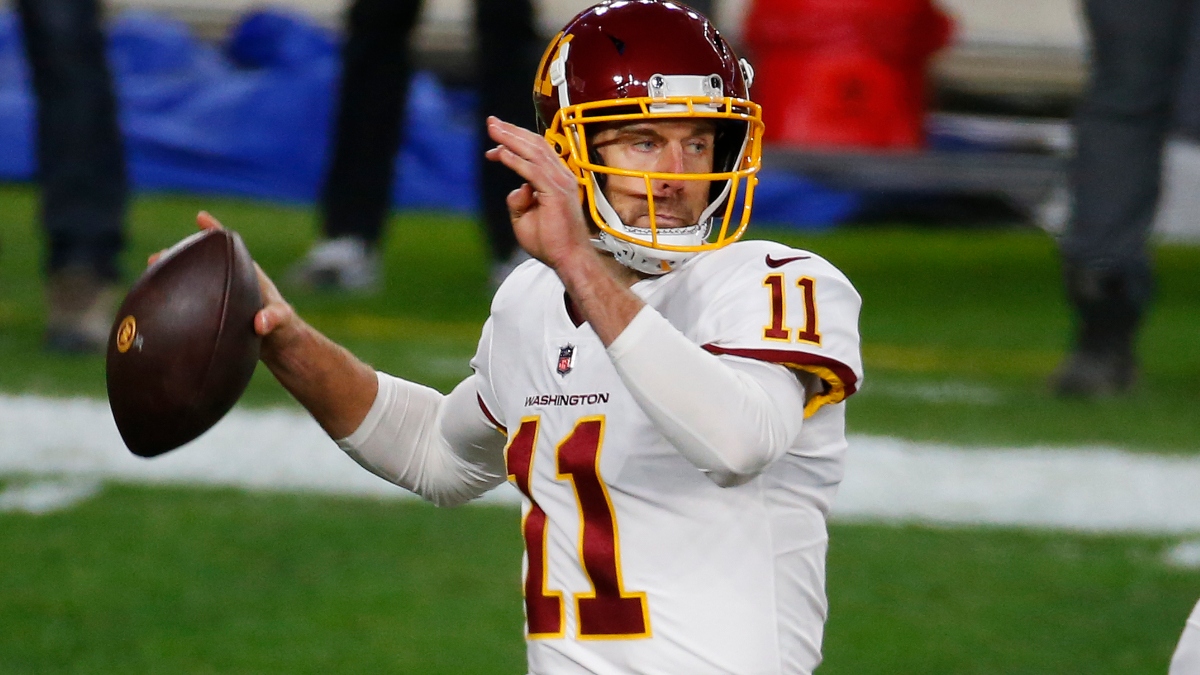 Despite what his Tyreek Hill-induced outlier season a couple years ago would have you think, Smith is still playing too conservatively, averaging just 5.1 air yards per pass attempt — fewer than the amount of yardage that has come after the catch (5.5).
Despite getting pressured on more than one-third of his 277 dropbacks, he has scrambled only three times, and unfortunately seems to be in no position to change that if he plays, making him a sitting duck against a Tampa Bay defense that finished the regular season second in pressure rate (27.0%) and fifth in blitz rate (39.0%).
Smith brings intangibles to the equation that are hard to quantify, but from a modeling standpoint, this turnover-prone, immobile version of Smith is a replacement-level quarterback.
I have only tenths of a point separating him and Heinicke.
14. Mitch Trubisky, Bears
| | |
| --- | --- |
| Rating | 1.2 |
| Backup QB | Nick Foles |
| Backup's Rating | 0.7 |
| Net Rating | 0.5 |
After averaging 9.6 air yards per pass attempt in his first four starts, Trubisky is averaging 6.5 over his last five. He's somehow found his way here thanks to four matchups against the bottom-three defenses in pass DVOA — Detroit, Jacksonville and Houston — and created the illusion of competent quarterback play, but there is a rude awakening waiting for him in the Superdome.
Trubisky ended up facing only one team that finished above average in pass defense DVOA (Atlanta at No. 14), and he got benched. If that were to happen again against No. 2 New Orleans, the drop-off would be minimal — I make it a half-point.
How would you rate this article?