NFL Preseason Week 3: Betting Odds & Angles for Packers-Raiders, Every Thursday Game
Credit:
USA Today Sports. Pictured: Pat Shurmur, Aaron Rodgers, Bill Belichick
Ian Hartitz breaks down the betting odds for Thursday's NFL Preseason Week 3 matchups.
See his analysis and picks for Packers-Raiders, Jaguars-Dolphins and the other four games.
We get a six-game slate of preseason football on Thursday night. It's finally Week 3, so expect to see plenty of key starters play for more than a quarter.
Let's start with a look at key storylines and actionable betting takeaways for all 12 teams playing on Thursday.
All odds as of late Wednesday.
---
Spread: Bengals -3
Over/Under: 42.5
Kickoff: 7 p.m. ET
New York Giants
All the cool kids laughed at the Giants when they drafted Daniel Jones with the sixth overall pick, but he's managed to overcome the nation-wide disrespect and pretty much dominate the first two weeks of the preseason. Overall, he's completed 16-of-19 (84%) passes for 228 yards (12 yards per attempt) with two touchdowns and zero interceptions.
While that's obviously a small sample size, Giants fans have good reason to be excited about the performance of Danny Dimes through two weeks.
Jones displayed the ability to cycle through multiple reads in last week's performance. He's demonstrated plenty of arm strength throughout the preseason, and we haven't even seen him tap into his potential rushing upside yet (17 rushing scores in 36 career games at Duke).
Cincinnati Bengals
The Bengals have their hands full entering the season, as they've managed to already lose multiple key contributors on the offensive line before Week 1.
First-round offensive tackle Jonah Williams is out for the season with a torn labrum.
Left guard Clint Boling retired.
Backup guard Christian Westerman retired.
The Bengals will need their playmakers to be as good as ever if they want to put up points without the benefit of a dominant offensive front.
Joe Mixon seems to have already received this message loud and clear.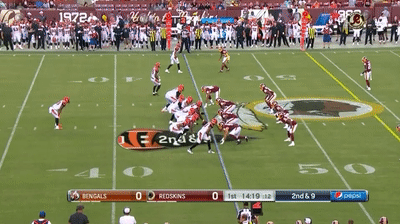 The Bengals opened as 1.5-point favorites but have since moved up to -3. But the early success of Jones, combined with the likelihood that Eli Manning won't be completely overwhelmed by preseason-pressure schemes, has me leaning toward the G-Men in this one.
LEAN: Giants +3
---
Spread: Patriots -3.5
Over/Under: 42
Kickoff: 7:30 p.m. ET
Carolina Panthers
One of the most popular breakout candidates entering the season is Curtis Samuel, who is locked in as a starting wide receiver alongside D.J. Moore in the Panthers' two receiver sets. We saw Samuel (42 targets) barely work behind Moore (43) over the team's final six games of last season once Devin Funchess was delegated to a backup role. Of course, Christian McCaffrey (53) continued to lead the way over that stretch.
The main reason to be optimistic about Samuel ahead of Thursday night's matchup is his status as the offense's primary field-stretcher. Cam Newton's shoulder is apparently feeling better than ever, and Samuel is the only returning Panthers' receiver who boasted an average target depth of at least 10 yards.
And if Newton's shoulder starts to act up again this season? Well, at least he now has three explosive playmakers at his disposal who are each plenty capable of turning nothing into something in a hurry.
New England Patriots
Ladies and gentlemen: Josh Gordon is BACK.
The Patriots were at risk of entering the season with a group of unfamiliar pass catchers, but they could now feature Julian Edelman (thumb, returned to practice), Demaryius Thomas (Achilles, returned to practice) and Flash Gordon as early as Week 1.
The New England defense appears to be in a better state than we've seen in recent years, while Father Time hasn't managed to catch up to Tom Brady just yet. The line has moved from Patriots -4.5 to -3.5, but I'm still inclined to ride with the more complete team at Gillette Stadium.
PICK: Patriots -3.5
Spread: Ravens -5.5
Over/Under: 35.5
Kickoff: 7:30 p.m. ET
Baltimore Ravens
Lamar Jackson's success as a rusher as a rookie was more akin to an RB1 than a QB1.
Jackson started from Weeks 11-17. He ranked inside the league's top-eight players (running backs included) in rush attempts (No. 6), rush yards (No. 7) and touchdowns on the ground (tied for No. 7) over that span.
Only Ezekiel Elliott (96 rush yards per game), Todd Gurley (89), Joe Mixon (83), Chris Carson (82) and Saquon Barkley (82) average more rushing yards per game than Jackson (79, only counting his seven starts).
Mike Vick averaged "just" 64.9 rushing yards per game during his best season as a rusher in 2006.
Jackson reminded everyone just how dangerous he is on the ground during the first quarter of last week's matchup against the Packers.
Philadelphia Eagles
The Eagles haven't had a true three-down back during the Doug Pederson era. Jay Ajayi, Corey Clement and even Josh Adams (reach) have flashed the ability to produce at a high level for short periods of time, but we've yet to see Carson Wentz work inside of an offense with a true game-changing talent at running back.
Enter: Miles Sanders, who has turned heads during training camp and has a three-down skill-set that's unrivaled in the Eagles' backfield.
Sanders' explosiveness was evident at Penn State in 2018 when he proved to be one of the tougher running backs in the country to get to the ground.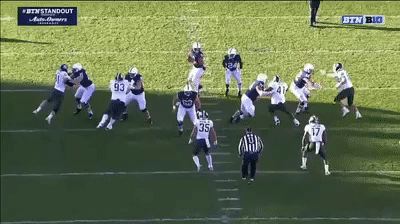 Still, I'm backing the preseason against-the-spread GOAT John Harbaugh and fading a banged-up Eagles offense that doesn't figure to expose Wentz to many (if any) unnecessary hits.
PICK: Ravens -5.5
---
Spread: Redskins -2.5
Over/Under: 41.5
Kickoff: 7:30 p.m. ET
Washington Redskins
The Redskins are "pretty confident" that they'll welcome Derrius Guice back to the field on Thursday night. The 2018 second-round pick has never registered an official touch in a preseason or regular-season game after tearing his ACL as a rookie, but Guice's lone carry (called back by a penalty) was certainly special.
We shouldn't expect Washington to hand Guice anything resembling a three-down workload; the Redskins still have Adrian Peterson and Chris Thompson. Still, they'll need all the playmakers they can get to find success in 2019 with their current situation at quarterback and along the offensive line.
Atlanta Falcons
Julio Jones (foot/rest) won't be suiting up on Thursday night, but there a still few things working in Matt Ryan's favor.
The Redskins ran zone coverage at the 10th-highest rate in the league last season. Ryan posted a 101.8 QB rating, averaged 1.9 touchdowns per game and 7.9 yards per attempt against defenses that ran zone at a top-12 rate last season.
Ryan has averaged 7.8 yards per attempt with a 5.1% touchdown rate while completing 67% of his passes to produce an average of 18.2 fantasy points per game during his career inside. Those numbers fall to 7.1, 4.4%, 63% and 17.3, respectively, when Ryan has played outdoors.
Ryan has thrown double-digit passes during each of the Falcons' last three Week 3 preseason matchups, and he even attempted 14 passes last week. He's more than capable of stringing together a couple first-half scoring drives with Calvin Ridley, Mohamed Sanu and Austin Hooper expected to be available.
I realize Dan Quinn is the worst preseason coach in the league against the spread, but I can't fade the better team at home when they're getting three points. Gimme the Falcons.
PICK: Falcons +2.5
Spread: Packers -2.5
Over/Under: 38.5
Kickoff: 8 p.m. ET
Green Bay Packers
The Packers are largely bringing back the the same offensive group from last season in hopes of achieving better results in head coach Matt LaFleur's new-and-improved scheme.
It remains to be seen how that will go, but the defense at least has a chance to improve upon their status as the league's 28th-ranked defense in Football Outsiders' DVOA vs. the pass.
The Packers gave out expensive four-year deals to free agents Preston Smith ($52 million) and Za'Darius Smith ($66 million) in an effort to boost their pass rush. They also drafted Michigan defensive end Rashan Gary with the 12th overall pick.
The Packers addressed their hole at safety by signing former Bears starter Adrian Amos to a four-year deal worth $36 million. They also drafted Maryland safety Darnell Savage with the 21st overall pick.
Further improvement and better health will be needed, but the Packers boast underrated talent at the cornerback position after selecting Jaire Alexander (18th overall), Kevin King (33rd) and Josh Jackson (45th) within the top-50 picks of the 2017 and 2018 drafts.
Oakland Raiders
The Raiders haven't exactly been quiet about their love for first-round running back Josh Jacobs.
General manager Mike Mayock noted, "This is a three-down back. He's explosive. He's tough. We've watching him pass protect."
Head coach Jon Gruden said shortly after the selection, "If you're listing Josh, I encourage you to get some rest. We're gonna run you a lot."
And why wouldn't the Raiders want to feed the ball to Jacobs? The man can ball.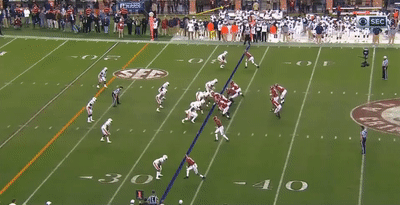 The likelihood that the Raiders trot out Derek Carr and Co. for a longer stretch than Aaron Rodgers has me leaning toward Team Hard Knocks in this one.
LEAN: Raiders +3
---
Spread: Dolphins -3
Over/Under: 37.5
Kickoff: 8 p.m. ET
Jacksonville Jaguars
Second-year receiver D.J. Chark reportedly functioned as the Jaguars' best wide receiver in training camp. The 2018 second-round pick caught only 14-of-32 targets for 174 yards as a rookie, but his 4.34-second 40-yard dash can't be ignored. Chark's average of 21.9 yards per reception during his final season at LSU ranks in the 96th-percentile among all wide receivers.
Chark will need to step up, as the offense is lacking proven pass catchers outside of Dede Westbrook as long as Marqise Lee's (knee) status remains uncertain. Former Chiefs' receiver Chris Conley has seemingly entrenched himself as the No. 4 receiver.
Each should benefit from their upgrade at the quarterback position. Nick Foles hasn't always been the most consistent signal caller, but it's tough to complain about his ability to drop gorgeous deep balls into his receiver's waiting hands.
Miami Dolphins
Josh Rosen's rookie performance was pretty far from okay. Sure, he wasn't exactly set up for success inside of the Cardinals' ancient offensive scheme, but as Antonio Brown said: Men lie, women lie, but the analytics don't.
Josh Rosen Ranks Among 41 Rookie Quarterbacks to Start at Least 10 Games Since 2000
Completion rate: 55.2% (27th)
Touchdown rate: 2.8% (28th)
Interception rate: 3.6% (28th)
Quarterback rating: 66.7 (tied for 29th)
Yards per attempt: 5.8 (34th)
Adjusted yards per attempt: 4.8 (32nd)
Yards per game: 163 (35th)
The 2019 Dolphins offer a wider array of speedy weapons than the 2018 Cardinals, so it'll be important for Rosen to show real signs of progression this season before the team likely selects its next hopeful franchise quarterback in the 2020 draft.
I'm picking the Dolphins due to the potential for them to play their starters for longer than the Jaguars in an effort to clear up their position battle under center.
PICK: Dolphins -3.5
How would you rate this article?