10 NFL Prop Bets to Make Before the 2020 Season: A Cam Newton Over, A DeAndre Hopkins Under, More
Credit:
Getty Images. Pictured: Cam Newton, DeAndre Hopkins
One of my favorite ways to invest in players' upside is season-leader props, but that doesn't mean there isn't value betting some overs.
In fact, five of my top-10 player props based on my projections for the 2020 NFL season are overs.
Let's dive right into my picks and analysis.
[Find all of Sean Koerner's 2020 player projections here]
NFL Prop Bets
Click on a player's name to skip to their prop.
Drew Brees Over 3,900.5 Pass Yards (-110)
Brees may no longer have the same arm strength at 41 years old, but he has adapted his playing style to remain an elite quarterback.
His 2.57 Time to Throw rate (per NextGen Stats) was the second-fastest while his 6.7 average depth of target was the fourth lowest. Brees relies on his ability to lead his pass-catchers with pinpoint accuracy on high-percentage throws to fuel his passing yards.
In the 10 full games Brees played in last season, he averaged 294 passing yards (fifth overall). He was able to accomplish that without having a true No. 2 wide receiver and with Alvin Kamara playing at less than 100% for most of the season. Emmanuel Sanders will provide Brees with a true No. 2 WR this season while Kamara should return with 100% health assuming his contract negotiations don't drag on (or the Saints trade him), which will allow Brees to open up the passing game more this season.
I'm projecting Brees for 4,200 passing yards, which ranks fifth among QBs, while his 25-1 odds to lead the league in passing yards rank only 10th overall — it's why I love betting on his over 3,900.5 passing yards and for him to lead the league in passing.
Bet to: Over 4,000 Pass Yards
[Bet now at DraftKings and get a $1,000 sign-up bonus.]

Josh Allen Under 7.5 Rush TDs (-110)
Allen is without question one of the best rushing QBs in the NFL. However, his 17 rushing touchdowns through his first two professional seasons is not sustainable.
In 2019, he scored on eight of his 11 rush attempts inside the 10-yard line. To put that 72% touchdown rate into perspective, the league-average is closer to 35% — Lamar Jackson was league average in rush attempts inside the 10, scoring five times on 14 attempts (36%) last season. Allen scored four more TDs on the ground than the league-average TD rate, which is one of the main reasons I'm projecting him to rush for closer to 5.5 scores this season.
Bet to: Under 7 Rush TDs

[Bet now at DraftKings and get a $1,000 sign-up bonus.]
Deshaun Watson Under 27.5 Pass TDs (-110)
Watson lost his No. 1 wide receiver in DeAndre Hopkins this offseason due to the now-infamous trade for David Johnson as orchestrated by Bill O'Brien.
Even without Hopkins, Watson has one of the best WR corps in the NFL with Will Fuller, Brandin Cooks, Randall Cobb and Kenny Stills. But Watson will need all four to stay healthy for the full 16-game schedule to threaten the over on this prop, which seems highly unlikely considering the four WRs have combined for only four 16-game campaigns between their 26 seasons.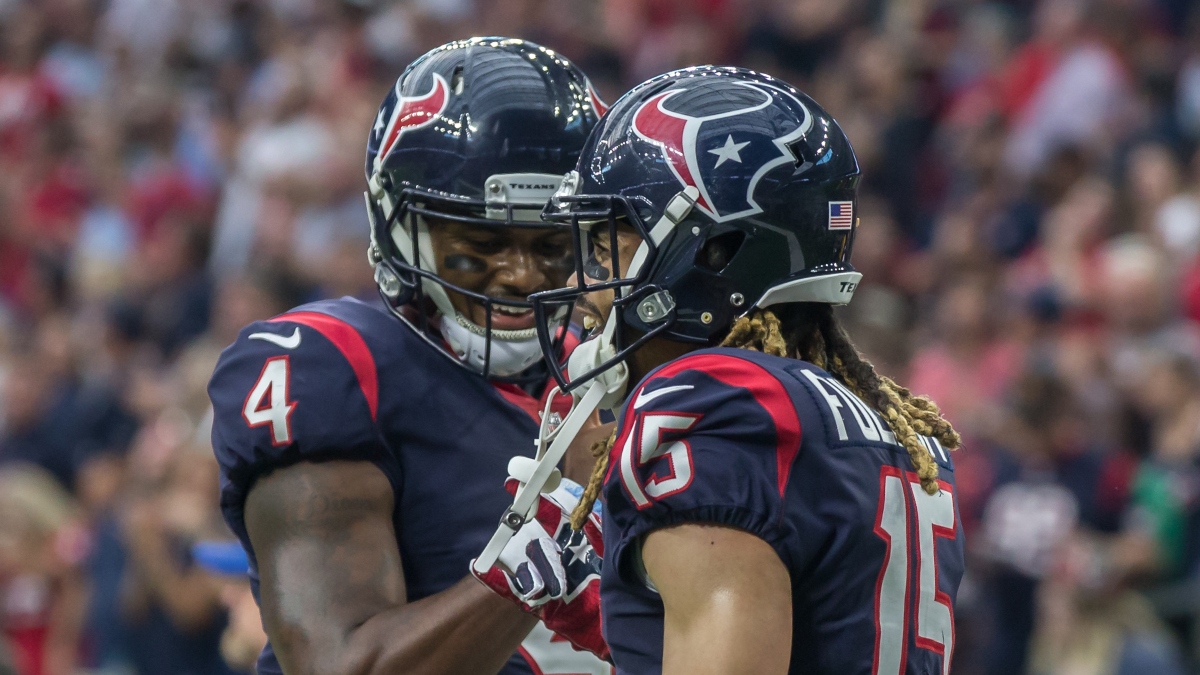 There's no need to overthink this under given that Watson has yet to eclipse 26 passing TDs in any of his three NFL seasons. I'm projecting him to finish with closer to 25.
Bet to: Under 26.5 Pass TDs

[Bet now at DraftKings and get a $1,000 sign-up bonus.]
Teddy Bridgewater Over 3,500.5 Pass Yards (-110) & Over 18.5 Pass TDs (-110)
Bridgewater filled in admirably for Brees over his five-game stretch as the Saints' starting quarterback last season. Bridgewater is very much the same type of QB as Brees in that he attempts high-percentage throws and relies on the pass-catcher to rack up yards after the catch. That shouldn't be a problem in Carolina with Christian McCaffrey, D.J. Moore and Curtis Samuel.
The Panthers defense is in rebuilding mode and will likely force the offense into pass-happy game scripts to keep them in games, too.
I love both of these overs.
Bet to: Over 3,600.5 Pass Yards; Over 19.5 Pass TDs
[Bet now at DraftKings and get a $1,000 sign-up bonus.]


Cam Newton Over 2,950.5 Pass Yards (-110)
There has been a ton of speculation over how the Patriots will handle their QB situation this season. I tend to land right in the middle of the wide range of predictions: I don't think we'll see 2016 MVP Cam Newton, but I also don't think we'll see a situation in which Jarrett Stidham plays while Newton is healthy.
I expect Newton to start all 16 games when healthy. That's why this prop is really "Will Cam Newton start over 12.5 games?" If you think the answer to that is "yes" (like I do), then bet the over.
Bet to: Over 3,100.5 Pass Yards

[Bet now at DraftKings and get a $1,000 sign-up bonus.]
Le'Veon Bell Under 800.5 Rush Yards (-110)
Bell went fell short of 800 rushing yards last season despite getting 246 rush attempts — his 3.2 yards per carry was the second-worst in the league out of 47 players who averaged at least 6.25 attempts per game.
Competition wasn't an issue — Bilal Powell and Ty Montgomery combined for only 91 attempts. The offensive line play, however, was: Pro Football Focus ranked the Jets' unit 28th overall. The O-line should be better this season, though, as the Jets focused on revamping it by drafting first-rounder Mekhi Becton as well as signing tackle George Fant and center Connor McGovern in free agency.
With the overhaul, I'm projecting Bell to regress to 3.80 yards per carry.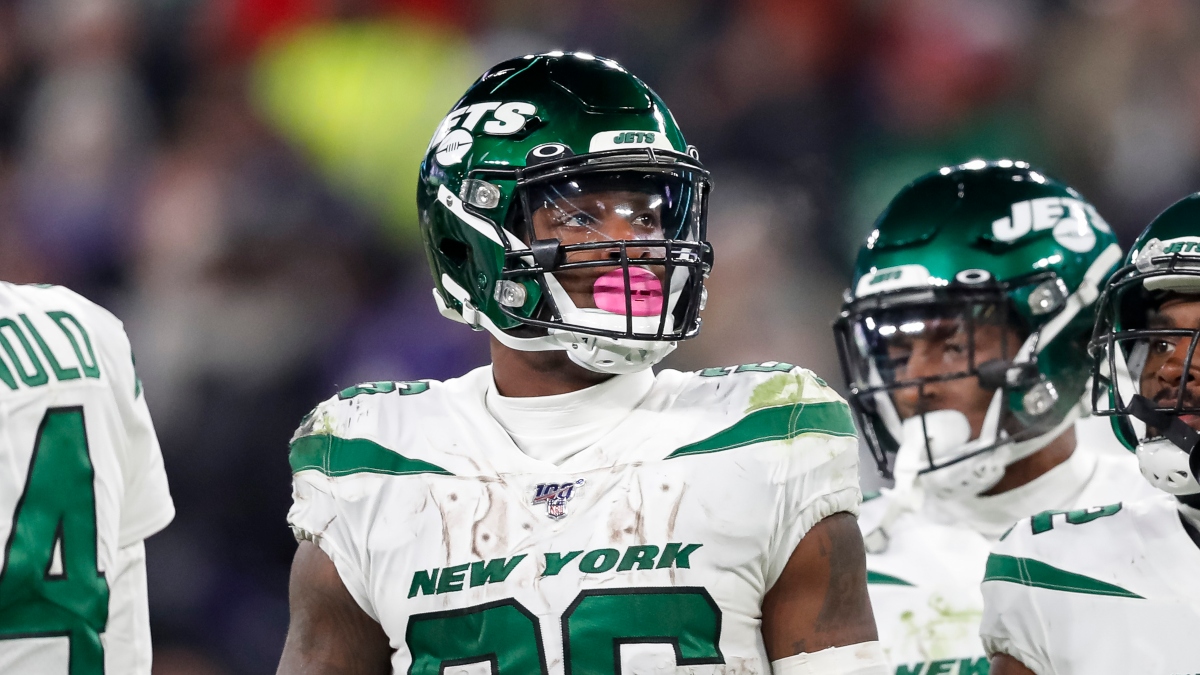 Still, I'm worried about his workload.
There are reports that Adam Gase loves Frank Gore (the most 2020 storyline ever). They also drafted LaMichel Perine in the fourth round, so with the lack of a preseason, the Jets may want to get Perine more work to get a better look at him later in the season if they're out of the playoff picture.
Bell should still dominate passing down work, but I could see Gore and Perine cutting into Bell's rush attempts to keep him fresh. That's why I'm projecting Bell to have closer to 200 carries for 750 yards.
There are plenty of potential "outs" that make me feel safe taking this under.
Bet to: Under 800 Rush Yards

[Bet now at DraftKings and get a $1,000 sign-up bonus.]
DeAndre Hopkins Under 8.5 Rec TDs (-106)
Hopkins joining the Cardinals helps their offense much more than it helps his outlook as he'll have more competition for targets in Arizona than he did in Houston.
It's also likely Hopkins draws a ton of attention from opposing defenses and it opens things up for Christian Kirk, who is entering Year 3 — a prime time for WRs to breakout.
I have Hopkins projected closer to 7.0 TDs, so 8.5 is way too high. This number has likely been elevated by public action on his over, but sharp money will be on the under.
Bet to: Under 8 Rec TDs

[Bet now at FanDuel and get a $1,000 risk-free bet.]
CeeDee Lamb Over 700.5 Rec Yards (-110)
Lamb was my No. 1 ranked WR heading into the draft — I felt he was the best overall WR in a loaded 2020 class — but his landing spot generated a wide range of reactions from the fantasy football community.
Yes, he lands on a team that already has Amari Cooper and Michael Gallup, but it's also one of the top passing offenses in the NFL. Lamb should immediately fill the role vacated by Randal Cobb, who posted 828 receiving yards on 55 catches and saw 83 targets last season. I'm projecting Lamb to finish in that range with 843 receiving yards.
There's always the chance that either Cooper or Gallup miss game(s), and Lamb's target share would spike considerably in either scenario, offering another path to hitting this over.
Of course, Lamb has an equal chance of missing time, but I've already factored that into my median projection of one missed game for ever full-time WR.
Bet to: Over 750 Rec Yards

[Bet now at DraftKings and get a $1,000 sign-up bonus.]
Justin Jefferson Under 5.5 Rec TDs (-136)
I like to analyze historical data when setting expectations for rookies. Of the 33 first-round WRs drafted since 2010, only nine have scored six or more TDs as rookies, a 27% rate.
You could argue that Jefferson lands in an above-average situation with the Vikings as the potential No. 2 WR out of the gate, and I am projecting him for around 4.5 TDs, which would rank 11th out of 33 — so yes, as a top-third projection, that's above average. But this is still a run-first offense, and Jefferson will be competing with Dalvin Cook, Adam Thielen, Kyle Rudolph and Irv Smith Jr. for red-zone targets.
Bet to: Under 5 Rec TDs
How would you rate this article?