A Bettors' Guide to Monday's NFL RedZone Re-Air: Schedule, Week 1 Odds, Bad Beats & More
Credit:
Michael Reaves/Getty Images. Pictured: Lamar Jackson
A 17-day marathon of NFL RedZone is the distraction fans need in the midst of this sports-less global pandemic.
Every Sunday of the 2019 season will re-air starting with Week 1 on April 6 and ending with Week 17 on April 22, each broadcast airing daily at three separate times (8 a.m., 3 p.m. and 10 p.m. ET) on the NFL RedZone network.
To help you prepare for each re-air, we'll outline the matchups, odds, results and relevant betting nuggets (including bad beats) for every given week, starting with the Week 1 edition below.
Monday's NFL RedZone Re-Air: Week 1 Odds & Results
---
Odds via the consensus lines in our free app. Find offers and reviews for the best online sportsbooks here.
---
Early Window
Ravens at Dolphins
Odds: Ravens -7; 41
Result: Ravens 59, Dolphins 10
You should know: Lamar Jackson set the tone for his MVP season early, completing 17-of-20 passes for 345 yards and five (!) touchdowns in this season-opening blowout of Miami.
Chiefs at Jaguars
Odds: Chiefs -4; 49
Result: Chiefs 40, Jaguars 26
You should know: Nick Foles suffered a broken clavicle in the first quarter, paving way for our first look at Gardner Minshew. The rookie completed 22-of-25 passes for 275 yards and two touchdowns (with one interception) to jumpstart Minshew Mania.
Falcons at Vikings
Odds: Vikings -3.5; 46.5
Result: Vikings 28; Falcons 12
You should know: The Falcons had a win total of 8.5 heading into the season, but this was their first loss en route to a 7-9 record.
Titans at Browns
Odds: Browns -6; 43.5
Result: Titans 43, Browns 13
You should know: Expectations were high for the Browns heading into 2019 as reflected by their win total of 9, and the 67% of public bettors who took them to cover this 6-point spread. But Baker Mayfield opened the season by throwing three interceptions en route to their first of 10 losses.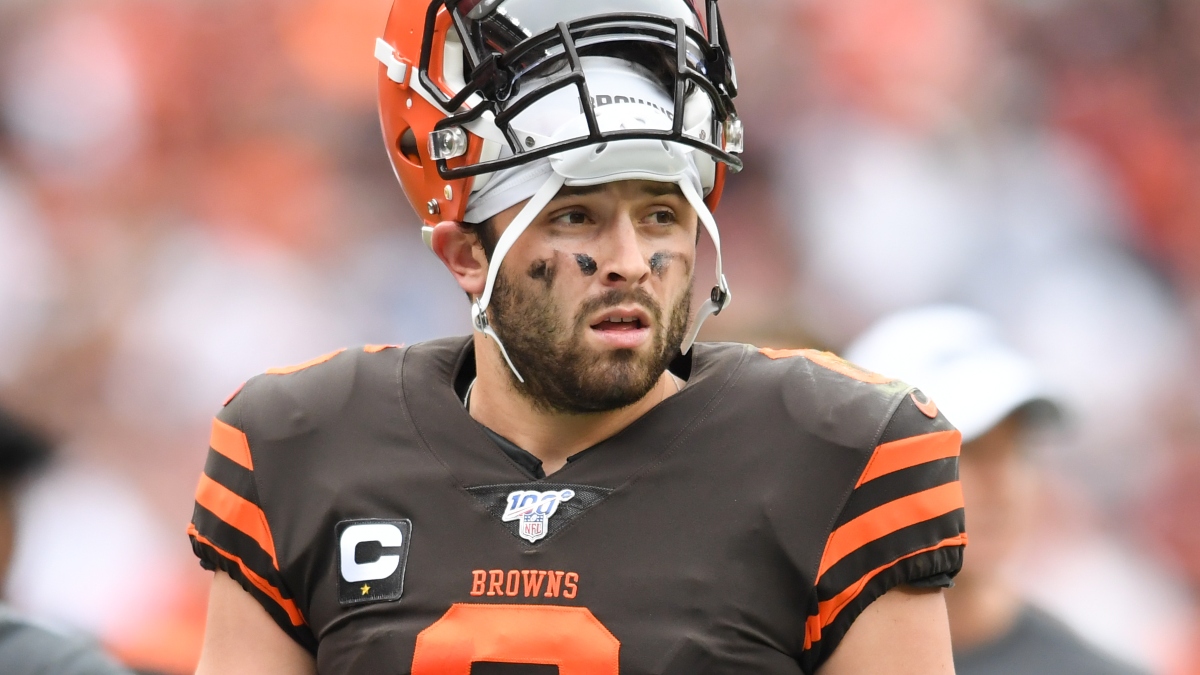 Redskins at Eagles
Odds: Eagles -10; 44
Result: Eagles 32, Redskins 27
You should know: Washington jumped out to a 17-0 lead, bringing the 10-point spread into doubt early. The Eagles were able to mount the comeback, but fell short of covering the spread, burning the 66% of public bettors who backed them.
Rams at Panthers
Odds: Rams -2; 49.5
Result: Rams 30, Panthers 27
You should know: One Rams running back rushed for two touchdowns, but it wasn't Todd Gurley. Backup Malcolm Brown got those goal-line carries, finishing the week as the fantasy RB10 in standard scoring.
Bills at Jets
Odds: Jets -2.5; 41.5
Result: Bills 17, Jets 16
You should know: The Bills trailed the Jets, 16-3, heading into the fourth quarter. Josh Allen carried in the first of two touchdowns with just over 10 minutes to play, then tossed a 38-yard TD to John Brown who scored with exactly three minutes left.
Late Window
Colts at Chargers
Odds: Chargers -6.5; 44.5
Result: Chargers 30, Colts 24
You should know: Trailing 24-16, the Colts scored with less than a minute in regulation, successfully converting a two-point conversion. Los Angeles scored on its first overtime drive to push the total over, but Indy covered thanks to forcing the extra time.
Bengals at Seahawks
Odds: Seahawks -9; 44
Result: Seahawks 21, Bengals 20
You should know: Seattle trailed Cincinnati, 17-14, for all entirely of the third quarter. And even when the Seahawks regained the lead in the fourth, it was never enough to cover.
Giants at Cowboys
Odds: Cowboys -7; 44
Result: Cowboys 35, Giants 17
You should know: We got our first glimpse at Daniel Jones on the Giants' final drive of this game. He went 3-for-4 on a 17-yard drive that ended in a fumble. He saw his first start in Week 3.
49ers at Buccaneers
Odds: 49ers +1; 51
Result: 49ers 31, Buccaneers 17
You should know: Jameis Winston threw three interceptions (to one touchdown) in the first of nine losses. Needless to say, Tampa Bay is excited to have Tom Brady.
Lions at Cardinals
Odds: Lions -3; 45.5
Result: Lions 27, Cardinals 27
You should know: After taking a 24-6 lead at the start of the fourth quarter,  the Lions let Kyler Murray and the Cardinals put up 18 points over the final 14 minutes to force overtime, where the game ended in a tie and Arizona successfully covered.
How would you rate this article?