NFL RedZone Fantasy Football Highlights: What to Watch in the Week 1 Re-Air & More
Credit:
Chris Williams/Icon Sportswire via Getty Images. Pictured: Austin Ekeler
The pandemic-induced marathon of NFL RedZone re-airs offers us the rare chance to collectively reflect on the previous fantasy football season.
In an effort to take full advantage of this opportunity, I'd like to highlight two major things:
Plays that defined a given week and, in some instances, a player's season.
A comparison of my weekly projections to players' actual points scored (for half PPR), complete with a "wins added" metric to capture how players contributed (or detracted) from their fantasy teams.
Let's get started with Week 1, which you can rewatch on the NFL RedZone network at 3 p.m. and 10 p.m. ET on Monday.
Week 1 Fantasy Football Wins Added
Here's how I calculated wins added:
I assumed the following roster requirements in a 12-team league: 1 QB, 2 RB, 3 WR, 1 TE, 1 K, 1 DEF.
Each player's score was compared to the replacement level for each position, and I calculated how much their score would have boosted your win probability if you played them.
Now let's dig into the highlights!
NFL RedZone Re-Air Fantasy Highlights: Week 1
EARLY GAMES
Lamar Jackson's 1st of 5 (!) TDs
1Q of BAL-MIA (8:37): Lamar Jackson throws his first of five touchdowns against the Dolphins. Safety Bobby McCain bites hard on the run fake to the right (even the camera man was fooled), leaving Eric Rowe all alone on a Marquise Brown slant that he takes to the house for the 47-yard touchdown.
Jackson was already a fantasy asset given his rushing ability, but the big question mark heading into 2019 was whether he would take a Year 2 leap as a passer. If he could make a reasonable improvement there, he could be a top-five fantasy QB.
There was reason to believe it could happen given new offensive coordinator Greg Roman planned to build the offense around Jackson's strengths. And sure enough, Jackson's 324 yards and five TDs through the air was a DEFCON 1 level warning to everyone that Lamar was well on his way to No. 1 fantasy QB status for the rest of the season. He ran the ball only three times for six yards in the season opener, but we all knew those numbers were only going to go up.
Malcolm Brown's 1st of 2 (Misleading) TDs
2Q of LAR-CAR (12:44): Remember when Brown scored two touchdowns and was one of the top waiver wire adds heading into Week 2? That will unfold on RedZone today.
At the time, it was still unclear if Todd Gurley's knee could hold up all season, therefore his backup was one of the top handcuffs in all of football, and Week 1 made clear that was Brown, not rookie Darrell Henderson.
However, we all fell victim to this Week 1 sample. We have to remember how luck factors into touchdowns — it's why a multi-TD game from a backup can lead to overreaction.
Here's how this first TD came via some luck: Gurley saw every touch through the first quarter, so Brown was very likely to get the next series. The Panthers fumbled on their own 10-yard line on the second play of the quarter-opening drive, then Brown received back-to-back carries and scored on a 5-yard run. Sure, he looked good on each run, but it was simply a case of him getting the call at just the right time.
Terry McLaurin's 69-Yard TD
2Q of WAS-PHI (10:29): Week 1 featured a few breakout performances from rookies. In addition to Marquise Brown, who benefitted from Jackson's big day, McLaurin also had a monster debut with five catches for 125 yards and this touchdown.
As soon as Case Keenum realizes Ronald Darby is staying in to cover Trey Quinn, he knows McLaurin has the entire field to himself. Rasul Douglas has no chance to keep up with McLaurin's 4.35 speed here.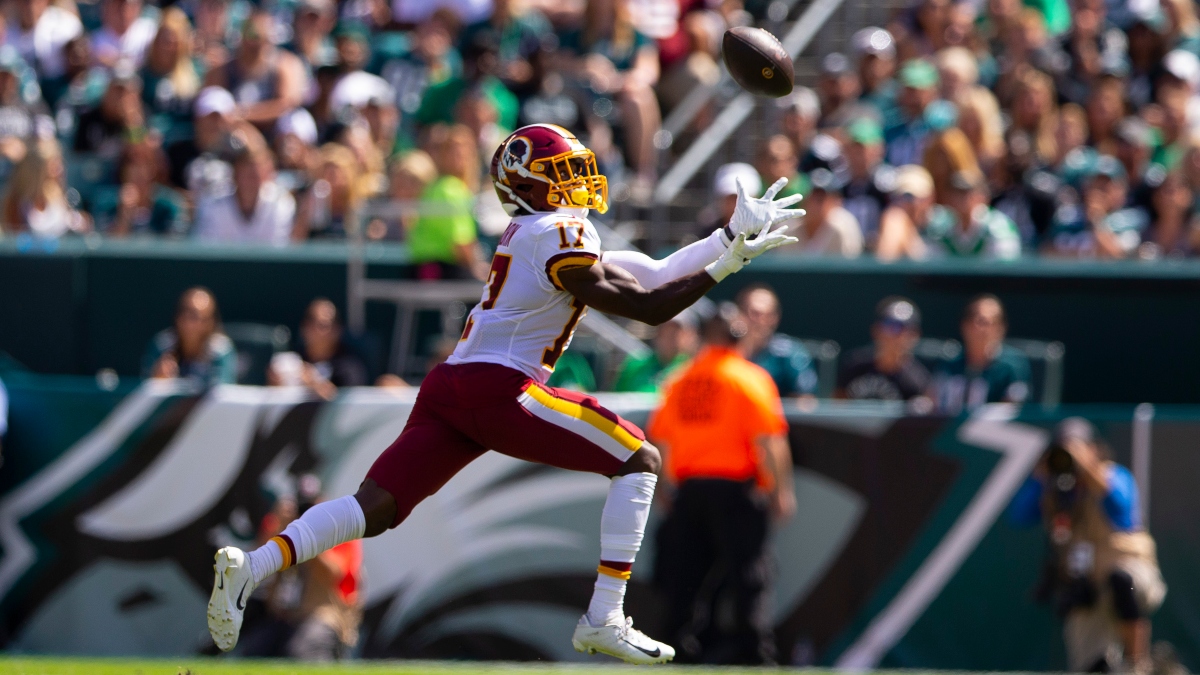 We saw this explosiveness from McLaurin his entire rookie season. The only thing that would prevent him from becoming a low-end WR1/2 last season was shaky QB play. He actually would have had a much bigger line in this debut if Keenum hadn't overthrown him on what would have been a wide open 73-yard TD.
Gardner Minshew's Deep Pass to D.J. Chark
2Q of KC-JAX (7:56): This was the second series for Minshew after replacing the injured Nick Foles. On the very first play, Minshew unloaded a 50-yard bomb to Chark, who then picked up an additional 20 yards after a few stiff arms to Charvarius Ward.
This was the beginning of what turned out to be one of the most unexpected QB-WR duos of 2019.
LATE GAMES
O.J. Howards's Foreshadowing Fumble
2Q of SF-TB (12:01): This red-zone fumble captured what it felt like to use a mid-round draft pick on Howard last season. How fast the ball came flying out of his hands is about how quickly he went from top-five tight end to droppable.
Howard still has a ton of potential, so there's a chance he could have a bounce-back season with Tom Brady under center for 2020.
The T.J. Hockenson Catch That Spurred Overreaction
2Q of DET-ARI (8:10): There was ton of hype around Hockenson heading into his rookie season, so when he debuted with six catches for 131 yards and one touchdown, it was hard not to double down.
The design of this 39-yard play allowed Hockenson to get wide open across the middle of the field. But the gain, in hindsight, was mostly a signal of how leaky the Cardinals would be against TEs, not that Hockenson should be treated as a TE1.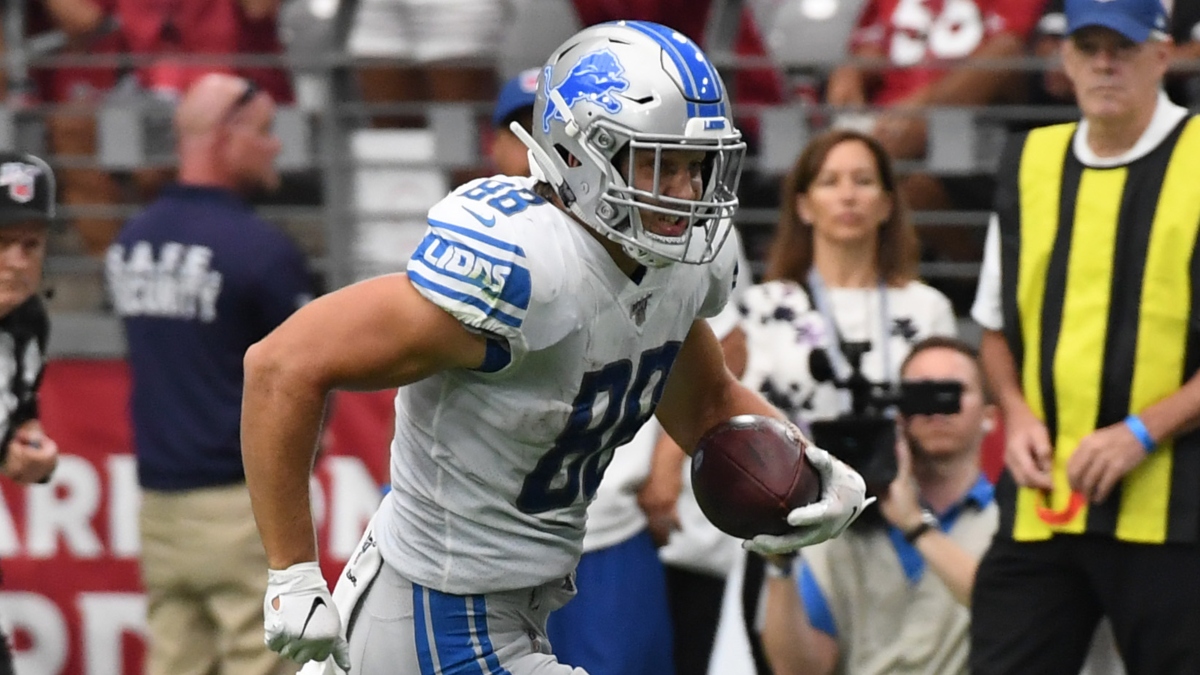 The Cardinals ended up having a historically bad year against opposing TEs. Their 14.1 fantasy points allowed per game to TEs was 4.3 points higher than the second-worst defense against TEs. And sure enough, Hockenson was able to top 50 yards in only one game for the rest of the season. He still might end up being one of the top TEs one day, but we have to remember that it usually takes TEs a couple of years to break out.
Austin Ekeler's 55-Yard TD Reception
3Q of IND-LAC (8:27): Ekeler was a tricky player to rank heading into the season because it was unclear how many games Melvin Gordon would hold out. During the ultimate four games MG3 held out (Weeks 1-4), Ekeler was the RB2 overall. The remaining 12 games, Ekeler managed to put up RB15 numbers despite being in the lesser end of an RBBC.
He ended the season as the overall RB7 and was a league-winning pick.
The play that seemed to foreshadow Ekeler's monster season was this 55-yard TD reception. Ekeler gets the designed screen pass from Philip Rivers. After securing the pass, you can see Ekeler quickly scan the field and notice an opening that he's able to accelerate to. He then slips through a Darius Leonard tackle as he simultaneously bowls over the safety. It was such a display of burst and strength that Ekeler was able to flash all season.
Jameis Winston's Up & Down Season Debut
The following two plays essentially define Winston's 2019 season.
3Q of SF-TB (11:44): Winston rolls out to the right to buy time and fits the ball into perfect coverage by Richard Sherman for a 10-yard TD to Chris Godwin.
4Q of SF-TB (2:01): Winston feels the pressure, panics and then heaves a pass to Dare Ogunbowale. The problem is that Ogunbowale ran into a wall of three players and was nowhere near where Winston threw the ball. The result was an easy 35-yard pick six for Ahkello Witherspoon.
In hindsight, Winston vs. the 49ers was quite a matchup. Even if you don't recall what happened each week last season, it's probably not surprising to know that he threw three interceptions in this game, including TWO pick sixes.
This was to be expected of Winston, though, as he is always going to be a high-risk, high-reward QB who will put up top-5 to -10 stats in fantasy, but hurt his team in real-life with all of the turnovers. As I told people before the season: "Target Jameis Winston in your drafts this year, but if you take him- make sure you don't watch any of his games, just check the box score after."
My 2019 draft strategy was to wait until Rounds 10-13 to take either Kyler Murray, Winston, Lamar Jackson or Dak Prescott as each QB typically fell a round behind each other (in the order listed). For one reason or another, a lot of people who used this advice ended up with Winston. I know this because after Week 1, the most common question I got on Twitter was: "You told me to draft Winston, what do I do now?" It prompted me to once again remind people why we drafted Winston and why have to accept the chaos he brings.
He ended up finishing as the QB4 in fantasy.
How would you rate this article?