NFL Week 11 WR/CB Matchups: Will Antonio Brown Toast Jalen Ramsey and the Jaguars Again?
Credit:
Credit: Philip G. Pavely-USA TODAY Sports. Pictured: Pittsburgh Steelers wide receiver Antonio Brown (84), Jacksonville Jaguars cornerback Jalen Ramsey (20).
Week 11 features a potential smash spot for the Giants against the Buccaneers' defense.
The marquee shadow matchup will feature Steelers wide receiver Antonio Brown vs. Jaguars cornerback Jalen Ramsey.
Seven other wide receivers are likely to draw shadow coverage. We also break down plus and minus matchups.
I'll be breaking down the top wide receiver/cornerback matchups every week throughout the 2018 NFL season.
Below is a data-driven analysis of the week's best passing-game matchup, eight potential shadow matchups and an additional six potential non-shadow matchups. At the end, I'll wrap up with a quick look at plus and minus matchups.
Check back later in the week for a special edition wide receiver/cornerback column on the Chiefs' Monday night matchup against the Rams.
Visit the FantasyLabs NFL page for more weekly fantasy breakdowns. You can also view all of this week's WR/CB matchups using our Matchups tool.
---
Jump to: Matchup of the Week | Shadow Matchups | Non-Shadow | Plus/Minus
---
Matchup of the Week
Buccaneers Offense vs. Giants Defense
Ryan Fitzpatrick will at least start the game for the Buccaneers, but it is anyone's guess who will be under center for the majority of the contest. Regardless, the Buccaneers' plethora of talented receivers have largely managed to produce with either FitzMagic or Jameis Winston under center this season.
There were more targets to go around during Winston's three starts, but DeSean Jackson and Chris Godwin have averaged more PPR points per game with Fitzpatrick. Mike Evans has been effective with either quarterback under center, while Adam Humphries hasn't had the same level of success in Fitzpatrick's five starts.
Don't let the Buccaneers' inner turmoil and poor record distract you from the fact that their explosive passing offense scored at least 26 points in all but two games this season. They join the Rams, Chiefs, Chargers and Saints as the only offenses averaging more than eight net yards per pass attempt.
Up next for Fitzpatrick & Co. is the Giants defense, which has allowed at least 20 points in every game this season. Each of the Buccaneers wide receivers were likely drooling in anticipation of facing this secondary during film study this week.
Giants No. 1 corner Janoris Jenkins joins Marcus Peters and Malcolm Butler as the only cornerbacks who have allowed at least six touchdowns this season. The Giants haven't asked him to shadow since Week 4, so the artist formerly known as Jackrabbit should see most of Evans' snaps.
Journeyman B.W. Webb will spend the most time across from D-Jax and Godwin. Both Jenkins and Webb rank among the league's top-12 most-penalized cornerbacks this season.
Slot cornerback Grant Haley will be tasked with slowing down Humphries. The undrafted rookie free agent has played fewer than 100 professional snaps.
The Giants don't have a cornerback graded among PFF's top-70 corners this season. Be sure to check out our ownership dashboard shortly after games lock to see how chalky the Bucs receivers are in this cake matchup.
The Week 11 Shadow Club
Not many cornerbacks are consistently asked to travel with the opposition's No. 1 wide receiver, but we can expect the following eight cornerbacks to regularly line up across from their opponent's top receiver in Week 11.
Steelers WR Antonio Brown vs. Jaguars CB Jalen Ramsey
The Jaguars didn't ask Ramsey to shadow Browb in either of last season's matchups, but that was when fellow Pro Bowl cornerback A.J. Bouye (calf, questionable) was healthy. It would be shocking if Ramsey doesn't travel with Brown all over the field this time around, as Bouye will likely be operating at less than 100% if he's suits up Sunday.
This is certainly a tough matchup for Brown considering Ramsey has largely sapped the upside out of every receiver he's been asked to shadow over the past season-and-a-half.
The only problem is AB has already proven he is a cheat code to the Jaguars' dominant secondary. He caught 10-of-19 targets for 157 scoreless yards during his regular season matchup with the Jaguars in 2017 before exploding for 132 yards and a pair of touchdowns (both on Bouye) in the Divisional Round.
Both of those games were at Heinz Field, where Brown has thrived since 2014 (per our NFL Trends tool):
Home: 27.3 DraftKings PPG | +6.2 Plus/Minus | 71% Consistency
Road: 20.4 DraftKings PPG | -0.7 Plus/Minus | 46% Consistency
Sunday's matchup isn't under ideal circumstances for AB, but perhaps it will lead to depressed ownership for the NFL's best wide receiver. Our Pro Models estimate a moderate 13-16% projected ownership rate on DraftKings.
JuJu Smith-Schuster's stock would also be boosted by Bouye's potential absence, although he was held to a mediocre 7-63-1 line on 11 combined targets during his two games against the Jaguars last season.
Texans WR DeAndre Hopkins vs. Redskins CB Josh Norman
Hopkins is in a similar stratosphere as Brown as far as talent and fantasy production. He should be treated as one of the league's most-matchup proof receivers.
With that said, Nuk has a few unsettling trends working against him leading into a potentially difficult shadow date with Norman.
The first issue is Deshaun Watson. The Texans have largely shifted towards a slow-paced, run-first offense since their franchise quarterback suffered rib and lung injuries during their Week 5 win against the Cowboys. Watson has failed to surpass 25 pass attempts in four consecutive weeks after reaching that threshold in 10 of his first 12 career starts.
This enhanced emphasis on the ground game has unsurprisingly influenced Hopkins' target volume, as he's averaged 8.3 targets per game in Weeks 6-9 after seeing 11.4 targets per game in Weeks 1-5.
The bye week gave Watson some extra time to rest, but the continued absence of Will Fuller remains a concern. Watson has been significantly less prolific and efficient without his ace field-stretcher.
Hopkins has also felt some pain from the extra attention defenses have been able to shift toward him.
Hopkins with Fuller since 2017 (16 games): 10.7 targets, 22.7 PPR
Hopkins Without Fuller since 2017 (eight games): 11.6 targets, 17.8 PPR
Of course, the Redskins have allowed an absurd 91.4 yards per game to opposing No.  1 wide receivers this season, so these concerns might not be too problematic this Sunday. Norman wasn't able to slow down Odell Beckham Jr. (8-136-0) or Julio Jones (7-121-1) this season, while Mike Evans (3-51-0) was mostly held in check.
Hopkins and Watson are more than talented enough to make plays against the league's best defenses, but this week should be a good indicator of whether or not they still boast week-winning ceilings. The continued absence of No. 2 Redskins corner Quinton Dunbar (shin) would certainly be good news for Demaryius Thomas and Keke Coutee (hamstring).
Colts WR T.Y. Hilton vs. Titans CB Adoree' Jackson
The Titans utilized Jackson in shadow coverage last week against Josh Gordon, who was held to 81 scoreless yards on 12 targets. The No. 18 overall pick in the first round of the 2017 draft has now been asked to shadow on five occasions during his career.
Jackson is certainly talented and has earned PFF's No. 16 overall grade among all cornerbacks this season, but he has continued to show limitations against some of the better receivers he's faced.
Of course, Jackson did shut down Hilton last season, but that was with Jacoby Brissett under center. Andrew Luck and new head coach Frank Reich have reinvigorated the entire Colts franchise this season. This has included an incredible six-game streak with at least three-touchdown passes for Luck, although Hilton has failed to find the end zone in back-to-back games.
The Titans' No. 1 scoring defense proved its worth after dominating the Patriots in Week 10, but traveling to Lucas Oil Stadium in what projects to be the week's fastest-paced game in combined situation neutral pace could be asking a lot.
I identified the Titans-Colts' matchup as my favorite sneaky-shootout game stack on the main slate during this week's episode of the Daily Fantasy Flex.
Lions WRs Marvin Jones and Kenny Golladay vs. Panthers CBs James Bradberry and Donte Jackson
Jones should be considered questionable for Sunday after suffering a bone bruise in his knee during last week's loss against the Bears. Be sure to monitor our Week 11 Injury Report to track Jones' daily practice participation as well as his estimated and official game statuses.
Any additional target volume would certainly be welcomed by Golladay, who has scored a touchdown or gained at least 100 yards in six of his seven career games with more than five targets.
Concerns for the Lions offense includes their porous line and slow-moving offense, but Golladay is more than talented enough to win against any cornerback on the Panthers roster.
The Panthers have largely utilized James Bradberry on the opponent's No. 1 receiver, while Donte Jackson has faced off against the top field-stretcher. Jones' hobbled state makes him the likelier candidate to see the 6-foot-1, 210-pound Bradberry, while Golladay's superior speed will likely be a better match for Jackson's 4.32-second 40-yard speed.
Still, it's a bit of a toss up considering the Panthers could instead choose to match the larger Bradberry on Golladay (6-foot-4) as opposed to Jones (6-foot-2).
Panthers WR Devin Funchess vs. Lions CB Darius Slay
Funchess seemed to buck his historical anti-Olsen trends with 19 combined targets and a pair of touchdowns in Weeks 6-7, but he's converted 13 targets into 103-scoreless yards in three weeks since. The Panthers have utilized a three-way committee between Funchess, Christian McCaffrey and Greg Olsen in their passing attack over the past month.
D.J. Moore and Curtis Samuel remain talented dual-threat options capable of creating big plays, but they'll face weekly volume concerns, especially once Torrey Smith (knee) returns.
Funchess caught seven of his eight targets for 53 yards and a touchdown during the Panthers' victory over the Lions in 2017, but that was with Darius Slay (knee) spending his time across from Kelvin Benjamin. The first-team All-Pro wasn't able to suit up last week, and Allen Robinson promptly exploded for 133 yards and two touchdowns. Be sure to monitor our industry-leading NFL News Feed Sunday morning for Slay's final status.
Broncos WR Courtland Sutton vs. Chargers CB Casey Hayward
Hayward has shadowed Demaryius Thomas in each of the Chargers' matchups against the Broncos last season. Additionally, Emmanuel Sanders has spent 56% of his snaps in the slot this season compared to just 28% in 2017, so it seems likely that the two-time Pro Bowl corner will shadow Sutton considering Hayward has spent just 14 total snaps in the slot since Week 1.
Sutton caught three of his five targets for 57 scoreless yards in his first game as the Broncos' No. 1 outside receiver, as tight end Jeff Heuerman was instead featured with a team-high 11 targets. It seems unlikely that the Broncos' second-round receiver will fall short of 80 yards in a game for much longer, but this week's shadow date against PFF's No. 21 overall cornerback is far from ideal.
Which brings us to Sanders, who is playing some of the best football of his career with Case Keenum under center. Sanders has averaged more PPR per game with Keenum (17.2) than he has with Peyton Manning (17), Trevor Siemian (13.7), Brock Osweiler (12.9) or Paxton Lynch (12.1).
The only problem for Sanders this week is a matchup against PFF's No. 2 overall cornerback: Nickel corner Desmond King.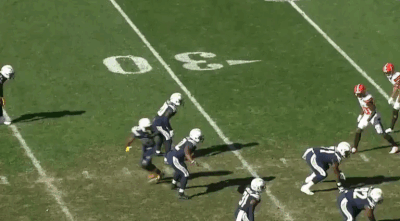 The Chargers are one of just eight defenses to allow fewer than 65% of passes to be completed into the slot this season (per Sports Info Solutions).
Bears WR Allen Robinson vs. Vikings CB Xavier Rhodes
Sunday will mark the second time that A-Rob will face off with Rhodes (ankle), assuming the Vikings' stud cornerback is able to suit up after having a bye week to rest. Rhodes dominated their first matchup back in 2016, as Robinson caught just one of three targets for 17-scoreless yards.
A-Rob certainly looked healthy while balling out last week against the Lions, but they were without Slay due to his aforementioned knee injury. Robinson was mostly held in check against similarly talented corners Xavien Howard (5-64-1) and Stephon Gilmore (1-4-0) this season.
The Bears' No. 1 receiver could have his #RhodesClosed this Sunday against the NFC North's premiere shutdown cornerback:
Week 1: Marquise Goodwin: 0 receptions-0 yards-0 TD (left with an injury)
Week 2: Davante Adams: 6-64-1
Week 3: Kelvin Benjamin: 3-29-0
Week 4: Brandin Cooks: 7-116-1 (scored 47-yard touchdown on Trae Waynes)
Week 5: Alshon Jeffery: 2-39-0
Week 6: Chad Williams: 1-5-0
Week 7: Robby Anderson: 3-44-0
Week 9: Marvin Jones 6-66-0
Adding to Robinson's predicament is a potentially volatile target share in a Bears offense filled with capable pass-game options in Taylor Gabriel, Anthony Miller, Tarik Cohen and Trey Burton. Scoring opportunities could be tougher to come by than usual considering the Vikings-Bears' over/under of 45.5 points is the third-lowest mark in Week 11.

Potential Non-Shadow Matchups
Cowboys CB Byron Jones: The Cowboys defense as a whole has taken a step forward this season despite Sean Lee (hamstring) missing time, but they've been much stronger against the run (sixth in DVOA) than the pass (26th). Part of the problem has been their reluctance to let Jones travel with the opponent's No. 1 receiver, which could be problematic against a player of Julio Jones' caliber. Since 2014, eight of Jones' 11 games with 30-plus DraftKings points have come at home. Calvin Ridley and Mohamed Sanu have at least five targets in seven and six games respectively this season.
Falcons CB Desmond Trufant: Amari Cooper is expected to run the majority of his routes against Desmond Trufant, with Michael Gallup spending most of his time across from Robert Alford (PFF's seventh-lowest graded cornerback out of 113 qualified players). Trufant and slot corner Brian Poole both rank outside of PFF's top-65 cornerbacks as well, setting up the Cowboys' passing game for success against the league's worst defense in overall DVOA. The only hope for the Falcons is the expected return of stud linebacker Deion Jones (foot) from IR, as he's PFF's highest-graded linebacker this season.
Steelers CB Joe Haden: The Steelers have been selective about asking Haden to shadow over the past season and a half. He could potentially be deployed on target-leader Donte Moncrief, but it seems more likely that the Steelers' No. 1 cornerback sticks to his usual spot at left cornerback. Keelan Cole has been replaced by rookie D.J. Chark in three-receiver sets, while Dede Westbrook remains the featured slot receiver. None are set up particularly well in the Jaguars' volatile pass offense against a Steelers defense that has allowed fewer than 215 pass yards in four consecutive games.
Broncos CB Chris Harris Jr.: Harris was used in shadow coverage in Week 9 for first time in his Broncos career, although Hopkins found a way to rack up a 10-105-1 line. It's possible Harris tracks Keenan Allen on the majority of his routes, but they'll see plenty of each other in the slot regardless. Harris has historically won the matchup, as Allen has been held under 50 receiving yards in five of his seven career games against the Chargers' divisional rival. Mike Williams and Travis Benjamin have cancelled each other out, so any additional exposure should be focused on Tyrell Williams.
Cardinals CB Patrick Paterson: It seems incredibly unlikely that the Cardinals will waste Peterson's time on any of the Raiders' under-qualified receivers. Jordy Nelson, Seth Roberts and Brandon LaFell have combined for one game with more than 50 yards this season (Nelson's 173-yard game in Week 3). Raiders tight end Jared Cook is the team's de facto No. 1 receiver, but even his outlook is cloudy considering the extra attention he'll see from opposing defenses without having a field stretcher like Amari Cooper or Martavis Bryant (knee, doubtful) on the field. The Raiders are implied for a week-low 18.5 points.
Saints CB Marshon Lattimore: The Saints haven't asked Marshon Lattimore to shadow over the past three weeks since adding Eli Apple. Alshon Jeffery runs an equal amount of his routes from the left and right side, so he'll have plenty of opportunities to make plays against Apple — PFF's No. 91-ranked cornerback this season. Nelson Agholor (seven targets) worked ahead of both Jordan Matthews (three) and Golden Tate (four), as the Eagles' shiny new slot receiver only played 18 offensive snaps in his debut. Zach Ertz leads the team with 11.1 targets per game and is locked in as Carson Wentz's No. 1 target.
Potential Plus Matchups
Ravens WRs Michael Crabtree, John Brown and Willie Snead vs. Bengals
It's unclear whether Joe Flacco (hip) or Lamar Jackson will be under center for the Ravens' Week 11 matchup against the Bengals. The presence of their electric first-round rookie would undoubtedly shift the Ravens' pass-happy attack into a more run-focused offense. This would obviously not help any of the Ravens pass catchers, but they're still set up beautifully vs. Cincinnati.
32 points allowed per game (31st)
44.4 DraftKings PPG allowed to opposing receivers (30th)
38 passes of 20-plus yards allowed (T-31st)
Zero cornerbacks graded higher than 45th by PFF this season
Snead in particular could be poised for a big day against a Bengals defense. They join the Buccaneers as the league's only defenses to allow more than 150 yards per game to opposing receivers from the slot. Nickel corner Darqueze Dennard (shoulder) should be considered questionable.
---
Giants WRs Odell Beckham Jr. and Sterling Shepard vs. Buccaneers
The Buccaneers' 31st-ranked defense in overall DVOA hasn't exactly done a good job at slowing down anybody this season, but they've seemed particularly unable to contain their opponent's primary slot receiver.
Odell Beckham Jr. is set up well against anybody, so this week's matchup against the league's second-worst defense in average DraftKings PPG is particularly appetizing. This hasn't been lost on the public, as OBJ currently boasts a slate-high projected ownership rate of 21-25%.
---
Titans WR Corey Davis vs. Colts
The Colts are one of five teams to have played four games or more games this season with 60-plus total points combined. Their pass-heavy and fast-paced offense could help lead to another shootout this week against the Titans. This would certainly be good news for Davis, who is fresh off toasting No. 1 Patriots cornerback Stephon Gilmore for 125 yards and a touchdown.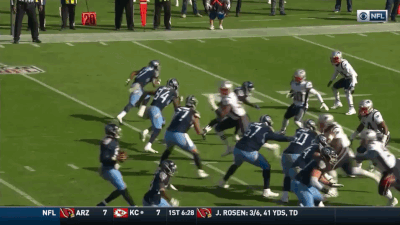 Davis will likely continue to be fed all the targets he can handle as long as No. 2 receiver Taywan Taylor (foot) remains sidelined. The Colts' 29th-ranked defense in DVOA vs. No. 1 receivers certainly isn't a unit to fear considering Davis has finally finished his miserable four-game stretch against talented secondaries from the Ravens, Chargers, Cowboys and Patriots. He boasts a strong +2.3 Projected Plus/Minus on DraftKings.
---
Cardinals WRs Larry Fitzgerald and Christian Kirk vs. Raiders
Offensive coordinator Byron Leftwich has utilized Madden-esque target distribution to get his best players involved during his two games calling plays.
Larry Fitzgerald: 22 targets
David Johnson: 13
Christian Kirk: 13
Ricky Seals-Jones: 13
Everyone else: Three or fewer
Both Fitz and Kirk are in play this week against the Raiders' league-worst defense in pass DVOA. The Cardinals usually have trouble protecting Josh Rosen, but that shouldn't be as big of an issue against the league's 31st-ranked defense in adjusted sack rate.
Fitzgerald in particular could be positioned to thrive considering the Raiders rank among the league's bottom-eight defenses in completion rate, yards per attempt, yards per game and QBR allowed to slot receivers.
---
Saints WRs Michael Thomas and Tre'Quan Smith vs. Eagles
The Eagles didn't boast a great secondary during their Super Bowl run, and they've proceeded to allow a league-high 94.3 yards per game to opposing No. 1 wide receivers this season.
Now the Eagles will have to live with an injury-riddled version of their already porous defense.
Thomas has the highest median projection and projected ceiling in our Pro Models. The bigger question is Smith, who didn't have a target last week despite playing a position-high 50 snaps. The arrival of Brandon Marshall doesn't help either receiver's touchdown equity, but Smith is still locked in as the offense's field-stretcher in the main slate's highest-implied game.
---
Potential Minus Matchups
Bengals WRs Tyler Boyd and John Ross vs. Ravens
Dalton has now failed to throw multiple touchdowns in eight of his 11 career games without A.J. Green (toe). The offense as a whole has been held below 300 yards of total offense in three of their past four games, hardly resembling the same unit that scored at least 30 points in three of the first four weeks.
Next up is a Ravens defense that the Bengals shredded for 34 points in Week 2, but that was with a fully-functioning Green and Tyler Eifert (knee, IR). Neither Boyd (3-65-0 ) nor Ross (2-39-1) were able to get much of anything going in last week's alleged cake matchup against the Saints, and the continued absence of the team's alpha dog receiver could lead to more of the same against the Ravens' fifth-ranked defense in overall DVOA.
---
Vikings WRs Adam Thielen and Stefon Diggs vs. Bears
The Vikings' pair of No. 1 receivers shouldn't ever be benched in season-long leagues, but neither Thielen nor Diggs (rib) are positioned well this Sunday. Thielen has had more ups than downs in six games with Diggs sidelined over the past two seasons.
2016 Week 5: 7 receptions-127 yards-1 TD (eight targets)
2016 Week 11: 8-53-0 (11)
2016 Week 16: 1-7-0 (one)
2017 Week 6: 9-96-0 (13)
2017 Week 7: 5-41-0 (12)
2018 Week 9: 4-22-1 (seven)
If Diggs manages to suit up, he'll have to overcome his own personal issues of playing through injuries.
Facing both receivers is a Bears secondary stacked with three of PFF's top-20 cornerbacks. Also not helping matters is a potentially fatal mismatch at the line of scrimmage between the Vikings' underwhelming offensive line and the Bears' ferocious pass rush.
---
---
Be sure to check out FantasyLabs' industry-leading NFL News and Models, along with the Multi-Lineup Builder, Stack Builder, ownership projections and more. Other tools for the 2018 season are also available, including the Matchups page, DFS Contests Dashboard, NFL Ownership page and NFL Correlations page.
How would you rate this article?