NFL Week 8 WR/CB Matchups: Antonio Brown Faces Off Against Denzel Ward, More Shadow Dates
Browns cornerback Denzel Ward will attempt to slow down Steelers No.1 receiver Antonio Brown in Week 8.
Vikings corner Xavier Rhodes will be matched up with Michael Thomas in a playoff rematch with the Saints.
Buccaneers receivers Mike Evans, Desean Jackson and Chris Godwin have a great matchup against the Bengals defense.
I'll be breaking down the top wide receiver/cornerback matchups every week throughout the 2018 NFL season.
Here's a data-driven analysis of the week's best passing-game matchup, seven potential shadow matchups and an additional six potential non-shadow matchups. Then we'll round it out with a quick look at plus and minus matchups.
Visit the FantasyLabs NFL page for more weekly breakdowns. You can also view all of this week's WR/CB matchups using the Matchups tool.
Jump to:
Jump to a position: Matchup of the Week | Shadow Matchup | Non Shadow Matchup | Plus/Minus
---
Matchup of the Week
Bengals Offense vs. Buccaneers Defense
Field stretcher John Ross (groin) is reportedly expected to miss a few weeks, so the Cincinnati offense will move forward with A.J. Green and Tyler Boyd as Andy Dalton's undisputed top two targets. De facto No. 3 receiver Alex Erickson saw just six combined targets during Ross' two-game absence.
The absence of both Ross and Tyler Eifert (ankle, injured reserve) doesn't help the overall upside of the offense, but both Green and Boyd were just fine as the team's featured passing-game weapons in Weeks 5-6 vs. the Dolphins and Steelers:
Green: 22 targets, 13 receptions, 197 yards, 0 TD
Boyd: 16 targets, 11 receptions, 106 yards, 2 TDs
Green and Boyd are the overall WR9 and WR14, respectively, through seven weeks. Each carries a positive Projected Plus/Minus in our Pro Models and is set up well against a Buccaneers defense that has allowed an additional 3.6 DraftKings PPG above salary-based expectation to opposing wide receivers over the past 12 months.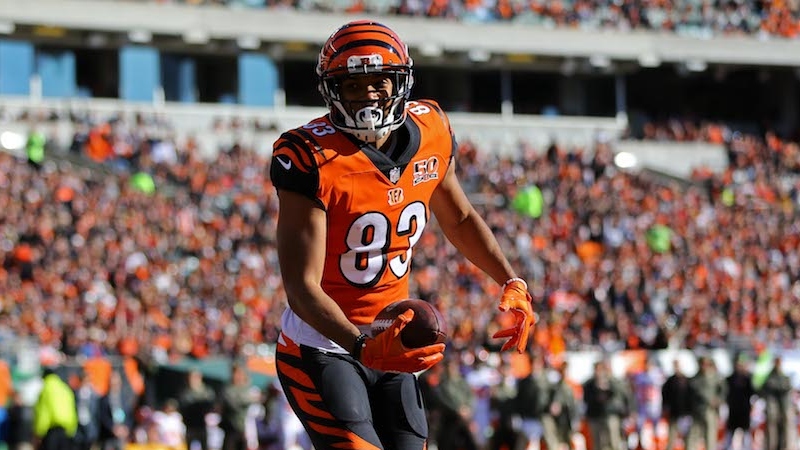 The specific corners that make up the Buccaneers' league-worst secondary in virtually every pass defense metric have predictably been terrible this season:
Brent Grimes: The 35-year-old is PFF's 102nd-ranked corner among 112 qualified at the position.
Carlton Davis: One of the Bucs' 2018 second-round picks is PFF's 72nd-ranked cornerback and is seemingly playing through groin and ankle injuries.
M.J. Stewart: The Bucs' other second-round pick ranks last among 26 full-time slot corners in quarterback rating, yards, and touchdowns allowed this season.
Green figures to spend most of his time across from Grime and Davis, while Boyd should see plenty of Stewart. Be sure to check out our NFL Ownership Dashboard shortly after lock to see if the Bengals receivers are chalky on a main slate featuring five games with an over/under of at least 50 points.

The Week 8 Shadow Club
Not many cornerbacks are consistently asked to travel with the opposition's No. 1 wide receiver, but we can expect at least seven cornerbacks (in addition to Xavien Howard on DeAndre Hopkins on Thursday night) to regularly line up across from their opponent's top receiver in Week 8.
Eagles WR Alshon Jeffery vs. Jaguars CB Jalen Ramsey
Jeffery reportedly feels he's a couple weeks or so away from his best self on the field, but his current form has been pretty solid, anyway. The Eagles' No. 1 wide receiver has only been thwarted by Xavier Rhodes (2-39-0), and posted a combined 23-267-4 line on an average of 10.3 targets per game against the Titans, Giants and Panthers.
It's tough to name a better contested-catch receiver than Jeffery, and Carson Wentz's willingness to give Jeffery 50/50 opportunities makes him pretty close to matchup proof in season-long leagues.
Still, Jeffery will face the next-closest thing the league has to Rhodes this week in Ramsey. The Jaguars' outspoken No. 1 cornerback has made his fair share of mistakes this season, but Ramsey has continued to largely blanket any and every receiver he's been asked to shadow.
 Every receiver Jalen Ramsey has shadowed since 2017:
Jermaine Kearse: 4 receptions, 17 yards, 0 touchdowns (7 targets)
T.Y. Hilton: 2-27-0 (8). 3-51-1 (6)
A.J. Green: 1-6-0 (2)
Larry Fitzgerald: 3-12-0 (8)
DeAndre Hopkins: 4-80-1 (13), 3-50-1 (8)
Odell Beckham Jr.: 11-111-0 (15)
Hopkins and OBJ in particular have proven that Ramsey doesn't need to be completely faded in fantasy, although it's tough to deny the first-team All-Pro cornerback has continuously lowered the ceiling of his opposing receiver.
Nelson Agholor won't face Bouye (out Week 8) and should avoid Jalen Ramsey while lined up as the slot receiver, which he has done on 58% of his snaps this season. Still, he's averaged just seven targets per game since Jeffery returned to the lineup after seeing nine targets per game in Weeks 1-3.
Steelers WR Antonio Brown vs. Browns CB Denzel Ward
The Browns decided against asking Ward (5-foot-11, 183-pounds) to shadow Mike Evans (6-5, 231) last week. Instead, free safety Damarious Randall (5-11, 196) tracked Evans while Ward spent time on both DeSean Jackson and Chris Godwin.
Defensive coordinator Gregg Williams clearly has a few tricks up his sleeve. The Browns barely asked their cornerbacks to travel in their Week 1 matchup against the Steelers, but Ward might be ready for a shadow date with the league's premiere receiver after finding success against John Brown (4-58-0) and Keenan Allen (4-62-0).
Of course, AB has largely shredded the Browns regardless of who they've lined up across from him over the years:
Meanwhile, JuJu Smith-Schuster should see plenty of slot corner T.J. Carrie — PFF's 75th-ranked cornerback this season. Smith-Schuster has caught 14-of-18 targets for 262 yards and scored two total touchdowns in his last eight quarters of football against Cleveland.
Ravens WR Michael Crabtree vs. Panthers CB James Bradberry
The Titans and Browns each identified John Brown as the Ravens' No. 1 receiver and accordingly shadowed him with their respective No. 1 cornerback. Last week the Saints decided to utilize Marshon Lattimore's talents against Crabtree, who ultimately caught five-of-nine targets for 66 scoreless yards. Smokey accordingly converted his seven targets into an electrifying 7-134-1 line against the Saints' overmatched corners.
It'd probably behoove the Panthers to deploy Bradberry against Crabtree as opposed to Brown. Either way, it's not a matchup that fantasy owners should fear by any stretch of the imagination:
 Every receiver James Bradberry has shadowed in 2018:
Week 2: Julio Jones 5 receptions-64 yards-0 TD (9 targets)
Week 3: AJ Green 5-58-0 (8)
Week 5: Odell Beckham Jr. 8-131-1 (14)
Week 6: Josh Doctson 3-20-0 (5)
Week 7: Alshon Jeffery 7-88-1 (10)
Every opposing quarterback except Alex Smith and Dak Prescott has scored at least 20 DraftKings points on the Panthers this season, while OBJ (35.4), Boyd (28.7) and Jeffery (21.8) have torched the secondary. Exposure to the Ravens' receivers on DraftKings should probably be focused on Crabtree, who boasts an impressive +3.6 Projected Plus/Minus and an 87% Bargain Rating.
Saints WR Michael Thomas vs. Vikings CB Xavier Rhodes
The Vikings didn't ask Rhodes to travel with Thomas in Week 1 of last season because the first-team All-Pro corner was hobbled with a hip injury. Things changed during the Saints-Vikings' matchup in the divisional round, as Rhodes chased Thomas all over the field and played a season-high eight snaps in the slot.
Thomas won the matchup with a sterling 7-85-2 line on 13 targets, but Rhodes made life difficult for Drew Brees and his best receiver ever: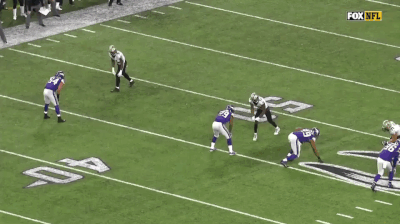 The Saints' willingness to move Thomas all over the field to create mismatches makes him one of the league's toughest covers.
While 60 minutes against Rhodes is a tall task for any mere mortal to deal with, the Vikings' No. 1 corner has a sprained ankle and should be considered questionable for Sunday night.
Be sure to monitor our Week 8 Injury Report to track Rhodes' daily practice participation and see if the Vikings are forced to play without their stud corner.
Regardless of Rhodes' final status, Tre'Quan Smith is set up well after establishing himself as the offense's No. 2 receiver following Ted Ginn Jr.'s (knee, IR) injury. The Vikings join the Chiefs and Chargers as the only defenses that have allowed at least 30 passes of 20-plus yards this season.
Vikings WR Adam Thielen vs. Saints CB Marshon Lattimore
The Vikings faced off with the Saints twice last season. Lattimore didn't shadow anybody during his NFL debut in Week 1, but he tracked Thielen on the outside while playing a season-high 10 snaps in the slot during their divisional-round matchup.
Lattimore could once again shadow Thielen on the outside while traveling into the slot for high-leverage situations, but there's certainly a chance the Saints wind up using their No. 1 corner on Stefon Diggs instead considering Thielen spent 39% of his snaps inside in 2017 compared to 51% this season. That is a result of the team's decision to replace slot-heavy receiver Jarius Wright with a more traditional outside receiver in Laquon Treadwell.
Lattimore has played better since getting toasted by Evans in Week 1, but Thielen is matchup proof at this point. The league's overall PPR WR1 joins Michael Irvin, Demaryius Thomas and Calvin Johnson as the only receivers with at least seven consecutive games with 100-plus receiving yards over the past 50 seasons.
Diggs is also set up well regardless of whether recently acquired Saints cornerback Eli Apple replaces either of the secondary's current liabilities in P.J. Williams or Ken Crawley. The Vikings' "No. 2" receiver has racked up 74 targets (fifth among all WRs) and earned PPR WR12 status after seven weeks.
Thielen and Diggs each rank among Week 8's top 10 receivers in Projected Plus/Minus on both DraftKings and FanDuel.
Bills WR Kelvin Benjamin vs. Patriots CB Stephon Gilmore
Bills quarterback Josh Allen (elbow) won't suit up again this week, so Benjamin will have BFF Derek Anderson under center for the Bills' Monday night matchup against the Patriots. Benjamin has consistently produced in four career starts with Anderson under center:
2014 Week 1: 6 receptions-92 yards-1 TD (8 targets)
2014 Week 15: 8-104-0 (13)
2016 Week 5: 5-70-0 (9)
2018 Week 7: 4-71-0 (5)
Benjamin certainly fails the eye test, but he'll continue to offer volume-based value as long as he continues to lead the Bills in both target share (18%) and air-yard market share (34%).
The problem for Benjamin this week is a tough shadow date with the Patriots' No. 1 cornerback. Gilmore has had overwhelming success against similar big-bodied receivers (as well as Benjamin himself) during his time with the Patriots.
Gilmore Shadow Matchups with Large No. 1 Receivers Since 2017:
Mike Evans: 5-49-0 (8)
Demaryius Thomas: 5-44-1 (8)
Michael Crabtree: 6-51-0 (11)
Devante Parker (x2): 1-5-0 (3), 4-40-0 (6)
Martavis Bryant: 4-59-1 (6)
Benjamin: 5-70-0 (7)
Deandre Hopkins: 8-78-0 (11)
Donte Moncrief: 4-34-1 (9)
Marvin Jones: 4-69-1 (6)
Sammy Watkins: 2-18-0 (4)
Allen Robinson: 1-4-0 (5)
Benjamin joins Allen Hurns, Michael Gallup and Brandon Marshall as the league's worst receivers at gaining separation this season (Next Gen Stats).
Patriots WR Josh Gordon vs. Bills CB Tre'Davious White
The Patriots have been at mostly full strength for the last three weeks, although Rob Gronkowski (back) wasn't able to suit up during the team's Week 7 win against the Bears.
Julian Edelman has certainly been plenty involved since returning from suspension, but there's also reason to be excited about the future prospects of James White and Josh Gordon:
Overall, Gordon has played 124-of-142 (87%) of snaps over the past two weeks.
The only thing standing in the way of a potential Monday night breakout for Gordon is Tre'Davious White. The Bills' No. 1 cornerback has largely erased the opposition's No. 1 outside receiver when asked to shadow during his two-year career.
Every Wide Receiver Tre'Davious White has Shadowed:
Davante Adams: 8 receptions-81 yards-0 TD (14 targets)
Corey Davis: 4-49-0 (6)
DeAndre Hopkins: 5-63-1 (6)
Amari Cooper: 5-48-0 (10)
Robby Anderson: 4-48-1 (5)
Tre'Davious White is certainly good enough to make things difficult for Gordon, but the Patriots' freakishly talented receiver is capable of beating anybody when he's at the top of his game.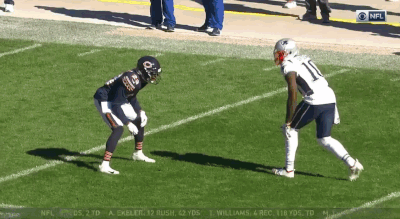 Potential Non-Shadow Matchups
Steelers CB Joe Haden: Haden has largely thrived in recent shadow matchups against Julio Jones (5-62-0) and A.J. Green (7-85-0). Still, he's unlikely to shadow Jarvis Landry considering Haden has spent just six total snaps in the slot this season, while Landry has lined up inside on 63% of his offensive snaps. Last week's 10-97-1 line on 15 targets demonstrated improved chemistry between Baker Mayfield and Landry. An encore performance would be far from shocking considering the Steelers have given up the fourth-most DraftKings PPG to opposing wide receiver units.
Redskins CB Josh Norman: The Redskins haven't asked Norman to shadow over the past season and a half, so viewers unfortunately won't get to see constant interactions between him and Odell Beckham Jr.. The Eli Manning experience will continue to hurt Beckham's ceiling, but his weekly floor is still high thanks to his status as one of just four players with at least 80 target this season. It's tough to expect any cornerback to completely shut Beckham down, but OBJ has objectively won his on-field battles with Norman:
Giants CB Janoris Jenkins: The Giants have surprisingly not asked Jenkins to shadow in three consecutive games after he managed to shut down Michael Thomas (4-47-0) in Week 4. Predictably, opposing No. 1 receivers Devin Funchess (4-53-0), Alshon Jeffery (8-74-2) and Julio Jones (9-104-0) have had plenty of success against the Giants' 28th-ranked defense in overall DVOA over the last three weeks. Still, the Redskins aren't exactly the type of offense to take advantage of the Giants' mediocre secondary, as they're one of just three units with fewer than 200 pass attempts this season.
Lions CB Darius Slay: The Lions' No. 1 cornerback was limited Wednesday with an ankle injury, but he's tentatively expected to suit up Sunday against the Seahawks. It's possible that Slay could travel with Tyler Lockett on the outside, but Doug Baldwin should at least be free from the first-team All-Pro corner's shadow. Overall, Slay has lined up in the slot on 15% of his snaps this season, while Baldwin has worked from the inside on 64% of his snaps. Baldwin leads the Seahawks in air yard market share (28%) during their last two games despite being narrowly out-targeted 9-8 by Lockett.
Cardinals CB Patrick Peterson: The Cardinals have asked Peterson to shadow only Diggs this season. He shadowed Pierre Garcon (4-36-0) in the division rivals' first matchup last season and later Marquise Goodwin (2-68-0) in Week 9. The 49ers offense in general is best approached with extreme caution considering their brutal matchups both at the line of scrimmage and in the secondary. Any exposure should be focused on Goodwin, who could see an uptick in targets with Garcon (knee) likely sidelined. Goodwin easily leads the 49ers in air-yard market share (38%) since C.J. Beathard took over.
Broncos CB Chris Harris: The Broncos have featured Harris in the slot on 60% of his snaps this season, but haven't ever asked him to consistently travel with a single receiver. It seems unlikely this would change in their potential shootout against the Chiefs considering the Broncos have largely slowed down Tyreek Hill (as a receiver) during his career.
Potential Plus Matchups
Rams WRs Robert Woods, Brandin Cooks and Cooper Kupp vs. Packers
Kupp (knee) is considered doubtful for Sunday, so we're again expecting Cooks to be flanked by Josh Reynolds on the outside with Woods sliding into the slot. There should be plenty of volume for both Cooks and Woods, but the former receiver is probably set up the best against a Packers defense that has struggled to slow down opposing No. 1 outside wide receivers this season:
Week 1 Allen Robinson: 4 receptions-61 yards-0 TD (7 targets)
Week 2 Stefon Diggs: 9-128-2 (13)
Week 3 Paul Richardson: 1-46-1 (2)
Week 4 Kelvin Benjamin: 1-34-0 (6)
Week 5 Kenny Golladay: 4-98-1 (9)
Week 6 Marquise Goodwin: 4-126-2 (5)
Both Woods and Cooks have top-eight projected ceilings among all wide receivers in Sunday's main slate in our Pro Models.
The Packers have ranked better in DVOA vs. the pass (15th) than the run (29th), but are relying a ton on (talented) rookies Jaire Alexander and Josh Jackson. The problem is the Packers haven't exactly earned the benefit of the doubt when playing away from Lambeau Field …
---
Packers WRs Davante Adams, Randall Cobb, Geronimo Allison and Marquez Valdes-Scantling vs. Rams
Cobb (hamstring) and Allison (hamstring) are tentatively expected to suit up Sunday after having an entire bye week to rest. It remains to be seen who the Packers will lean on in three-receiver sets, but Cobb could be the odd-man out considering electric rookie Marquez Valdes-Scantling has played 64% of his snaps from the slot this season.
Up next is a Rams defense that has struggled to slow down competent passing attacks with Aqib Talib (ankle, IR) sidelined and Marcus Peters (calf) playing hurt. Overall, the Rams have allowed an average of 7.7 PPG and 168 passing yards to the 49ers, Raiders and Cardinals compared to an average of 26.3 PPG and 271.8 passing yards to the Chargers, Vikings, Seahawks and Broncos.
The Packers always offer shootout potential with one of the league's greatest quarterbacks ever under center, but Aaron Rodgers hasn't been at his best on the road since 2014 (per our NFL Trends tool):
At home (33 games):24.8 DraftKings PPG, +3.7 Plus/Minus, 63% Consistency
Road (30 games): 21.6 DraftKings PPG, +0.0 Plus/Minus, 46% Consistency
---
Buccaneers WRs Mike Evans, Desean Jackson and Chris Godwin vs. Bengals
Evans, D-Jax and Godwin have worked as the league's PPR WR13, WR22 and WR37 after seven weeks, respectively. Up next is a tasty matchup against a Bengals defense that has allowed at least 28 points in four of its last five games. The Bengals have largely struggled to slow down any and every opposing pass offense:
The Bengals also won't enter Sunday's matchup with the benefit of a healthy defense, as stud linebacker Vontaze Burfict (hip) and slot corner Darqueze Dennard (shoulder) should be considered questionable.
Godwin is a particularly intriguing play on DraftKings, where his $4,500 price tag comes with a 96% Bargain Rating and GPP-friendly 92% Leverage Rating. Quarterback Jameis Winston has managed to keep Evans (21 targets), Godwin (18), Adam Humphries (18) and D-Jax (17) involved during his 10 quarters of action.

Potential Minus Matchups
Lions WRs Marvin Jones, Kenny Golladay and Golden Tate vs. Seahawks
The Lions entire passing game revolves around their trio of talented receivers. Jones (17%) has the lowest target share compared to Golladay (20%) and Tate (26%), but Jones (32%) has the highest air-yard market share of the group — Golladay has 31% and Tate has 23%.
Still, this week's matchup against the Seahawks isn't ideal.
Seahawks-Lions has the week's third-lowest combined situation-neutral pace.
The Seahawks have made up for their poor cornerback play with excellent on-field production from safeties Bradley McDougald and Tedric Thompson — PFF's No. 4 and No. 5 overall safeties this season.
The Seahawks rank among the league's top three defenses in both pass DVOA and DVOA vs. No. 1 receivers.
Working in the Lions' favor is a solid 49.5-point over/under and home matchup, but they're probably best approached as tournament options this week against a Seahawks defense that allowed an average of just 16.5 points per game over the last four weeks.
---
Panthers WR Devin Funchess vs. Ravens
The return of Greg Olsen hasn't stopped Funchess from balling out, as he's posted 5-74-1 and 6-62-1 lines on eight and 11 targets, respectively, over the last two weeks. Up next is a much tougher matchup against the Ravens' No. 3-ranked defense in overall DVOA. The Ravens secondary includes a three above-average cornerbacks in Jimmy Smith, Brandon Carr and Marlon Humphrey to complement arguably the league's premier safety duo of Eric Weddle and Tony Jefferson.
No. 1 receivers have largely struggled to get much going against the Ravens' lock-down secondary this season (with the exception of A.J. Green):
Week 1 Kelvin Benjamin: 1 reception-10 yards-0 TD (7 targets)
Week 2 A.J. Green: 5-69-3 (9)
Week 3 Emmanuel Sanders: 5-38-0 (8)
Week 4 Antonio Brown: 5-62-1 (11)
Week 5 Jarvis Landry: 5-69-0 (10)
Week 6 Corey Davis: 1-24-0 (4)
Week 7 Michael Thomas: 7-69-1 (9)
---
---
Be sure to check out FantasyLabs' industry-leading NFL News and Models, along with the Multi-Lineup Builder, Stack Builder, ownership projections and more. Other tools for the 2018 season are also available, including the Matchups page, DFS Contests Dashboard, NFL Ownership page and NFL Correlations page.