Robert Saleh Slams Jets Offensive Line on 'Hard Knocks' — Bettors Should Take Notice
Credit:
Joe Sargent/Getty Images. Pictured: Connor McGovern #60, Laken Tomlinson #78 and Alijah Vera-Tucker #75 of the New York Jets.
If you watched Hard Knocks this week, you probably came away thinking two things: Oz Pearlman is a heck of a magician, and Aaron Rodgers could be running for his life behind this shoddy offensive line.
The New York Jets are the buzz team of the preseason, no doubt.
That's bound to happen when you move worlds to bring in a Hall of Fame quarterback like Rodgers, then splash Augusts cash to give him a marquee name at running back in Dalvin Cook. Add those two to two Rookies of the Year in wide receiver Garrett Wilson and cornerback Sauce Gardner, who led a top-five-DVOA defense, and it's easy to see the hype.
While Rodgers magically (and begrudgingly) turning a deck of playing cards into a goldfish is undoubtedly a cool trick, the offensive line woes should have our attention as NFL fans and bettors.
The Jets rank 23rd in my Offensive Line Rankings heading into the season. That's bottom 10 in the NFL, and it's last in the AFC East. It's not great.
When things go wrong in the NFL, it's easy to blame the quarterback, the coach, maybe the defense, but the problems often start right there on the offensive line. And the Jets line looks chaotic at best.
Wow #Jets HC Robert Saleh went off on his OL after the joint practice vs #Panthers & questioned their effort 😳 'you can have a Hall of Fame quarterback, you can have two $10 million dollar plus receivers, you can have a reigning Offensive Rookie of the Year, you can have all… pic.twitter.com/L4JxG8Afkx

— Paul Andrew Esden Jr (@BoyGreen25) August 16, 2023
New York finished last season as the 31st-ranked PFF line and didn't do much to fix the problem. That's the trade-off of bringing in expensive names like Rodgers and Cook. There's only so much money to go around, and only so many decent blockers.
Let's go through the Jets' offensive line position by position to see how things stand.
Center
Connor McGovern is the incumbent and was the most reliable healthy starter last season. He ranked 10th among centers in PFF's metrics. New York also drafted center Joe Tippman in the second round, a confusing choice considering this is the one position that was safe last season.
Guards
Alijah Vera-Tucker is the best Jets lineman, but he played only seven games last season. He also grades much better run blocking than pass, so it's probably not a great idea to move him out to tackle as has been discussed.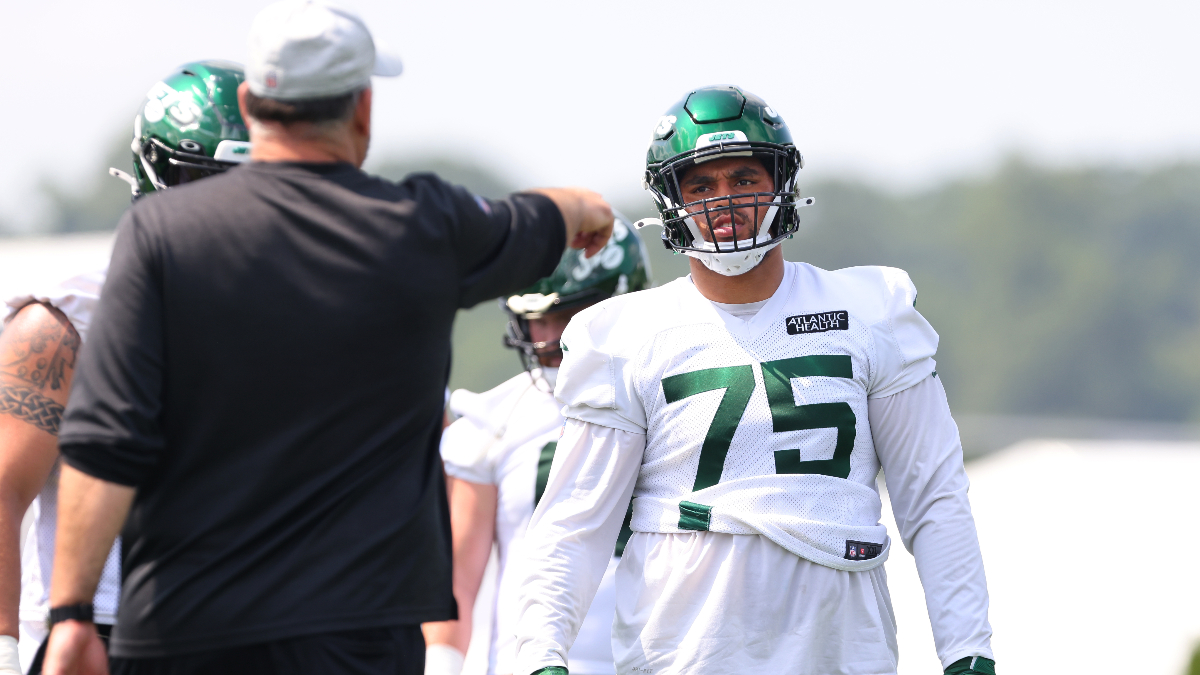 Laken Tomlinson is the incumbent and will likely start at left guard. He ranked 58th of 77 guards. That's not great, but it's passable. He's much better pass blocking.
Tackles
This is where it gets ugly. The Jets have five guys who could be in the mix, but there are major question marks about all of them. Duane Brown is the likely starting left tackle. He's a far better pass blocker than run, but he's 38 and missed five games last season, and he ranked just 69th of 81 tackles last season.
Immediately behind him in those ranks were Billy Turner and Max Mitchell, two other Jets options. They look very much like replacement level tackles, more depth than starters. Turner is versatile and played with Rodgers in Green Bay, so that familiarity could help. Mitchell was a fourth-round rookie so he should improve. The Jets drafted another fourth-round rookie tackle in Carter Warren.
The fifth name is a complete wild card. Mekhi Becton was a top-20 tackle last we saw him, but injuries have left him on the field for just one game the last two seasons. He walks into a starting job when he's ready, but who knows when or if that will ever be the case.
So where does that leave the Jets?
Quantity doesn't equal quality in the NFL. The interior of the line should be solid enough with Tomlinson, McGovern, and Vera-Tucker, probably average to below average. The tackles protect the blind side though, and New York has one of the worst tackle situations in the league.
That could be bad news for Jets hero Aaron Rodgers, and it might warn us off of betting New York futures until the dust settles midway through the season.
Rodgers has incredible pocket presence. His ability to move the pocket and keep the play alive can cover a lot of sins and give this line some hope. But even he can only do so much.
This line looks particularly bad at run blocking, which could make life tough on Cook and sophomore running back Breece Hall, who is still working his way back from injury. Line play also takes time to find continuity, which could make for a slow start to the Jets season.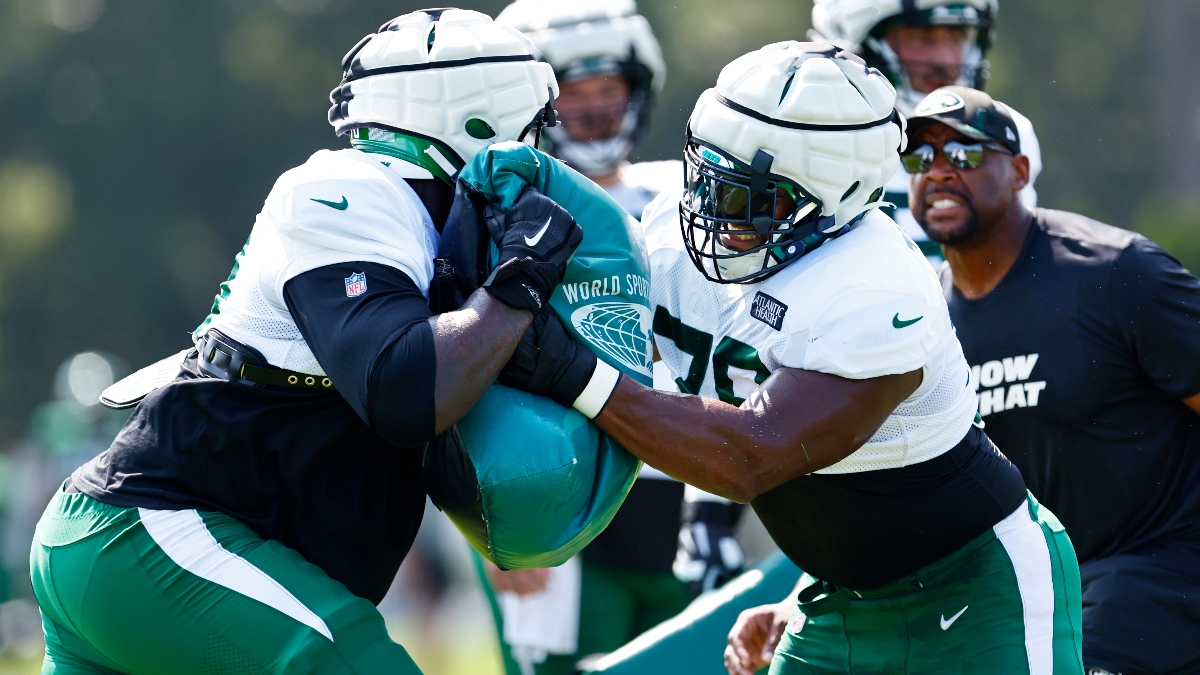 Rodgers doesn't throw many picks or eat a ton of sacks, but he does tend to get happy feet and throw the ball away quickly when he doesn't like what he sees on a particular play. Poor line play could also lead to plenty of early check-downs too — maybe to tried and true Allen Lazard and Randall Cobb, and who knows how that will play to the locker room?
And we've all seen that disgusted Rodgers look and angry chin snap as he walks off the field disappointed.
Rodgers usually had a great offensive line in Green Bay — 8th in my Offensive Line Rankings — so this could be a rude awakening and take some time to adjust.
The Jets open the season against the Bills, Cowboys, and Patriots, three of the toughest, nastiest defenses in the NFL. The Chiefs, Broncos, and Eagles are next. That's a lot of great defense and pass rush pressure that will test this line early and often. Would it be at all surprising to see the Jets start 1-2? 2-4? Worse?
Until the Jets prove they have some answers on the offensive line, bettors should be very wary about buying New York futures. You can always grab that Rodgers MVP ticket later.
With so many problems on the offensive line, Rodgers could end up taking too many hard knocks to make as much magic on the field as he does on HBO.
How would you rate this article?
This site contains commercial content. We may be compensated for the links provided on this page. The content on this page is for informational purposes only. Action Network makes no representation or warranty as to the accuracy of the information given or the outcome of any game or event.