San Antonio Commanders-Arizona Hotshots AAF Betting Guide: Can You Trust Arizona?
Credit:
Courtesy of @aafhotshots/Twitter. Pictured: Arizona QB John Wolford
Betting Odds: San Antonio Commanders at Arizona Hotshots
Spread: Arizona -2.5
Over/Under: 40
Time: 8 p.m. ET on Sunday
TV: NFL Network
Betting market: The Commanders are just 2.5-point underdogs despite boasting the league's worst defense and an inconsistent offense.
The 40-point total is the week's highest mark by a full 1.5 points.
Week 4 Takeaways
San Antonio's 12-11 Win Over Birmingham
Logan Woodside's and Marquise Williams' quarterback competition was put on hold for a week. Woodside took every snap under center, but completed just 11-of-25 (44%) passes for 106 scoreless-yards (4.2 Y/A). It hasn't been easy for receivers to thrive considering the Commanders rank fifth in yards per pass attempt and seventh in pass-play rate.
Kenneth Farrow (78% snap rate) took over the San Antonio backfield just one week after Trey Williams (22%) appeared to stake his claim for RB1 duties. The good news is that David Cobb (1%) was (mostly) benched, so we should feel somewhat secure about most of the Commanders' rushing production flowing through only two players.
Mekale McKay (89% snap rate) and Greg Ward Jr. (64%) started in 2-WR sets, while do-it-all tight end Evan Rodriguez (86%) seldom left the field at all. The Commanders have shown off some explosive pass-game weapons, but they'll need enhanced play under center to establish any sort of consistency.
Arizona's 14-11 Loss to Atlanta
John Wolford was questionable for last week's game with a back injury, but he appeared to be just fine on his way to completing 17-of-31 (55%) passes for 185 yards (6.0 Y/A) and a touchdown. The Hotshots have had the AAF's second-best pass offense behind Orlando for basically the entire season, but they haven't been quite as dominant compared to the rest of the league since Atlanta and Memphis seemingly fixed their respective quarterback problems.
AAF QB tiers by yards per attempt (min. 30 attempts):

Gilbert (9.5 Y/A)
…
Mettenberger (7.9)
Wolford (7.6)
Murray (7.3)
…
Bercovici (7.0)
Nelson (6.7)
Simms (6.3)
…
Woodside (6.0)
Woodrum (5.9)
Perez (5.6)
Hackenberg (4.5)
Allen (3.7)

— Ian Hartitz (@Ihartitz) March 6, 2019
#JhurellCow truthers rejoice! Jhurell Pressley (57% snap rate) continued to work as Arizona's lead back and finally managed to produce. He converted his 14 carries into 110 scoreless-yards (7.9 yards per carry) and caught 4-of-5 targets for an additional 13 yards. The Hotshots' up-tempo offense has helped enable the league's second-highest scoring offense, although their 2-2 record is indicative of an underwhelming +7 point differential.
Rashad Ross (98% snap rate) might just be the best thing to ever happen to the AAF: He has nearly as many touchdowns (5) as incomplete targets (7) after a month of action. Freddie Martino (75%) and Richard Mullaney (knee, questionable) are expected to fill out 3-WR sets with Josh Huff (knee, IR) out indefinitely, while Gerald Christian (67%) remains one of the league's few tight ends that are somewhat involved in the passing game.
Which team is healthier? Arizona
Starting receiver Josh Huff (knee) is expected to miss the remainder of the season after being placed on the injured reserve list. The good news is that early-season starter Richard Mullaney (knee) got in a limited session and appears to be on track for a return.
The only Commanders player who failed to practice Wednesday was tight end Cole Hunt (lower leg).
Key matchup: Arizona's WRs vs. San Antonio's CBs
The Commanders boast the league's second-best pass rush … but they've generally still struggled to slow down anybody outside of Birmingham.
The biggest issue has been their consistently brutal cornerback play, as only one of their top five corners has received an above-average grade from Pro Football Focus.
Anything other than excellence won't be enough to slow down Rashad Ross. The Hotshots' No. 1 receiver caught another touchdown in Week 4 to bring his league-leading total to five receiving scores. He also ranks fourth in yards per route run with 2.38.
Charles Johnson hung a 10-192-1 line on San Antonio back in Week 2. I'm not saying Ross will approach those numbers, but he's certainly capable of having his way against any cornerback in the league — and especially those from the AAF's worst secondary.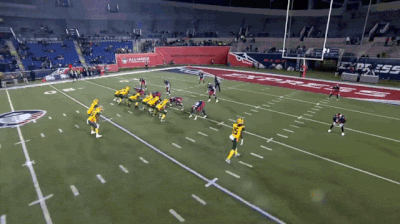 DFS edge: John Wolford
The big four quarterbacks at the top of the pricing scale have each shown stretches of strong play, but I'm leaning toward Wolford at $6,000 over Mettenberger and Murray thanks to Wolford's superior matchup at home against the Commanders' league-worst defense.
Defenses in @TheAAF after four weeks …

-Birmingham has the league's best overall unit; San Antonio the worst
-Atlanta has been bad overall but more of a run funnel defense
-Salt Lake = pass funnel
-Memphis = super meh
-Arizona, Orlando and San Diego have each been solid pic.twitter.com/tit0IBCSQd

— Ian Hartitz (@Ihartitz) March 6, 2019
The Hotshots have worked as the league's second-best offense for most of the season; don't miss the chance to cash in on a prime bounce-back performance at home against the worst secondary in the AAF.
Bet to watch: Arizona -2.5
The Hotshots haven't played their best football in recent weeks, but they're set up beautifully to get their offense back on track in this home matchup. The Commanders are playing their third-consecutive road game and could have a tougher time slowing down a passing game that's not led by Luis Perez.
Give me the better quarterback and defense eight days of the week.