Koerner's Week 7 Fantasy Football Tiers: Should You Sit Drew Brees vs. Ravens?
Credit:
USA TODAY Sports. Pictured: Drew Brees and Tevin Coleman
Sean Koerner -- the No. 1 in-season fantasy football ranker in 2015, 2016 and 2017 -- takes a detailed look at his Week 7 tiers for every position: quarterback, running back, wide receiver, tight end, defense and kicker.
Use the strategies outlined below to build the most optimal starting lineup for your fantasy football team.
Below you'll find my tiers for Week 7 fantasy football. These are based on standard scoring and cover every position.
As a reminder, these tiers are not updated after publication. If you want my most up-to-date rankings for PPR, Standard and Half-Point PPR leagues, check out this post.
And, yes, my tiers will be part of our Action Network subscription this season. Be sure to check out everything that comes with a sub here.
Jump to a position: Quarterback | Running back | Wide receiver | Tight end | Kicker | Defense
Quarterbacks
Tier 1
Patrick Mahomes (vs. CIN)
Mahomes gets a great matchup at home this week. Despite being a pretty good defense on paper, the Bengals have been gashed by opposing quarterbacks this year. They've allowed either 360-plus passing yards or two-plus touchdowns to all but one opposing quarterback this season (Ryan Tannehill).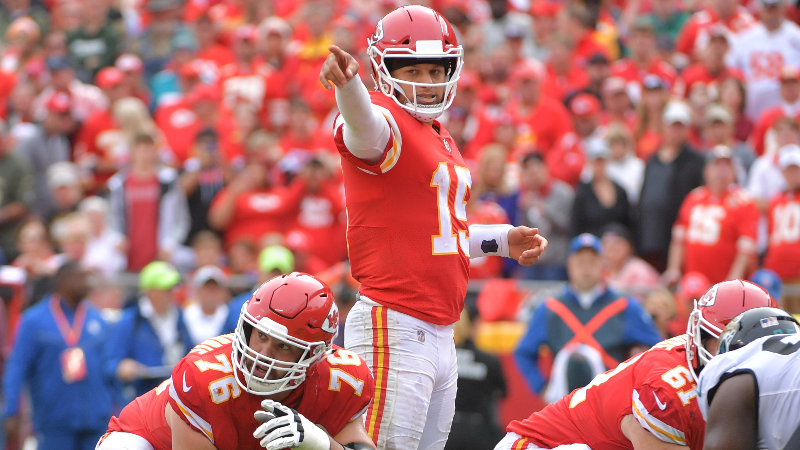 Tier 2
Matt Ryan (vs. NYG)
Jameis Winston (vs. CLE)
There is a pretty big drop-off after Mahomes this week, and the competition for the No. 2 quarterback this week is wide open. Especially considering Aaron Rodgers, Ben Roethlisberger and Russell Wilson are on a BYE.
That helps make Matt Ryan and Jameis Winston elite plays this week.
Congrats if you managed to scoop up Winston from the waiver wire last week. The Bucs offense has so many weapons in the passing game that we can expect around 300 yards through the air from Winston on average. Often overlooked is his sneaky rushing ability, too.
Winston will never be confused with Cam Newton when he scrambles, but we will always take 15-25 rushing yards with the potential for rushing touchdowns from any quarterback.
Projecting Winston in this 2018 Bucs offense gives off an Aaron Rodgers vibe — only if Rodgers threw interceptions more frequently. In any league that docks only one point per interception, Winston could be a top-five quarterback going forward.
Tier 3
Jared Goff (@ SF)
Cam Newton (@ PHI)
Kirk Cousins (@ NYJ)
Jared Goff will be without Cooper Kupp this week, but I'm not projecting much of a drop-off at all due to him having a plethora of weapons. My only worry is if the Rams get out to a big lead early against San Fran and simply use Todd Gurley to run out the clock in the second half.
This limits Goff's ceiling, but he still has one of the highest floors at the position this week.
Tier 4
Andrew Luck (vs. BUF)
Carson Wentz (vs. CAR)
Andy Dalton (@ KC)
Tom Brady (@ CHI)
Matthew Stafford (@ MIA)
Philip Rivers (vs. TEN)
This is a critical sit/start tier this week, and if Dalton is available, he makes for a great BYE week fill-in against the Chiefs who turn every matchup into a shootout.
The Colts are 7.5-point favorites this week against the Bills, meaning there is a chance they choose to limit Luck's attempts this week to give his shoulder a bit of a break.
Additionally, the return of Marlon Mack last week allowed Indy to feature a true workhorse running back even though the Colts had four active backs last week. Look for them to be a much more balanced team this week, which could curb Luck's upside against an underrated Bills defense.
Tier 5
Blake Bortles (vs. HOU)
Drew Brees (@ BAL)
Mitch Trubisky (vs. NE)
Joe Flacco (vs. NO)
If there was ever a week I would be pretty bold in recommending Brees owners to roll with a different quarterback, this would be it. As we saw in Mark Ingram's return from a four-game ban in Week 5, he not only cuts into Alvin Kamara's role, but he'll also impact Brees' touchdown shares.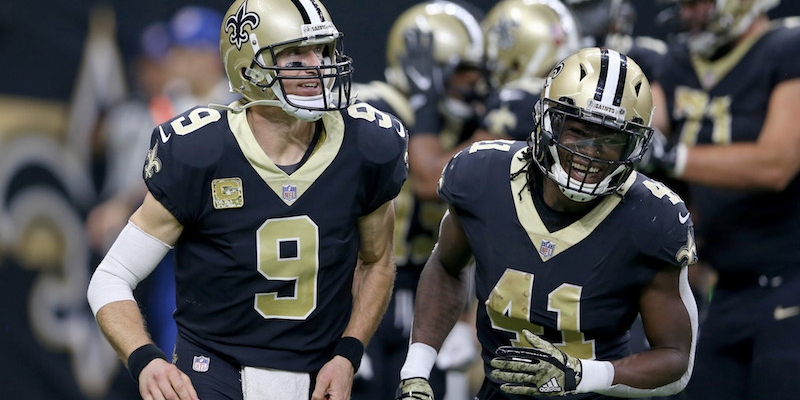 On top of that, back in Week 5 I referred to Taysom Hill's increased involvement in a package of plays designed for him to run the ball out of a wildcat formation. This became more of a concern after the Saints featured him in the red zone and he ran for a touchdown.
Again, these are all things that will eat into Brees' touchdown share long-term and something I factor into my projections. He is also on the road this week against one of the top defenses. I would start anyone in Tier 4 or better over him this week.
Tier 6
Eli Manning (@ ATL)
C.J. Beathard (vs. LAR)
Baker Mayfield (@ TB)
Deshaun Watson (@ JAX)
Alex Smith (vs. DAL)
I have yet to fall for Eli Manning this year, as I believe this is the first time he has cracked my top 20. He is going to be playing for his job this week — and rightfully so. I think this Falcons defense will allow the Giants offense to go off this week.
C.J. Beathard is a worthy streamer this week in deeper leagues if you need some BYE week help. He will be forced to throw in this potential shootout with the Rams.
Deshaun Watson is this week's biggest downgrade. He is clearly less than 100% and getting killed behind this O-line. We saw the Texans limit his rushing last week with two rushes for two yards. He will not be able to put up QB1 numbers this week against the Jaguars through the air, forcing owners to find a spot-start quarterback this week.
Tier 7
Ryan Tannehill/Brock Osweiler (vs. DET)
Dak Prescott (@ WAS)
Marcus Mariota (@ LAC)
Week 6 we witnessed two of the most unlikely outcomes at quarterback in a single week: Dak Prescott carved up the Jaguars and Brock Osweiler went off for 380 yards with three touchdowns in an emergency start for the injured Ryan Tannehill.
Do not fall for either performance as I have both ranked outside of the top 20 this week.
Tier 8
Case Keenum (@ ARI)
Josh Rosen (vs. DEN)
Sam Darnold (vs. MIN)
We won't need to make any tough sit/start decisions at quarterback for the Thursday night game this week, as both quarterbacks aren't worthy of our attention outside of ultra deep two-QB leagues.
Whomever is starting at quarterback for the Bills this week Tier
Derek Anderson/Nathan Peterman (@ IND)
The Indy defense makes a great stream play at defense this week.
Running Backs
Based on standard scoring; +/- indicates how many Tiers up/down each player would move in a PPR format.
Tier 1
Todd Gurley (@ SF)
Gurley is making life easy for those who took him with their first pick. I don't think it's crazy to start thinking of selling high on him right now.
It's a very bold move, but I think come fantasy playoff time, if the Rams already have the NFC's No. 1 seed locked up, we might see Gurley limited at the worst possible time.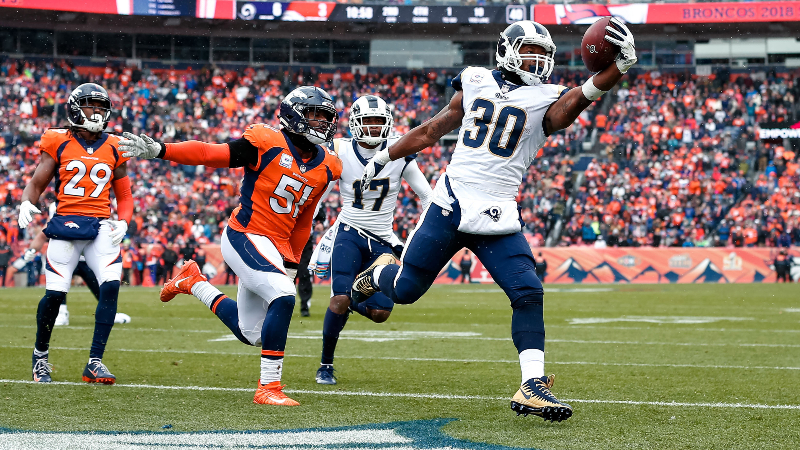 I probably won't be trading Gurley away based on this theory quite yet but I may start rooting for the Rams to lose a game or two or else this could become a real possibility.
Tier 2
Saquon Barkley (@ ATL) +1
I actually have Barkley ranked as the top running back in PPR this week. We've seen the Falcons struggle against pass-catching backs after their defense suffered three or four key injuries. It's going to be fun to watch what Barkley can do to this defense on Monday Night Football.
Tier 3
Melvin Gordon (vs. TEN)
Ezekiel Elliott (@ WAS)
The two other workhorse backs who are always a lock for a top-five rank, regardless of matchup.
Tier 4
Joe Mixon (@ KC)
Kareem Hunt (vs. CIN)
David Johnson (vs. DEN)
Alvin Kamara (@ BAL) +1
Christian McCaffrey (@ PHI) +1
Joe Mixon appears to be 100% after his minor knee surgery, and he doesn't have Gio Bernard to compete with for touches. He is an absolute smash spot this week in a potential shootout versus the Chiefs.
Alvin Kamara is not a top-three lock in standard leagues anymore with the return of Mark Ingram. As mentioned earlier, even the increased wildcat plays for Taysom Hill hurts Kamara more than people think.
The Ravens are his toughest test yet. This is about as low as you will see him ranked this year.
Tier 5
Tevin Coleman (vs. NYG)
LeSean McCoy (@ IND)
Sony Michel (@ CHI)
T.J. Yeldon (vs. HOU)
I advocated for Tevin Coleman (and Derrick Henry) in drafts due to the fantasy relevance they have even in a RBBC time share. I felt they both had league-winning potential if their teammate ever missed significant time. So Coleman's stock gets a boost with Devonta Freeman now on IR.
A word of caution: Coleman hasn't quite been the RB1 I was expecting without Freeman, and I think going forward we need to worry about Ito Smith stealing quite a few of his touches and possibly even becoming the top back to own.
For now, I think we can give Coleman the benefit of the doubt and start him with confidence as a weekly elite RB2.
I'm assuming Leonard Fournette will end up missing Week 6. If anything changes, Yeldon's rank will drop significantly. Be sure to check back Sunday morning for my latest rankings with all the up-to-date news factored in.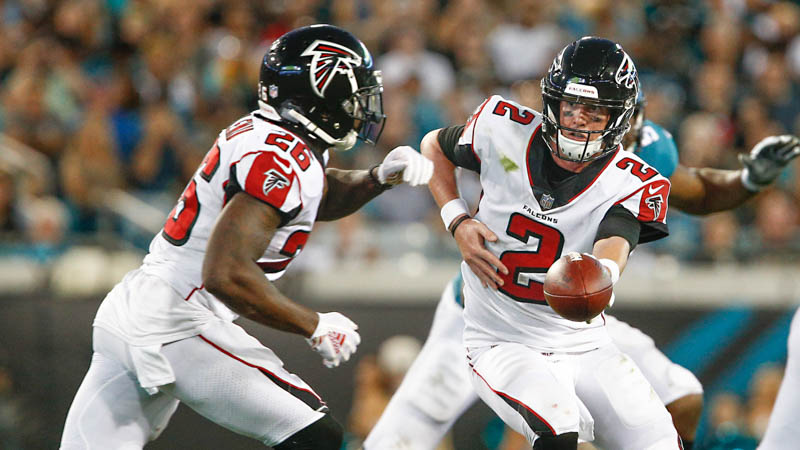 Tier 6
Carlos Hyde (@ TB)
James White (@ CHI) +1
When doing weekly projections, volume is always going to beat out talent. Nick Chubb is likely the most "talented" back on the Browns, but getting three high-quality touches a week isn't going to win you fantasy championships. Hyde is a lock for 15-20 touches until further notice, and this game vs. the Bucs could become a shootout, which increases Hyde's touchdown odds.
Additionally, Baker Mayfield appeared to be pretty hobbled in Cleveland's Week 6 loss to the Chargers. I think the Browns would like to lean on Hyde and the running game a bit more this week to take some of the burden off Mayfield.
Tier 7
Jordan Howard (vs. NE)
Kerryon Johnson (@ MIA)
Adrian Peterson (vs. DAL)
Phillip Lindsay (@ ARI)
Keeping in line with the talent vs. volume point I made above, if the Lions used Kerryon Johnson how I think they should use him, he would be a borderline RB1 every week in my model.
Unfortunately we have to make projections based on how we think the coaching staff will use him, which is severely limiting Kerryon's potential so far.
His snaps/usage could rise as the season goes along, and coming out of the BYE, there is a chance the coaching staff feels more comfortable unleashing him. Either way, he is a must-start RB2 whose buy low window could evaporate soon.
Tier 8
Peyton Barber (vs. CLE)
Matt Breida (vs. LAR)
Corey Clement (vs. CAR)
Alex Collins (vs. NO)
Mark Ingram (@ BAL)
Kenyan Drake (vs. DET)
Tarik Cohen (vs. NE) +1
Marlon Mack (vs. BUF)
Isaiah Crowell (vs. MIN)
This entire Tier is on the rise. Peyton Barber finally got going last week. Matt Breida seems to be healthy enough to play through his ankle injury, and Alfred Morris has fallen out of favor with Kyle Shanahan as he went completely M.I.A. with zero rushes on MNF.
Corey Clement's touches should only increase as he was on a pitch count in his first game after Jay Ajayi was placed on IR. Alex Collins may have re-gained his lead role in the Ravens backfield. In Week 6, someone named Gus Edwards out-touched Javorius Allen, who was becoming a serious threat to Collins' value.
Mark Ingram rewarded owners who took the risk of stashing him through his four-game ban with a two-touchdown game in his return. If you read/listened to my seasonlong previews, I was banging the table for drafting Ingram cheaply due to the first four weeks being the easiest to make up for at running back.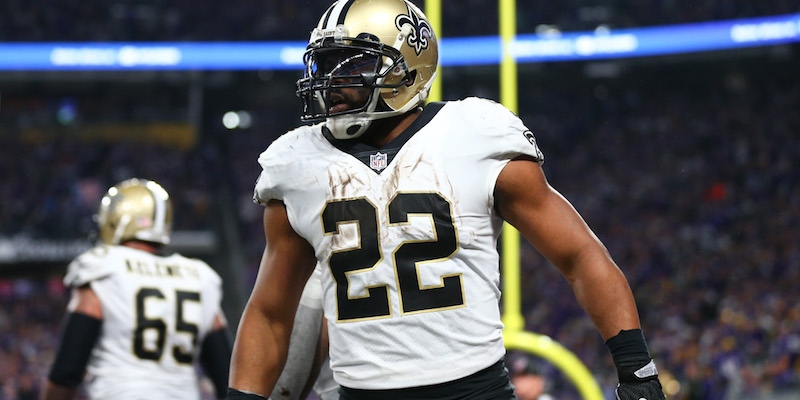 Tarik Cohen has now carved out the role we expected in this Matt Nagy offense. With back-to-back weeks of at least 90 receiving yards and at least one touchdown, he is in play as a RB2 even in standard formats. The Pats' sluggish defense is unlikely to keep up with him in Week 7.
Marlon Mack took over as the workhorse back for the Colts and appears to be healthy enough to rely on this week as a BYE week fill-in with room to grow. The Colts offense is desperate for balance and will likely force the issue with Mack on the ground this week as 7.5-point favorites against the Bills.
Tier 9
Lamar Miller (@ JAX)
Royce Freeman (@ ARI)
Bilal Powell (vs. MIN)
Dion Lewis (@ LAC)
Wendell Smallwood (vs. CAR)
Chris Thompson (vs. DAL)
Wendell Smallwood is one of the more frustrating running backs in fantasy. He seemingly disappears whenever he's the starter and expected to get the majority of carries (see Week 6), then chooses to go for 80-plus yards and a touchdown when he seems to be lost in the shuffle (see Week 3).
This is one of those weeks when he is probably being overlooked after his dud last week. The truth is, this Eagles backfield is going to provide value to either Clement or Smallwood most weeks; it will be hard to peg which one until one emerges.
You could do worse than Smallwood as a spot start on a week in which four teams with decent running games have a BYE.
Tier 10
Dalvin Cook (@ NYJ)
Austin Ekeler (vs. TEN)
Frank Gore (vs. DET)
Ito Smith (vs. NYG)
Derrick Henry (@ LAC)
Nyheim Hines (vs. BUF)
Until Dalvin Cook proves that he is close to 100%, we have to lower him to the Tier full of running backs part of RBBC time shares. If the Vikings decide to rest Cook for one more week to ensure he doesn't aggravate his hamstring injury again, expect Latavius Murray to shoot way up my Tiers. This backfield's rankings will surely change come Sunday, so be sure to check my updated ranks.
Tier 11
Javorius Allen (vs. NO)
Latavius Murray (@ NYJ)
Duke Johnson (@ TB)
Wide Receivers
Tier 1
Adam Thielen (@ NYJ)
Julio Jones (vs. NYG)
Tyreek Hill (vs. CIN)
Odell Beckham (@ ATL)
Whenever Antonio Brown is on BYE, it opens up Tier 1 to a plethora of wide receivers.
There's arguably no player with a better floor/ceiling combo right now than Adam Thielen. His worst game this year was a 6/102/0 line in Week 1. That's insane.
Due to the Vikings' O-line woes it's forced Kirk Cousins to get the ball out quickly to his favorite target in Thielen, who has now seen at least 10 targets and 100 yards in every single game so far.
Tier 2
A.J. Green (@ KC)
Green gets his own tier this week. While not quite in the elite tier, he is in a smash spot against the Chiefs, which gives him a top-five projection at the position right now.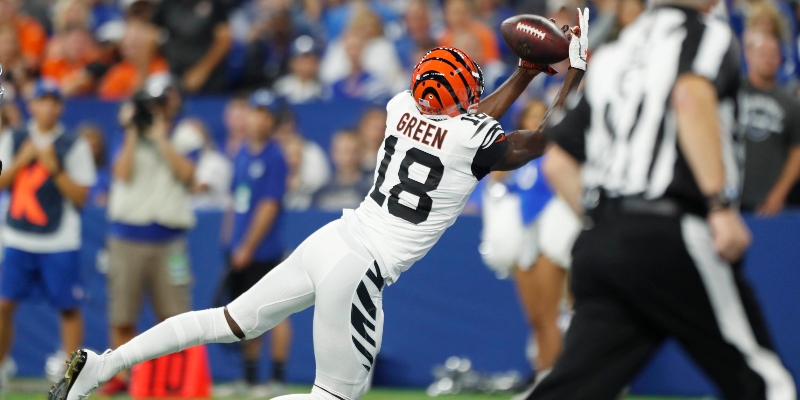 Tier 3
Michael Thomas (@ BAL)
DeAndre Hopkins (@ JAX)
Mike Evans (vs. CLE)
Robert Woods (@ SF)
Brandin Cooks (@ SF)
Michael Thomas and DeAndre Hopkins have brutal matchups this week, so we'll lower our expectations to the six- to seven-reception, 80- to 85-yard range this week.
Robert Woods and Brandin Cooks get a bit of a boost with Cooper Kupp ruled out. It's going to narrow down the Rams' target tree and give each stud wide receiver a couple more targets this week.
Tier 4
Keenan Allen (vs. TEN)
Golden Tate (@ MIA)
Jarvis Landry (@ TB)
Kenny Golladay (@ MIA)
Stefon Diggs (@ NYJ)
Tyler Boyd (@ KC)
This is the week I think Jarvis Landry is going to break out with a huge game. The Browns have suffered so many injuries to their secondary receivers they had to sign someone named De'Mari Scott this week.
Tampa Bay has been gashed by opposing receivers all year, allowing the following box scores: Julio Jones 10/144/0 (Week 6), Taylor Gabriel 7/104/2 (Week 4), JuJu Smith-Schuster 9/116/0 (Week 3), Nelson Agholor 8/88/1 (Week 2) and Michael Thomas 16/180/1 (Week 1).
Tier 5
Alshon Jeffery (vs. CAR)
Emmanuel Sanders (@ ARI)
Neither receiver is someone you typically brag about when you show your team to a friend, but both are underrated fantasy assets who consistently put up WR2 numbers each week and set themselves apart from the players in tier below, who all lack the same consistency.
Tier 6
Marvin Jones (@ MIA)
John Brown (vs. NO)
Sterling Shepard (@ ATL)
Calvin Ridley (vs. NYG)
DeSean Jackson (vs. CLE)
Taylor Gabriel (vs. NE)
Michael Crabtree (vs. NO)
Allen Robinson (vs. NE)
Corey Davis (@ LAC)
This tier has massive upside, but many of these receivers are the second passing option in their offense and have lower floors than those in the tiers above.
That said, I love Taylor Gabriel this week.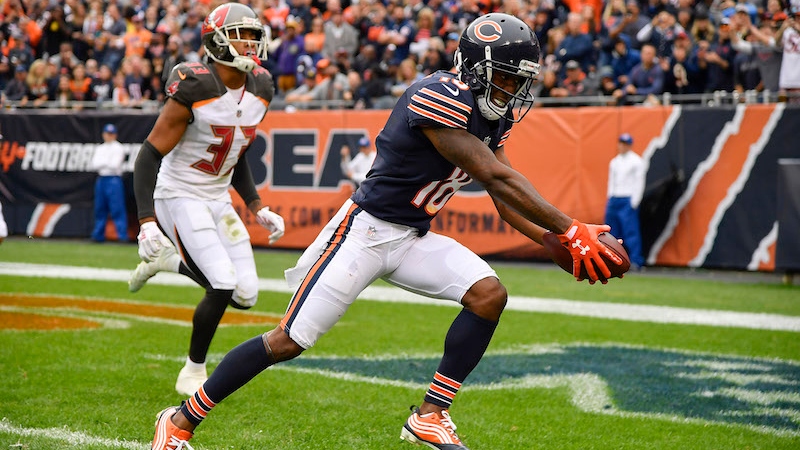 He has benefitted from Anthony Miller dealing with a shoulder injury and seems to be developing into the "Tyreek Hill" role in the Matt Nagy offense.
We just saw how the Patriots defense struggles to keep up with speedsters such as Gabriel, as it got torched by Tyreek and Kareem Hunt last week. I expect the Bears to build a lot of their game plan around Gabriel and Cohen this week.
Tier 7
Robby Anderson (vs. MIN)
Devin Funchess (@ PHI)
Julian Edelman (@ CHI) +1
Demaryius Thomas (@ ARI)
Dede Westbrook (vs. HOU)
Keelan Cole (vs. HOU)
Sammy Watkins (vs. CIN)
With Quincy Enunwa put on the shelf indefinitely due to injury, we could see Robby Anderson regain his role as the No. 1 option in the Jets' passing attack. I'm a bit skeptical that Sam Darnold will help him recapture his 2017 value, as the rookie QB seems to favor his slot receiver.
That makes me think Jermaine Kearse could get the biggest boost from Enunwa's absence.
Tier 8
Marquise Goodwin (vs. LAR)
Josh Gordon (@ CHI)
Chris Godwin (vs. CLE)
Christian Kirk (vs. DEN)
Albert Wilson (vs. DET)
Nelson Agholor (vs. CAR)
After Josh Gordon saw at least 80% of snaps in Week 6, I am issuing an Eruption Warning on him. He is safe enough to be a WR3 during this BYE-heavy week and has potential to hit the WR1 upside that is always there with him.
It appears Gordon has picked up the playbook/offense more quickly than anticipated and is getting close to 100% health-wise. It's probably impossible to pry him away from any owner who has been hanging on to him patiently, but the time to buy low could be completely gone after this week.
Tier 9
Mohamed Sanu (vs. NYG)
Antonio Callaway (@ TB)
Donte Moncrief (vs. HOU)
T.Y. Hilton (vs. BUF)
Will Fuller (@ JAX)
I'm tentatively projecting T.Y. Hilton to return this week and also tentatively expecting him to not play his usual role if he does return. The Colts are big favorites against the Bills and likely won't need him much to win.
He is someone whose rank should go up/down based on reports later in the week. Definitely make sure to check out my updated rankings when it comes time to finalize sit/start decisions.
Tier 10
Jermaine Kearse (vs. MIN)
Kenny Stills (vs. DET)
Mike Williams (vs. TEN)
Larry Fitzgerald (vs. DEN)
Tyrell Williams (vs. TEN)
Willie Snead (vs. NO)
Keke Coutee (@ JAX)
As I mentioned above, Kearse could see the biggest boost from Enunwa's injury. He makes a decent PPR dart throw on a week in which four teams are on a BYE.
Willie Snead is another BYE week flier who is worth starting in his revenge game against a Saints defense that has been gashed by slot wide receivers ever since Patrick Robinson suffered a season-ending injury.
We saw Cole Beasley expose the Jaguars' weakness in defending slot receivers so this could be a week in which the Texans force-feed Keke Coutee with targets.
Tight Ends
Tier 1
Travis Kelce (vs. CIN)
Due to Gronk's struggles, Kelce is going to have Tier 1 locked up to himself until further notice.
Tier 2
Zach Ertz (vs. CAR)
Rob Gronkowski (@ CHI)
Ertz continues to be a model of consistency at the most volatile skill position in fantasy. He is a tremendous fantasy asset because of that. He has now put up at least 70 yards and/or a touchdown in five of six games.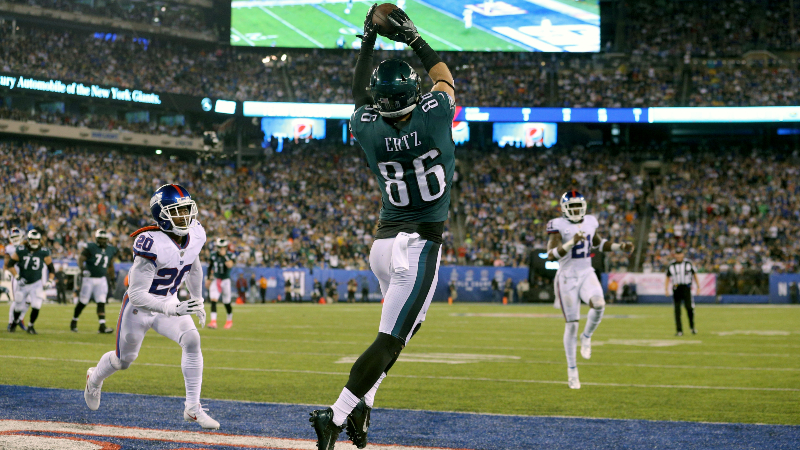 Tier 3
Eric Ebron (vs. BUF)
George Kittle (vs. LAR)
Eric Ebron wound up on the Week 6 injury report with four body parts listed but managed to have another productive game with a 4/71/1 line. He will likely take a bit of a hit in targets when T.Y. Hilton and/or Jack Doyle return.
Tier 4
Jordan Reed (vs. DAL)
David Njoku (@ TB)
Austin Hooper (vs. NYG)
Austin Hooper has vaulted himself into every week TE1 consideration. He now has 10-plus targets in back-to-back games and converted them into nearly identical lines of 9/77/0 and 9/71/1.
Tier 5
Kyle Rudolph (@ NYJ)
Trey Burton (vs. NE)
Greg Olsen (@ PHI)
Ricky Seals-Jones (vs. DEN)
O.J. Howard (vs. CLE)
Greg Olsen looked healthy in his Week 6 return with a solid 4/48/0 on seven targets. He is always going to be one of Cam's top targets and can be safely inserted into lineups now.
This week's matchup against the Eagles could force Cam to throw more so we might see eight to 10 targets for Olsen.
Tier 6
C.J. Uzomah (@ KC)
Evan Engram (@ ATL)
I'm always cautious projecting players early in the week when they are expected to return from an extended absence. Evan Engram should be back in the lineup this week and he gets in a juicy matchup against a decimated Falcons defense.
His ranking could shoot up or down based on reports later in the week, so be sure to check my updated rankings on Sunday morning before making any final sit/start decisions.
Tier 7
Ben Watson (@ BAL)
Geoff Swaim (@ WAS)
James O'Shaughnessy (vs. HOU)
Cameron Brate (vs. CLE)
Charles Clay (@ IND)
In a week with Jimmy Graham, Jared Cook and Vance McDonald on a BYE, the TE Streamer Tier is even more important. I think James O'Shaughnessy is worth a gamble.
With Austin Seferian-Jenkins and now Niles Paul on the shelf, the Jaguars are going to have to lean on O'Shaughnessy. He has put up decent numbers in a heavy time share at tight end, so we can cautiously expect his role to increase with less competition.
Kickers
Tier 1
Harrison Butker (vs. CIN)
Greg Zuerlein (@ SF)
Tier 2
Giorgio Tavecchio (vs. NYG)
Justin Tucker (vs. NO)
Tier 3
Stephen Gostkowski (@ CHI)
Randy Bullock (@ KC)
Adam Vinatieri (vs. BUF)
Chandler Catanzaro (vs. CLE)
Dan Bailey (@ NYJ)
Mike Badgley (vs. TEN)
Jake Elliott (vs. CAR)
Tier 4
Josh Lambo (vs. HOU)
Matt Prater (@ MIA)
Wil Lutz (@ BAL)
Aldrick Rosas (@ ATL)
Tier 5
Robbie Gould (vs. LAR)
Greg Joseph (@ TB)
Cody Parkey (vs. NE)
Dustin Hopkins (vs. DAL)
Jason Sanders (vs. DET)
Jason Myers (vs. MIN)
Brandon McManus (@ ARI)
Tier 6
Ryan Succop (@ LAC)
Graham Gano (@ PHI)
Phil Dawson (vs. DEN)
Brett Maher (@ WAS)
Steven Hauschka (@ IND)
Ka'imi Fairbairn (@ JAX)
Defenses
Tier 1
Jacksonville Jaguars (vs. HOU)
Indianapolis Colts (vs. BUF)
Tier 2
Los Angeles Rams (@ SF)
Minnesota Vikings (@ NYJ)
Denver Broncos (@ ARI)
Tampa Bay Buccaneers (vs. CLE)
Los Angeles Chargers (vs. TEN)
Arizona Cardinals (vs. DEN)
Philadelphia Eagles (vs. CAR)
Washington Redskins (vs. DAL)
Tier 3
Detroit Lions (@ MIA)
Houston Texans (@ JAX)
New England Patriots (@ CHI)
Buffalo Bills (@ IND)
Cleveland Browns (@ TB)
Atlanta Falcons (vs. NYG)
Tier 4
Dallas Cowboys (@ WAS)
Carolina Panthers (@ PHI)
Miami Dolphins (vs. DET)
Baltimore Ravens (vs. NO)
New Orleans Saints (@ BAL)
New York Jets (vs. MIN)
Kansas City Chiefs (vs. CIN)
Chicago Bears (vs. NE)
Tennessee Titans (@ LAC)
Tier 5
San Francisco 49ers (vs. LAR)
New York Giants (@ ATL)
Cincinnati Bengals (@ KC)