Koerner's Super Bowl Picks: The Betting Value My Model Shows on Chiefs vs. 49ers Over/Under
Credit:
Robin Alam/Icon Sportswire. Pictured: Kyle Shanahan
Sean Koerner, our director of predictive analytics, uses his NFL Power Ratings to project the Super Bowl 54 spread and over/under.
He then uses those projections to determine the best way to bet Sunday's Chiefs vs. 49ers showdown.
Find out where his betting model is showing value on the Super Bowl over/under.
Super Bowl Odds: Chiefs vs. 49ers Spread & Over/Under
Spread: Chiefs -1.5
Over/Under: 54.5
Kickoff time: 6:30 p.m. ET on Sunday
Location: Miami, Fl.
TV: FOX
---
Odds as of Thursday and via FanDuel, where Action Network users get a risk-free bet up to $500.
---
Before this Super Bowl matchup was officially set, I had projected the Chiefs would open in the -1.5 range. Sure enough, that's where the spread has been parked since — we haven't seen much line movement at all.
The Chiefs are actually drawing the most action with 60% of the tickets and 56% of the money so far (see live public betting data here).
This matchup is fascinating: We have arguably the NFL's best offense (KC) going up against the NFL's best defense (SF). However, it just might be the opposite matchup that ultimately decides this game.
The 49ers have an explosive offense that ranks seventh in explosive plays via the run and first in explosive plays via the pass. It's worth noting that they rely on their strong run game to set up play-action passes, which Jimmy Garoppolo has thrived on this season. And this matchup sets up perfectly for them as the Chiefs are a run funnel defense, as evidenced by their sixth overall ranking in Football Outsiders' DVOA against the pass compared to their 29th overall ranking against the run.
The Chiefs will have issues against the 49ers, especially when the game is close. However, if the Chiefs jump out to an early lead and force the 49ers into a pass-heavy offense, it could throw off the 49ers' game plan completely. That scenario would also make play-action less effective as the Chiefs would be less likely to fall for it.
Because of this, it is absolutely critical for the 49ers to get off to a fast start and prevent the Chiefs from taking an early lead — it's also why I'm leaning toward backing San Francisco in the first-quarter and first-half markets.
The Chiefs' offense has its hands full against 49ers defensive coordinator Robert Saleh's defense, but with Patrick Mahomes under center, no lead is safe for the 49ers.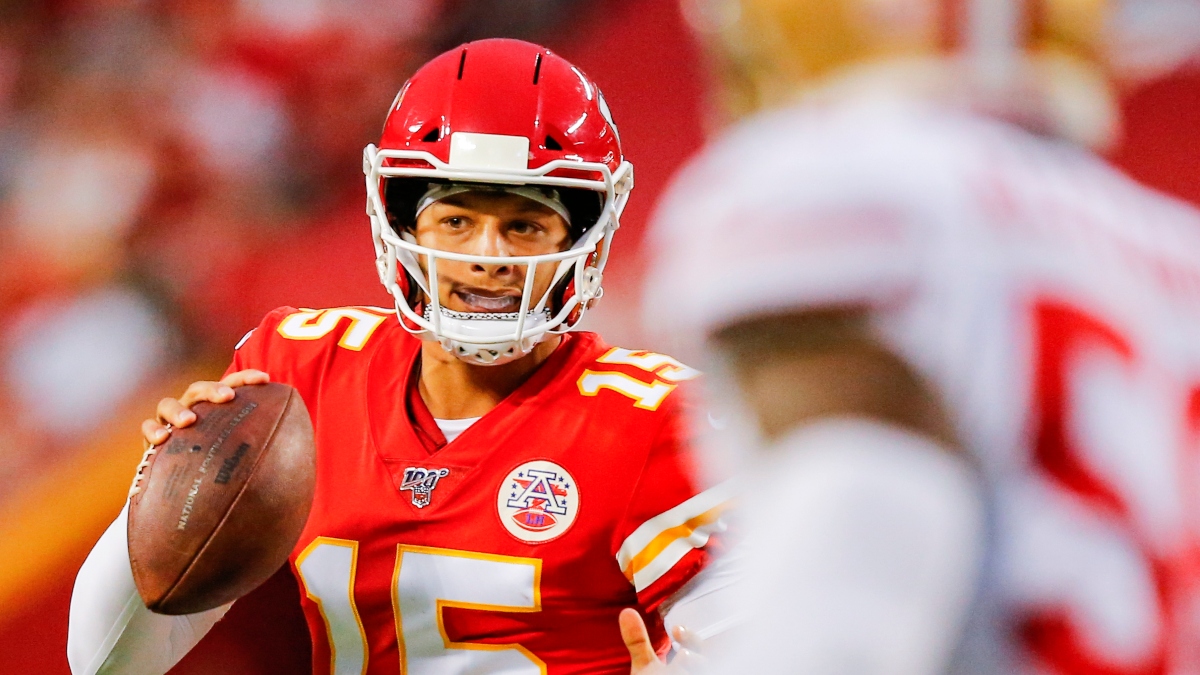 Let's not forget that Mahomes suffered a multi-week injury in Week 7, then beat his timetable by missing only two games. He also dealt with a high ankle sprain and a nagging hand injury. But thanks to the Chiefs' first-round bye, he appeared to finally be 100% at the start of the playoffs. Now we're starting to see the 2018 version of Mahomes — he's looked unstoppable.
The sneaky edge for the Chiefs is that no matter the game flow — whether they get out to a big lead or fall behind early — they're capable of winning while the 49ers are much less likely to comeback from a one- to two-score deficit.
I'm going to pass on this spread, but the market does appear to be offering some value on the over/under.
I have the fair total for this game at 52.5, which is right around where it opened, but it's since been driven up to 54.5 with 77% of the tickets and 85% of the money coming in on the over. This is typical for the Super Bowl as it's by far the most-bet game of the year, and the general public loves betting on the over.
Fifty-two, 53 and 54 are sort of a dead zone when it comes to totals, but 55 is a key number — just think of typical football scores such as 28-27 or 31-24 — and the sharps seem to come in heavy on the under whenever a total hits 55. We could see this one pop up to 55 or 55.5 before kickoff, but it would be key to take either number before sharps bet it back down.
My in-game betting strategies, from a high-level point of view, will be as follows:
1. 49ers take an early one- to two-score lead > the game flow will favor the over
If the 49ers are able to get off to a fast start, it will put them in a position of strength on offense. Being able to attack Kansas City's run-funnel defense with their rushing attack and setting up play-action will result in explosive plays that favor the over. In that scenario, the Chiefs would also play at a faster pace and air it out even more. As we saw in the past two rounds, the Chiefs went down two scores early and the total ended up going over in both games.
2. Chiefs take an early one- to two-score lead > the game flow will favor the under
If the Chiefs are able to get off to a fast start, it will put the 49ers in a situation in which their offense will be less effective. By narrowing their playbook and making play-action less effective, this would be the nightmare scenario for San Francisco.
Additionally, if the Kansas City offense realizes it can take its foot off the gas, it would only fuel an under environment in this scenario.
---
Read Koerner's Super Bowl props guide, complete with his favorite picks.
How would you rate this article?