2023 Super Bowl Gatorade Color: Andy Reid Doused in Purple Gatorade
Credit:
Rob Carr/Getty Images.
There has been plenty of line movement in the Super Bowl Gatorade market.
Check out the latest odds from FanDuel and a breakdown of Super Bowl Gatorade odds and results below.
Result: After Jalen Hurts' final incomplete pass, Andy Reid was doused in purple Gatorade.
The TV broadcast didn't catch it, but photos on Getty Images confirms it was purple Gatorade.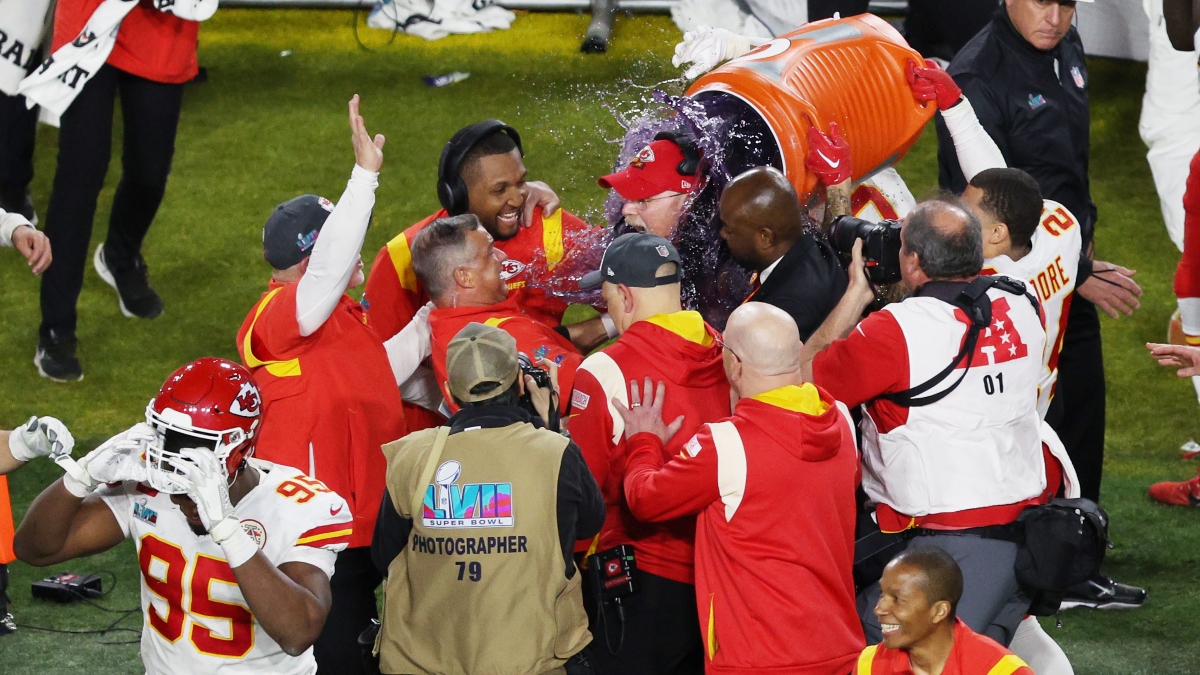 ---
Latest Sunday afternoon odds update: Yellow/Green/Lime was -135 on Sunday morning while Orange say at +260. Those odds have hugely shifted. Yellow/Green/Lime, as of 1:45 p.m. ET is now +125 on FanDuel, while Orange has been hit hard and is down to +150. Red/Pink also overtook Blue as the third favorite.
As of 5:20 p.m. ET, Yellow/Lime/Green was back down to +110 and Orange at +180.
There's a plethora of unique ways in which you can wager on the 2023 Super Bowl between the Philadelphia Eagles and Kansas City Chiefs, and among them is one you'll be sweating right up until the clock strikes zero: the Gatorade bath.
That's right, there are odds on which color Gatorade will be dumped over the head of the winning coach when it becomes clear his team will be the victor, and we have everything you need to know before throwing down your cold, hard cash on one of the funniest props in Super Bowl betting.
A year ago, the Rams dumped blue Gatorade over Sean McVay, cashing those who put money on the color a cool, +400 victory. That means if you put $100 on blue Gatorade being dumped on the winning coach, you'd have won yourself $400.
The Gatorade dunk has been a staple of Super Bowl bettors for years, and the tradition dates back at least 35 years. During that time, there has been plenty of analysis dedicated to trying to determine which color will wind up getting dumped.
Thinking about joining in on the fun? We've got you covered. Here's everything you need to know when betting on the color of the Gatorade dunk for Super Bowl LVII.
2023 Super Bowl Gatorade Color Odds
Color

Odds

Yellow/Green/Lime

+110

Orange

+180

Red/Pink

+550

Blue

+550

Clear/Water

+1000

Purple

+1000

Odds as of Sunday at 5:20 p.m. ET and via FanDuel.
It should come as no surprise that orange is once again among the favorites to be doused over either Andy Reid or Nick Sirianni at the conclusion of Sunday's game.
"None" was actually the second favorite heading into last year's Super Bowl, followed by blue. And while blue remains among the favorites, yellow/green is right up there with it, while none has the longest odds.
BetMGM and DraftKings have "None" as an option. FanDuel will just void bets if there's no shower for the winning coach.
Dating back to 2001, there has never been a green or red/pink Gatorade dump. The fact that red/pink is among the favorites given what we know about the history is surprising, but one thing we know is that the process is actually random.
---
---
---
---
---
---
---
Past Super Bowl Gatorade Colors
When blue Gatorade was dumped over Rams coach Sean McVay toward the end of last year's Super Bowl, it netted a solid payday for those who bet on it. However, it is orange that holds the title as the most common color going back to Super Bowl XXXV in 2001:
Color

Percentage

Orange

22.7%

Clear/Water

28.2%

None

18.2%

Blue

18.2%

Yellow

13.6%

Purple

9.1%

Red/Pink

0%

Data via Gatorade and since 2001.
---
---
Is There Any Correlation Between a Team's Colors and the Color of the Gatorade?
The short answer is no. If there are instances where a Gatorade dump correlates with that team's colors, it's purely happenstance.
Despite its common usage, there has been only one Super Bowl champion since 2001 whose team color is orange — the Broncos in 2016, who dumped orange Gatorade on their head coach. The Steelers used yellow in 2009, the Patriots used blue twice, and the Rams used blue last year. Those are correlations.
However, including the Patriots (whose colors are blue and red) and the Giants (likewise) there have been 11 Super Bowl champions since 2001 whose team color is red, and yet no winner has ever had red Gatorade dumped on its coach.
| Year | Winning Team | Gatorade Color |
| --- | --- | --- |
| 2001 | Baltimore Ravens | Yellow |
| 2002 | New England Patriots | None |
| 2003 | Tampa Bay Buccaneers | Purple |
| 2004 | New England Patriots | None |
| 2005 | New England Patriots | Clear |
| 2006 | Pittsburgh Steelers | Clear |
| 2007 | Indianapolis Colts | Clear |
| 2008 | New York Giants | Clear |
| 2009 | Pittsburgh Steelers | Yellow |
| 2010 | New Orleans Saints | Orange |
| 2011 | Green Bay Packers | Orange |
| 2012 | New York Giants | Purple |
| 2013 | Baltimore Ravens | None |
| 2014 | Seattle Seahawks | Orange |
| 2015 | New England Patriots | Blue |
| 2016 | Denver Broncos | Orange |
| 2017 | New England Patriots | None |
| 2018 | Philadelphia Eagles | Yellow |
| 2019 | New England Patriots | Blue |
| 2020 | Kansas City Chiefs | Orange |
| 2021 | Tampa Bay Buccaneers | Blue |
| 2022 | Los Angeles Rams | Blue |
There's actually a perfectly logical explanation for this. Nobody knows what color is going to be dumped on a coach's head until the moment it happens. Gatorade chooses which colors are going to be on each team's sideline — not the teams — and there's a multitude of colors on the table for each.
Which cooler they pick up when the time comes winds up being up to whichever players are charged with the deed. And there's little likelihood that those players — caught up in the excitement of having just won the Super Bowl — are even paying attention to which color is in the cooler they just picked up.
Where You Can Bet on the Gatorade Color
The first time the Gatorade color bet was available at legal books was in 2019 for Super Bowl LIII, when it was approved in New Jersey. In general, getting states to allow the color of the Gatorade for bettors has been problematic.
Currently, sports bettors can wager on the Gatorade color in Illinois, Louisiana, New Jersey, Washington DC, West Virginia and Wyoming in the United States, and in Ontario in Canada. West Virginia's rules stipulate that the bet must be in an hour before kickoff.
Bettors in those states can find the Gatorade color prop at sportsbooks such as DraftKings, FanDuel, PointsBet and BetMGM, among others.
How would you rate this article?
This site contains commercial content. We may be compensated for the links provided on this page. The content on this page is for informational purposes only. Action Network makes no representation or warranty as to the accuracy of the information given or the outcome of any game or event.