Our Experts' Vikings vs. Seahawks Betting Picks: Spread, Over/Under & Prop Bets for MNF
Credit:
Eric Hartline-USA TODAY Sports. Pictured: Chris Carson, Rashaad Penny
Our experts reveal how they're betting Monday Night Football between the Minnesota Vikings and Seattle Seahawks.
Finds their picks on the 3-point spread, 49.5-point over/under and two of the two player prop bets outlined below.
Vikings at Seahawks Picks, Predictions & Betting Odds
Odds: Seahawks -3
Over/Under: 49.5
Kickoff: 8:15 p.m. ET
TV Channel: ESPN
Odds as of noon ET on Monday.
Monday Night Football comes with major playoff implications.
If the Seattle Seahawks win, Russell Wilson and Co. would tie the San Francisco 49ers for the NFC West lead. (The Seahawks currently hold a tiebreaker win over Kyle Shanahan's team.) If the Minnesota Vikings win, they would tie the Green Bay Packers for the NFC North lead. (Though the Packers hold that tiebreaker.)
With those stakes in mind, how should you bet this primetime showdown?
Our experts reveal how they're betting this NFC matchup featuring spread, over/under and prop bet picks.
This is the list of teams that, heading into this weekend, have allowed 263 or more points this year and have a winning record: The Seattle Seahawks. Before Sunday began, the Oakland Raiders would have been on that list; they were 6-5 heading into the weekend and had allowed 284 points. But now, well …
What's my point?
This Seattle team isn't so much a team as it is a player. Russell Wilson is a legitimate MVP candidate who finds absurd, uncanny ways to win his team games they have no business winning. His heroics are usually combined with some kind of circumstances the Seahawks opponent inflicts on themselves to make Wilson's job a bit easier. Their nine wins include just three against teams with winning records, games they won by a combined six points.
Meanwhile, the Vikings have a winning record. And are coming off of a bye. And have a quarterback who is executing the play-action with the skill of Houdini. And with a defense that is immune to trickery. Coming into this weekend Minnesota had allowed the second fewest points in the conference (205; the Niners were No. 1) and it had scored as many points as the Packers (289).
I've written about Pythagorean wins before. The concept is that teams that allow more points than they score and still have a winning record are over-valued. While the Seahawks are not technically a Pythag play, they are a team that leans that way. And they are playing an opponent that has proven these past several weeks to be on par with the league's best. Only three teams — the Patriots, Ravens and Niners — have bigger points scored and points allowed differentials.
Even on the road, against a team that has late-game magic, I want the better team getting the points.
[In New Jersey? Bet now at PointsBet]
Generally speaking, recreational NFL bettors like cheering for points. In fact, in 4,451 games in the Bet Labs database, the over has received a majority of bets in 3,787 games (85.1%) since 2003.
Oddsmakers know the public tends to bet the over. As a result, bookmakers shade the line, which creates value for contrarian gamblers to bet the under.
When the line increase by at least one point, the under has gone 613-588-21 (51.0%) since 2003. In high-total games (45 or more points) during the same time, unders are 895-818-23 (52.2%).
Neither trend in itself is profitable, but combined an interesting trend emerges. Since 2003, in high-total games when the over/under increases by one or more points the under has gone 346-309-10 (53.0%).
It is optimal to follow this system in the second half of the season (Weeks 9-17):
This system is profitable for a few reasons. First, it is easier for an under to hit in a high-total game. Second, late in the season offenses are more likely to be dealing with injuries because of the wear and tear of a 16-game schedule, which would limit their effectiveness and thus lower the scoring output.
This total opened 49 and has been bet up to 49.5, making the under a match for this system.
[In New Jersey? Bet now at PointsBet]
Sean Koerner: Chris Carson Under 69.5 Rushing Yards (-120)
Carson saw his fumbling issues continue when he fumbled on back-to-back plays in Week 12 (losing the second one). This has led to speculation that we could see more of an even time share as soon as this week.
Offensive coordinator Brian Schottenheimer acknowledged Carson's fumbling issues and stated that he is "their guy" and plan on using the same running back rotation this week. But I'm skeptical as Rashaad Penny was Seattle's first-round pick a year ago and they have every incentive to start expanding his role if we see more of what he flashed in Week 12 — 14 carries for 129 yards.
If Penny has a couple nice runs early on, it could impact Carson's volume tonight. And considering how dependent Carson is on volume, it gives this prop a few outs on the under.
The Vikings' run defense ranks fourth in Football Outsiders' DVOA, so there's a scenario in which Carson sees a full workload and still doesn't clear this prop. I'm projecting him at 60 yards as of writing and would likely bet this down to 64.5 to 65.5
Matthew Freedman: Russell Wilson Over 1.5 Touchdowns (-170)
I really like the over. Wilson is averaging 2.2 touchdowns passing per game and has a league-high 42 end-zone targets. Plus, he's a very splits-driven passer, and at home he's averaged 2.8 passing touchdowns this season. In just one of five homes games has Wilson failed to pass for more than 1.5 touchdowns, and that was against the tough Ravens defense.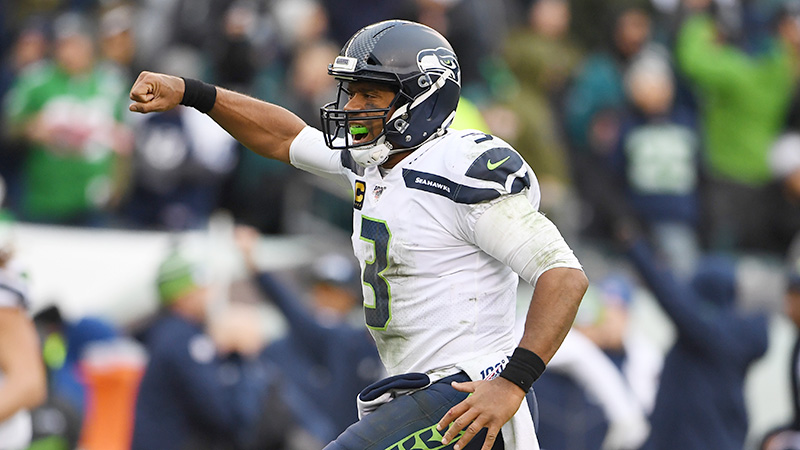 Like Wilson, the Vikings have significant splits. At home, they have had one of the league's least-friendly pass defenses under head coach Mike Zimmer. This year, they've held opposing quarterbacks to 1.4 touchdowns passing per game in Minnesota. But on the road, the Vikings are less imposing and have allowed two passing touchdowns per game.
In all six of their games this year against established NFL starting quarterbacks — in other words, in their games not against Matt Moore, Daniel Jones, Mitch Trubisky/Chase Daniel, Case Keenum/Dwayne Haskins and Brandon Allen — the Vikings have allowed multiple touchdowns passes.
In the FantasyLabs Props Tool, we have Wilson projected for 2.0 touchdowns passing.
I'd bet over 1.5 touchdowns to -200.
How would you rate this article?