Week 1 NFL Picks: How To Bet On These 2 Home Underdogs
Credit:
Joe Robbins/Getty Images. Pictured: A.J. Green, Joe Burrow
Editor's note: Games that have already kicked off have been moved to the bottom of the story.
---
One way I find betting edges is to compare the odds to my NFL Power Ratings — if there's a notable difference between my projections and the market, I'll make a bet. (You can read more about my methodology here.)
Each week of the season I'll highlight what those edges are, starting with five for Week 1. Let's dig in!
Week 1 NFL Picks
Click on a pick to skip ahead to that analysis.
Bengals +3 vs. Chargers
Kickoff: 4:05 p.m. ET on Sunday | TV: CBS
The lack of preseason may mean most rookies get off to a slow start in 2020. That likely won't be the case for Joe Burrow, who is one of the more polished rookie QBs we've ever seen — I think had we seen him in preseason action, the public would've started buying into the hype and this line would have been bet down to 2 or 1.5 by now.
My main concern for Burrow is the Bengals' offensive line. He doesn't need the unit to become elite, but he does need them to improve from their 31st mark in ESPN's Pass Block Win Rate metric from a year ago. Getting 2019 first-round pick Jonah Williams back this year should help enough there.
The Bengals added DJ Reader and Vonn Bell over the offseason to bolster their run defense, which they'll need an instant return on their investment against a Tyrod Taylor-led Chargers offense.
This line should be closer to Chargers -2, and it's essential to lock in such a critical number at +3 before the market moves.
Bet to: Bengals +3

[Bet Bengals +3 at FanDuel and get a $1,000 risk-free bet.]
Broncos +3 vs. Titans
Kickoff: 10:20 p.m. ET on Monday | TV: ESPN
On Sept. 5, I was in line with the market and had Denver as a 1-point favorite in this matchup. Since then, there have been two events that have impacted the spread:
Jadeveon Clowney signed with the Titans
Von Miller suffered a season-ending injury
I adjusted the line 2.5 points in favor of the Titans to make them slight 1.5-point favorites. However, the market has now moved this line a full four points to the key number of 3 — way too much of a swing considering the Titans are expected to ease Clowney in Week 1.
I'm planning to fade the Titans early in the season. Ryan Tannehill was, without question, every bit as good as his numbers indicated last season. But the question is whether he'll be able to pick up where he left off? We have a big enough sample size on Tannehill to have our doubts.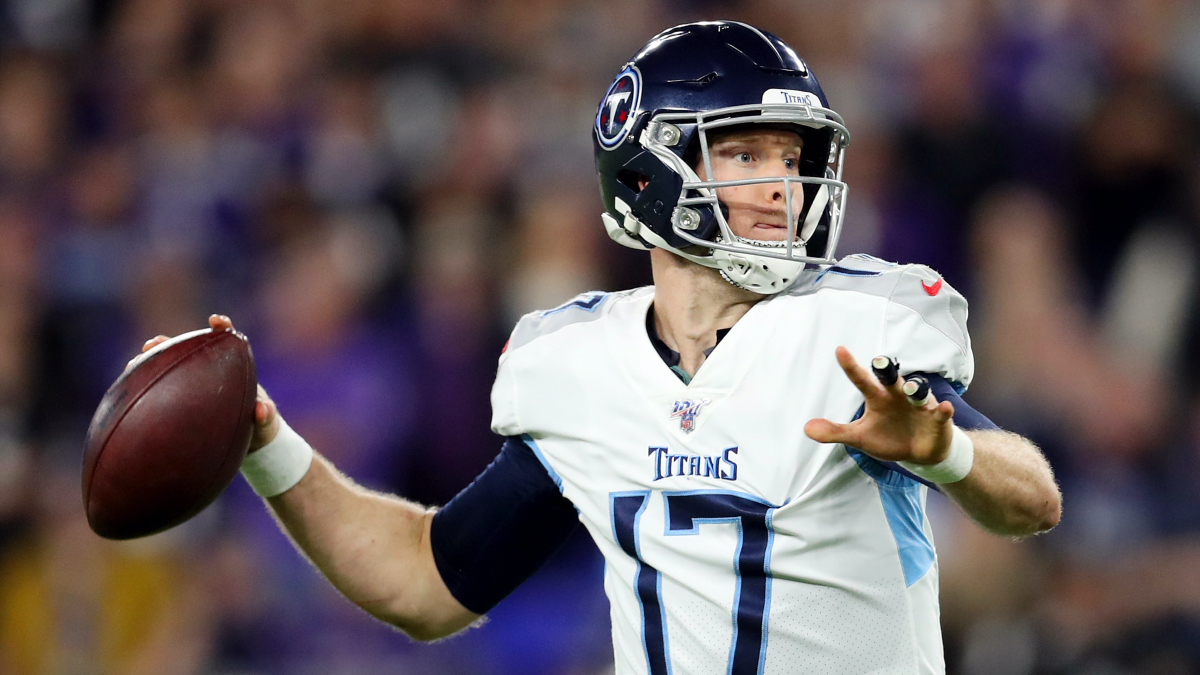 Playing at altitude after a limited offseason doesn't make me bullish on Derrick Henry getting 30-plus touches in this game, either. The Broncos were able to limit him to 15 carries for 28 yards in their 16-0 win over the Titans at Mile High last year.
The Broncos' success will come down to Drew Lock's development in Year 2.
It's unfair to talk about Lock's rookie season without putting it into historical context. Yes, he looked a bit erratic and inconsistent at times, but most rookie QBs do. Over the past decade, there have been 50 rookie QBs to attempt 100 or more passes. Lock's QB Rating (89.7) and adjusted net yards per attempt (6.20) ranked 10th out of 50 — Lamar Jackson, Carson Wentz, Andrew Luck and Jared Goff are just a few examples of other rookie QBs Lock outperformed.
That's why I'm a lot more bullish on Lock than the market, especially considering the weapons Denver added over the offseason. First-round pick Jerry Jeudy tops that list — he's an elite route runner who will make a seamless transition to the NFL, and his ability to create separation will give Lock a reliable weapon to help elevate this offense.
One thing I would monitor before locking in Denver +3 is Courtland Sutton's status. He suffered a shoulder injury earlier in the week that has him listed as a game-time decision. If he is ruled out, I would have the Titans -2.5. There would still be some value in locking in such a key number like +3, but the edge would be far less.
I plan to make a lighter bet on +3 now, and if we get breaking news that Sutton will be ready to go, will bet this up to a full unit.
Bet to: Broncos +3
[Bet Broncos +3 at BetMGM and get an INSTANT $500 deposit match.]

---
Earlier Week 1 NFL Picks
These games have already kicked off.
Vikings -2.5 vs. Packers
Kickoff: 1 p.m. ET on Sunday | TV: FOX
The Packers overachieved in 2019. Their Pythagorean expected record indicates they played more like a 10-6 team, not a 13-3 team, a lot of which can likely be attributed to their 6-1 record in one-score games. As a result, I'm looking to fade Green Bay early in the season.
The Packers ranked ninth against the pass and 27th against the run in Football Outsiders' DVOA metric last season, so this is not a great matchup for them considering the Vikings are a run-heavy team.
Aaron Rodgers struggled against Cover 2 (ranked 32nd out of 45 in success rate) and Cover 4 (ranked 42nd out of 45) last season, which is more bad news against the Vikings, who operated out of each coverage type at the fourth-highest rate in the league. Mike Zimmer, one of the best defensive-minded coaches in the league, will have a solid game plan to slow down Rodgers. Danielle Hunter was recently placed on Injured Reserve, which is a massive blow for the defensive line, but the trade to acquire Yannick Ngakoue should help negate the impact for now.
The market is backing Green Bay here, with 60% of the tickets and 64% of the money on the Packers. However, the sharp play here is to take the Vikings at -2.5, which will allow us to win if they end up winning by 3.
Bet to: Vikings -2.5
[Bet Vikings -2.5 at DraftKings and get a $1,000 sign-up bonus.]


Jets-Bills Under 39.5
Kickoff: 1 p.m. ET on Sunday | TV: CBS
My power ratings have this total closer to 39, but I would bet this under down to 37.5 as game flow is going to significantly favor a low-scoring affair.
The Jets offense is unlikely to get going against a very balanced Bills defense. Breshad Perriman, who was signed to replace Robby Anderson, has been dealing with a knee issue and will be playing at less than 100%. Second-round rookie WR Denzel Mims has already been ruled out for Week 1. And no defense is better at preventing explosive pass plays than the Bills — they allowed a QB rating of 33.0 on pass attempts of 20+ yards.
If the Bills jump out to an early lead — which is likely given they should put up points early through the air — it's not like we will have to worry about their defense allowing Sam Darnold to complete balls downfield. Stefon Diggs will help improve Josh Allen's deep ball accuracy, which will be the key to unlocking Allen's potential in Year 3.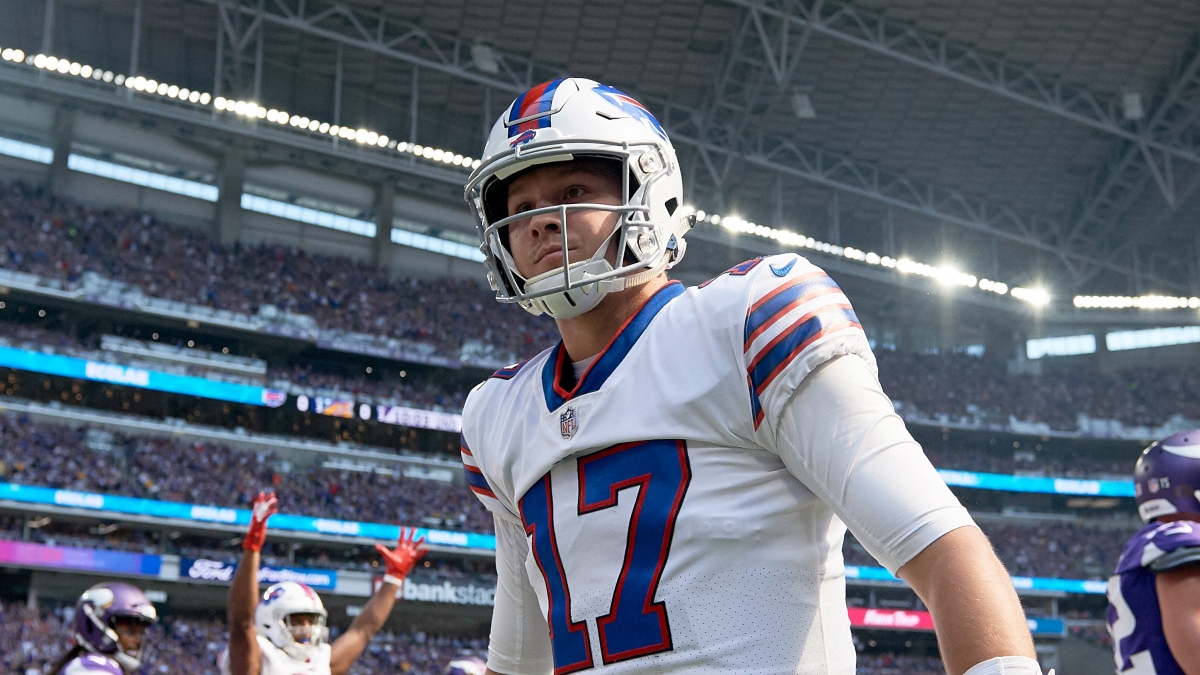 Then once the Bills build a sizable lead, they'll likely turn into a very run-heavy offense. The Jets ranked second in DVOA against the run in 2019, so they should limit the amount of damage the Bills can do in a run-heavy game script.
It's not surprising that the average total points in their two matchups last year was just 36 points.
Bet to: Under 37.5

[Bet the NYJ-BUF Under at DraftKings and get a $1,000 sign-up bonus.]
Raiders-Panthers Under 47.5
Kickoff: 1 p.m. ET on Sunday | TV: CBS
Considering both the Texans and Chiefs offenses showed visible signs of rust in the season opener, it gives me pause that the Raiders and Panthers will clear such a high total.
To be clear, I think both defenses will be well below-average this year — especially the Panthers, who are in the middle of a rebuild in which they spent all seven draft picks on defense. They open against a Raiders offense that will be starting two rookie WRs, Henry Ruggs and Bryan Edwards. And while both are talented, it could take a game or two for them to sync with Derek Carr.
As a result, Josh Jacobs is likely to be the focal point of the Raiders' offense in this matchup. He should be able to run all over the Panthers' defense behind an elite offensive line returning all five starters, which is likely to slow down this game's pace enough to make it more challenging to clear a total this high.
The Panthers are the only NFL team with a new head coach, offensive coordinator, defensive coordinator and starting quarterback heading into this season. It's likely to be a huge challenge considering the limited offseason, so I could see the offense getting off to a sluggish start. They have the league's best running back in Christian McCaffrey, so it would be wise to use him heavily as well.
Overall, this is a matchup that will feature QBs who averaged the fewest air yards per attempt last season and lean heavily on their RBs. Both offenses should move the ball, keep the clock running and may not have the chemistry yet to convert red-zone trips into touchdowns.
Bet to: Under 45.5

[Bet the LV-CAR Under at DraftKings and get a $1,000 sign-up bonus.]
How would you rate this article?