Raybon's Fantasy Football Trade Targets: Which Players to Buy and Sell for Week 10
Credit:
Mark J. Rebilas-USA TODAY Sports. Pictured: San Francisco 49ers running back Tevin Coleman (26).
Which players should you be looking to add to your fantasy football roster in Week 10? Which ones should you let go?
Chris Raybon breaks down the targets on this weekend's slate that present value in the fantasy football market.
Shout out to Emmanuel Sanders and Zach Ertz for coming through for team buy-low last week! Their performances are a good reminder that all it takes is one week to drastically alter a player's value, so it's best to be proactive with floating trades and trying to accumulate as many edges as you can.
I see a lot of fantasy owners who only look to trade in times of need, but the goal at all times should be improving your team, whether you have a gaping hole or not.
Sanders winning a tough matchup with Patrick Peterson and Ertz putting up big numbers versus a good Chicago defense is also a good reminder that buying low doesn't always have to be about upcoming matchups. I guarantee you, nine out of 10 times before a fantasy owner pulls the trigger on the trade, they click on his upcoming schedule and go "meh."
These days, it would be next to impossible to avoid the color-coded matchup data that is displayed under each player's name in almost every fantasy app, so there's not as much of an edge in basing your decisions solely on matchup.
Sometimes you can gain a bigger edge from buying low on players with a seemingly tough slate of matchups upcoming, or by leveraging what looks like a favorable upcoming slate as an added selling point.
As it gets later into the season, it can get tougher to find quality targets to acquire at a fair price, as some owners may begin to mentally check out if their team is not in contention, while others may be overprotective of the roster that got them to this point.
I still see a few high-upside guys out there who shouldn't be too difficult to pry away.
Week 10 Buy Lows
WR Marquise Brown, Ravens
Brown's fantasy season hasn't lived up to the bar he set with a 4-147-2 performance in Week 1 against Miami. Since, his targets have been in free fall — 13, 9, 7, 5, 4 — and he hasn't topped 50 yards since Week 2.
But Brown is one of only 22 players in the league with an air-yard share north of 30% (per AirYards.com), and rookies tend to heat up over the second half of the season.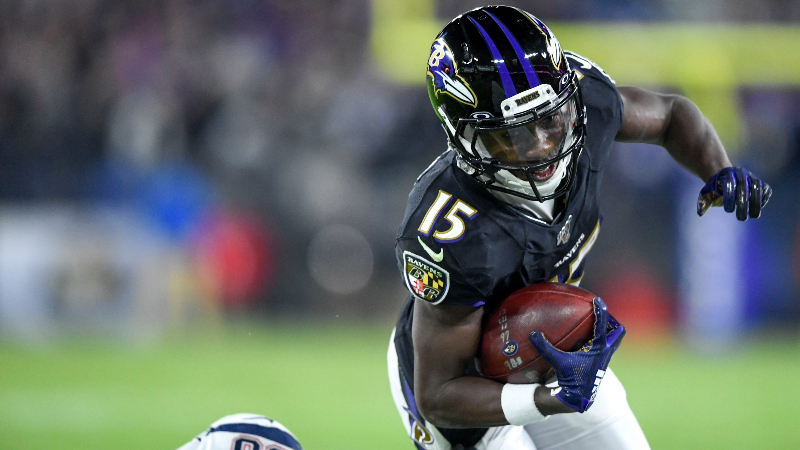 Combine Brown's plus share of air yards (32%) and targets (23%) with game-breaking speed and one of the most locked-in quarterbacks in the game right now and you have a recipe for WR1 overall upside every single week. Brown is primed for a second-half breakout.
TE Mark Andrews, Ravens
We're not done buying Ravens pass catchers. Since busting out of the gate with either 100 yards or a touchdown in four of his first six games, Andrews has turned in back-to-back duds: 2-39-0 in Week 7 at Seattle, and 2-21-0 last week against New England.
Add in a Week 8 bye sandwiched right in between, and Andrews' owners haven't seen usable output from him in a month, which should be enough to make them part with a tight end who still ranks inside the top four in air-yard share (25%) and target share (24%) at his position.
There are fewer tight ends with weekly 100-yard upside than there are teams in most fantasy leagues, so now is the time to take advantage of the "New England discount" and buy low on one of the highest-upside players at a shallow position.
WR Christian Kirk, Cardinals
Kirk is currently a fringe top-50 fantasy wide receiver, but given his team-leading 27% air-yard share and 23% target share, his true weekly expectation is closer to the WR2/3 borderline.
While ancillary players such as Damiere Byrd, KeeSean Johnson, Andy Isabella, Pharoh Cooper, and Trent Sherfield have fluctuated between full-time roles and inactive status seemingly on a whim in Kliff Kingsbury's spread attack, Kirk has been a staple, running a pass route on at least 87% of his team's dropbacks in all six games.
He's drawn-double digit targets in half of his outings, and posted a 6-114-0 on eight targets in another. Coming off his worst game of the season — and understandably slow 2-8-0 dud against a high-end 49ers defense, Kirk's value will likely never be low — especially since he's facing the Bucs this week.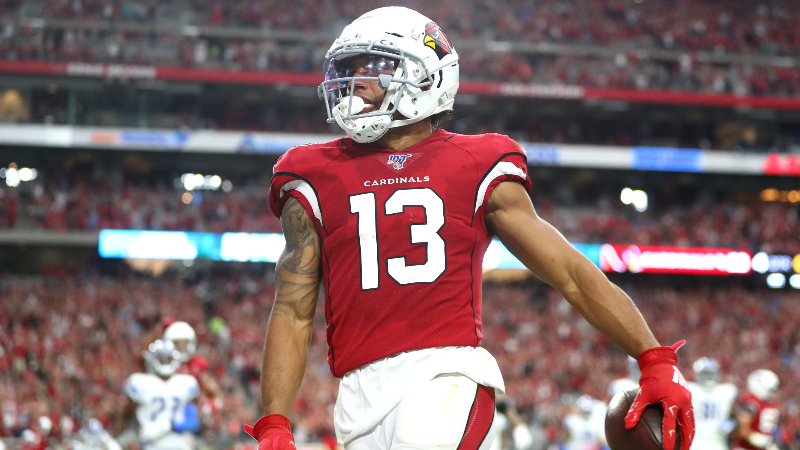 You know, the same Bucs who after last week's 378-yard, five-touchdown onslaught by Russell Wilson have surrendered the most fantasy points in the league to opposing wide receivers, which includes five 120-plus yard receiving games to wideouts over the past five weeks.
His dud against the 49ers notwithstanding, Kirk's high-volume usage and ability to play inside/outside should position him with an underrated floor/ceiling combo going forward, even in tough matchups.
As long as you can afford to take on a Week 12 bye, I'd try to see what kind of bench depth I can cobble together for him before the Bucs-Cardinals game kicks off this Sunday.
RB Tevin Coleman, 49ers
With the 49ers playing on Monday Night Football this week, Coleman owners have an extra day to stew on the disappointment form his 36 scoreless yards last week after he found the end zone four times in the week prior.
While some may be put off by his inconsistency, hoarding RBs is critical at this time of year, and a better way to think about it is: How many backs with four-touchdown upside are out there?
Since returning from an ankle injury in Week 5, Coleman is averaging a solid 15.5 touches per game, and his upside for more as part of the NFL's run-heaviest backfield and alongside one of the most fragile players in the NFL in Matt Breida.
Particularly if I'm a fringe playoff contender that needs to make a run, I'd be willing to gamble on Coleman's week-winning upside in exchange for higher-floor, lower ceiling RB/WR2s.
Week 10 Sell Highs
WR Zach Pascal, Colts
Pascal has topped 50 yards four times since Week 3 and scored three touchdowns over the past three weeks, and with both T.Y. Hilton (calf) and Parris Campbell (hand) out ahead of a cake matchup against the Dolphins, the buzz level on Pascal is understandably high right now.
Pascal has been scoring on par with the likes of Amari Cooper, Julian Edelman, and Cooper Kupp over the past few weeks, so there's at least a chance receiver-needy teams will be willing to give up something of value, and I would catapult at the opportunity to over him in exchange for any of the players listed above, and in any type of package deal that involves getting back RB2 value or better.
Given what I said earlier about buying volume, it may seem counterintuitive to sell Pascal just as he appears set to assume No. 1 receiver role for the Colts over the next few weeks. But the difference between the undrafted Pascal and players with Day 1-2 pedigree like Brown, Andrews, and Kirk is that Pascal's lack of pedigree will make it tough for him to sustain his current level of production now that he's put a few good games on tape.
We've already seen shades of that, as each of his pas two games of 70-plus yards have been followed by one-catch outings the following week.
With defenses likely to start devoting more attention to Pascal, I wouldn't be at all surprised if guys like Chester Rogers or Deon Cain are the ones randomly popping up with big games over the next few weeks.
How would you rate this article?