Week 2 NFL Bets: Eagles, Rams, Steelers/Cowboys Teaser, More Spreads & Over/Unders
Credit:
Kevin C. Cox/Getty Images. Pictured: Jalen Hurts.
NFL betting analyst Raheem Palmer breaks down his favorite Week 2 bets below, featuring Eagles and Rams.
---
Week 2 NFL Bets
This is a matchup between two teams that have been ravaged with injuries, leading the league in Adjusted Games Lost the last few seasons. Not including COVID absences, the San Francisco 49ers suffered 161.6 adjusted games lost last year, which was the second most behind the 2017 Chicago Bears, according to Football Outsiders.
After losing Jimmy Garrapolo, Nick Bosa, Solomon Thomas, Dee Ford, Raheem Mostert, George Kittle, Deebo Samuel and Richard Sherman, the prevalent sentiment coming into this season was that the 49ers' injury luck would improve. They couldn't possibly suffer the same injury luck as last season, could they?
While the Eagles come into this game healthy, for the 49ers, the more things change, the more they stay the same, because just one week into the 2021-2022 NFL season, San Francisco lost cornerback Jason Verrett with a torn ACL and running back Raheem Mostert with a knee injury.
Making matters worse, cornerback Emmanuel Mosley didn't practice Wednesday and Thursday after suffering a knee injury, and linebacker Dre Greenlaw will miss the next six-eight weeks with a groin injury. This is a banged-up defense with, DT Javon Kinlaw (knee), LB Dre Greenlaw (groin) and DL Arik Armstead (hip/adductor) all missing practice with DE Dee Ford (ankle) and LB Marcell Harris (oblique) being limited participants. Kinlaw's injury is particularly an issue against this Eagles defense, as he played a big part in slowing down the Lions run game. Dealing with Jalen Hurts and Miles Sanders is a tougher task.
The injuries at corner led the 49ers to signing Dre Kirkpatrick who ranked 55th out of all cornerbacks with just a 48% success rate and was tied for sixth among all defensive players in penalties while giving up the fourth most first downs with 39.
Hurts threw for 264 yards and three touchdowns but was just 35th among all quarterbacks with 3.7 intended air yards last week. I believe that changes this week against a 49ers secondary that could struggle defending DeVonta Smith and Jalen Reagor. While people may write off the comeback performance from the Lions, a healthier 49ers team still gave up 33 points and 430 yards total yards. I believe the Eagles are a step up in competition and should be able to take advantage of this depleted 49ers defense.
Defensively, there's not a team more equipped to deal with the 49ers than the Eagles who have one of the best defensive lines in the league behind Fletcher Cox and Javon Hargrave. It had a 33.3% pressure rate last week against the Falcons.
The 49ers were successful on just 37% of their runs last week, which could be an even bigger issue against an Eagles team that is familiar with Kyle Shanahan's system and finished first in success rate on outside zone runs last season. If the Eagles can slow down the 49ers run game, it could go a long way towards slowing down their play-action passing game.
Nevertheless, this feels like a good spot for the Eagles, and it's clear the market hasn't caught up to how good they actually are. While the 49ers have done well on the East Coast in recent years, they are just 9-18-1 as a favorite under Shanahan, and I expect their struggles as a favorite to continue here. Take the +3 with the Eagles.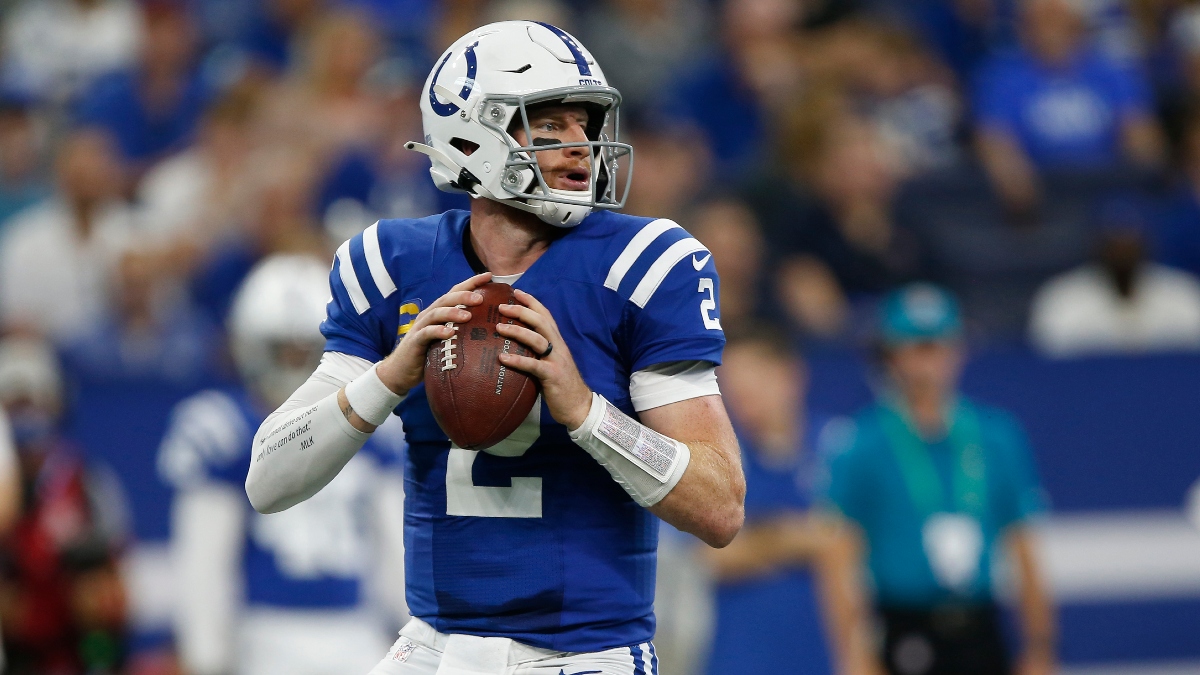 I'm going to continue to fade the Indianapolis Colts while Carson Wentz — who is just 14-26 ATS in the past four seasons — is under center. His 2017 campaign in which he led the Eagles to an 11-2 record looks like a clear outlier in his career.
While it appears the Rams defense has taken a step back from what we saw last season, once again the Colts could come into this game with issues on the offensive line. They potentially enter Week 2 without starting tackles Eric Fisher and Braden Smith, which certainly doesn't bode well for the turnover-prone Wentz who leads the league in fumbles (58) since joining the NFL in 2016. It's also troubling that left guard Quenton Nelson missed practice with a back injury this week, so that's something to monitor as well.
Even more troubling for the Colts is the absence of cornerback Xavier Rhodes and the potential absence of linebacker Darius Leonard. They'll be facing a Rams offense led by Matthew Stafford that comes off a game in which they scored 34 points and had an explosive pass-play rate of 11%.
I try not to overreact to a small sample size, but based on what we saw from Russell Wilson against this Colts defense last week, I like the Rams offense to score early and often on its way to covering this number. With the Colts having an 0-4 ATS record as a home underdog under Frank Reich, it's clear that this isn't a team that overperforms the market when facing superior teams. The Colts are floundering against the cream of the crop in the NFC, and I'm not expecting that to change here.
My model makes this game 55, yet oddsmakers opened the lookahead line at 51.5, which was was too low as evidenced by then re-opening it at 52.5 after Week 1 — a full point higher than what was a week before.
If you listened to the Action Network podcast with myself and my colleague Brandon Anderson, you'll know that I gave the over 51.5 points based on those lookahead lines. Nevertheless, these markets move fast and we've already seen movement on this line up to 54.5 points.
I believe there's still some value, as both of these teams have high-powered offenses capable of coming close to hitting this total themselves. Both teams will be taking a step down in competition after playing what's believed to be two of the leagues' best pass rushes in the Buccaneers with Vita Vea and Ndamukong Suh and the Football Team with Chase Young and Montez Sweat.
Still, we saw the Cowboys light up the scoreboard with 29 points, a +0.13 EPA and 51.2% success rate against the Bucs. Dak Prescott appears to be an MVP candidate as the Cowboys had a dropback success rate of 56.5%, fifth among NFL teams. They should have no problems putting up points against this Chargers defense.
Justin Herbert is a rising star in this league, and it's never been more evident than his performance against Washington in which the Chargers constantly found themselves in third-and-long, yet still converted 14-of-18 third downs. Although they put up just 20 points, they were a victim of a red-zone turnover and drove the ball up and down the field at will attaining 27 first downs.
Herbert threw for 337 yards and a touchdown with a dropback success rate of 55.8%, seventh-best to start the season, and we can only expect that to improve against a Cowboys defense that gave up 31 points to the Bucs despite generating four turnovers.
This game is a shootout — jump on the over before this line gets to 55.
Two Team 6-Point-Teaser: Pittsburgh Steelers PK/Dallas Cowboys +9.5 (Caesars)
Pittsburgh Steelers
The Las Vegas Raiders are coming off a primetime, overtime victory against the Baltimore Ravens on Monday night and are now faced with the task of flying east to take on the Pittsburgh Steelers in a 1 p.m. ET start. While home-field advantage is decreasing year-over-year, this scenario hasn't played out well for the Raiders historically during the Jon Gruden era. During the last three seasons, the Raiders are 3-8 ATS flying to the East for a 1 p.m. ET start time, while the rest of the league is 23-5 ATS.
Nonetheless, the short week has the Raiders in an awful spot given their lengthy injury report. The absence of Richie Incognito and the loss of right guard Denzelle Good with a torn ACL are particularly troubling against a Steelers defense led by T.J. Watt that had a 32.7% pressure rate and three sacks in Week 1 against the Buffalo Bills. With Derek Carr having a 31.8% passer rating under pressure, the Steelers defense should cause problems for Las Vegas.
Unlike the Ravens who were missing Jimmy Smith, the Steelers actually have an answer for tight end Darren Waller, who caught 10 of 19 targets for 105 yards and a touchdown in Week 1. Minkah Fitzpatrick has played snaps in the slot and could do so this weekend — it's likely we see them double-cover Waller. Nevertheless, I'm not expecting the same numbers from Waller we saw last week.
While the Steelers only had 252 total yards and 4.6 yards per play in last week's matchup, this offense should play a lot better against a Raiders team that gave up 406 yards to the Ravens and benefited from two Lamar Jackson fumbles. We should expect a bounce-back game from Ben Roethlisberger, and the Steelers should have no problem against a Raiders team which has struggled going East.
Dallas Cowboys +9.5
I played the Chargers in the DraftKings Contest at -2.5, and I felt that they had an edge playing on the stale number in addition to the losses of right tackle La'el Collins, wide receiver Michael Gallup and edge rusher DeMarcus Lawrence.
Still, I think Dak Prescott and the Cowboys offense can do enough to keep this within the number. Prescott returned from an injury to put up 403 yards and three touchdowns on a Tampa Bay Buccaneers defense with a vaunted pass rush featuring Vita Vea, Ndamukong Suh and William Gholston.
With Prescott and the Cowboys facing a Buccaneers defense that was first in rushing efficiency over the past two seasons, running wasn't much of an option for this team last week. I expect things to be different against the Chargers who allowed Antonio Gibson to run for 90 yards on 20 carries. As a whole, the Cowboys will struggle defensively, but the offense should still do enough to make this a competitive game.
I'm typically not a fan of teasing road teams but feel free to mix and match the Denver Broncos -6 down to PK for either one of these teaser legs.
How would you rate this article?