Raybon's Week 5 Fantasy Football Trade Targets: Best Options to Buy & Sell
Credit:
Kyle Terada-USA TODAY Sports. Pictured: Pittsburgh Steelers wide receiver JuJu Smith-Schuster (19).
Chris Raybon identifies undervalued fantasy assets, including Steelers WR JuJu Smith Schuster and Patriots WR Josh Gordon.
He also hits on a player who's wildly outperformed expectations and should be sold on the trade market.
Before I get into the targets and sell-highs, I thought that with a quarter of the season in the books, it is a good time to start tracking the performance of the buy-lows and sell-highs in this space thus far.
First, the bad news: Selling Nick Chubb high in Week 4 could have probably waited, as Chubb went completely bonkers for three touchdowns to the delight of Browns truthers everywhere (guilty).
The good news: Chubb was the only one of my eight sell-highs to perform better after the fact, and 11-of-12 buy lows have seen an increase in value since! Full results are below.
Year-to-Date Buy Low Performance
Note: Format is before/after half-PPR  points per game
RB Sony Michel (Week 2): 1.4/9.3 (+7.9)
WR Mike Evans (Week 2): 4.8/22 (+17.2)
WR Stefon Diggs (Week 2): 5.7/9.5 (+3.8)
WR Donte Moncrief (Week 2): 2.2/0.0 (-2.2)
RB David Johnson (Week 3): 15.3/16.7 (+1.4)
RB James Conner (Week 3): 10.3/15.1 (+4.8)
WR Brandin Cooks (Week 3): 10.0/13.1 (+3.1)
WR Jarvis Landry (Week 3): 7.2/14.2 (+7.0)
TE O.J. Howard (Week 3): 2.6/6.5 (+3.9)
RB Leonard Fournette (Week 4): 11.4/25.5 (+15.1)
WR Robert Woods (Week 4): 8.4/22.9 (+14.5)
TE Jared Cook (Week 4): 3.1/3.6 (+0.5)
Overall record: 11-1
Year-to-Date Sell High Performance
RB Ronald Jones (Week 2): 9.8/9.4 (+0.4)
WR Courtland Sutton (Week 2): 15.5/12.8 (+2.3)
WR DJ Chark (Week 2): 22.6/12.3 (+10.3)
TE Jimmy Graham (Week 2): 10.5/5.3 (+5.5)
WR Tyrell Williams (Week 3): 16.3/10.9 (+5.4)
WR Michael Thomas (Week 3): 15.6/14.0 (+1.6)
RB Nick Chubb (Week 4): 14.3/37.8 (-23.5)
WR Tyrell Williams (Week 4): 14.3/11.1 (+3.2)
Overall record: 7-1
Week 5 Buy Lows
WR Juju Smith-Schuster, Steelers
Juju owners can't exactly be thrilled that despite salvaging his Week 1 with garbage time production and Weeks 2 and 3 with long gainers, one of his top highlights through four weeks was his stellar performance while mic'd up for Week 4 of Monday Night Football.
Juju's ugly 3-15-0 stat line on Monday night puts him firmly in the buy-low category.
Offensive coordinator Randy Fichtner dialed up perhaps the best game plan of his career in Mason Rudolph's 24-of-28, two-touchdown performance, and Rudolph shined, so I would expect the offense to open up as Rudolph continues to evolve.
I would be a lot more worried if Juju went 3-15-0 in a loss than in a blowout win where he wasn't really needed at any point. In fact, Juju has performed better in losses than wins throughout his career:
Wins: 7.1 tar/g | 5.0 rec/g | 70.6 yd/g | 0.48 TD/g | 15.0 PPR/g | 12.5  half-PPR/g | 10.0 std/g
Losses: 10.3 tar/g | 6.8 rec/g | 89.6 yd/g | 0.42 TD/g | 18.2 PPR/g | 14.8 half-PPR/g | 11.5 std/g
Yes, Rudolph's starts have been dink-and-dunk shows thus far, but that's not as much of a long-term concern for Juju, who runs 61.5% of his routes from the slot, per Pro Football Focus.
And Rudolph is completing 67.4% of his passes with a 6/2 TD/INT ratio and 103.2 passer rating, so he's not as big of a downgrade form Ben Roethlisberger as initially thought.
Big Ben had become the King of the Uncatchable Pass, finishing last season with an Adjusted Completion Percentage (73.9%) that ranked 29th, and then starting this season even worse (66.7%. 36th). Rudolph, meanwhile, is currently ranked 11th, at 78.3%.
WR Adam Thielen, Vikings
One of the main reasons Air Yards are here to stay is they are predictive, and help indicate hidden value in receivers on passes that go uncaught, or when their team's passing volume takes a dip over a span. Thielen ranks third in the NFL with a 43% air yard share, per AirYards.com.
While I don't expect the Vikings to resume throwing the ball at the rate they were in Year 1 with Kirk Cousins (37.9 attempts per game, sixth), the league average in pass attempts per game this season is 35.5, so I am viewing Cousins' 10 attempts in Week 1 and 21 attempts in Week 3 as outliers, and thus, expect Thielen to rebound.
It helps that he has the latest possible bye, so by going out and buying him now, the ceiling is potentially getting seven straight weeks of WR1 production.
WR Robby Anderson, Jets
One doesn't draft Robby Anderson, one buys him for pennies on the dollar after he face plants during the first quarter of the season.
Here's how Anderson's career numbers have broken down if you divide the season into four-game increments:
Weeks 1-4: 5.1 tar/g | 2.6 rec/g | 36.4 yd/g | 0.15 TD/g | 7.1 PPR/g | 5.8 half-PPR/g | 4.5 std/G
Weeks 5-8: 5.9 tar/g | 3.2 rec/g | 49.4 yd/g | 0.36 TD/g | 10.6 PPR/g | 9.0 half-PPR/g | 7.4 std/G
Weeks 9-12: 5.9 tar/g | 3.6 rec/g | 60.6 yd/g | 0.50 TD/g | 12.7 PPR/g | 10.9 half-PPR/g | 9.1 std/G
Weeks 13-16: 8.9 tar/g | 4.9 rec/g | 68.8 yd/g | 0.42 TD/g | 14.5 PPR/g | 12.0 half-PPR/g | 9.5 std/G
With the bye already out of the way and a matchup against an Eagles secondary that has bled the most fantasy points in the NFL to opposing wide receivers on deck in Week 5, the time to get ahead of this thing is now.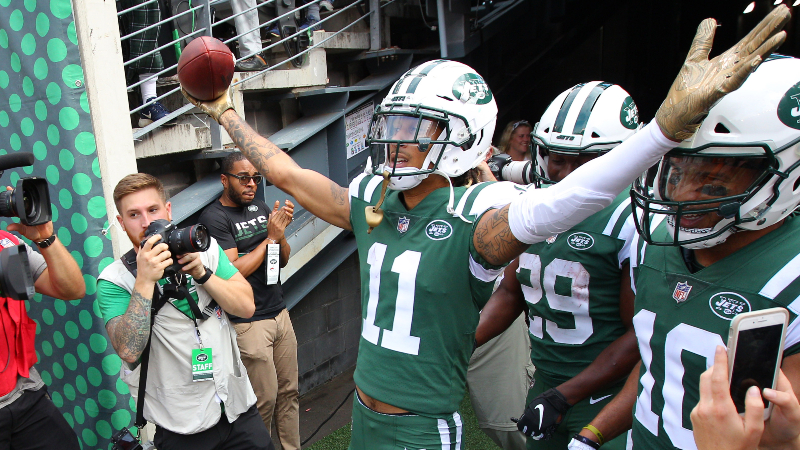 RB Kenyan Drake, Dolphins
Speaking of byes, now is a good time to buy Kenyan Drake with owners potentially in a bye-week crunch. I'm a firm believer in buying low on talent, and judging by their career numbers, it looks like Drake has a lot more of that than Kalen Ballage.
Drake: 4.6 yd/rush, 8.1 yd/rec, 3.77% TD/touch
Ballage: 3.4 yd/rush, 7.1 yd/rec, 1.49% TD/touch
Now look at how the snaps and opportunities (carries plus targets) of Drake and Ballage has trended in Weeks 3-4 compared to Weeks 1-2.
Drake, Weeks 1-2: 54% snaps, 9.5 opportunities
Ballage, Weeks 1-2: 38% snaps, 7.5 opportunities
Drake, Weeks 3-4: 62% snaps, 16.0 opportunities
Ballage, Weeks 3-4: 26% snaps, 7.0 opportunities
WR Josh Gordon, Patriots
Flash has had an underwhelming start to 2019, ranking just 43rd among receivers in standard scoring and 47th in PPR and half-PPR, but this is another great time to buy low on talent in the AFC East.
The Patriots cakewalked through the early part of the season in blowouts, but their schedule ramps up with games against the Browns, Ravens, Eagles, Cowboys, Texans, and Chiefs upcoming.
In between, they have matchups against the Redskins, Giants, Jets, and Bengals, all of whom rank 20th or worse in receiving  yards allowed, and all but one of whom rank 25th or worse in receiving touchdowns allowed.
Remember, Gordon's target share was impacted in the game against the Dolphins by the presence of Antonio Brown, and in another, he had to contend with Sean McDermott's stingy Bills defense.
In fact, coming off a slow game against the Bills (3-46-0) is, in itself, a great time to buy low on Gordon.
Here are his numbers since the start of 2018 vs. Buffalo vs. all other teams:
Vs. Bills (two games): 6.5 tar/g | 3.5 rec/g | 44.0 yd/g | 0.00 TD/g | 7.9 PPR/g | 6.2 half-PPR/g | 4.4 std/g
Vs. everyone else (14 games): 6.1 tar/g | 3.4 rec/g | 62.1 yd/g | 0.36 TD/g | 11.8 PPR/g | 8.4 half-PPR/g | 8.4 std/g
Remember, that sample also includes a bunch of games in which Gordon wasn't playing a full compliment of snaps, and, as mentioned, the AB game. If you go ahead an acquire Gordon now, just keep in mind that you should plan to have another option available for fantasy championship week, as the Patriots face the Bills again in Week 16.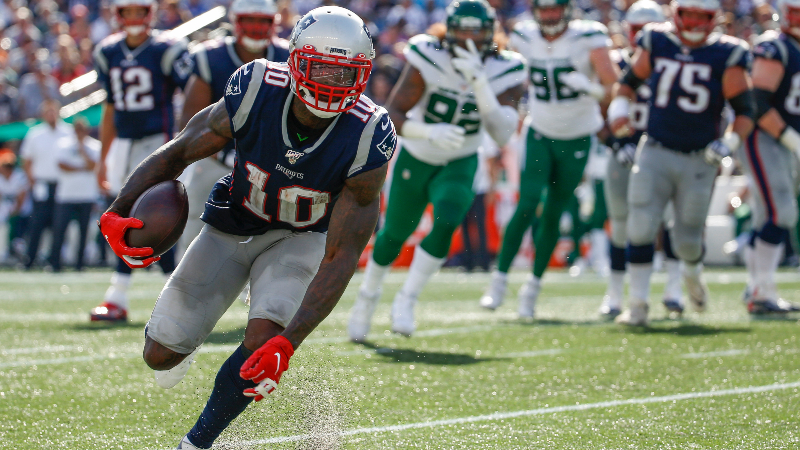 Week 5 Sell High
WR Sterling Shepard, Giants
Shepard has had a nice start to the season, ranking as a top-20 fantasy wide receiver in points per game in all formats. However, the return of Golden Tate from his four-game suspension will likely cut into Shepard's production, and make it difficult for Shepard to return top-20 results going forward.
Shepard had seen a decrease in production with former Giants wideout Odell Beckham Jr. in the lineup. Though OBJ is obviously one of the highest-volume receivers in the league (he averaged 6.3 receptions per game with the Giants from 2016-2018), Tate is not far behind with 5.5 receptions per game over that span.
Shepard could see a similar dip to what he encountered with OBj in the lineup vs. without:
Shepard with OBJ (32 g): 6.3 tar/g | 4.1 rec/g | 48.1 yd/g | 0.38 TD/g | 11.4 PPR/g | 9.3 half-PPR/g | 7.3 std/g
Shepard without OBJ (14 g): 8.5 tar/g | 5.6 rec/g | 68.9 yd/g | 0.21 TD/g | 14.1 PPR/g | 11.3 half-PPR/g | 8.5 std/g 
How would you rate this article?