Raybon's Fantasy Football Trade Targets: Who to Buy & Sell in Week 8
Which fantasy football players should you be looking to trade for in Week 8? Who should you be dishing off?
Chris Raybon has his top fantasy buys and sells to get your lineup ready for Week 8 and set you up for the rest of the season.
Patrick Mahomes, Kerryon Johnson and David Johnson highlight a long list of big names going down last week, and there's also no telling at this point if the Saints plan to bring Alvin Kamara back before their bye next week.
If you're lucky enough to have avoided all of that injury luck, you're in a great position to target high-upside pass catchers who may be deemed expendable. And even if you're in the market for RB help, that still doesn't mean you shouldn't also be looking to buy undervalued pass catchers.
RBs will be at a premium this week, so if you can't work a deal for one, your next best bet is essentially playing a sightly longer game by acquiring as much value as you can this week, regardless of position, in hopes of being able to turn around and sell high for a longer-term fix at RB as soon as next week.
Here are a TE and two WRs worth targeting, as well as a WR to sell if you find an owner willing to overpay for a quick fix to replace Will Fuller or Adam Thielen.
Week 8 Buy Lows
TE Evan Engram, Giants
Stop the presses: A tight end not named Tyler Eifert didn't go off against the Cardinals. Engram's putrid 1-5-0 line in what was supposed to be the nut spot for tight ends now gives him 11 catches since Week 4 — or the same amount he got in Week 1 alone. After hauling in an average of 7.7 catches for 90.3 yards with 2 TDs in Weeks 1-3, Engram has dipped to 3.7-34-0 over the past three, with a missed game to boot.
When a player sets expectations that high over the first three weeks and then strings together a few below-expectation performances, it's a good time to try and exploit anchoring bias — which in this case would cause owners to overreact to Engram's recent valleys because they've come in such stark contrast to the immediate peaks they've anchored their expectations around.
Whereas I recommended selling Sterling Shepard due to a potential target logjam with Golden Tate's impending return, the situation with Engram is different because of the scarcity of available TEs with 10-catch, 100-yard upside. And since head coach Pat Shurmur took over, Engram's rate of targets per route run (21.3%) compared favorably to Shepard (17.8%), according to data from Pro Football Focus.
So even if Engram doesn't continue to pace the position in targets per game (8.8), he figures to still be among the league leaders. In fact, Engram leads all tight ends with 37.3 routes run per game.
There are eight tight ends with weekly monster upside: George Kittle, Travis Kelce, Austin Hooper, Darren Waller, Mark Andrews, Zach Ertz, Hunter Henry, and Engram. If I don't have one of those, I'm targeting Engram.
WR Emmanuel Sanders, 49ers
Sanders has mixed in four handsome stat lines (5-86-1, 11-98-1, 5-104-0, 5-60-0) with three hideous ones (2-10-0, 1-9-0, 1-0-0), but two of the latter came in the last three weeks, leaving him at a dismal 2.3 receptions for 23.0 scoreless yards over that span.
But at this point in the season, there are only so many WRs you can buy low on with 11-catch upside and the potential post five-plus catches and 60-plus yards over half the time.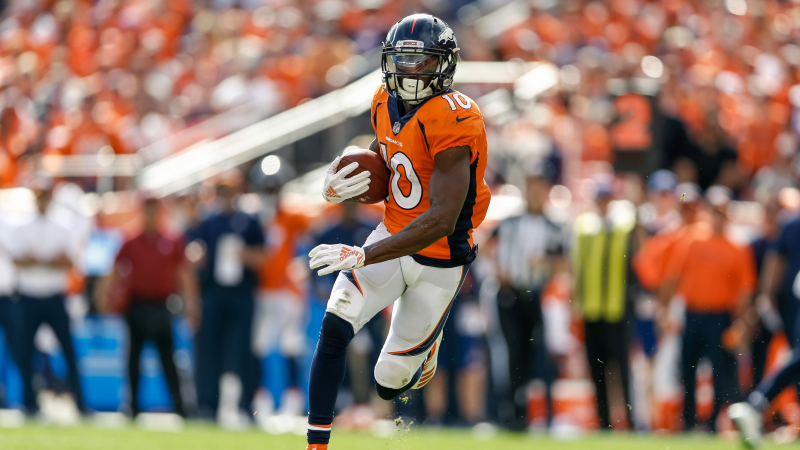 Coupled with his recent performance, entering San Francisco's run-heavy attack will likely only increase owners' willingness to sell, but San Francisco's absurd 57%-to-43% run-to-pass ratio is a lock to regress — the league average is 59% pass, 41% run — and Sanders figures to step in immediately as the No. 2 option behind George Kittle.
In fact, one of the reasons San Francisco has been so run-heavy probably has something to do with why they went out and got Sanders in the first place — a lack of a true every-down No. 2 threat.
To illustrate why San Francisco traded for Sanders and why he will have volume upside in this offense, look no further than targets per route run. For the positions that run downfield routes (i.e., wide receiver and tight end, as opposed to running back), it often goes overlooked that drawing a target is a measure of not only opportunity, but also skill.
Because routes more accurately represent a receiver's true opportunity, it serves as a good measure of this skill (20%+ is ideal, meaning if running a route alongside the max of four other eligible receivers, a player would have above-average odds of drawing a target). Targets per route run also stabilizes (i.e., becomes predictive) quickly, so we can use it to gain a better understanding of Sanders' future target prospects.
Here are the career targets per route run for San Francisco's wide receivers and tight ends:
TE George Kittle 23.3%
Sanders 21.5%
Deebo Samuel 19.2%
Jordan Matthews 18.7%
Marquise Goodwin 17.4%
Kendrick Bourne 16.6%
Trent Taylor (IR) 16.1%
Ross Dwelley 15.9%
Dante Pettis 15.6%
Richie James Jr. 11.6%
Levine Toilolo 11.3%
Given the data above, it's easy to see why Kyle Shanahan has been rotating his wideouts this season (none have been in on more than 68% of the team's total pass plays). In particular, it explains why Shanahan hasn't been high on Pettis — he should have been drawing targets a lot more consistently by this point in his career given the other receivers he's been running routes alongside.
Sanders played on 86% of Denver's pass plays this season and now enters San Francisco atop depth chart littered with urachievers, gadget types, situational deep threats, and fringe NFL talents. He'll do his best work over the short and intermediate area but also has air-yard upside, as Kittle's team-leading 25% air yard share is a far cry from the 39% Courtland Sutton is hogging in Denver.
And speaking of fringe NFL talents, Sanders' last 500 targets have come from a combination of the Ghost of Peyton Manning, Trevor Siemian, Brock Osweiler, Case Keenum, and Joe Flacco. Now he gets Jimmy Garoppolo, who has completed 66.3% of his passes for 8.3 yards per attempt while compiling a 12-2 record as a 49er.
I'd try to pry Sanders away by offering up flash-in-pan or buzzworthy WR4/5 types with lower volume upside, such as Alex Erickson, Allen Lazard, Zach Pascal, Zay Jones, etc.
WR Calvin Ridley, Falcons
Ridley has always had a high ceiling, but the trade of Mahomad Sanu to the Patriots should bump up his floor. Sanu (81%) was playing more snaps than Ridley (72%), and Sanu's ability to command 15-20% of the targets mosts weeks often left Ridley fourth in the pecking order, and thus, overly reliant on TDs for value.
Moving into two-wide sets and firmly within the top three targets for the Falcons gives Ridley monster upside down the stretch. Ridley is currently the WR40 in PPR, but he's closer to WR20 in value with outside top-10 upside if things go his way. With Matt Ryan (ankle) banged up and Atlanta's bye next week, owners may be willing to part with him for less than he's worth.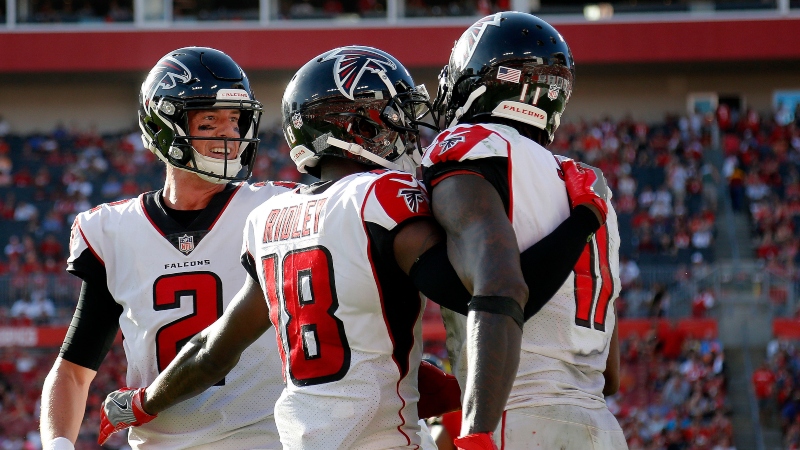 ---
Week 8 Sell High
Marvin Jones, Lions
When a mid-round pick finally pops for a huge game around midseason, it's easy to sit back and pat yourself on the back, but it's usually a good time to try to flip that player while some owner may be valuing him a tier too highly. Jones' 10-catch, 93-yard, 4-touchdown performance against Minnesota last week accounted for nearly 50% of his fantasy points this season, vaulting him into the top 15 WRs.
Jones is a high-ceiling, low-floor receiver whose median range of outcomes is more in the WR25-30 range, but some may look at his current high-end WR2 status as his true value. I'd try to see if I can package him in a two-for-one to net a true stud RB/WR/TE in return. If that doesn't work, I'd aim for a deal that improves your RB depth by, for example, sending Jones and a low-end RB2/FLEX type for a fringe RB1/2 like Josh Jacobs/Derrick Henry plus a WR of lesser (perceived) value.
How would you rate this article?