Grading Week 9 NFL WR/CB Matchups: Will A.J. Bouye Shut Down DeAndre Hopkins?
Credit:
USA TODAY Sports. Pictured: Jacksonville Jaguars cornerback A.J. Bouye (21), Houston Texans wide receiver DeAndre Hopkins (10).
DeAndre Hopkins has finally started to catch his stride, but he'll be matched up against A.J. Bouye in London Sunday.
Matthew Freedman breaks down that matchup and grades every wide receiver/cornerback matchup for Week 9.
Wide receiver-cornerback showdowns might be the most important individual matchups in football.
In this piece, I leverage snap data from Pro Football Focus to project NFL Week 9 WR/CB matchups.
For more, see the FantasyLabs Matchups page, where we provide basic and advanced data — including fantasy and red-zone performance — for each offensive skill-position player based on his matchup.
Also consult our Week 9 injury report for status updates on receivers and corners. I will update this piece over the weekend.
---
For Week 9 odds, check out PointsBet, where Action Network users can access an exclusive promotion to get a 200% deposit match (deposit $50, bet with $150).
---
Let's start with this week's featured matchup and then run through all the wide receiver situations and sort through my matrix featuring every matchup.
WR/CB Matchup of the Week
DeAndre Hopkins vs. A.J. Bouye
Hopkins is back!
He enters Week 9 with back-to-back 100-yard games after a rough stretch in Weeks 2-6, when he had just 291 scoreless yards on 43 targets.
But he faces a tough matchup against shutdown cornerback and former teammate A.J. Bouye, who has held opposing receivers to a 55.7% catch rate for his career.
Without cornerback Jalen Ramsey (traded), the Jaguars have shown a willingness to use Bouye in shadow coverage, and I expect they will have him tail Nuk in this #RevengeGame.
If you have Hopkins in your season-long leagues, you have to start him, but against Bouye, I'm giving him a medium downgrade. I'd be somewhat surprised if he had yet another 100-yard game this week.
NFL Week 9 WR/CB Matchups
49ers at Cardinals: Thursday Night Football
49ers WRs: The addition of Emmanuel Sanders (trade) and return of Deebo Samuel (groin) have pushed Dante Pettis out of the rotation. Shadow matchup: Sanders vs. Patrick Peterson
Cardinals WRs: Christian Kirk (ankle) returned in Week 8 and led the team with 11 targets. Right cornerback Ahkello Witherspoon (foot) missed the past month and has yet to practice. Backup Emmanuel Moseley has played admirably in his stead. The 49ers own the second-best pass defense (per Football Outsiders' DVOA

).
Texans vs. Jaguars (in London): 9:30 a.m. ET on Sunday
Texans WRs: Will Fuller (hamstring) missed Week 8 and seems likely to miss Week 9. In his absence, Kenny Stills shifted to the perimeter and DeAndre Carter played in the slot. Surprisingly, Keke Coutee played zero snaps although he was active. Shadow matchup: DeAndre Hopkins vs. A.J. Bouye. UPDATE (Nov. 2): SCB D.J. Hayden (neck, shoulder) is questionable but hasn't practiced all week.
Jaguars WRs: Dede Westbrook (neck, shoulder) entered Week 8 with lingering injuries, which he aggravated during the game. Even so, the Jags have a clear edge over the injured Texans. Left corner Johnathan Joseph (wrist, shoulder) and slot corner Bradley Roby (hamstring) both missed Week 8, and right corner Lonnie Johnson Jr. (concussion) left the game early. All three are uncertain for Week 9. UPDATE (Nov. 2): Joseph is in, but Roby and Johnson are out.
Redskins at Bills: 1 p.m. ET on Sunday
Redskins WRs: Quarterback Case Keenum (concussion) might not be healthy for Week 9, and even if he is, the Redskins' receivers could struggle against a Bills defense that has yet to allow a 100-yard pass-catching performance.
Bills WRs: Right cornerback Quinton Dunbar (hamstring) left Week 8 early and is uncertain for Week 9. John Brown gets a large upgrade against fill-in Fabian Moreau. UPDATE (Nov. 2): Dunbar is in.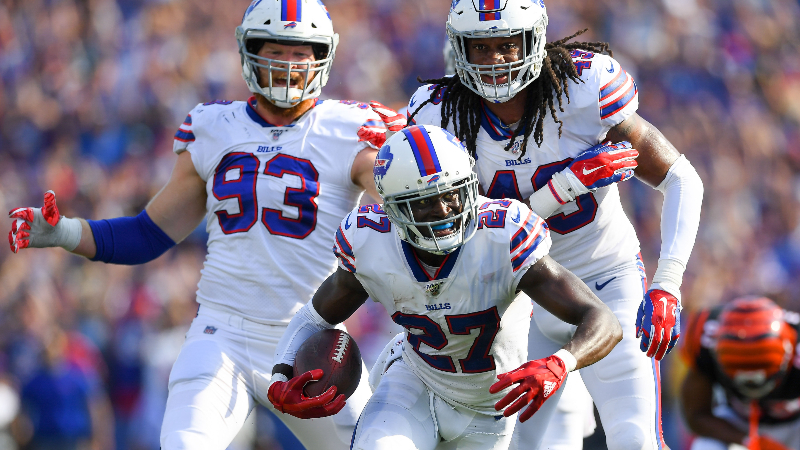 Vikings at Chiefs: 1 p.m. ET on Sunday
Vikings WRs: Adam Thielen (hamstring) and slot cornerback Kendall Fuller (thumb) didn't play in Week 8 and both are uncertain for Week 9. If Thielen is out once again, I expect the Vikings to use two-tight end sets as their base package. UPDATE (Nov. 2): Thielen (hamstring) is a game-time decision, but I tentatively expect him to sit. Fuller (thumb) is questionable but seems likely to play after practicing all week on a limited basis.
Chiefs WRs: With Sammy Watkins (hamstring) back in the lineup, Demarcus Robinson played ahead of Mecole Hardman in three-wide sets in Week 8. In theory, cornerback Xavier Rhodes could tail Watkins, but the Vikings haven't used Rhodes in shadow coverage since Week 2.
Jets at Dolphins: 1 p.m. ET on Sunday
Jets WRs: I'm assuming that shadow cornerback Xavien Howard (knee) will play in Week 9, but even with his return the Dolphins are thin at corner. As a team, they rank No. 32 with a 36.4 PFF coverage grade. Shadow matchup: Robby Anderson vs. Howard. UPDATE (Nov. 2):  Howard and CB Ken Webster (ankle) are out. 
Dolphins WRs: Left corner Trumaine Johnson (ankle) aggravated an existing injury in Week 8 and is uncertain for this weekend. Preston Williams and DeVante Parker get medium upgrades against Darryl Roberts and Nate Hairston, who have combined to allow a 71.4% catch rate this year. UPDATE (Nov. 2): Johnson is out.
Bears at Eagles: 1 p.m. ET on Sunday
Bears WRs: The Eagles are finally fully healthy at corner, which means that they are now just subpar in the secondary instead of horrible.
Eagles WRs: DeSean Jackson (abdomen) hasn't played or practiced since Week 2 and seems unlikely to play. UPDATE (Nov. 2): Jackson is questionable but seems likely to play after returning to practice this week.
Colts at Steelers: 1 p.m. ET on Sunday
Colts WRs: Zach Pascal has asserted himself as the No. 3 receiver on offense. The Steelers have all three of their starting corners healthy. UPDATE (Nov. 2): WR T.Y. Hilton (calf) is out. 
Steelers WRs: Left corner Pierre Desir (hamstring) was out in Week 8 and is uncertain for Week 9. Fifth-round rookie and Star Wars character Marvell Tell III will offer a juicy matchup to James Washington if Desir is out. UPDATE (Nov. 2): Desir is questionable but has not practiced all week and is tentatively expected to be out.
Titans at Panthers: 1 p.m. ET on Sunday
Titans WRs: Right cornerback Donte Jackson (groin) returned in Week 8 and reclaimed his perimeter spot in nickel packages with Ross Cockrell sliding back into the slot. The Panthers are No. 3 in pass defense DVOA. Shadow matchup: Corey Davis vs. James Bradberry
Panthers WRs: Left cornerback Adoree' Jackson (foot) missed Week 8 and seems unlikely for Week 9. Backup corner LeShaun Sims gifts Curtis Samuel a medium upgrade. UPDATE (Nov. 2): Samuel (shoulder) is questionable but expected to play. Jackson is in.
Lions at Raiders: 4:05 p.m. ET on Sunday
Lions WRs: The Raiders are bottom-three in PFF coverage grade (39.5) and pass defense DVOA (38.1%). Each Lions wide receiver warrants a large upgrade.
Raiders WRs: Shadow corner Darius Slay (hamstring) missed Week 8 and reportedly might be traded this week. Tyrell Williams (foot) returned in Week 8 and now has a touchdown in all five games played. He gets a large upgrade against backup cornerback Mike Ford. UPDATE (Nov. 2): Slay practiced fully on Friday and seems likely to play. He and Williams tend to line up on the same side of the field, but he could shadow Williams anyway.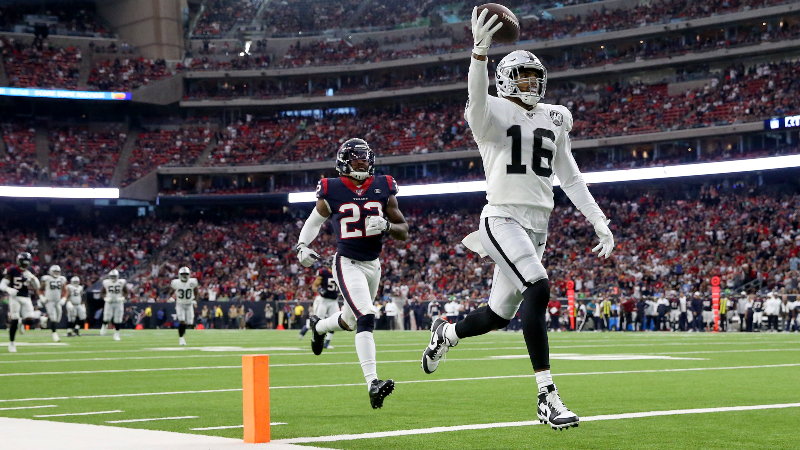 Buccaneers at Seahawks: 4:05 p.m. ET on Sunday
Buccaneers WRs: Right corner Tre Flowers (neck) missed Week 8 and is uncertain for Week 9. Mike Evans receives a large upgrade against journeyman backup corner Akeem King. UPDATE (Nov. 2): Flowers is in.
Seahawks WRs: In Week 8, David Moore played ahead of Jaron Brown as the No. 3 receiver, and the Bucs shifted cornerback Vernon Hargreaves from the right perimeter to the slot in three-wide sets. As a result, corners Carlton Davis and Sean Murphy-Bunting respectively moved from the left to the right and from the slot to the left.
Browns at Broncos: 4:25 p.m. on Sunday
Browns WRs: Antonio Callaway is clearly ahead of Rashard Higgins as the No. 3 receiver. For the second week in a row, Odell Beckham Jr. is likely to have one of the slate's toughest cornerback draws. Shadow matchups: Beckham vs. Chris Harris Jr. UPDATE (Nov. 2): SCB Will Parks (hand) is out.
Broncos WRs: Fred Brown is the clear No. 3 receiver on the post-Emmanuel Sanders depth chart. Cornerbacks Denzel Ward (hamstring) and Greedy Williams (hamstring) returned last week, and although the Browns could have used Ward to tail wide receivers Julian Edelman or Phillip Dorsett on the perimeter, they instead played him almost exclusively at left corner. Because of that usage, I doubt he will shadow Courtland Sutton this week. UPDATE (Nov. 2): SCB Eric Murray (knee) is out.
Packers at Chargers: 4:25 p.m. on Sunday
Packers WRs: Davante Adams (toe) has been out since Week 5, and Allen Lazard has forced his way into the receiver rotation, splitting snaps with Geronimo Allison and Jake Kumerow. For the first game all season, the Chargers played Casey Hayward Jr. exclusively at left corner in Week 8, so it's possible no Packers receiver will see shadow coverage this week. UPDATE (Nov. 2): Adams practiced on a limited basis all week and is tentatively expected to play. He and Hayward tend to line up on the same side of the field, but he could see shadow coverage from Hayward anyway.
Chargers WRs: Keenan Allen (hamstring) played through an injury in Week 8 without a setback, so I'm assuming he'll go in Week 9. For the past month, Allen has played primarily in the slot, where he should escape Jaire Alexander, whom the Packers have played at left corner for the past two weeks after his early-season shadow coverage proved ineffective.
Patriots at Ravens: Sunday Night Football
Patriots WRs: Both Julian Edelman and Mohamed Sanu played most of their Week 8 snaps in the slot, but when they were on the field together, Edelman more often shifted to the perimeter. With left corner Marcus Peters (trade) now on the team and right corner Jimmy Smith (knee) expected to return, the Ravens are using Marlon Humphrey — perhaps their top cover man — as their full-time slot corner.
Ravens WRs: Marquise Brown (ankle) has been out since Week 6, but I expect him to return after the Week 8 bye. Miles Boykin has jumped ahead of Seth Roberts and Chris Moore on the depth chart. The Pats are the league's most shadow-heavy team and rank No. 1 with a 93.5 PFF coverage grade. Shadow matchups: Brown vs. Stephon Gilmore, Willie Snead IV vs. Jonathan Jones, Boykin vs. Jason McCourty. UPDATE (Nov. 2): Brown is questionable. He practiced on a limited basis on Wednesday and Thursday but sat on Friday. HC John Harbaugh expects him to play, so I'm keeping him in the matrix, but I have my doubts.
Cowboys at Giants: Monday Night Football
Cowboys WRs: Cornerback Janoris Jenkins hasn't shadowed since Week 3, but he's likely to line up against No. 1 receiver Amari Cooper most. Breakout sophomore Michael Gallup gets a large upgrade against rookie cornerback DeAndre Baker, who has a putrid 37.8 PFF coverage grade.
Giants WRs: Sterling Shepard (concussion) has missed three consecutive games. His status for Week 9 is uncertain. Slot corner Anthony Brown (hamstring) missed Week 7 but might return following the Week 8 bye. In his place, Jourdan Lewis is a steady defender. UPDATE (Nov. 2): Shepard has cleared the league's protocol and is in. Brown is questionable.
NFL Week 9 WR/CB Matrix
I'm taking a cautious approach to injured players I expect to be questionable or out. If by the weekend it seems likely that they will play, I will include them in my updates.
Pos = left, right or slot WR or CB
Projected shadow matchups are CAPITALIZED
WR Exp = Wide Receiver Expectation: I rank from 3 to -3 how much I think we should adjust expectations for wide receivers based on matchups. 3: Large upgrade. 2: Medium upgrade. 1: Small upgrade. 0: No change. -1: Small downgrade. -2: Medium downgrade. -3: Large downgrade. 
Thanks to Scott Barrett for providing me with some of PFF's historical data.
How would you rate this article?