Friday MLB Betting Odds, Picks, Predictions: Expert Slate Breakdown, Including Cardinals vs. Nationals, Twins vs. Padres
Credit:
Stacy Revere/Getty Images. Pictured: Byron Buxton
Tonight's 15-game MLB slate is loaded with betting value across the board.
From Marlins-Mets early on to Cubs-Giants late at night, our analyst has recommendations on every game.
Continue reading for a full breakdown of how he is betting Friday's entire MLB slate.
We have full slate of 15 games this Friday night in the dog days of July, but there are some intriguing matchups like Mariners versus Astros and Twins versus Padres.
Be sure to check out our MLB odds page for up-to-the-minute odds changes across multiple sportsbooks, and our projections page which helps you find the best value across the board.
---
Follow all of B.J. Cunningham's bets in the Action Network app! Click here.
---
Orioles vs. Reds, 6:40 p.m. ET
Dean Kremer vs. Mike Minor
This is maybe the worst pitching matchup of the night. Both Mike Minor and Dean Kremer have an xERA over 5.00, xBA allowed over .250, and xSLG allowed over .470.
The reason the Orioles are favored is because they have a big advantage in the bullpen (3.67 xFIP for BAL vs. 4.57 xFIP for CIN), but the offensive matchup and starting pitching matchup is essentially even.
I have the Orioles projected at -108 and the total at 10.18, so if anything I would be interested in over 9.5 runs, but I need +100 or better to play it, which currently isn't available.
Pick: Pass
Mets vs. Marlins, 6:40 p.m. ET 
Chris Bassitt vs. Sandy Alcantara
I know the Marlins have a ton of injuries, but the best pitcher in baseball should not be an underdog at home to a Mets lineup that really isn't as good as most people think it is.
The Mets are 11th in in xwOBA and sixth in wRC+, which is good, but certainly not elite. They've faced Alcantara three times and it's been a mixed bag. In June, they tagged him for five runs, but most recently on July 10th, Alcantara went seven scoreless and only gave up six hits.
Alcantara is the frontrunner for the NL Cy Young, but what's interesting is his K/9 rate (8.94), BB/9 rate (2.24), and HR/9 (0.44) are not what I would consider "Cy Young" type metrics. The reason he is so good is because opposing hitters can't hit for power against him. His xSLG and xwOBA allowed are both top 10% in baseball.
Chris Bassitt is having a very nice season, posting a 3.14 xERA and 3.45 xFIP. The only problem is that is nowhere near Alcantara and the Marlins are a top-ten offense in terms of wOBA against right-handed pitching.
I have the Marlins projected at -132 for the first five innings and -127 for the full game, so I love the current price on +114 for the full game (FanDuel) and +105 for the first five innings (BetMGM) and would both of those lines at anything -110 or better.
Pick: Marlins First Five Innings +105 & Full Game +114
Cardinals vs. Nationals, 7:05 p.m. ET 
Miles Mikolas vs. Anibal Sanchez
I think this game has runs written all over it. Miles Mikolas is a negative regression candidate with his ERA sitting at 2.87, but his xERA is at 3.63 and his xFIP is at 3.84. A lot of that negative regression came in his last start against the Reds where he got tagged for six runs.
The Cardinals' bullpen is also due for some negative regression because their xFIP is close to half a run higher than their ERA. So even though the Nationals have been in a slump at the plate in July, negative regression is coming for Cardinals pitching staff at some point.
Anibal Sanchez is way over the hill and honestly should still be on a major league mound. He's only pitched in 10 innings so far this season, so it's much of a sample size to draw off, but last season in over 50 innings he had a 5.52 xERA and FanGraphs has him projected as a 5.00 ERA pitcher for the rest of the season. So the Cardinals' lineup, which is 10th in wRC+ against righties, should tag Sanchez pretty good and then get into one of the worst bullpens in baseball.
I have 10.18 runs projected for this game, so I like the value on over 9 runs at -110 (Caesars) and would play it up to -115.
Pick: Over 9 runs (-110)
Phillies vs. Pirates, 7:05 p.m. ET 
Bailey Falter vs. José Quintana
This is an interesting game because the starting pitching matchup favors the Pirates, but the Phillies have been drilling left-handed pitching all season long to the tune of a .331 wOBA, which is the eighth-best mark in baseball.
Bailey Falter has been awful this season, posting a 5.80 xERA in a little over 30 innings on the mound. The good news for him is the Pirates struggle against left-handed pitching. However, Jose Quintana's xERA (4.14) is over a half a run better than Falter's.
I have the Phillies projected at -109 and the total at 8.78, so I have no value on this game.
Pick: Pass
Royals vs. Yankees, 7:05 p.m. ET 
Kris Bubic vs. Gerrit Cole
The Royals are once again massive underdogs against the Yankees. I have no interest in betting on one of the worst lineups in baseball going up against Gerrit Cole.
Pick: Pass
Tigers vs. Blue Jays, 7:07 p.m. ET 
Bryan Garcia vs. Alek Manoah
The Blue Jays are rightfully big favorites with Alek Manoah on the mound, Bryan Garcia is likely going to be an opener for a few innings, but the reality is this it's tough to make a case for the Tigers considering they are literally the worst lineup in baseball.
Pick: Pass
Guardians vs. Rays, 7:10 p.m. ET 
Shane Bieber vs. Jeffrey Springs
I think the total might be set a tad too low in Tampa tonight.
Shane Bieber has been good this year, but his xERA of 3.74 is his highest since 2019. It's mainly due to the fact that his fastball is not as effective as in years past. His spin rate is down, the whiff rate on it is down and the xwOBA allowed on it dangerously approaching .400.

(image via Baseball Savant)
Jeffrey Springs is a big-time negative regression candidate. His ERA is currently sitting at a very low 2.50, but his xERA is over a full run higher at 3.73. His LOB% is sitting at 90.2% for the season. That is not sustainable for a starting pitcher.
Take those two things into account along with the fact that he's facing a Guardians lineup that has the lowest K% in baseball, we a have recipe for some negative regression.
I have 7.8 runs projected for this game, so I like the value on Over 6.5 runs at -120 (Caesars) or better.
Pick: Over 6.5 runs (-120)
Brewers vs. Red Sox, 7:10 p.m. ET 
Brandon Woodruff vs. Brayan Bello
The Red Sox are a total mess right now. Rafael Devers and Trevor Story are hurt, they're 3-12 in their last 15 games and now they have to go up against one of the best pitchers in the National League in Brandon Woodruff.
Woodruff this season has posted a 3.16 xERA, 11.45 K/9 rate, and opposing hitters only have a .224 xBA against him. If you remove Devers from the equation, the Red Sox have a -35.5 run value against Woodruff's five pitch arsenal of fastball, slider, sinker, changeup and curveball.
It's a very small sample size for Brayan Bello in the majors, but it hasn't gone according to plan, allowing 22 hits, 14 earned runs, and eight walks in only 12 innings.
I have the Brewers projected at -162 and the total at 8.93, so value for me.
Pick: Pass
Diamondbacks vs. Braves, 7:20 p.m. ET 
Madison Bumgarner vs. Kyle Wright
Boy, Kyle Wright sure has taken a big step forward to become a legit number three or four starter for the Braves. In his previous four seasons, his xERA ballooned up over 5.00, but this season he's lowered it all the way down to 3.79.
There's a couple reasons for that, but the main one is he's drastically improved his control, as his BB/9 rate is at 2.64, when in previous seasons it was always over 5.00.
He also has made his curveball become his main pitch and is dominating with it. He throws it over 32% of the time (14.7% last season) and opposing hitters only have a .260 xwOBA against it.
The Diamondbacks are basically only a fastball-hitting team considering they have negative run values against every single offspeed pitch.
Madison Bumgarner has been below average this season, posting a 4.79 xERA, and he's going up against a Braves lineup that seemingly has no weaknesses.
I have the Braves projected at -193 and the total at 9.67. So I have no interest in playing anything in this game.
Pick: Pass
Mariners vs. Astros, 8:10 p.m. ET 
Robbie Ray vs. Justin Verlander
This is the game of the Friday night slate with the red-hot Mariners putting their ace on the mound against one of the AL Cy Young favorites, Justin Verlander, and the division-leading Astros.
Robbie Ray maybe isn't pitching at a Cy Young level, but he's still been incredibly solid: 3.49 xERA, 10.20 K/9 rate, .222 xBA against, and .293 xwOBA against.
He's faced the Astros twice including just five days ago and it went horribly, as he gave up 10 hits and six earned runs. However, Houston is 16th in MLB in terms of wOBA against left-handed pitching. So, it's not a guarantee that they will tag Ray again.
Verlander has been awesome this season, but he is due to regress a little bit. Sure, his ERA is at 1.86 and opponents are only hitting .191 against him, but his xERA is at .301 and his xBA allowed is .222.
He's also going to his fastball over 50% of the time, which the Mariners will love considering they have a +25.3 run value against fastballs.
I only have the Astros projected at -134, so I like the value on the Mariners at +155 (DraftKings) or better.
Pick: Mariners +155
Athletics vs. White Sox, 8:10 p.m. ET 
James Kaprielian vs. Lance Lynn
James Kaprielian has been an utter disaster for the A's this season. His xERA is over five, his BB/9 rate is over four and his K/9 rate is below six. However, the White Sox lineup has been so poor this year not only against righties, but against fastballs, as they rank 21st with a -10.3 run value. Not to mention Luis Robert is out of the lineup.
Lance Lynn has been very average this year (4.29 xERA) and is a heavy fastball pitcher going up against one of the worst fastball-hitting teams in baseball (-29.2 run value for OAK).
Hard pass.
Pick: Pass
Dodgers vs. Rockies, 8:40 p.m. ET 
Julio Urías vs. Chad Kuhl
The Dodgers are rightfully big favorites in Colorado tonight, but look out for the Rockies lineup, which is third in MLB in wOBA against left-handed pitching. Julio Urías has faced the Rockies three times this season and it hasn't really been smooth sailing: 13 1/3 innings, 17 hits, 10 earned runs and 12 Ks.
However, Chad Kuhl being on the mound is keeping me off the Rockies. Kuhl has a 4.63 xERA, 42.7% hard hit rate allowed, and is going up against the best lineup in baseball in terms of wRC+ against right-handed pitching.
I have the Dodgers projected at -162, but I have no real interest in backing Chad Kuhl and the Rockies bullpen tonight.
Pick: Pass
Rangers vs. Angels, 9:38 p.m. ET 
Martín Pérez vs. Patrick Sandoval
By now you've heard the news that Mike Trout is out indefinitely for the Angels, which is a massive blow to their season and significantly downgrades their offense.
Without Trout in the lineup, I downgrade the Angels by 0.32 runs, which is one the biggest values in baseball.
Tonight, the Angels will be facing lefty Martín Pérez, which is a terrible matchup for them because Los Angeles is 26th in MLB in terms of wOBA against left-handed pitching. The Angels also have a -8.8 run value against Pérez's main three pitch arsenal of sinker, changeup, and cutter. Not to mention Pérez is having a fantastic season, posting a 3.18 xERA and he made the American League All-Star team.
Patrick Sandoval is a big time negative regression candidate with his xERA being almost a full run higher than his actual ERA. The main problem he's having is his fastball is getting smoked. Opposing hitter have .371 xBA & .468 xwOBA against and it's also generating only a 7.2% whiff rate.
The Rangers have hit left-handed pitching well this season, as they're top 10 in both wOBA and wRC+.
I have the Rangers projected at -115, so I like the value on them at -103 (BetRivers) or better.
Pick: Rangers -103
Twins vs. Padres, 9:40 p.m. ET 
Joe Ryan vs. Blake Snell
Joe Ryan has turned into Minnesota's ace this season. His xERA is sitting at 3.34, which is impressive for a heavy fastball pitcher (57.7% usage, per Baseball Savant). Opposing hitters only have a .212 xBA and .308 xwOBA. San Diego is a terrible fastball hitting team, ranking 24th against them with a -24.2 run value.
Blake Snell is a positive regression candidate, as his xERA is almost a full run lower than his actual ERA, but he's having some issues with his control because his BB/9 rate is all the way up at 5.40.
He's much like Ryan in the fact that he's also a heavy fastball pitcher, which isn't going to work against the Twins who are the fifth best fastball hitting team in baseball with a +36 run value on the season.
I have the Twins projected as a -114 favorite for the first five innings, so I like the value on the current line of +100 (Caesars) or better.
Pick: Twins First Five Innings +100
Cubs vs. Giants, 9:40 p.m. ET 
Marcus Stroman vs. Alex Cobb
Alex Cobb is one of the biggest positive regression candidates in MLB right now. For the season, he has a 4.26 ERA, but his xERA is at 2.89. Opponents are not squaring the ball up on him, as his barrel rate allowed is a very low 3.1% and he's also at the highest groundball rate of his career 61.2%, per FanGraphs.
Taking a look at his advanced metrics, does this look like a guy who should have a 4.26 ERA?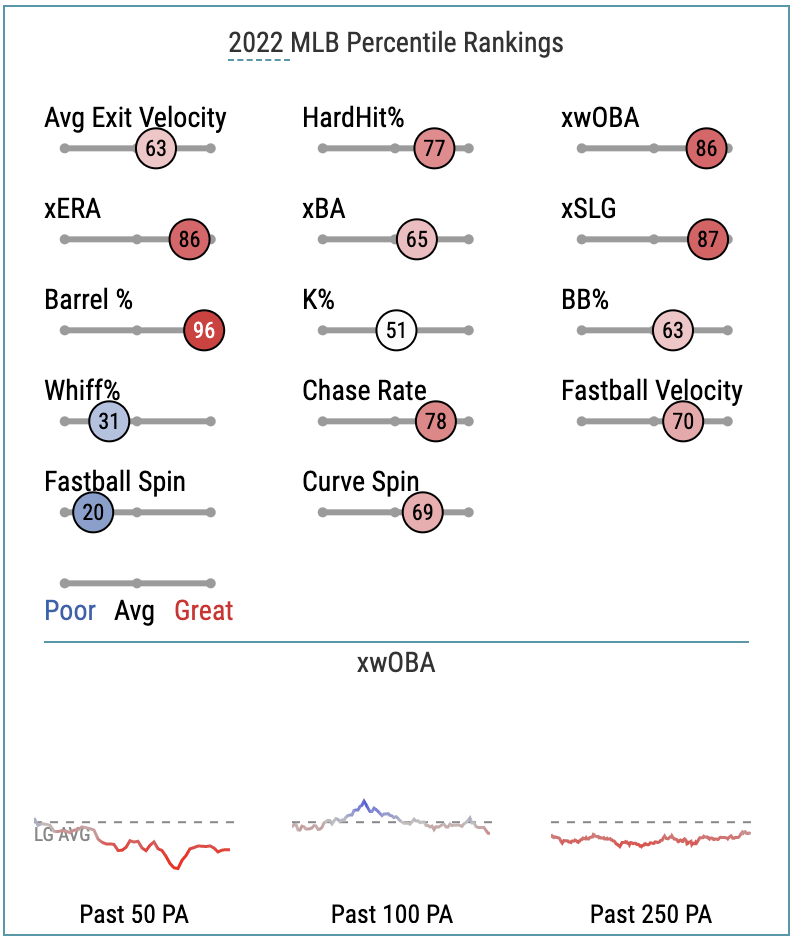 (image via Baseball Savant)
Marcus Stroman has been very average for the Cubs this season: 4.21 xERA, 45.8% hard hit rate allowed and a .264 xBA allowed. Stroman is a heavy sinkerball pitcher, but he has not been effective with him main pitch this year (.269 xBA & .359 xwOBA allowed). The Giants have a +12.5 run value against sinkers, so it's going to be a tough matchup for Stroman.
The Cubs have a pretty significant advantage in the bullpens (3.60 xFIP for CHC vs. 4.28 xFIP for SFG), so I am going to avoid that mismatch and play the Giants for the First Five Innings at -135 (BetMGM), as I have them projected at -157.
Pick: Giants First Five Innings -135
---
Follow all of B.J. Cunningham's bets in the Action Network app! Click here.
How would you rate this article?
This site contains commercial content. We may be compensated for the links provided on this page. The content on this page is for informational purposes only. Action Network makes no representation or warranty as to the accuracy of the information given or the outcome of any game or event.