MLB Picks Today | Odds, Expert Projections for Saturday, May 13
Credit:
Getty Images. Pictured: Lane Thomas, Joe Ryan and Ryan McMahon
Welcome to Opening Pitch, my column that you'll find daily throughout the 2023 MLB season.
My goal for Opening Pitch is to highlight my top daily projection edges for MLB moneylines and totals, share my favorite bets and provide some betting notes and analysis, mainly as I react to opening and overnight lines while using my baseball betting model.
I will look to release a new version of Opening Pitch daily between midnight and 3 a.m. ET; after I enter my overnight bets in the Action Network App and update the MLB projections. Hopefully, you will use it as your morning betting guide to get ahead of the baseball markets.
You can find my projections for every MLB game in the Action App (on both the PRO Projections tab and the game pages) and our Projections Hub (which you can bookmark).
You can also shop for the best lines on our odds page.
Expert Picks for Saturday, May 13
Tampa Bay Rays vs. New York Yankees
Shane McClanahan vs. Nestor Cortes Jr.
First Pitch: 1:05 p.m. ET
I'm accustomed to betting on the Rays at plus money in Yankee Stadium; rather than betting the Yankees to pull the upset as home underdogs against Tampa Bay.
Since 2005, the Yankees have only been home underdogs 103 times out of 1,429 home games (7.2%). Of those 103 games as home underdogs, the Rays have been the visitor 18 times (17.4%)
I give Shane McClanahan (career 2.93 xFIP) the advantage over Nestor Cortes Jr. (4.30 xFIP); still, as I have mentioned throughout the week, the Rays are due for negative regression both offensively (.368 wOBA,353 xwOBA) and in their bullpen (3.08 ERA, 4.81 xFIP; 28th in K-BB%; 1st in BABIP). Conversely, the Yankees (.309 wOBA, .330 xwOBA) are due for positive regression offensively and have a top-10 bullpen by the same underlying indicators.
I projected the Yankees as +106 underdogs (48.5% implied) for Saturday. Bet the Bombers down to +115 (46.5% implied odds) at a two percent edge compared to my projection.
Seattle Mariners vs. Detroit Tigers
Bryce Miller vs. Alex Faedo
First Pitch: 1:10 p.m. ET
Bryce Miller has posted consecutive dominant efforts against the Athletics and Astros (combined 12 IP, 4 H, 1 ER, 1 BB, 15 K) to begin his major league career. The 24-year-old righty has flashed an explosive fastball (average 96.1 mph) alongside a pair of breakers and a show-me changeup. The fastball is a 70-grade pitch, and Miller deploys it around 70% of the time. Whether Miller can develop plus secondary stuff will determine his career trajectory.
For Saturday, I give Miller a decent advantage over Alex Faedo (career 5.20 xFIP) and the Tigers' offense in the first half. It's worth reiterating over and over again: the Tigers have the league's worst offense against right-handed pitching since the start of last season — and they have been historically bad over that stretch — but they rank far closer to average against left-handed pitching.
I projected Miller and the Mariners as -187 favorites for the first five innings (F5). You can bet Seattle on the F5 moneyline up to -172.
Chicago Cubs vs. Minnesota Twins
Hayden Wesneski vs. Joe Ryan
First Pitch: 2:10 p.m. ET
The Joe Ryan ascension has been one of my favorite things to watch this season, and he's a legitimate AL Cy Young contender moving forward.
Ryan's new splitter (26.9% usage rate) has complemented his fastball and sweeper perfectly; and helped optimize a simple three-pitch mix where Ryan primarily works fastball and sweeper against righties (combined 77.3% usage) and fastball and splitter against lefties (combined 94.5% usage).
Thus far, the splitter has generated a .216 xwOBA; it's been Ryan's best offering.
I liked Hayden Wesneski coming into the year, but he has struggled to generate strikeouts (15.9% strikeout rate; down 9% year-over-year) in his sophomore season. I have downgraded his rating relative to my priors.
I set Ryan and the Twins as 64.8% F5 favorites (-184 implied odds) for the first five innings. Bet the Twins on the F5 moneyline up to -170, just under a two percent edge compared to my projection.
New York Mets vs. Washington Nationals
Joey Lucchesi vs. Trevor Williams
First Pitch: 4:05 p.m. ET
Giving Joey Lucchesi regular starts shows how dire the pitching situation is in Queens with Max Scherzer, Jose Quintana, and Carlos Carrasco all injured and both Tylor Megill and Kodai Senga struggling.
Lucchesi (5.23 FIP, 4.54 xFIP) hasn't provided quality innings like he did last season (3.40 FIP, 4.03 xFIP in 38 1/3 innings). I view the pitching matchup against Trevor Williams (4.86 FIP, 4.94 xFIP) — who pitched well for the Mets last season (3.88 FIP, 3.94 xFIP) — as a relative wash.
I projected the Nationals closer to +120 in this matchup. Bet their moneyline at +130 or better.
Unlike the Athletics, who have mostly dropped blowout losses, the Nationals have been highly competitive; they are 6-8 in one-run games and held a late-innings lead in many of those losses.
The Nationals have impressed me the most of the teams expected to be among the bottom tier coming into the season. I don't mind betting on them nearly as much as last season.
Against lefties, they have the lowest strikeout rate (15.6%) of all teams and rank as an above-average offense (109 wRC+, 12th). Those rankings fall to third and 29th against right-handed pitching.
St. Louis Cardinals vs. Boston Red Sox
Steven Matz vs. Chris Sale
First Pitch: 4:10 p.m. ET
We eagerly bet the Over in Boston on Friday and got fairly substantial CLV at close; I expect Saturday's total to close at 10 or higher too.
We have decent hitting weather yet again — 79 degrees at first pitch — and another left-handed starter against the Cardinals — the No. 1 offense in baseball against southpaw pitching over the past two seasons.
The Red Sox have fared far better against righties than lefties. Still, Steven Matz (5.24 FIP) has struggled this season (11.1% K-BB% vs. 15.3% career), while Sale appears to be rounding into form after averaging 96 mph on his fastball in his last start — his highest average velocity in an outing since September 2018: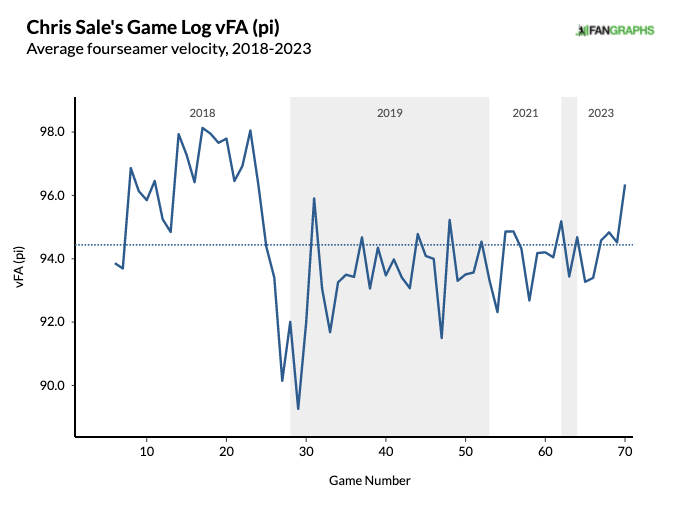 As a result, I'm not nearly as keen to bet the Over as yesterday, despite a projection edge. I set this total at 10.48; bet Over 9.5 to -128, or Over 10 to -108.
I would also consider betting an F5 Over 5 to -125 (projected 5.58); however, I would get these shaky bullpens involved and avoid doubling against Sale's contributions to the game.
Pittsburgh Pirates vs. Baltimore Orioles
Roansy Contreras vs. Tyler Wells
First Pitch: 7:05 p.m. ET
I'm a fan of both starting pitchers in this matchup, and if you have followed along since last season you have probably bet on Roansy Contreras or Tyler Wells at least a few times.
As a result, it didn't take much to pull the trigger on the Under; I set this total at 7.85; bet Under 8.5 to -115.
Both offenses have performed better against lefties (Baltimore fourth, Pittsburgh ninth in wRC+) than righties (15th and 17th, respectively) this season, and some decent pitching weather (temperatures in the mid-'60s, light wind blowing in from center field) helps out the cause.
Houston Astros vs. Chicago White Sox
Brandon Bielak vs. Dylan Cease
First Pitch: 7:15 p.m. ET
Compared to other venues around MLB, Guaranteed Rate Field in Chicago should see decent pitching weather on Saturday: temperatures in the mid to low 60s, with a 9.5 mph cross breeze to suppress some power at a park reliant on homers for run scoring.
Dylan Cease has taken a slight step back this season, losing a tick of velocity across his arsenal and five percent off his strikeout rate (25.9% in 2023 vs. 30.4% in 2022 and 31.9% in 2021). The decline in strikeout rate — which peaked for Cease in late 2021 and early 2022 — has been steady for a while now: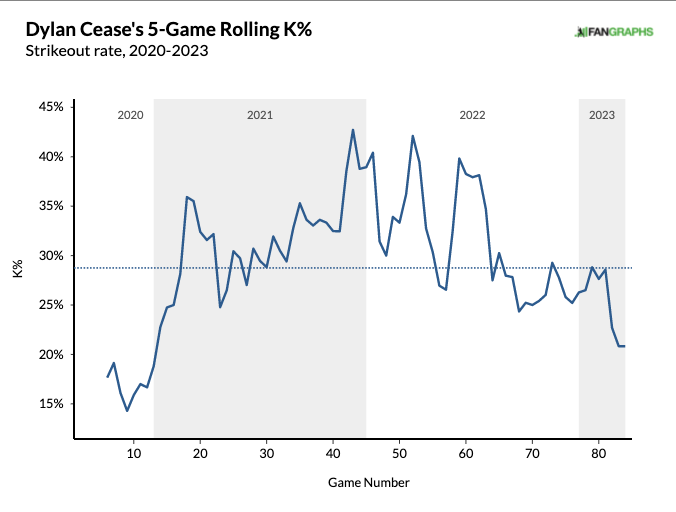 Still, without Jose Altuve or Michael Brantley in the lineup, the Astros' offense (89 wRC+, 24th) is far less imposing than it has been in recent seasons.
And Brandon Bielak's handedness keeps the White Sox in their lesser split (22nd vs. righties, 13th vs. lefties). I generally target the White Sox against southpaw pitchers and fade their offense with righties.
I set Saturday's total at 8.22; bet Under 9 to -120 or Under 8.5 to -102.
San Diego Padres vs. Los Angeles Dodgers
Joe Musgrove vs. Julio Urias
First Pitch: 7:15 p.m. ET
Dodger Stadium should see decent hitting weather on Saturday: 79 degrees at first pitch, with 7-mph winds blowing out to center field.
Both offenses are in their more favorable split. The Dodgers rank third against righties (119 wRC+), while the Padres are eighth against lefties (115 wRC+) this season, compared to the bottom-10 rankings against their lesser split.
We continue to see a slightly reduced version of Julio Urias, who has finally returned to earth without the shift. Urias has carried a career of .271 BABIP — roughly 25 points better than the MLB average — thanks to a bevy of weak contact.
However, if he's going to permit more hits without the shift — and see additional flyballs turn into home runs with juiced baseballs — Urias looks far more pedestrian. The southpaw has outperformed his xFIP (3.98) by nearly a run for his entire career (2.89 ERA); that gap seems poised to shrink by the end of this season.
I set Saturday's total at 9.1. I bet Over 8.5 to -112.
Philadelphia Phillies vs. Colorado Rockies
Ranger Suarez vs. Ryan Feltner
First Pitch: 8:10 p.m. ET
Since the start of the 2022 season, the Rockies have hit far better against lefties (96 wRC+, 21st) than righties (80 wRC+, 29th), giving them a decent chance to pull the upset at home against Ranger Suarez, who will come off the IL on Saturday to make his season debut, after nursing an elbow strain.
Suarez has been far more effective against lefties (2.74 xFIP, 18.5% K-BB%) than righties (4.13 xFIP; 11% K-BB%) throughout his career, and the Rockies can toss out eight right-handed or switch-hitting bats against him.
Even projecting Suarez somewhere close to his form from last season (3.65 xERA), I still have the Rockies as +118 underdogs in this matchup; bet their moneyline at +128 or better.
Zerillo's Bets for Saturday, May 13
For additional bet notifications, follow me in the Action Network App. 
Atlanta Braves (+115, 0.5u) at WynnBet (bet to +115)
Arizona Diamondbacks F5 (-165, 0.5u) at DraftKings (bet to -165)
Cincinnati Reds / Miami Marlins, Over 7 (-110, 0.5u) at DraftKings (bet to -115)
Cleveland Guardians (+115, 0.5u) at WynnBet (bet to +114)
Houston Astros/Chicago White Sox, Under 9 (-120, 0.5u) at WynnBet (bet to -120 or 8.5, -102)
New York Yankees (+120, 0.5u) at WynnBet (bet to +115)
Pittsburgh Pirates (+155, 0.5u) at WynnBet (bet to +153)
San Diego Padres / Los Angeles Dodgers, Over 8.5 (-105, 0.5u) at Caesars (bet to -112)
Seattle Mariners F5 (-150, 0.5u) at FanDuel (bet to -172)
Seattle Mariners / Detroit Tigers, Under 9 (-120, 0.5u) at DraftKings (bet to -125 or 8.5, -106)
St. Louis Cardinals F5 (+120, 0.5u) at WynnBet (bet to +114)
St. Louis Cardinals (+120, 0.5u) at WynnBet (bet to +119)
St. Louis Cardinals / Boston Red Sox, Over 9.5 (-120, 0.5u) at DraftKings (bet to -128 or 10, -108)
Washington Nationals (+130, 0.5u) at FanDuel (bet to +130)
How would you rate this article?
This site contains commercial content. We may be compensated for the links provided on this page. The content on this page is for informational purposes only. Action Network makes no representation or warranty as to the accuracy of the information given or the outcome of any game or event.