Week 11 College Football Odds, Predictions: 5 Best Bets for Noon Matchups, Featuring Arkansas vs. LSU, Notre Dame vs. Navy & More
Credit:
Andy Altenburger/Icon Sportswire via Getty Images. Pictured: The Arkansas Razorbacks.
Another Saturday college football slate is upon us.
This Week 11 docket features wall-to-wall action from noon ET all the way through a classic Hawaii kickoff on the island at 11 p.m. ET.
But right now, we're focused on the noon games, and our staff came through with five best bets for Saturday's early games. So, whether you're looking to bet an SEC underdog, sell high on Notre Dame or lock in a two-leg parlay, we have you covered.
Read on for all five of our college football best bets for Saturday's noon slate — and be sure to check out the rest of our best bets for the afternoon and evening slates.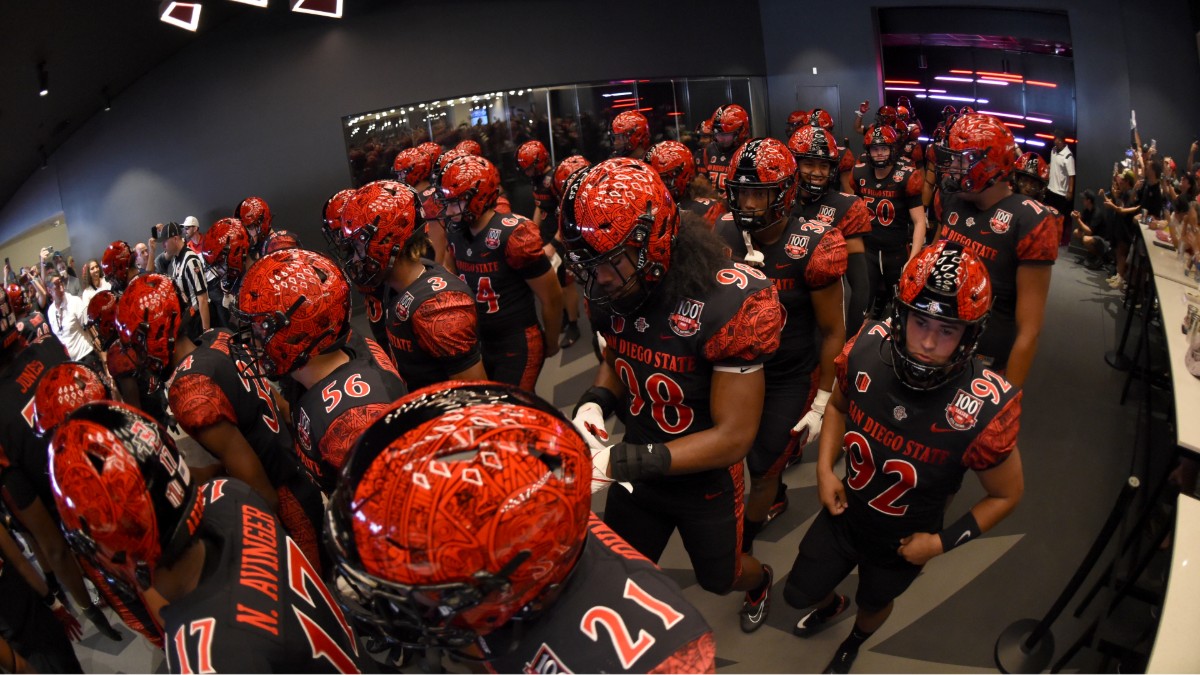 ---
Saturday Noon College Football Best Bets
The team logos in the table below represent each of the matchups that our college football staff is targeting from Saturday's noon slate. Click the team logos for one of the matchups below to navigate to a specific bet discussed in this article.
---
LSU vs. Arkansas
After backing the Tigers against both Ole Miss and Alabama, it's time to sell high on LSU. I absolutely love this spot for Arkansas, coming off of a bad loss last week to Liberty with an opportunity to bounce back against a top-10 opponent.
While LSU has plenty to play for in the SEC West race, it's hard to see the Tigers coming out as focused as last week following that emotional win over Bama.
On the field, Arkansas has one of the more physical rushing attacks in all of the SEC, and that's where you can have success against the Tigers' defense.
Look for KJ Jefferson to use his legs with some read-option plays, and then he'll also have the opportunity to take some chances down the field.
Jayden Daniels and the Tigers' offense have been much better in recent weeks, but I expect the Hogs to bring some pressure and get LSU off schedule.
I think this game comes right down to the wire as most LSU games have all season, so I will gladly back the home team getting 3.5 here. Wooo Pig Sooie.
---
---
Navy vs. Notre Dame
This is an awful spot for Notre Dame, which is poised for a letdown after its massive victory over Clemson. We have seen the Irish largely play to the level of their competition this season, highlighted by losses to Marshall and Stanford as three-possession favorites.
And Notre Dame is coming off two huge victories over Clemson and Syracuse.
It won't be easy for the Irish to get fired up for this matchup against Navy, which leaves them vulnerable. The Midshipmen rank among the top 15 in Defensive Line Yards, Stuff Rate and Yards Per Rush. They will be able to slow down Notre Dame's rushing attack.
The Irish will have an advantage through the passing game, but that's not their offensive identity. Notre Dame runs the ball on 61% of its offensive plays, which ranks 12th in the nation.
Navy will bleed the clock through its run-heavy offense that plays at one of the slowest tempos. The clock should be continuously moving in this matchup, and it doesn't hurt that we will be catching 17 points in a matchup that has a total in the low 40s.
Pick: Navy +15.5 ⋅ Play to +14.5
---
---
Pitt vs. Virginia
By Doug Ziefel
On Thursday, Pat Narduzzi confirmed that running back Israel Abanikanda is on track to play in this game, which is all we need to fire on the Panthers here.
Abanikanda is ninth in the country in rushing and is tied for the most rushing touchdowns in the nation. He should have a field day against this Cavaliers' defense.
Now, Virginia may be ranked 32nd in yards per rush allowed, but it's 115th in Defensive Line Yards. Meanwhile, Pitt is 54th in Offensive Line Yards. The Panthers should be able to dominate the trenches when in possession and give Abanikanda all the openings he needs.
On the other side of the ball, Virginia has been dreadful, as Brennan Armstrong has dropped off significantly this season. His play has hampered the offense's production, as it averages just 16 points per game.
To make matters worse, he has a tough matchup against this Pitt secondary, which comes in ranked eighth in opponent completion percentage and 23rd in yards per pass allowed.
Pitt should be in total control of this game, as it'll dominate on the ground and shut down the Cavaliers' passing attack.
Pick: Pitt -4.5 ⋅ Play to -6
---
---
USF vs. SMU
By Stuckey
It's our weekly new interim coach spot.
After an absolutely lifeless effort in a blowout loss at Temple in which the Bulls allowed 54 points, the administration decided to part ways with head coach Jeff Scott.
So, why have I itched to back teams in this spot all season? Three primary reasons:
Potential locker room morale boost.
Usually signifies bottom of the market.
Higher likelihood to show new looks and schemes not on film.
It's also not an ideal situational spot for SMU. After putting up 77 points in a wild victory over Houston, it travels to one-win South Florida ahead of a date with ranked Tulane.
Don't expect many stops from a horrid USF pass defense against the electric SMU Air Raid.
However, the best defense might be a ball-control offense. USF does have a very good rush offense that sits in the top 10 nationally in EPA per Rush. That could spell trouble for a very poor SMU run defense that ranks 125th in EPA per Rush.
The Bulls are one of only 24 programs that average over 5.0 yards per carry. Meanwhile, SMU ranks in the bottom 20 in FBS in yards per rush allowed (4.8).
It's worth noting that USF starting quarterback Gerry Bohanon is out for the year with an injury.
However, Katravis Marsh looked a lot more comfortable in his second start against Temple. He doesn't have the same rushing ability as Bohanon but actually has the same number of passing touchdowns with five fewer interceptions and a higher yards-per-attempt number.
If South Florida comes out with an inspired effort under a new interim head coach, it should stay within this inflated number.
The Bulls have already demonstrated they can hang with superior teams when they show up. They arguable should've beaten both Florida and Cincinnati on the road and stayed within two scores of Tulane and Houston.
If not, it could get very ugly. But that's a risk I'm willing to take.
Also of note — the six previous schools to fire their coaches midseason in 2022 have gone 13-11 ATS after making the change compared to just 5-21 (23.8%) prior to the move.
---
---
Tennessee vs. Missouri & Alabama vs. Ole Miss
Chaos was in full effect last week in the SEC and atop the College Football Playoff rankings as No. 1 Tennessee and No. 6 Alabama lost.
As both teams look to regroup after a heartbreaking weekend, the picture is much rosier for Tennessee – which has the fourth-longest odds (+1200) to win the National Championship, whereas Alabama currently sits as the sixth-longest (+5000) odds.
The Volunteers still have a very reasonable shot at making the CFP, but they need to make their case by winning out and winning big, which the CFP and pundit commonly refer to as style points.
A squeak out victory against Mizzou this weekend – similar to what Georgia did a few weeks ago – is not going to help the Volunteers re-crack the exalted top four of the CFP. The Volunteers need to assert dominance from here on out.
The path to the CFP is a much taller order for the Crimson Tide because no two-loss team has ever made the CFP. If there were ever a wizard to orchestrate a two-loss CPF appearance though, it would be Nick Saban.
Saban's teams have been excellent following a regular-season outright loss in recent years. In fact, in the last six seasons, the Tide have been perfect, going 4-0 against the spread following a loss. Alabama's path to the improbable starts this weekend and will require perfection with style points.
My model has both teams favored relative to where the current market is, with Tennessee as 23.5-point favorites and Alabama as 13-point favorites.
It's important to note that these are just model advantages and do not account for the X-factors related to redemption and CFP grandeur, which further the spread advantages held by Tennessee and Alabama.
Tennessee and Alabama both have to get back on track this weekend. It's not a matter of will at this point, but necessity. Tennessee has a clearer path, but Alabama is excellent in this post. Parlay the chalk for both teams at +250 or better.
Pick: Parlay — Tennessee -20 · Alabama -11.5 (+264)
How would you rate this article?
This site contains commercial content. We may be compensated for the links provided on this page. The content on this page is for informational purposes only. Action Network makes no representation or warranty as to the accuracy of the information given or the outcome of any game or event.