College Football Week 0 Odds, Predictions, Best Bets: 11 Picks, Including UTEP vs. North Texas, Northwestern vs. Nebraska, More
Credit:
Matthew Pearce/Icon Sportswire via Getty Images. Pictured: The North Texas Mean Green football team.
It's been nearly eight months since Georgia's Kelee Ringo picked off Bryce Young, sprinted 79 yards for a touchdown and simultaneously became one of the most loved and loathed players for sports bettors across the country.
But starting Saturday, a new era begins. Players and coaches from all 131 FBS programs might not know it, but they will inadvertently endear themselves to hundreds of thousands of college football maniacs.
There's no better time to start the process than Week 0.
From the United States to Ireland, our staff came through with 11 best bets for five of Saturday's opening college football games. So, strap in, grab your beverage of choice and lock in some bets. We have work to do.
---
Week 0 College Football Best Bets
The team logos in the table below represent each of the matchups that our college football staff is targeting from Saturday's slate of games on Aug. 27. Click the team logos for one of the matchups below to navigate to a specific bet discussed in this article.
---
Nebraska vs. Northwestern
A lot of changes have taken place at Nebraska this offseason.
First, former Texas quarterback Casey Thompson is now under center for the Huskers, with longtime turnover-prone starter Adrian Martinez moving on to Kansas State.
Secondly, Mark Whipple now serves as the offensive coordinator after turning Kenny Pickett into a first-round draft pick at Pitt last season.
In terms of pace, Nebraska came in at 2.40 plays per minute last season, which ranked in the top 40. At Pitt, Whipple played even faster at 2.48 plays per minute. Add in the fact that Thompson is coming over from Steve Sarkisian's offense at Texas (also top-50 in plays per minute), and it's clear Nebraska's offense is going to be fast.
Northwestern's defense was awful last season, ranking outside the top 100 in both Passing and Rushing Success Rate.
The Wildcats allowed 6.3 yards per play a season ago to rank 111th in college football. What's even worse is the Wildcats have only five returning starters on defense – their TARP rating sits at 0. Top tackler Chris Bergin, who had 141 tackles and 52 more than anyone else on the defense, is gone.
Northwestern did not utilize a slow, methodical offense last season. It actually had the same tempo as Nebraska at 2.40 plays per minute, which ranked top-40 in the country.
That means I think the pace of this game will be faster than most are expecting.
Nebraska also ranked outside the top 70 in both Defensive Rushing and Passing Success Rate Allowed. The Blackshirts also return only five starters from last season.
I have 61.5 points projected for this game, so I think there's a lot of value on over 50.5 points. Also, winds are only supposed to be at around five mph, so they should not be a factor.
Pick: Over 49.5 (Play to 55.5)
Nebraska vs. Northwestern
After what seems like an eternity, the Adrian Martinez era is officially over in Lincoln.
As Martinez moves on to Kansas State, the Huskers inherit former Texas quarterback Casey Thompson. A former four-star recruit, Thompson will look to make a statement in his inaugural game as a Husker while simultaneously trying his best to help head coach Scott Frost salvage what has been a troubled tenure at Nebraska.
Last Season, Thompson passed for 2,113 yards, 24 touchdowns and nine interceptions as a starter. He was plagued by a thumb injury that limited his productivity and decided to split for greener pastures — or corn-filled pastures — after Texas landed Quinn Ewers via the transfer portal.
This season, Thompson will work under the tutelage of quarterback whisperer and new offensive coordinator Mark Whipple. Whipple was instrumental in the development of Ben Roethlisberger when he was with the Steelers as a quarterbacks coach from 2004-06. Recently, Whipple was the offensive coordinator and quarterbacks coach for Pitt and worked very closely with first-round draft pick and Heisman finalist Kenny Pickett.
In addition to the new looks at quarterback and offensive coordinator, the Huskers bring back a veteran stable of running backs. Rahmir Johnson returns after rushing for 495 yards last season, and Anthony Grant — a former Florida State product and JUCO standout — impressed in his spring game debut for the Huskers.
Thompson and the Huskers will face a Northwestern squad that stunk on defense last year. Second-year coordinator Jim O'Neil led a unit that finished 119th in the nation against the run and 89th in scoring defense, surrendering 29.0 points per game.
Northwestern averaged only 16.6 points per game last season, ranking 125th in FBS last season. In his past two seasons at Pitt, Whipple averaged 35.2 points per game.
Based on last season's stats and the new look on offense this season, I'm projecting Nebraska as 17-point favorites in Dublin. Given the changes made on offense in the offseason, a corps of veteran running backs and returning defensive productivity, I like the Huskers on the road in Week 0.
Pick: Nebraska -11.5 (Play to -12.5)
---
---
Nebraska vs. Northwestern
After navigating the near nine-month college football desert that is the offseason, the gods have rewarded our patience with the international blockbuster that we've all been pining for: a meeting of two 2021 three-win teams that both lost their last six games of the season.
Northwestern took a giant step back last season from 2020, but the offensive statistics were most offensive. The Wildcats ranked last in the Big Ten in scoring — averaging just 16.6 points per game — and were 128th of 130 teams in red zone scoring, converting on just 67.7% of trips inside the opponent's 20.
All signs point to quarterback Ryan Hilinski getting the start in Dublin, but Pat Fitzgerald playing coy about who his starting quarterback will be doesn't exactly portray a breakthrough season at the position.
The 2021 five-game starter completed only 54% of his passes at a 5.6 yard-per-throw rate, with a 3:4 touchdown-to-interception ratio. And his top pass catcher from a year ago, Stephon Robinson Jr., has since graduated.
Offensive coordinator Mike Bajakian is back for his third season, so don't expect any innovative scheme changes for the Wildcats.
The only thing going for the Northwestern offense is its ground game behind All-American left tackle Peter Skoronski. Evan Hull, a 1000-yard rusher last season, returns with 2020 leading rusher Cam Porter.
But the more the Wildcats lean on their run game, the more they play into a favorable game script for the under as the clock ticks away. And the strength of the Cornhuskers' defense is its front seven.
There's far too many new variables on the offensive side of the ball for Nebraska – including a new OC and quarterback – for me to comfortably entertain a play on the game total.
Instead I'll just lean on the known commodity that is the anemic Northwestern offense, and continue to fade it until proven otherwise this season.
Pick: Northwestern Team Total Under 18.5 (Play to 17.5)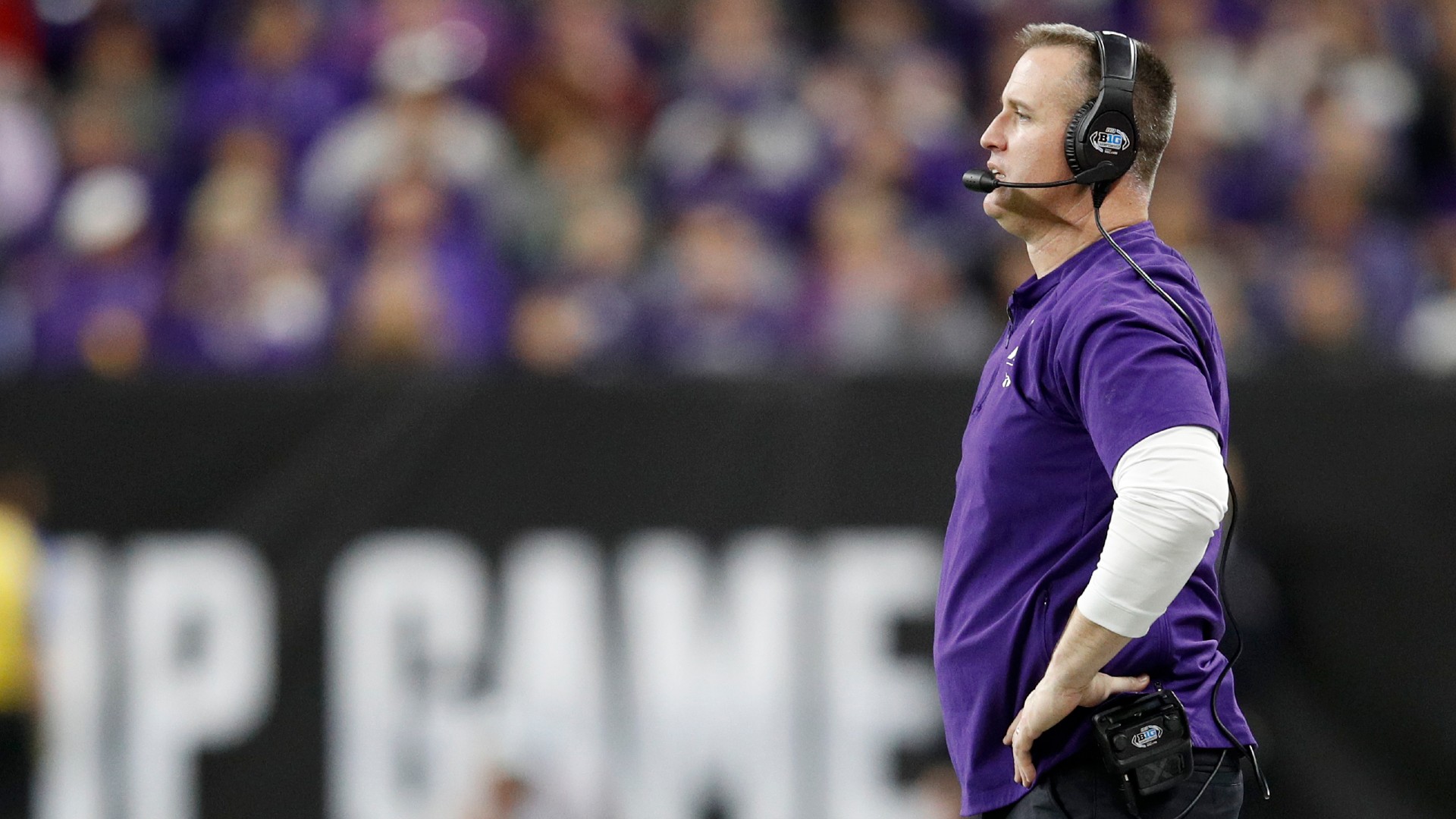 Wyoming vs. Illinois
By Cody Goggin
Wyoming is having to replace an absurd amount of production this season. The Cowboys are without last year's quarterback, their 1,000-yard rusher, their top two receivers, the entire interior of their offensive line and 11 of their 15 top tacklers from a season ago.
All of this turnover going into a game against a physical Big Ten team led by Bret Bielema? No thank you.
Incoming quarterback Tommy Devito showed competent play at Syracuse, and will likely stabilize an Illinois offense that has struggled to pass in previous years. Bielema's teams are known for their power-run style, which is not a good matchup for a Group of Five team with little experience and lesser talent.
The Illini ran the ball 57% of the time last season, which was the 25th-highest rate in the country. Illinois returns both of its tackles from last year, as well as its top three rushers.
If Wyoming falls behind in this game, I don't have faith that it will be able to effectively pass the ball to keep up with the Illini, either. Last season, the Cowboys ranked 106th in the nation in Passing Success Rate.
In 2021, Illinois' defense ranked second in the country in Explosiveness and allowed only 18.8 points per game in Big Ten play. Six starters return to this unit, including five of the Illini's top seven tacklers from a year ago.
Unfortunately, we have already missed a lot of the line movement with this one, as it was sitting at -10.5 at some books on Thursday. I still believe that the sharp money on this is right, and that Illinois should be able to win this game handily.
Pick: Illinois -13 (Play to -13.5)
---
---
Charlotte vs. Florida Atlantic
By Doug Ziefel
Our Action projections have the Owls as 10.3-point favorites in their season opener, and for a good reason. Florida Atlantic is returning 87% of its offense, which includes quarterback N'Kosi Perry and leading rusher Johnny Ford.
These two have excellent matchups, as the 49ers only return 55% of their production from a defense that wasn't impressive last year.
Perry should be able to light up an inexperienced Charlotte secondary that ranked 113th in opponent completion percentage and 130th in yards per pass allowed last season. That last stat is key, as Perry led a fairly explosive passing game that consisted of the Owls ranking 45th in yards per pass last year.
However, FAU has a balanced offensive attack, which means we will see a lot of Ford. Ford is fun back to watch, as he stands at only 5-foot-5. His small stature makes him shifty and gives him a lower center of balance, which helped him average 6.8 yards per carry.
The 49ers were not much better against the run last season, either. They allowed opposing running backs to rush for 5.5 yards per carry, which ranked 117th in the country.
This game will be a shootout, as the Owls only return two of their top eight tacklers and one starter from their secondary. However, FAU is the much more talented offense and should be able to go up by multiple scores after any stop.
Pick: Florida Atlantic -7 (Play to -8.5)
Charlotte vs. Florida Atlantic
Charlotte and Florida Atlantic return 82% and 89% of their production, respectively, on the offensive side of the ball.
Charlotte quarterback Chris Reynolds boasted 2,680 total passing yards with a completion percentage of 63.9% in 2021. He threw for 26 touchdowns with a 2.8 TD-INT ratio. He returns his top four receivers and gets Wake Forest transfer Nolan Groulx from the transfer portal.
A Florida Atlantic offense that averaged 25.6 points per game last season brings back QB N'Kosi Perry, who has spent three seasons at Miami. Last year, Perry threw for 2,771 yards, with a completion percentage of 60.9%. The high-returning production percentage on offense for the Owls includes their leading rusher and top two wideouts.
Defensively, both teams lose their top two tacklers from a year ago and only return six starters each.
Charlotte finished last year with an Offensive Explosiveness rating of 1.31, while FAU's was even higher at 1.33. While their defenses figure out who the next man up is, these offenses are going to pick up right where they left off from a scoring perspective.
This number has been bet up from its opener of 57.5 to 60 at the time of writing. These two teams have enough explosiveness to find value up to the key number of 61.
Pick: Over 60 (Play to 61)
---
---
North Texas vs. UTEP
North Texas should come into this season with a ton of confidence after winning its final five games to earn a bowl trip.
The Mean Green return veteran quarterback Austin Aune, back for his fifth season at North Texas after six seasons in the New York Yankees organization.
Despite his age, he still could have room to grow. He didn't begin last season as the starter but took over in Week 5. In his first three games, North Texas went 0-3 as he threw sic interceptions. In the next five games, however, it went 5-0 as he threw just one pick.
The Mean Green really shifted their offense to a run-first approach, and it worked wonders. Despite losing lead back DeAndre Torrey, the backfield returns three backs who all scored at least five touchdowns last year.
Ayo Adeyi averaged 6.1 yards per attempt and 3.67 yards after contact last season. They should have four really solid running backs with Oscar Adaway returning after tearing his ACL last spring.
On the other side of the ball, All-Conference linebacker KD Davis is a monster for the Mean Green and will look to shut down UTEP running back Ronald Awatt after holding him to just 85 yards last season.
That defense will also not have to deal with Miners star receiver Jacob Cowing, who's off to Arizona. Cowing posted 174 yards and a touchdown in this matchup last year and was so crucial to this passing attack.
In all, the Minors lost 70% of their catches and receiving yards from last year and should take a step back on offense.
North Texas won this matchup last November, 20-17, and now is just a pick'em on the road. I love UTEP but expect it to take a step back after losing Cowing, as well as its entire secondary on defense.
North Texas should stick with the run-first approach that worked so well last year and pick up another win over Miner Nation.
Pick: North Texas +0.5 (Play to -2.5)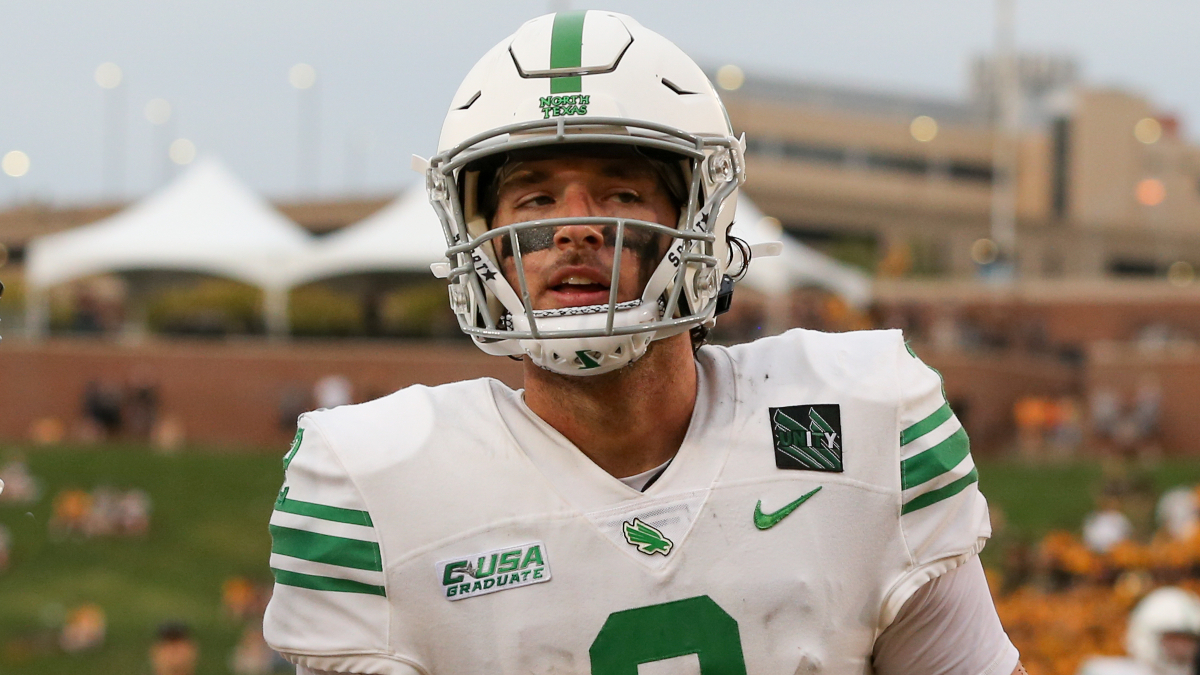 North Texas vs. UTEP
The talent in each team's front six is overwhelming.
North Texas returns C-USA Defensive Player of the Year candidate K.D. "Shark" Davis at middle linebacker (121 tackles, 13 TFLs) and added a JUCO All-American in Tom Trieb at defensive end (25 TFLs).
UTEP, meanwhile, returns it's entire front six intact, including the stout Praise Amaewhule (13 TFLs).
Why is all this returning production and star power in the box so important? Because both teams want to run the ball to set up the pass in this game.
Outside of the service academies, North Texas had the highest run rate in the entire country last season (49 carries per game). It returns four starters along the offensive line and boasts an impressive trio of experienced backs in Oscar Adaway III, Ikaika Ragsdale and Ayo Adeyi.
But it lost DeAndre Torrey, a four-year starter who could hit the home run out of the backfield. Without Torrey, the Mean Green will have to methodically move the ball down the field against a defense that ranked 12th nationally on third downs last season.
UTEP has even bigger problems when it comes to striking quickly. Its efficient and balanced offense in 2021 was buoyed by big plays from Jacob Cowing.
Of players who caught 60 or more passes last fall, only Alabama's Jameson Williams had a higher yards-per-catch average nationally. Without Cowing hitting 30-, 40- and 50-yard chunk plays, UTEP has little to no chance to score quickly. That's music to under bettors' ears.
My projections called for this game to come off the board at 47.5, which is why I'm all over this total at 55.5. I would play it all the way down to 51.5.
Pick: Under 55.5 (Play to 51.5)
---
UTEP hosts North Texas in the season and conference opener. This game features two run-first offenses, as North Texas ran on 62% of its snaps and UTEP on 57% last season.
The North Texas ground game averaged 4.8 yards per attempt and over 230 yards per game. The Mean Green won't find any success against a UTEP defense that returns its entire front six in its 4-2-5 defensive scheme.
In last year's matchup, North Texas ran the ball just shy of 50 times while averaging just 3.7 yards per attempt. The Miners' defense had four players tally double-digit tackles for loss last season and will keep the North Texas offense behind schedule.
UTEP's offense ranked 114th in the country in Success Rate. The Miners were reliant on explosive plays (second in the country) to find the end zone.
Much of that success was because of wide receiver Jacob Cowing, who averaged 20 yards per reception and over 100 receiving yards per game. But that explosiveness will take a major dive, as Cowing transferred to Arizona.
I anticipate conservative play-calling from both coaches in an attempt to avoid turnovers in a Week 0 in-conference matchup. Both programs will want to establish the run, which won't result in much success.
This matchup should have a similar result to last year's late-season 20-17 final.
Pick: Under 55.5 (Play to 52.5)
---
​​North Texas has the best offensive line in the conference. Four starters and 106 career starts return to a line that finished top-30 nationally in Offensive Line Yards last season.
And for as much talk as there's been about DeAndre Torrey's departure, the other five top rushers for the Mean Green return with almost 1,400 yards between them.
But UNT's ground attack is about to push into the best front seven in the conference. UTEP returns eight of its top 10 tacklers and three of its top four linebackers to a unit that finished top-30 nationally in Defensive Rush Success Rate.
What do you get when an unstoppable force meets an immovable object?
The under.
On top of that, UTEP's Gavin Hardison Jr. lost his top two wideouts from last season and virtually all explosiveness through the air.
This line has already moved down a point across the market (save BetMGM) and will likely be pushed down further, but I'm happy to play it to about 53. I'm looking to avoid 52.
Pick: Under 55.5 (Play to 53)
---
---
Nevada vs. New Mexico State
No team was gutted more than Nevada this offseason after head coach Jay Norvell left for Colorado State and took a majority of coaches and playmakers with him. Not only that, but the Wolf Pack lose star quarterback Carson Strong to the NFL after finishing eighth nationally in passing yards.
It's a new year and a new team as new head coach Ken Wilson will look to abandon the Air Raid and implement the run game and tight end usage by bringing in new offensive coordinator Derek Sage.
After having one of the lowest rushing rates last season, it will be a drastic change of pace that's more friendly to the under this time around.
No quarterback has been named the starter yet, as the Pack find themselves in a quarterback battle. This will limit game flow as both Nate Cox and Shane Illingworth get a chance to shine.
As for the defense, Nevada returns only one starter in the front seven but brings back some production in the secondary. At least, it brings back enough to limit NMSU's porous offense, which is going through a massive overhaul as well.
Eerily similar to Nevada's situation, NMSU also has a new head coach in Jerry Kill, who has mysteries all over the offense. While not confirmed, it's expected JUCO transfer quarterback Diego Pavia will earn the start under center.
Implementing a versatile offense that wants the quarterback to extend plays with his feet and feature former Michigan running back O'Maury Samuels will only bleed more time off the clock in what should be a friendly offensive game script for an under.
On the defensive end, NMSU brings back 70%, per TARP. The unit emphasizes pressure, which resulted in a top-40 Havoc ranking last season.
If NMSU can generate Havoc and take advantage of Nevada's growing pains, then this should be a run-heavy, clock-bleeding slugfest.
Take the under at anything better than 49.5 and enjoy this beautiful nightcap for Week 0.
Pick: Under 50.5 (Play to 49.5)
How would you rate this article?
This site contains commercial content. We may be compensated for the links provided on this page. The content on this page is for informational purposes only. Action Network makes no representation or warranty as to the accuracy of the information given or the outcome of any game or event.