NCAAF Odds, Expert Picks: Collin Wilson's Week 1 Bets for Coastal Carolina vs UCLA, Penn State vs West Virginia, More
Credit:
Luis Sinco / Los Angeles Times via Getty Images. Pictured: The UCLA Bruins.
Week 1 of the new college football season is upon us, and Collin Wilson is ready to roll with his Saturday betting card.
Wilson has picks for five games on Saturday, including UCLA vs Coastal Carolina, Penn State vs West Virginia, TCU vs Colorado and more.
Read on for Wilson's full betting card for Saturday's Week 1 college football games.
Week 0 served as a nice appetizer, but this is the week in which college football actually returns. Welcome to Week 1.
With games starting on Thursday and running all the way through Monday, we have a college football paradise on our hands for the foreseeable future.
And when Tuesday rolls around, hopefully we'll have already made our way to the window and put some extra cash in out pockets.
I have my eye on six games between Friday and Saturday's games: Stanford vs. Hawaii, Colorado vs. TCU, Boise State vs. Washington, Nevada vs. USC, West Virginia vs. Penn State and Coastal Carolina vs. UCLA.
With so many offensive changes in these games between quarterbacks, head coaches and offensive coordinators, we should be in for some interesting box scores when they conclude.
So, without further ado, let's dive into this Week 1 college football slate and enjoy it to the fullest.
---
Collin Wilson's Week 1 Betting Card
The team logos in the table below represent each of the matchups that Collin Wilson is targeting from Week 1's slate of games. Click on the team logos for any of the matchups below to navigate to a specific bet discussed in this article.
Game
Time

(ET)

Pick
11 p.m.
12 p.m.
3:30 p.m.
6:30 p.m.
7:30 p.m.
10:30 p.m.

Specific betting recommendations come from the sportsbook offering preferred odds as of writing. Always shop for the best price using our NCAAF Odds page, which automatically surfaces the best lines for every game.
---
The feel good college football story of 2023 may have already started before Week 1.
Dealing with heavy variables off the field from the Maui fires that have personally touched so many in the program, Hawai'i represented the island respectfully with a close loss to Vanderbilt in Week 0.
The Rainbow Warriors covered nearly every minute of the game, continuing a hot covering streak dating back to October 2022.
Entering his second season as head coach, Timmy Chang has been aware of the outside noise talking about low expectations around the program. With a near upset of an SEC team, Hawaii now returns home to a renovated Clarence T.C. Ching Athletics Complex to face off against another Power Five program.
After failing to win more than four games over the past four seasons, Stanford will go in a new direction with the resignation of head coach David Shaw. Troy Taylor is now set to coach his first game for the Cardinal after previously spending time as the head coach of Sacramento State.
Taylor has spent the majority of his 30-year coaching career in the state of California with other stops as offensive coordinator at Utah and Eastern Washington.
Taylor won three Big Sky titles, along with two Big Sky Coach of the Year awards. With a 30-8 record at the FCS level, Taylor will now revamp a Stanford roster into new personnel and schemes in an attempt to match the offensive success he achieved at previous stops.
---
Stanford achieved success for many years under Shaw, implementing heavy personnel groupings with man-blocking schemes. The Cardinal's success relied on a grizzled offensive line, along with towering tight-end targets that could win any 50/50 ball.
Shaw preferred as many players in the box as possible, opting for a pro-style scheme that involved the fullback.
Taylor enters with an updated flavor of offense, similar to TCU and Tennessee in running a stretch Air Raid. The quarterback and wide receiver RPO he utilized at Sacramento State will now be a staple of the Stanford playbook.
As training camp came to an end, Taylor elected not to name a starting quarterback.
Syracuse transfer Justin Lamson has the inside track to starting under center at Hawaii after he never saw the field behind Orange starter Garrett Shrader.
Running back E.J. Smith missed most of last season with injury but showed elusiveness in 2021, averaging 4.6 yards after contact.
There's been plenty of high praise for Taylor's offense coming out of camp, using tempo with pre-snap motion and counters to create chunk plays. Sacramento State averaged 23.6 seconds per play last season, a number that would be a top-15 pace in FBS play.
Taylor named Bobby April the Willie Shaw Director of Defense last December. The defensive coordinator last served five years at Wisconsin, learning the schemes of Jim Leonhard. April is expected to produce multiple looks from 4-3 to 3-4 mixed with cover 1 and quarters coverage from the secondary.
Stanford returns less than half of last year's tackles and pass breakups but is expected to have an aggressive blitz package, as April helped call a Wisconsin scheme that sent blitz on 33% of snaps.
---
Hawaii's near upset of Vanderbilt in Nashville was justified in the box score after Week 0. Similar to last season, the Rainbow Warriors averaged 25 seconds per play for a top-35 tempo.
Quarterback Brayden Schager completed 27-of-35 passing attempts for 351 yards, as the offensive line allowed just four hurries the entire game. Redshirt freshman wide receiver Pofele Ashlock lit up the Commodores' secondary, catching all seven targets for 127 yards.
Hawaii more than doubled the national rate in explosive drive percentage, also achieving two or more first downs in 6 of its 11 possessions.
The Warriors also received contributions from the defense despite giving up 35 points. Hawaii logged nine tackles for loss, including three sacks.
Vanderbilt recorded a single explosive drive and posted 1.22 fewer yards per play than Hawaii.
More surprising was the Warriors' run defense, which limited the Commodores to just a single run over 20 yards. They stuffed 14 of Vanderbilt's 23 rushing attempts, doubling the national average.
---
Chang will bring his squad home from the mainland on short rest for a home opener against a completely rebranded Power 5 team.
The run-and-shoot offense is back on the island and will now face a Stanford secondary that's short on experience. Both projected starting cornerbacks and safeties for the Cardinal have less than two-dozen career tackles with minimal game experience.
The explosiveness of Ashlock and Steven McBride proved to be a problem for Vanderbilt, and without a proven pass rusher on the Stanford defense, the Warriors could generate even more explosives.
The unknown for this game comes in the Stanford offense with three different quarterbacks expected to take snaps. Taylor's offense will feature the same concepts as Sacramento State, asking offensive players to limit Havoc in a scheme that will show heavy motion and counter concepts.
The expectation is that Stanford will generate explosive plays based on concept alone, as Vanderbilt posted 7.9 yards per play in passing downs against the Warriors.
The pace is expected to be furious, as Stanford moves from a bottom-15 pace to a top-15 pace. Vanderbilt had no issues scoring in its opportunities, averaging 5.3 points on four drives that extended beyond Hawaii's 40-yard line.
With the projected pace of play, each offense is expected to find multiple scoring opportunities, along with explosive plays and quality drives.
Although Hawaii posted unders in nine games last season, the regression may come on overs for the Warriors in 2023.
---
---
There may not be a more intriguing matchup than what college football has in store from Fort Worth during Week 1.
TCU will take the field in Amon G. Carter Stadium as the national runner-up after an unlikely underdog run that ultimately ended against Georgia in the National Championship.
The Horned Frogs will open against Colorado for the second consecutive season after limiting the Buffaloes to minimal scoring in 2022.
Plenty has changed in Boulder since the end of last season, as Deion Sanders took the leap from Jackson State to become the 28th coach in the history of Colorado football.
"Coach Prime" had an immediate impact on the roster, communicating last December that players should "jump in that portal." The roster was fluid in the weeks after the spring game, and now more than 50 scholarship players are brand new to the Buffaloes' roster.
This game will serve as a first look at two rosters that underwent heavy maintenance in the offseason.
TCU will look to return to the Big 12 Championship game, while Colorado starts the beginning of a challenging schedule that includes Nebraska, Oregon and USC in the first month.
There's never a must-win game during Week 1, but with two fluctuating rosters, anything can happen in Fort Worth.
---
The toughest handicap in college football throughout the 2023 preseason has been the Colorado Buffaloes. Only four players in the combined two-deep depth chart are expected to have playing experience at Colorado.
The first standout comes on the offensive line, where returning starters Van Wells and Kent State transfer Jack Bailey will man the interior. Both players list at 290 pounds or less, a point of emphasis in the trench against a TCU defensive line that all weigh in at a minimum of 310 pounds.
Transfer running backs Alton McCaskill from Houston and Kavosiey Smoke from Kentucky have lacked elusiveness, both failing to exceed 2.9 yards after contact.
The instant offense is expected to come from quarterback Shedeur Sanders, who generated 373 yards on the ground with 40 passing touchdowns a season ago.
While there's an expectation that the Colorado offense can put some points on the board, the defense is expected to be one of the worst in the Pac-12.
Jordan Domineck brings five years of experience with 137 career tackles at Georgia Tech and Arkansas, producing 7.5 sacks for the Razorbacks last season. Demouy Kennedy and Jahquez Robinson transfer in with limited experience from Alabama to boost the back seven.
Both cornerback and nickel are expected to have talent and experience with Jackson State transfer Travis Hunter and Arkansas transfer Myles Slusher. "Slush" was a team leader for Arkansas in the locker room before an off-field incident ended his time in Fayetteville.
---
Head coach Sonny Dykes was on the search for a new offensive coordinator after the National Championship. With the departure of Garrett Riley for Clemson, Dykes dipped into the Air Raid tree to hire Arkansas coordinator Kendal Briles.
The change in coaches will bring changes on the field, namely in rush rate and tempo. Dykes insisted at Big 12 media days that his offensive concepts were in alignment with Briles, with an expectation that TCU will move from a 55% to a 63% rush rate with the football.
Investors can also expect an increase in tempo with Briles, as Arkansas averaged 23.7 seconds per play last season compared to TCU at 26.9.
The offense is heavy in portal experience after an offseason haul that included an infusion of Alabama talent from slot JoJo Earle and running back Trey Sanders.
Chandler Morris is once again the starter for the Horned Frogs after getting injured in this very same spot last season. The potential of Morris is still to be determined with only 129 career dropbacks.
Defensive coordinator Joe Gillespie did a fantastic job of upgrading a bottom-10 FBS defense last season.
The 3-3-5 scheme will return 160 tackles at linebacker with Johnny Hodges and Jamoi Hodge, while preseason All-American cornerback Josh Newton returns three interceptions and nine pass breakups from a season ago.
The Horned Frogs finished top-25 in Passing Downs Success Rate thanks to three returning safeties in Bud Clark, Mark Perry and Millard Bradford. This was a top-30 unit in tackle grading, a key metric in Gillespie's nickel scheme that trimmed opponent explosives last season.
---
Colorado may be the toughest handicap of the preseason, but a known quantity is the speed of the offense. Coordinator Sean Lewis was hired away from Kent State, where "Flash Fast" ran 21.7 seconds per play.
Sanders will produce plenty of highlights leaving the pocket against a TCU defensive line that will get pressure from the interior.
Wide receivers Jimmy Horn Jr. and Xavier Weaver transferred in from South Florida after producing electric numbers in yards per route run. While the TCU defensive secondary does have experience, the Horned Frogs aggressively jump routes at the risk of giving up explosives.
TCU is also expected to have a quicker pace under Briles, one of the main components of a total that steamed in the Week 1 market. Don't expect a drop in pass explosives for the Frogs, but with an expected increase in gap running, they will need Sanders and Emani Bailey to improve from just three yards after contact.
Because of the expected tempo in the game, the natural look is on the over. The new clock rules did nothing to trim plays per game or scoring in Week 0, but with both TCU and Colorado expected to rely more on explosives than first downs, this game has the ingredients to be high-scoring.
Our key numbers in totals indicate that 65 is our limit when placing an over bet. Because TCU is expected to field a much better defense, look to back a Horned Frogs team total over if the game total exceeds 65.
---
---
Expectations are high in Seattle because the Washington Huskies have the roster to not only win a Power Five conference but also make the College Football Playoff.
Kalen DeBoer enters his second season as head coach after an 11-2 record and an Alamo Bowl victory.
The Huskies were one of the biggest winners from a retention standpoint, returning more than 75%, per TARP, on both sides of the ball. Alongside USC, this is arguably the best quarterback and receiver unit West of the Mississippi River.
Before DeBoer can chase a conference title and a possible trip to the College Football Playoff, one of the best Group of Five programs will challenge Washington in Husky Stadium.
Boise State made positive strides in the offseason for returning experience on the offensive side of the ball, only to be canceled out by the numerous losses on the defense.
A new offensive coordinator is in place after Dirk Koetter served as the interim in 2022, accelerating a stagnant offense that ended the season with 35 points in a Frisco Bowl victory over North Texas.
The Broncos have not claimed a Mountain West title since 2019, but a cover or outright win against Washington would springboard Boise State into conference play.
---
Boise State struggled to put points on the board early in the 2022 campaign. The Broncos scored 27 combined points in losses to Oregon State and UTEP while posting just 61 in wins over New Mexico and UT Martin.
A jolt came for head coach Andy Avalos when former NFL coordinator Dirk Koetter took over play-calling duties.
Taylen Green took over starting duties at quarterback for the remainder of the season, posting 14 passing and 10 rushing touchdowns.
Koetter retired from his interim position, so Avalos turned to former Washington coordinator Bush Hamdan to call plays this season. During the 2018 and 2019 seasons on the Huskies' staff, Hamdan called primarily 12 personnel with a slight distribution lean toward the run.
Hamdan relies on the offensive line to call out blocking at the line of scrimmage with an aim to simplify the offense for Green. Garrett Curran has been tapped to play center for the Broncos after spending the majority of his college career as a guard and tackle.
The defense loses three of its top four tacklers, taking an experience hit in the linebacker unit. Less than 30% of pressures return from the defense a season ago, leaving the bulk of the duties to middle linebacker DJ Schramm. The senior racked up over 100 tackles while recording four quarterback hits and 11 tackles for loss in 2022.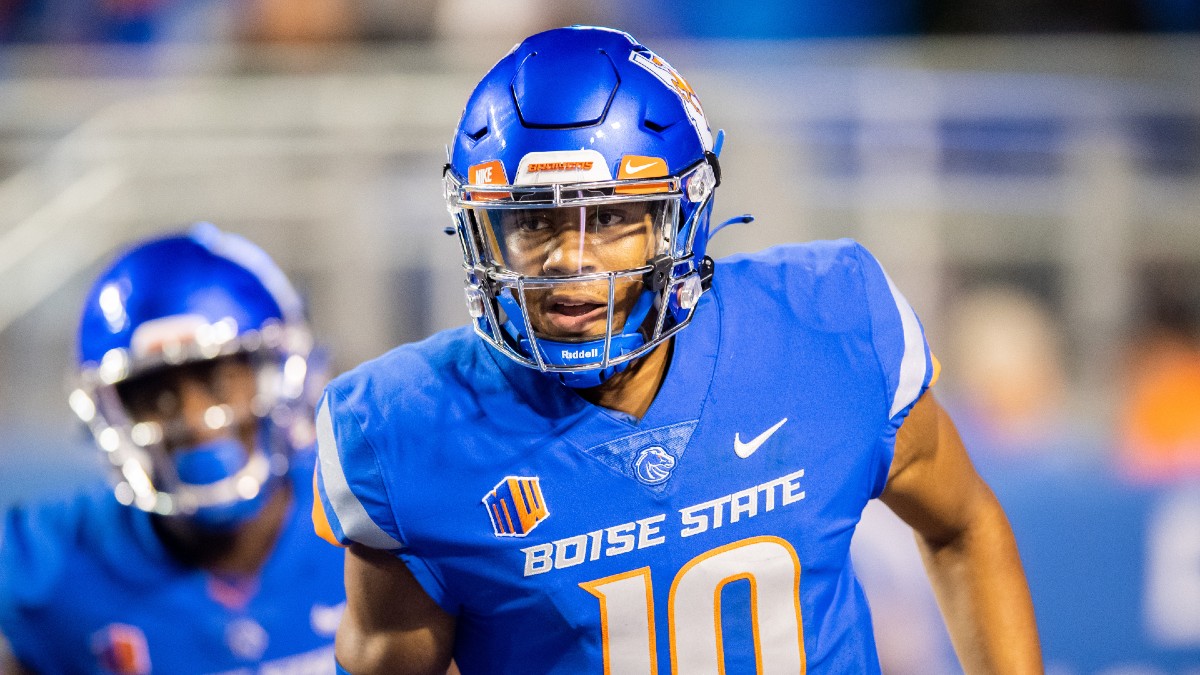 ---
The No. 1 question in DeBoer's second year is if the hype is justified for Washington.
The Huskies return the bulk of key players on both sides of the ball, including quarterback Michael Penix Jr. Washington finished the season as the best in FBS in terms of quality drives and available yards.
With 60 career passing touchdowns since the 2018 season, Penix will add to that total with Biletnikoff contender Rome Odunze.
The Huskies lost two of their top three tacklers from a year ago, but more than 75% of pass breakups and pressures will look to improve a Havoc ranking that fell outside the top 100. Washington produced a top-40 pass rush a season ago, as edge Bralen Trice returns nine sacks to the field.
The area of concern for the season comes in the secondary, specifically with minimal experience at cornerback with Elijah Jackson and Oklahoma State transfer Jabbar Muhammad.
---
There are expectations that Washington may have the best offense west of the Mississippi, which forces Boise State to find linebackers who are competent in covering Washington slot wide receiver Jalen McMillan.
The Huskies are one of the elite throwing teams in the country, ranking as the best overall squad in FBS in Havoc Allowed.
If there's a lesson from DeBoer's first year as head coach, it's that Washington won't lift a foot off the offensive pedal in the second half. The Huskies ranked third nationally in second-half scoring and 16th in fourth-quarter scoring, per Sport Source Analytics.
The bigger handicap is if Boise State's heavy rush attack will grind clock and limit Washington's number of possessions. The Huskies finished 26th in rushing yards allowed per attempt at 3.52, and they bring back defensive tackle Tuli Letuligasenoa and his 4.5 tackles for loss.
With questions surrounding the interior of the Boise State offensive line, there's an expectation that Washington's defense will do enough to jam running back George Holani in standard downs and chase Green from the pocket in passing downs.
Ultimately, the linebacker unit for Boise State enters the season projected as a mid-tier unit in the Mountain West. Coverage over the middle will be the biggest emphasis, as Penix will attack on slants, digs and crossers.
Don't expect DeBoer to let up in the second half with any lead. The former Fresno State coach is 9-1 against the spread in his career in nonconference games. Action Network projects Washington as 16.5-point favorites, giving the current market number value to back the Huskies.
---
---
The march to an undefeated season and first-ever birth in the College Football Playoff continues for USC after a Week 0 victory.
USC will take on a second Mountain West opponent after scoring a 28-point, non-cover win over San Jose State. The Trojans progressed toward season-long goals while showing off new offensive playmakers to the college football world.
Now, the Trojans will look to take on a 2022 two-win team in preparation for a Pac-12 Conference opener against Stanford next week.
Nevada head coach Ken Wilson had a true Year 0 in 2022, losing the majority of his players in the transfer portal once former head coach Jay Norvell landed at Colorado State. Despite losing 10 straight games, Nevada covered two November spreads against San Jose State and UNLV.
The roster continued a deep churn over the offseason, as the offense pulled one of the lowest numbers in returning experience, per TARP.
USC shouldn't break a sweat in getting a lead during its first home game, but the question remains if the investors are paying a premium in the market on a loaded offensive roster.
---
There were zero expectations for Nevada in 2022, as Wilson looked to overhaul a roster that spent numerous years throwing the football.
The offense became balanced last season, rushing on 52% of snaps despite a rank of 130th in standard downs success. The Wolf Pack struggled to have an identity, ranking bottom-15 in Havoc Allowed and Finishing Drives.
The top three rushers from a season ago have all moved on, leaving offensive coordinator Derek Sage with Sean Dollars and Ashton Hayes on the depth chart.
Dollars is a transfer from Oregon who compiled just a single touchdown and 316 yards in three seasons with the Ducks.
Both offensive tackles have size and minimal experience, as Frank Poso and Isaiah World each come in at a minimum of 6-foot-5 and 300 pounds.
The trench is tasked with protecting Colorado transfer Brendon Lewis at quarterback.
Lewis completed just 15 passes a season ago, getting the majority of his experience during a 1,500-yard, 10-touchdown passing season in 2021.
Dalevon Campbell and USC transfer John Jackson III round out the receiving options, but neither has displayed enough in the yards-per-route-run category to be considered an explosive threat.
Much like last season, the defense must continue to improve for the Wolf Pack to cover against the spread.
Linebackers Drue Watts and Tongiaki Mateialona are the leading tacklers on this roster, contributing 7.5 tackles for loss and five sacks a season ago.
The area of focus for the USC game is cornerback KK Meier, a sophomore who logged a single snap on special teams last year. In addition to Meier, the secondary will also see fresh faces at free safety and transfers at the nickel position.
The secondary will be put to the test immediately against the reigning Heisman Trophy winner.
---
Caleb Williams completed 18-of-25 passes with four touchdowns in a victory over San Jose State.
The Trojans failed to cover the spread by a field goal, electing to have backup quarterbacks Miller Moss and Malachi Nelson attempt 10 combined passes.
The Spartans completed a 10-play drive to tie up the game early in the second quarter before USC rattled off a bevy of touchdowns. Freshman Zachariah Branch stole the show, catching all four targets for a touchdown and recording an additional touchdown on a 96-yard kickoff return.
Branch logged a yards-per-route-run number of 3.63 after a single game, a number that would put the receiver in Heisman contention with continuation across 11 more games.
There was never a question that the Trojans' offense would cook, as eight of their 11 drives had at least two first downs while they achieved 62% of available yards. The issue that plagued USC a year ago — a lack of ability to get opposing offenses off the field — continued against the Spartans, though.
Quarterback Chevan Cordeiro threw for 198 yards and three touchdowns while adding 52 yards on the ground. Nick Nash caught all three touchdowns and reeled in six of eight targets against multiple members of the USC secondary. San Jose State had more explosive drives than USC — nearly double the national average of 12.9%.
Not only did the Spartans have success through the air, but the ground game also produced four runs greater than 20 yards.
By no means is San Jose State a lower-tier offensive system in the Mountain West, but certain individual performances on the USC defense are notable. Oklahoma State transfer linebacker Mason Cobb allowed 30 yards after the catch when targeted five times. Georgia transfer Bear Alexander produced just two pressures in 32 pass rush attempts.
For the Trojans to win the Pac-12, coordinator Alex Grinch must find massive improvements in pressuring the quarterback and limiting explosive plays.
---
Fortunately for USC, the Nevada offense doesn't contain a similar composition as San Jose State. Not only did the Wolf Pack nearly finish last in Success Rate on offense last season, but the defense fell to 128th in allowing explosives on passing downs.
With a brand new set of players in the secondary for Nevada — particularly at the corner position — there are expectations that the Trojans shouldn't have a single speed bump in getting points on the board.
While Williams will get his yards and touchdowns in the first half to stay atop of the Heisman race, the full-game handicap may come down to the second-half activities of the Trojans' defense and backup quarterbacks.
Since 2021, Riley has covered just five of his 15 games when favored by two touchdowns or more. Action Network projects USC as a 35.5-point favorite, giving minimal value to the Nevada side. Oddsmakers will be hard-pressed to find tickets on the Wolf Pack, as market entry should begin at 38.5 or better.
With Stanford on deck for the Trojans, a live betting number may provide better value, as USC will likely put the second-stringers on the field by the second half.
The best bet is for USC to start off fast in the Coliseum after a sluggish start against San Jose State. Running back Austin Jones should once again average nearly 10 yards per carry, while Tahj Washington, Dorian Singer and Branch all have the ability to house a reception against an inexperienced Nevada secondary.
If the USC defense is stuck in second gear once again, Lewis is capable of moving the Wolf Pack offense down the field for a scoring opportunity.
---
---
Beaver Stadium will play host to a what a professional wrestling fanatic would call a "slobber knocker."
State College is the scene for Penn State's journey to a Big Ten and national title effort against a team striving to make the postseason in West Virginia.
The Mountaineers finished with just five wins a season ago, missing a bowl game for just the second time in nine years. Head coach Neal Brown was quick to make changes on the offensive staff after last season, asserting himself as the play-caller in 2023. Brown last called plays at Troy and as a coordinator at Kentucky with great success in his rise to Morgantown.
The Nittany Lions continue to schedule Power 5 opponents out of conference, with recent series against Auburn and Pittsburgh. Now, a two-game set with West Virginia will start at home before concluding in Morgantown next season.
The Rose Bowl champions have high expectations, looking to capitalize this season with Ohio State and Michigan on the schedule. Penn State projects to have the best defense in the nation, but underclassmen at the skill positions will dictate the ceiling for James Franklin in his 10th season as head coach.
The Mountaineers struck success at the end of 2022 with a new physical ground-and-pound identity with quarterback Garrett Greene. West Virginia upset Oklahoma and Oklahoma State as more than touchdown underdogs thanks to a combined 450 yards on the ground.
Brown ran plenty of inside and outside gap scheme calls from 11 personnel, utilizing the skills of his quarterback and a stable of running backs. Both Jaylen Anderson and CJ Donaldson Jr. return for 2023 after averaging more than four yards after contact a season ago.
While the offense terrorizes opponents on the ground, the Mountaineers took high marks in defensive TARP for returning experience. More than 80% of tackles and pass breakups return to a defense that finished 17th in tackle grading, per PFF.
Defensive coordinator Jordan Lesley will be looking for help in the secondary after struggling with quarters coverage and a low blitz rate in 2022. Linebacker Lee Kpogba returns, but he posted better numbers as a run-stopper and pass-rusher.
The highest-graded player from a coverage standpoint returns in free safety Aubrey Burks, but the remainder of the secondary is built with portal names from Minnesota, Kent State and Georgia Southern.
---
In his Week 1 press conference, Franklin said that every practice play has been recorded and that quarterback Drew Allar "has been very good."
Franklin refused to address starters at any position but noted that Allar's practice numbers were put up against the historical records of Sean Clifford and Trace McSorley. The sophomore was fantastic in limited action last season and didn't post a single interception or turnover-worthy play in 71 dropbacks.
Offensive coordinator Mike Yurcich will move to the booth this season to call plays.
Penn State is loaded in the running back room, as Kaytron Allen and Nicholas Singleton collectively logged over 1,900 yards and 22 touchdowns. Singleton averaged 4.6 yards after contact, the highest number of any returning running back in the Power 5.
The big question marks for Penn State reside in the wide receiver unit and special teams, where many of last year's contributors have moved on.
The defense has the potential to be the best in the nation with coordinator Manny Diaz calling the plays for the most Havoc-minded group of 2022. The Nittany Lions led the nation in pass breakups, as cornerbacks Kalen King and Johnny Dixon ranked third and 45th in the nation, respectively, last season.
Honorable mention all-Big Ten edge rusher Demeioun "Chop" Robinson produced 5.5 sacks and three quarterback hits a season ago, leading the charge for a top-10 pass rush unit.
---
Franklin knew the toughest matchup of the game when he stepped to the podium to address reports: the West Virginia run game against PSU's defense.
Franklin noted a number of offensive linemen for the Mountaineers — players that were heavily recruited to suit up in Beaver Stadium. With Greene, Donaldson and Anderson all running behind an experienced offensive line, the question becomes whether or not the Nittany Lions can force long distances on second and third down.
The answer may be a positive for the visiting Mountaineers.
The Penn State defense slid on first downs against the rush a season ago, finishing 42nd in First Down Rush Success Rate, per Sport Source Analytics. That number improved to 19th against the rush on second downs, but teams consistently gained a minimum of three yards on first down against Penn State.
More importantly, expect West Virginia to use four downs to get the needed yards on the ground. The Mountaineers convert a healthy amount of fourth downs yearly, finishing 5th behind the rushing attack last season.
Penn State will have similar success running against a West Virginia defensive front seven that finished 56th in first down rush defense.
The difference in this game is Allar's ability to get downfield in known passing situations.
Allen and Singleton are expected to produce plenty of highlight yards that result in scores, but in the event a fourth down comes in West Virginia territory, the Nittany Lions are expected to go for it. Penn State finished ninth nationally in fourth-down conversions, just shy of the mark left by West Virginia.
One area where West Virginia has an experience advantage is special teams, as the Mountaineers return almost every player from their kicker and punter to their long-snapper. Penn State will field new players at the key special teams positions — something that could make a difference in which team covers the game.
Action Network projected Penn State as just a 14.5-point favorite with a total of 57. These two teams will utilize a heavy ground game with success, complemented by two head coaches who have no fear of rolling the dice on fourth down.
---
---
Coastal Carolina has been the feel-good story of college football since the pandemic.
Led by quarterback Grayson McCall, the Chanticleers are under new management with head coach Tim Beck. The Sun Belt team will head just west of Hollywood, where UCLA is reportedly set to pay Coastal Carolina a sum of $1.1 million for the game.
This is a new age for Bruins football, as Dorian Thompson-Robinson is not on the roster for the first time in the Chip Kelly era. Although UCLA lost to Pittsburgh in the Sun Bowl, Kelly inked a two-year contract extending his time on campus through the 2027 season.
Plenty of questions await in the 2023 campaign, starting with the quarterback competition. Transfers are a heavy part of the new roster, filling holes at running back and in multiple defensive spots.
Both Coastal Carolina and UCLA saw turnover in their rosters and coaching staff, but both will still contend for their respective conference titles.
This game will be highlighted by quarterback play, as McCall looks to elevate an NFL Draft profile, while the Bruins are expected to give the most talented freshman in college football snaps under center.
---
After a brief trip to the transfer portal, McCall elected to stay at Coastal Carolina and contribute t0 a team with 88% of experience returning, per TARP.
The senior threw 24 touchdowns to just two interceptions during a 2022 season that saw injuries play a factor over the final month.
McCall's big-time throw-to-turnover-worthy play rate was a career low, but the return of preseason All-Sun Belt wide receiver Jared Brown and Georgia State transfer Sam Pinckney will keep the Chanticleers a top-20 team in Passing Success Rate and EPA.
Beck tapped into the Texas Longhorns tenure to hire Craig Naivar as defensive coordinator after he spent a season as SMU's special teams coach. Naivar was last a defensive coordinator less than a decade ago at Houston, calling a heavy amount of nickel and dime packages with a three-man front.
JT Killen returns at middle linebacker, leading the defense with 96 tackles and four pass breakups. The one issue on the 2023 depth chart is a lack of experience and size at the cornerback position.
---
After exceeding oddsmakers' projections in 2022, Chip Kelly is now tasked with reloading a UCLA roster that lost experience at key positions.
Ethan Garbers will get the start at quarterback, but Kent State transfer Collin Schlee and blue-chip Dante Moore are still expected to receive playing time. Depth is certainly not an issue at the position as Garbers enters his third season, while Schlee produced 16 touchdowns in more than 300 passing attempts in his time as a MAC quarterback.
The real question for the entire season is when Moore will be given full playing time to show off a skill set that produced the highest prospect rating in the nation, per 247Sports.
The Bruins finished 10th in transfer portal rankings thanks to the addition of running back Carson Steele. "Crocky-J" bulldozed MAC defenses last season, averaging more than four yards after contact.
The portal also brought projected starters on defense in Oregon transfer Keanu Williams on the defensive line and Bowling Green safety Jordan Anderson.
The biggest addition to the defense may be new coordinator D'Anton Lynn from the Baltimore Ravens. Although he doesn't have prior coordinator experience, Lynn comes from an NFL staff that has produced multiple coordinators who have elevated the Michigan defense to national title contenders in Jesse Minter and Mike MacDonald.
UCLA finished outside the top 100 in Defensive Havoc and Finishing Drives a season ago. Lynn has stated the mission objective is to 'limit explosives, disguise coverage'.
---
UCLA has covered its opening game against Group of Five opponents in Hawaii and Bowling Green the past two seasons.
With the departure of Thompson-Robinson to the NFL, Kelly is not expected to change any offensive play-calling during garbage time with three quarterbacks all vying for the role of starter.
Coastal Carolina projects to have the worst secondary in the Sun Belt, giving each of the UCLA starters a chance to connect on the outside. Cal transfer J. Michael Sturdivant and Kam Brown will get the chance to create highlight plays against the Chanticleers' undersized cornerbacks.
If Steele can draw eight defenders in the box from the Chants' nickel package, the Bruins should connect on plenty of explosives.
On the other side of the ball, Coastal Carolina is expected to move from Jamey Chadwell's offense with triple option elements to more traditional 10 and 11 personnel. Beck called plays for NC State the previous three seasons, implementing a heavy rush rate out of 11 and electing to throw 60% of the time from 10 personnel in known passing downs.
The Chanticleers will have minimal experience on the right interior of the offensive line, giving UCLA the chance to bust up any McCall motion and misdirection play calls. Edge Laiatu Latu created 65 pressures a season ago, leading to a top-30 pass rush ranking.
The Action Network projects the game UCLA -17, making the Bruins the side to play. The Week 1 number took Coastal Carolina money through the summer with low limits, possibly shaping the number for a stiff buyback at 14.
UCLA is expected to field the best offensive line and the third-best group of running backs in the Pac-12. Considering there will be no garbage time for a three-man quarterback competition, look to get the key number on UCLA.
How would you rate this article?
This site contains commercial content. We may be compensated for the links provided on this page. The content on this page is for informational purposes only. Action Network makes no representation or warranty as to the accuracy of the information given or the outcome of any game or event.