NCAAF Odds, Predictions: BJ Cunningham's Week 3 Picks for Clemson vs. FAU, Missouri vs. Kansas State & More (Sept. 16)
Credit:
John Byrum/Icon Sportswire via Getty Images. Pictured: Clemson Tigers football helmets.
After two incredible weeks stacked with college football action — and an appetizer in Week 0 — we're onto Week 3.
While the slate doesn't feature the top-tier matchups that we saw in Week 1 and Week 2, there are still plenty of showdowns that offer betting value.
From a renewed rivalry in Missouri vs. Kansas State to Clemson vs. FAU on the coast, I have plenty of action on Saturday. So, without further ado, let's dive into my Action Network betting card for college football Week 3.
---
BJ Cunningham's Week 3 NCAAF Picks
The team logos in the table below represent each of the matchups that staff writer BJ Cunningham is targeting from Saturday's slate of games. Click on the team logos for any of the matchups below to navigate to a specific bet discussed in this article.
Game
Time

(ET)

Pick
12 p.m.
7 p.m.
8 p.m.
8 p.m.
8 p.m.

Specific betting recommendations come from the sportsbook offering preferred odds as of writing. Always shop for the best price using our NCAAF Odds page, which automatically surfaces the best lines for every game.
---
An old Big 12 rivalry gets renewed when Kansas State takes the short trip to Columbia to take on Missouri.
The defending Big 12 champions are off to a fantastic start to their season, beating Southeast Missouri State, 45-0, and then blowing out Troy last weekend to end the Trojans' 12-game win streak dating back to last season.
The Wildcats' schedule is actually pretty favorable, as they could legitimately be undefeated before their Nov. 4 date with Texas in Austin, but it's crucial that they get by Missouri on Saturday before they start Big 12 play.
Missouri survived a scare a home at home over the weekend, narrowly beating Middle Tennessee, 23-19, at home.
The Tigers came into the season without much hope of challenging in the SEC West coming off a 6-7 season. They have a very difficult schedule, and getting to a bowl game may be more difficult this season, so this game is very important.
Find a pick and prediction for Kansas State vs. Missouri in this NCAAF betting preview for Saturday, Sept. 16 below.
---
Will Howard takes over as the main quarterback for Kansas State this season after Adrian Martinez moved on.
Howard played in seven of the final eight games of the season, and even though Kansas State went 6-1 with him under center, he really wasn't that effective of a passer.
Image via PFF.
The combination of Martinez and Howard last year has Kansas State ranked 68th in Passing Success Rate and 63rd in EPA/Pass, but the Wildcats offense is built on being effective on the ground.
Howard actually wasn't that effective as a runner, either. He gained only 22 yards on 35 carries, and he's carried the ball only eight times this season. Kansas State was very reliant on Deuce Vaughn to be the incredible running back he was last season. His backup, DJ Giddens, was no slouch either, as he averaged 5.8 yards per carry.
Giddens is now the starter and has already run for 180 yards and forced 12 missed tackles this season.
He also has the benefit of playing behind one of the best offensive lines in the country. Kansas State had an above-average offensive line last year, but the unit returned all five starters and should see a pretty big jump after ranking 45th in PFF pass-blocking grade.
The Wildcats shut the Southeast Missouri State in the opener and followed that with an impressive performance against Troy, holding the Trojans to just four trips inside the Wildcats' 40-yard line and a 22% Success Rate.
KSU returned only five starters on defense, but top tackler Austin Moore and his 8.5 tackles for loss are back. However, losing three starters in the secondary is a big loss.
---
Missouri might've toppled Middle Tennessee, but the biggest storyline so far is how conservative head coach Eli Drinkwitz has been this season.
There's really no reason for this conservative play because Missouri has a lot of production back on offense.
Brady Cook is still under center after a difficult season in which he put up a PFF passing grade of just 66.7 with 17 big-time throws and 18 turnover-worthy plays, but his best ability is as a runner. Cook averaged 4.2 yards per carry on the ground with six touchdowns and had a 78.4 PFF rushing grade.
Missouri also returns its top back, Cody Schrader, who averaged 4.4 yards per carry and forced 23 missed tackles. Kansas State finished outside the top 50 in EPA/Rush Allowed last season, so Missouri could find some success on the ground even if it did struggle against Middle Tennessee.
Cook may have to beat Kansas State through the air because that's where the Wildcats are weakest. Although Cook lost his top two pass-catchers from last year, five-star wideout Luther Burden III is now the main target in his sophomore season.
The Missouri defense was impressive last season and should be even more stout this year as most of its production returns.
The Tigers ranked 26th in Success Rate Allowed, 10th in Havoc, and most importantly for this matchup, among the top 20 in EPA/Rush Allowed.
The front seven gets mostly everyone back, but its top two defensive ends are gone, so they likely won't put up the Havoc or rush-defense numbers they did last year.
---
The market has really swung in Missouri's favor throughout the week. Kansas State opened as a 5.5-point favorite and has already been bet down to -3.5 at the time of writing with a lot of sharp money coming in on the Tigers.
Kansas State still has a top-tier rushing attack, especially with the entire offensive line returning from last season. Missouri was stout against Middle Tennessee's rushing attack, but after losing two-star defensive ends, it's going to be difficult to shut down Kansas State for four quarters.
K-State is running a bit of tempo this season, ranking 39th in seconds per play. If the Wildcats go ahead early, they will force the Tigers to not only pick up the pace but throw the ball more, which could actually benefit the Tigers since that's where the Wildcats are weakest defensively.
I have 51.2 points projected for this game, so I like the value on over 47.5 points or better.
---
---
Nebraska looks for its first win of the season when it hosts Northern Illinois on Saturday.
Northern Illinois has had about the weirdest start to a season possible. In Week 1, the Huskies visited Chestnut Hill, where they picked up a walk-off win over Boston College. They then followed that upset victory with a deflating home loss to Southern Illinois last weekend.
To be fair, though, the Huskies were only 8.5-point favorites because Southern Illinois is a quality FCS program.
Nebraska lost a heartbreaker in the opener against Minnesota, 13-10, and then had a disastrous day in Boulder to start 0-2. It's the first year of the Matt Rhule rebuild, and the first season in a rebuild is typically pretty rough, so it may be a long season for in Lincoln.
Nonetheless, a win over an inferior opponent on Saturday would help steer things in the right direction.
Find odds, as well as a pick and prediction for Northern Illinois vs. Nebraska in this college football betting preview for Saturday, Sept. 16 below.
---
The Northern Illinois offense starts and ends with Rocky Lombardi.
The Michigan State transfer is now in his third season with the Huskies and has put up passing numbers that aren't great — except for a moment last season.
He was hurt for the majority of the season, but in the four games he played, he posted an elite 90.8 PFF passing grade.
Image via PFF.
Lombardi has come back down to earth in his two starts this year with five turnover-worthy plays in two games, as he remains terrible under pressure.
In two games this season, he has been pressured on 20 of his 75 dropbacks. In the 55 dropbacks with a clean pocket, he has a PFF passing grade of 79.0. In the 20 dropbacks he's been pressured on, his passing grade drops to 27.7.
Northern Illinois brought back 117 starts from an offensive line that was above average in pass-blocking grade, so Lombardi shouldn't be under a ton of pressure this season.
The Huskies also return their best rusher from last season in Antario Brown, who averaged a whopping 6.3 yards per carry last season. He's struggled to get going in their first two games, but the Northern Illinois offensive line was solid in Line Yards and Stuff Rate Allowed in 2022.
Northern Illinois' poor defense was the reason why the Huskies won just three games last season. They finished outside the top 100 in Success Rate Allowed, EPA/Play Allowed and Finishing Drives.
The Northern Illinois defense has played much better thus far, as it held Boston College to 4.8 yards per play and Southern Illinois to 4.4 yards per play and a 1-for-11 mark on third downs.
---
It's been a horrible start for Georgia Tech transfer quarterback Jeff Sims at Nebraska.
He played about as poor of a game as possible against Colorado on Saturday, completing 9-of-15 passes for 108 yards with an interception and three fumbles.
He left the game with an ankle injury, and his status for this game is up in the air, which means Heinrich Haarberg could start at quarterback.
Haarberg was a three-star dual-threat quarterback from Kearney, Nebraska, coming out of high school. He's a good runner and a threat when he escapes the pocket, but as a passer, he's pretty raw and will only be making high-percentage throws.
However, Nebraska is predominantly a running team with Marcus Satterfield serving as offensive coordinator. The Huskers have run the ball on a whopping 62.9% of their offensive plays.
They have 120 starts combined across the offensive line, and their top back, Anthony Grant, returns alongside Gabe Ervin. So far, the Huskers are averaging 5.2 yards per carry and rank 53rd in Rushing Success Rate, so running the ball is their best path to success.
Defensively, Nebraska was a mess last year. The Huskers finished the season 123rd in Success Rate Allowed, 88th in EPA/Play and 114th in Havoc. Consequently, new defensive coordinator Tony White enters from Syracuse, and he will implement a 3-3-5 defense.
The Huskers defense played a fantastic game in the opener against Minnesota, as it held the Gophers to 3.6 yards per play. But then Colorado torched them for 36 points, over 450 yards of offense and almost six yards per play.
The Huskers have been stout against the run so far, which will put pressure on Lombardi as a passer.
---
Nebraska may not be as bad as the results have shown so far, but the Huskers certainly aren't good enough at this juncture to be laying this big of a number.
Even though Sims has been horrible through two games, he's an upgrade over Haarberg, which is why this line has dropped three points from opening at -13.5.
Northern Illinois has a competent quarterback and running game with the best offensive line in the MAC, so the Huskies should stay competitive here.
I only project Nebraska as a 7.3-point favorite, so I like the value on Northern Illinois at +10.5 or better.
---
---
TCU makes the short trip to Houston as both teams open up Big 12 play on Saturday night.
TCU lost a high-scoring showdown in the opener against Colorado but rebounded last weekend with a blowout win over Nicholls. The Horned Frogs are not the same team that went to the national title game last year, but they're fairly big favorites here in Houston.
Houston fell behind, 28-0, at Rice last weekend, stormed back to tie the game and sent it to overtime — only to then lose, 43-41.
The Cougars are going through a bit of a rebuild at the moment after losing their starting quarterback and top wide receiver, so that's why they are such significant underdogs at home.
Let's examine the odds for TCU vs. Houston and make a pick in this betting preview for Saturday, Sept. 16.
---
---
With Kendal Briles as the new offensive coordinator, TCU is playing at a lightning-quick pace. The Horned Frogs rank third in pace, running a play every 20.2 seconds. That isn't really surprising considering Briles' offense finished in the top 20 in seconds per play at Arkansas in 2022.
The Horned Frogs offense was one of the best in the nation last year. Given what we've seen through two games and considering the transfers they brought in, I'm not sure we're going to see a massive drop-off like some may have expected.
They played in a crazy high-scoring affair with Colorado in the opener, putting up 42 points and averaging 6.9 yards per play.
Chandler Morris was supposed to be the starter last season before getting injured, opening the door for Max Duggan to lead TCU to the national title game and secure a spot in New York for the Heisman Trophy ceremony.
Morris was inefficient in the game against Colorado and committed three turnover-worthy plays. But he bounced back against Nicholls this past weekend, going 26-of-30 for 263 yards and two touchdowns with a 92.5 PFF passing grade.
TCU's defense returned only seven starters from a unit that ranked 103rd in both explosiveness allowed and Finishing Drives Allowed. The Horned Frogs got torched for well over 500 yards against Colorado in the opener, so it seems like nothing has changed.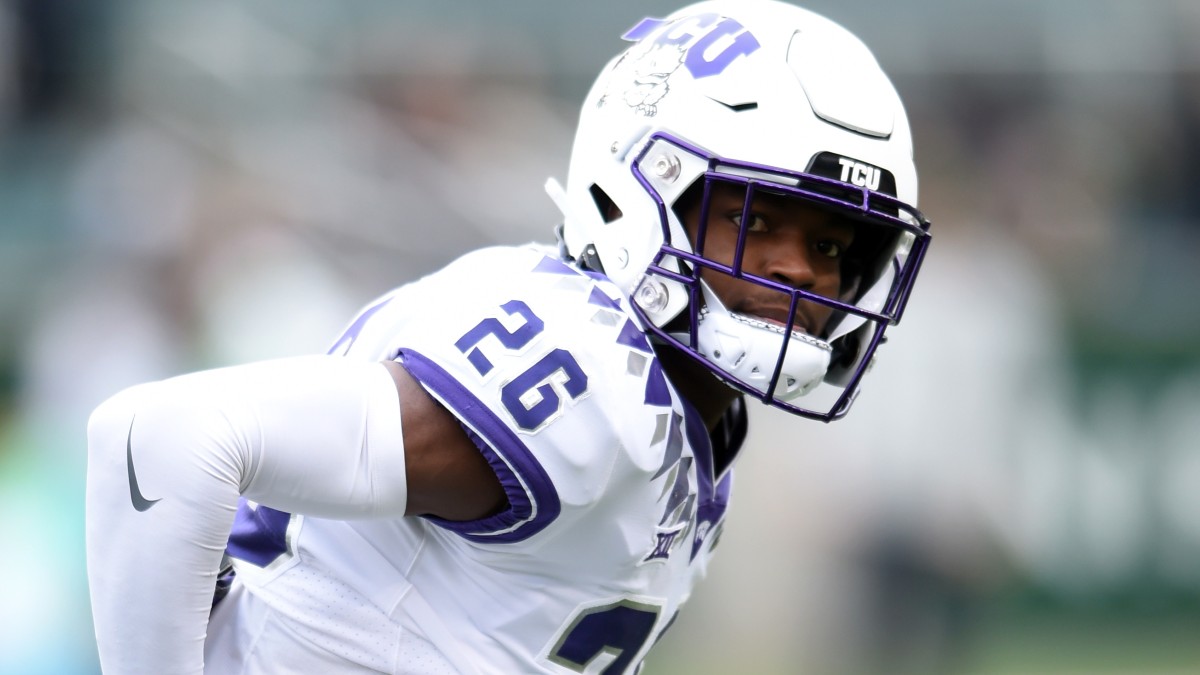 ---
Donovan Smith transferred to Houston from Texas Tech after starting four games for the Red Raiders. However, he really wasn't that great of a passer in Lubbock.
He recorded a PFF passing grade of just 65.1 while averaging 6.8 yards per attempt and posting only six big-time throws compared to 11 turnover-worthy plays. He's been pretty average through his first two games with the Cougars, but Smith is really at his best when he can run in space.
Smith ran for three touchdowns against Rice last weekend and has already gained more than 100 yards on the ground through two games.
Speaking of the rushing attack, Houston head coach Dana Holgorsen went into the transfer portal and grabbed Tony Mathis Jr. from West Virginia. Mathis averaged only 4.2 yards per carry in 2022, but he's a very elusive back who forced 33 missed tackles and posted 15 runs over 10-plus yards in 2022.
The Cougars also return their top two rushers from last year in Stacy Sneed and Brandon Campbell. What we've seen so far is that all three are splitting carries. However, Mathis is averaging 6.1 yards per run, so he may emerge as the lead back sooner rather than later.
The Cougars defense was pretty bad in 2022, finishing 93rd in EPA/Play Allowed, 69th in Finishing Drives Allowed and 71st in Success Rate Allowed. They returned seven starters but lost both of their starting safeties and their top linebacker.
They put up a solid performance against UTSA in the opener and then gave up 470 yards — and over 400 yards through the air — to JT Daniels and Rice last weekend in a 43-41 double-overtime loss, so it seems they're still having issues.
---
The biggest thing for the TCU offense is the addition of running back Trey Sanders and wide receiver JoJo Earle from Alabama.
Sanders was a five-star recruit and the second-ranked running back in the country coming out of IMG Academy. He was never featured as the main back for the Crimson Tide and dealt with multiple injuries in Tuscaloosa. He scored three touchdowns against Colorado in the opener and was limited to just five carries against Nicholls after suffering an injury against the Buffs. So, we'll see if he's unleashed in this game.
If he is, that'll bode well for the over.
With how bad these defenses have been or are projected to be this season — and with both offenses ranking top-20 in seconds per play — I like the value on over 64.5 points
---
---
Florida Atlantic makes the short trip north to battle with ACC powerhouse Clemson on Saturday night.
The Owls lost last weekend at home to Ohio, 17-10, and never really got the offense going. Tom Herman has historically been a fantastic coach as an underdog, but this situation may be a bit too difficult in the third game of his tenure in Boca Raton.
Clemson lost its opener against Duke and was getting a scare from Charleston Southern for a quarter last weekend before pulling away.
The Tigers just aren't on the same level as some of the top programs in the country anymore, but that doesn't mean they're out of the ACC title picture. Getting things back on track against Florida Atlantic would be a step in the right direction.
Let's dig into the odds for FAU vs. Clemson and make a betting pick and prediction in this college football betting preview for Saturday, Sept. 16.
---
Casey Thompson transferred in from Nebraska to be Herman's starting quarterback, and if last week told us anything, he has some work to do.
Thompson and the Owls offense were held to just 185 yards, 3.2 yards per play and a total of five rushing yards.
To be fair, the Owls ran only 58 plays on offense and threw the ball on 43 of them. If that holds up going forward, I think it's going to be a net negative for their offense.
In Mark Whipple's offense at Nebraska, Thompson was pretty decent, putting up a PFF passing grade of 79.2 while averaging 8.7 yards per attempt. The problem was he committed 16 turnover-worthy plays.
However, Thompson is an elite deep-ball passer. Last season on throws over 20 yards, he had a 91.6 PFF passing grade with 21 big-time throws. But on any throw shorter than 20 yards, he grades out as just an average quarterback.
The reason why Florida Atlantic should run the ball more is because starting running back Larry McCammon III was a first-team All-Conference USA performer last season after rushing for over 1,000 yards and averaging 5.2 yards per carry.
The Owls brought back 113 starts across their offensive line and were top-30 in Offensive Line Yards, so passing the ball on nearly 75% of offensive plays is a bit nuts to me.
Florida Atlantic was pretty stout defensively in that game against Ohio, holding the Bobcats to 17 points and 4.8 yards per play while forcing three turnovers.
Ten starters return from a defense that ranked top-50 in EPA/Play Allowed, Finishing Drives Allowed and Success Rate Allowed, so I don't think Clemson is going to just run right over them.
---
Clemson honestly wasn't as bad as the final score against Duke suggests.
The Tigers ran 19 more plays than the Blue Devils and gained over 400 yards. They crossed Duke's 40-yard line six times and came away with only seven points.
Cade Klubnik was really ineffective as a passer in that game, as he averaged only 4.9 yards per attempt, recorded two turnover-worthy plays and put up a PFF passing grade of 67.8.
He was obviously a very highly-touted prospect coming out of high school, but in the two games he has started against FBS competition — Tennessee in the Orange Bowl last year and Duke in Week 1 — he really hasn't been effective.
That means Clemson will have to rely more on its run game with veteran Will Shipley, who scored 15 touchdowns and averaged 5.6 yards per carry in 2022. He ran for over 100 yards in the opener against Duke and has Clemson ranked seventh in Rushing Success Rate.
The Tigers brought back four starters on their offensive line and are creating gaping holes for Shipley to run through as they lead the nation in Offensive Line Yards.
The Clemson defense did lose a lot of talent up front, but as is typical with a Dabo Swinney team, it has so much talent and depth across the defensive line that there really shouldn't be a big drop-off.
The Tigers allowed Duke to average 6.7 yards per attempt in the opener, but a lot of that was from one long run by Riley Leonard.
Clemson is stacked in the secondary again after ranking 10th in EPA/Pass Allowed in 2022. It held Leonard to just 175 yards and 5.3 yards per attempt in the opener, so it should be able to shut Thompson down.
---
Even though these two offenses are playing at an above-average pace, the ineptitude of the Florida Atlantic offense with an extremely turnover-prone quarterback is concerning going up against a top-tier defense.
FAU passing the ball close to 75% of the time is really concerning because the Owls' biggest strengths are at running back and offensive line. If they try to do that against Clemson, I don't see how they score over 20 points.
Klubnik has not been effective as a passer through two starts, which means Clemson is going to have to rely on its rushing attack more, which will keep the clock moving.
I only have 46.3 points projected for this game, so I like the value on under 51.5 points or better.
---
---
Wyoming travels to take on Texas, which is flying high after a win at Alabama last Saturday night.
Wyoming pulled off one of the upsets of the college football season in Week 1, beating Texas Tech as two-touchdown underdogs in Laramie. This is Craig Bohl's 10th year at Wyoming, and the Cowboys are coming off their second straight bowl appearance.
Bohl has a stacked defense that showed what it's capable in Week 1, but can the Cowboys slow down one of the best offenses in college football?
It's finally time to say it: Texas is back. Steve Sarkisian's team announced itself as national title contenders last Saturday night by going into Tuscaloosa and beating Alabama.
The Longhorns start their Big 12 schedule next week against in-state rival Baylor, so this is a bit of a look-ahead spot for them.
---
Wyoming's offense is built around its rushing attack.
Andrew Peasley is in year two of being the starting quarterback, and he's never been a consistent passer. Last season, he had a 43.6 PFF passing grade and averaged only 5.2 yards per attempt.
With that being said, he's an effective runner. Last season, he averaged 6.9 yards per carry, but had a 79.3 PFF rushing grade.
Dating back to the start of last season, Wyoming is running the ball on close to 60% of its offensive snaps, so having an effective runner at quarterback is crucial to its offense.
Peasley was pulled from the game against Portland State on Saturday, but it was described as rest rather than an injury, so he should be good to go for this outing.
Coming into the season, the rushing attack was a bit hampered by the presumed starter — Dawaiian McNeely — tearing his ACL in the beginning of August.
The next man up is Harrison Waylee, who missed the first two games of the season. Waylee is a transfer from Northern Illinois. He had a fantastic season last year (averaged 5.5 yards per carry) and has great speed.
The Wyoming defense showed just how good it can be against Texas Tech in the opener. Against the fastest-paced offense in the country, the Cowboys gave up two quick touchdowns and then didn't let the Red Raiders score again until a field goal late in the fourth quarter.
Texas Tech ended up scoring 33 points, but Wyoming did a fantastic job of not allowing it to score once it crossed the 40-yard line.
Texas Tech had seven scoring opportunities but came away with 20 points.
Wyoming returns a whopping 10 starters on defense, with six of its top seven tacklers back from last season.
Something Bohl had to fix was tackling; Wyoming had one of the worst tackling grades in the country last year, which led to a lot of explosive plays.
The Cowboys did fantastic job wrapping up against the Red Raiders and will need to do the same on Saturday if they want to hang in this game.
---
Texas has maybe the most talented offense in the entire country, but can we be honest for a second? Up until late in the third quarter, the Longhorns were pretty poor against Alabama.
Of course, the Longhorns ripped off three touchdowns in the fourth quarter on a couple of home run balls from Ewers, which inflated all of their numbers.
As you can see, their predicted points added through three quarters wasn't great.
Even against Rice, Texas was only up 16-3 at the half and didn't score for the entirety of the fourth quarter when the game was out of reach.
Like I already mentioned, though, the Longhorns are loaded with talent on the offensive side of the ball. Ewers had a 90.6 PFF passing grade against Alabama with three big-time throws. He has all three of his top targets back from last season, including Xavier Worthy, who transferred to Texas from Wyoming.
Ewers has one of the best offensive lines in college football in front of him, with the five starters having 101 career starts between them. Ewers has only been pressured on 14 of his 78 dropbacks, which has allowed him to flourish.
Texas did lose Bijan Robinson to the NFL Draft, though, and really hasn't run the ball effectively through two games, averaging 3.5 yards per carry and ranking outside the top 100 in both Rushing Success Rate and Offensive Line Yards.
Texas is only returning six starters on defense, but Sarkisian went into the transfer portal and grabbed some great veterans to help Pete Kwiatkowski's defense.
Something Texas struggled with last season was stopping runs at the line of scrimmage. The Longhorns were outside the top 100 in both Stuff Rate and Power Success Rate, which translated to them being 63rd in Rushing Explosiveness Allowed.
---
In terms of spots, this is a bad one for Texas, which is coming off of the emotional high of beating Alabama in Tuscaloosa. The Horns have a date with in-state rival Baylor on deck, so this is kind of a sandwich spot for the Longhorns.
Wyoming's defense has proven it can shut down a high-powered offense, and with the experience the Cowboys have coming back, they can potentially give Texas some problems.
With Peasley and its best available running back in the game, Wyoming is without a doubt live to cover this game.
I only have the Longhorns projected at -24.3, so I like the value on Wyoming at +30. I would play it down to +28.5.
How would you rate this article?
This site contains commercial content. We may be compensated for the links provided on this page. The content on this page is for informational purposes only. Action Network makes no representation or warranty as to the accuracy of the information given or the outcome of any game or event.