Week 3 College Football Odds & Picks: Collin Wilson's Betting Card, Featuring Colorado State vs Colorado, BYU vs Arkansas
Credit:
Getty Images. Design by Matt Roembke/Action Network. Pictured (left to right): Arkansas' KJ Jefferson, Colorado's Shedeur Sanders, Florida's Trevor Etienne and LSU's Malik Nabers.
The college football season rolls on with plenty of Week 3 action.
Action Network senior writer Collin Wilson broke down four bets for Saturday, including picks for Colorado State vs Colorado and BYU vs Arkansas.
Read on for Wilson's full college football Week 3 betting card.
Somehow, the first two full slates of the college football season have already come and gone. Now, we're onto Week 3.
While there aren't many high-profile games population this week's schedule, there are still a number of intriguing games from a betting perspective, and there's value to be had.
I'm starting my Week 3 card off with a noon matchup in Starkville as LSU looks to bounce back against a Power 5 opponent for the first time since suffering a monstrous loss to Florida State in Orlando in Week 1.
Then, one of the more highly-regarded matchups of the night takes place in Gainesville, as Tennessee hopes to find a way to beat Florida on its home turf for the first time in 20 years.
After that, we have a defensive showdown set in Fayetteville before Coach Prime and the Colorado Buffaloes close out the night against an in-state rival.
Without further ado, let's dive into how I'm betting some of Week 3's top college football games.
---
Collin Wilson's Week 3 Betting Card
The team logos in the table below represent each of the matchups that Action Network senior writer Collin Wilson is targeting from Saturday's slate of games. Click on the team logos for any of the matchups below to navigate to a specific bet discussed in this article.
Game
Time

(ET)

Pick
12 p.m.
7 p.m.
7:30 p.m.
10 p.m.

Specific betting recommendations come from the sportsbook offering preferred odds as of writing. Always shop for the best price using our NCAAF Odds page, which automatically surfaces the best lines for every game.
---
The 2023 season did not start off as expected for LSU as it suffered a blowout loss in Camping World Stadium to Florida State. The Tigers carried a lead into the second half, only to see the Seminoles bully their way to 21 points in the fourth quarter for a comfortable 45-24 victory.
LSU regrouped with a 72-10 rout of Grambling State in Week 2.
Mississippi State entered the season with the lowest expectations of all teams in the SEC West because head coach Zach Arnett implemented a change in offensive philosophy. After spending years in Mike Leach's Air Raid scheme, the Bulldogs now run the ball as much as any other team at 63% of all snaps.
Miss State dominated Southeastern Louisiana in the opener before needing overtime to beat Arizona in Starkville in Week 2.
With two games in their new offensive system under their belt, the Bulldogs will look to ramp up the intensity against a Tigers team looking to start conference play on a high note.
Find a betting pick, preview and prediction for LSU vs. Mississippi State below.
---
The LSU offense and defense have been on different paths through eight quarters this season. The good is wrapped up into an offense that's among the top 20 in Havoc Allowed, Quality Drives and pass explosives.
Jayden Daniels has yet to post a turnover-worthy play and has generated six touchdown passes while dodging 22 pressures.
Brian Thomas Jr. and Kyren Lacy have emerged as dangerous targets behind Malik Nabers. Thomas averages an impressive 3.2 yards per route and has caught three touchdowns in just two games.
The offense has shown plenty of fluidity for coordinator Mike Denbrock, but the challenges come on defense.
Defensive tackle Maason Smith returned to action against Grambling, recording a single pressure and tackle in 35 snaps. Grambling gashed the Tigers on the ground early, a product of the defense starting in the dime package, per head coach Brian Kelly.
Grambling generated seven runs of at least 12 yards for an average of 5.9 yards per play. The LSU defense did catch up after the first few series, but there are plenty of questions after getting dominated by Florida State in the opener.
---
New Mississippi State offensive coordinator Kevin Barbay had previous stops at Appalachian State, Central Michigan and Stephen F. Austin. Each of those programs utilized a heavy rush attack, similar to what Mississippi State has displayed through two games this season.
The Bulldogs averaged just 4.3 yards per play on rushing attempts versus Arizona, recording only one explosive run in the process. Jo'Quavious Marks has been the bell cow with 24 rushes for 123 yards against the Wildcats.
Despite the change in scheme, quarterback Will Rogers has been fantastic through two games.
Rogers has thrown five touchdowns and no interceptions this season, posting just a single turnover-worthy play. Receiver Lideatrick "Tulu" Griffin has been the most dangerous weapon on the team with 11 targets and 4.1 yards per route run.
Despite the scheme change, Mississippi State is still a low-risk offense similar to that of the Air Raid era, continuing to rank among the top 30 in Havoc Allowed. However, ranks of 16th in Offensive Quality Drives and 48th in Finishing Drives indicate there have been points left on the table for the Bulldogs offense.
Arnett is in his second season calling the 3-3-5 scheme in Starkville, and the Bulldogs have been excellent in creating chaos by ranking ninth in Havoc, thanks to 14 passes defensed and 12 tackles for loss.
Linebacker Jett Johnson has been clutch, leading the team in tackles and trailing only Nathaniel Watson in creating pressures.
Mississippi State ranks 14th in hard-stop rate, an indicator of defensive domination by causing a turnover, creating a three-and-out or obtaining a fourth-down stop.
---
Both defenses have significant question marks entering this SEC matchup.
Arizona gained well above the national average in available yards in Starkville, posting two methodical drives and two explosive drives. The Bulldogs allowed Arizona to average six yards per play on standard downs, creating short distances on third- and fourth-down attempts.
Mississippi State ranks 120th in Defensive Finishing Drives, allowing 5.2 points to opponents that cross the 40-yard line. Considering the Bulldogs have produced one of the lowest pressure rates in the FBS, LSU's offensive line will protect Daniels on all throws.
The Bulldogs offense will see similar success against an LSU defense that ranks 110th in Defensive Finishing Drives.
The Tigers have generated pressure from the defensive line, but LSU has allowed a large sum of explosive plays. Coordinator Matt House must build better fundamentals from the defense, which ranks 114th in tackling with a broken-tackle rate that's near dead last in the FBS.
The Action Network projection calls for LSU -8 on the spread with a total of 63. Considering the poor tackling and penchant for giving up explosives, a full-game over bet is in play with consideration to the first half.
Grambling slashed the LSU defense on scripted plays for a score on the first two drives, so a new-look Mississippi State squad should execute at the same level.
---
---
Dating back to 1916, Florida leads Tennessee, 31-21, in a rivalry dubbed the Third Saturday in September.
The Volunteers haven't won in Gainesville since 2003 but scored a victory in Knoxville last year after surviving a fourth-quarter push by Anthony Richardson that resulted in a cover for the Gators.
Florida head coach Billy Napier was pleased with his team's Week 2 result — a thrashing of McNeese after a season-opening loss to Utah in Salt Lake City.
Florida entered the season with one of the toughest schedules in the nation and a win projection hovering below the six wins needed for a bowl berth. However, a victory over Tennessee might be the deciding win that puts Florida in the postseason.
Josh Heupel is coaching his third season at Tennessee after winning SEC Coach of the Year in 2022.
The Volunteers opened with a bang in a 36-point victory over Virginia, following up with a slow start against Austin Peay. Tennessee had one of the lowest numbers from an experience perspective entering the season, and now Heupel will look to correct the errors his team made in a flat effort against the Governors.
---
The biggest question in the offseason surrounded the accuracy of Tennessee quarterback Joe Milton III. The sixth-year senior failed to log a single big-time throw in 33 passing attempts against Austin Peay.
The targets for the Volunteers did nothing to help, dropping four passes and providing an average depth of target of 5.2 yards. Milton has declining numbers in adjusted passing completion when throwing over 10 yards, currently at 46% compared to an average of 59% the previous two seasons.
No player with more than three targets has recorded a yards-per-route-run mark over 1.7, meaning the Vols' explosiveness from 2022 is absent.
Tennessee ranks 97th in Quality Drives, signaling that Milton hasn't been able to generate consistency for the offense.
The Vols' vanilla performance against Austin Peay included just three passes over 20 yards and a single methodical drive, which are areas to watch against Florida.
Heupel's team has better numbers on the defensive side of the ball in two games with a rank of 111th in strength of schedule.
Neither Austin Peay nor Virginia created explosives or generated enough success to move the chains. The Tennessee defense ranks top-35 in Defensive Quality Drives and Finishing Drives — both indicators that the defense is on the rise in coordinator Tim Banks' third season.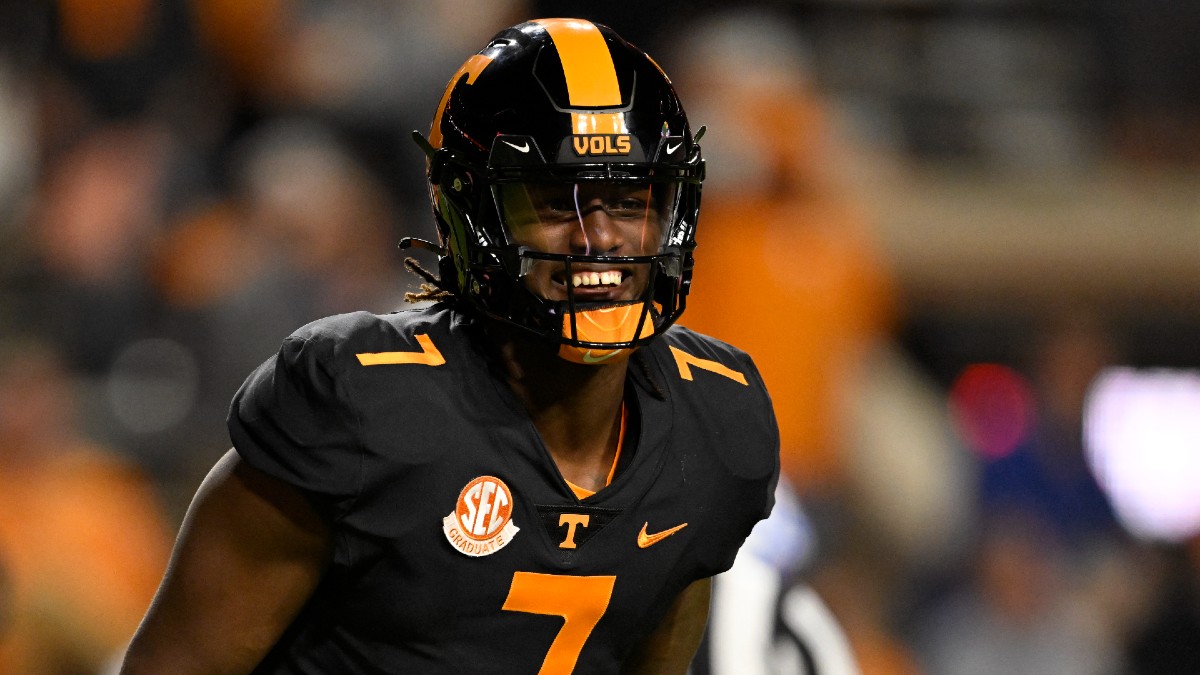 ---
Florida hammered an FCS school in a bounce-back win after taking a loss at Utah to open the season.
Quarterback Graham Mertz played near-perfect ball against McNeese, going 14-of-17 with a touchdown.
The offensive line continued to be a bruising unit and now ranks fifth in Line Yards and 21st in Stuff Rate for the season. The Gators logged an astronomical 80% Success Rate in 51 rushing attempts against the Cowboys, having just four runs stuffed the entire day.
Montrell Johnson Jr. and Trevor Etienne have been the workhorses in the backfield, each averaging over six yards per rushing attempt while commanding five targets apiece.
The defense has been a mixed bag under coordinator Austin Armstrong, failing to generate a pass rush but ranking top-10 against the run.
The Gators are highly improved in fundamentals with ranks of 19th in tackling and seventh in third-down defense.
More importantly, Utah and McNeese State were unable to generate explosive plays, as Utah logged just a single 20-yard pass and a 20-yard run in the opening game.
Weakside linebacker Shemar James leads the team in tackles and assists while also pulling one of the highest coverage grades of any linebacker in FBS.
---
Tennessee's Week 2 victory over Austin Peay certainly came with question marks. Heupel was adamant in his weekly press conference that penalties, red-zone play and dropped balls all played a part in the score.
The Tennessee offense has been a shell of its previous version, as Milton has completed only two passes beyond 20 yards. Through two games, the Volunteers have posted five drops, nine contested targets and just two contested catches.
Tennessee biggest strength on the offensive side of the ball is its ground game, led by Jaylen Wright and his 5.44 yards after contact average. The running backs could be complemented with the return of center Cooper Mays.
Both Wright and Jabari Small are explosive options out of the backfield, but the spread wide formation has not produced big gains through the air. Tennessee enters Week 3 ranked 69th in Passing Success Rate and 118th in pass explosives.
Heupel indicated that Florida's offensive line is an area of concern. The Gators own a top-25 strength of schedule thanks to the Utah game, so their top-10 rankings in Line Yards and Rushing Success Rate are legitimate.
There may be reason to believe Mertz could have success throwing the ball, as Florida ranks 33rd in catchable ball rate.
Action Network projects this game at a field goal in favor of Tennessee.
The Volunteers have yet to show the stretch and deep passing attack that vaulted the team into national relevance last season. If the penalties, drops and inefficiencies displayed against Austin Peay continue, the Gators will make it 10 straight in Gainesville.
---
---
A battle of two undefeated teams is set to take place in Donald W. Reynolds Razorback Stadium on Saturday.
BYU has won six in a row dating back to a road victory over Boise State in November 2022. However, plenty has changed from a personnel perspective in Provo, from a new quarterback to a much-needed shift at defensive coordinator.
A trip to Arkansas serves as the final nonconference clash before the Cougars head to Lawrence for their first-ever Big 12 Conference game against Kansas.
Arkansas shares similarities with its opponent, as new coordinators and a slew of transfer portal players populate the defensive side of the ball.
The Hogs won their first two games by a combined score of 84-19, but struggles persist in many different forms, including injuries and inefficiency. The Razorbacks will host BYU before a night game at LSU kicks off their conference slate.
Arkansas covered this game last season, thanks to 38 points in the second and third quarters.
Both the Cougars and Razorbacks look to stay undefeated before entering tough conference slates, so a win here puts either team closer to bowl season.
---
The changes on both sides of the ball have proven to be positive in victories over Southern Utah and Sam Houston.
Pitt quarterback transfer Kedon Slovis took charge in Week 2, throwing four touchdowns while evading 15 pressures. Two passing touchdowns came from a play-action pass, a staple in coordinator Aaron Roderick's offense.
A trio of targets leads the way with a touchdown apiece for Chase Roberts, Darius Lassiter and Isaac Rex. All three targets average a minimum of 2.2 yards per route run, supplying BYU with a rank of 26th in standard downs explosives.
BYU has been more apt to drop back this season, as the offense has shifted to a pass on 54% of snaps.
In nine trips across the 40-yard line, BYU has averaged 5.4 points per scoring opportunity. While the offense has been scheming through 11 and 12 personnel, it's the defense that caught the attention of the Arkansas coaching staff.
Coordinator Jay Hill was the winningest coach in Weber State history before making the move to Provo. The defense has responded with a top-20 rank in tackling, hard stops and Quality Drives.
The Cougars have allowed just two touchdowns this season, but now must take on their biggest challenge in terms of size and physicality.
---
Arkansas has two box scores in the books, both leaving a first impression of a blowout. The victory over Kent State reads 28-6, but the Hogs struggled on offense.
New offensive coordinator Dan Enos is working to get a solid running game in the absence of star running back Raheim "Rocket" Sanders.
The third-year running back was dealing with swelling in the knee before triggering a turf toe injury late last week. Sanders' availability for the LSU game is in question, giving Arkansas just four more quarters to find a viable solution in terms of running the ball.
Outside of quarterback KJ Jefferson, the Razorbacks struggled to find consistency on the ground with AJ Green and Rashod Dubinion.
The defense has thrived under new coordinator Travis Williams. A fresh approach to aggressiveness put Kent State and Western Carolina consistently behind the line of scrimmage. Arkansas now comes in top-10 in Defensive Havoc, supported by a rank of third in the nation in tackles for loss per game.
Cincinnati transfer linebacker Jaheim Thomas has been the biggest contributor, racking up 12 tackles and five pressures. Antonio Grier's picks-six was a much-needed boost to the scoreboard against Kent State.
---
Arkansas head coach Sam Pittman had plenty to say about where the Hogs are on the offensive side of the ball, stressing that the offensive line and tight ends must block better on the edge and downfield. There were consistent issues with ballcarriers and linemen not being on the same page in zone- and man-blocking schemes.
Drops became an issue for two of the top targets on the team in Andrew Armstrong and Jaedon Wilson. Pittman stated the goal is to always have the ability to run the ball, and an emphasis to be more vocal with pre-snap assignments will be put on preseason All-American center Beaux Limmer.
BYU head coach Kilani Sitake indicated wide receiver Kody Epps will be available to play against the Razorbacks. Epps accounted for six touchdowns a season ago, generating the third-most targets while averaging an explosive 2.9 yards per route run.
The Arkansas secondary has been solid in coverage through two games but has not seen a challenging combination like Slovis and Epps.
The Action Network projection favors Arkansas by 11 points, a number that has taken BYU steam for the majority of the week.
With "Rocket" Sanders out and the Razorbacks looking for an identity on the ground, there's fire behind the smoke that has moved the total down from 52 through the key number of 48.
One key statement from Pittman leads an investor to believe that the under still has value.
BYU runs an odd front, noted by Pittman as three under and three deep — and Arkansas has yet to play or practice against that front. Look for Hill to call a deep multiple-personnel game that will keep the Hogs guessing.
Points will certainly be at a premium with these aggressive defenses.
---
---
The hype train for Colorado moves onto Week 3, as the Buffs facing their first sandwich spot of the season.
Head coach Deion Sanders brings a 2-0 record straight up into the game, while covering by an average of 21.8 points.
The Buffaloes have built an identity that equals exciting football, if not sustainable, as conference play approaches. Led by two names shooting up the leaderboard for the Heisman, Colorado has one of the highest rates of efficiencies on third down, despite having one of the longest average yards to gain marks.
Before getting to Oregon and USC, the Buffaloes will look to take the crown in their home state.
Meanwhile, there couldn't be a more important game on the schedule for Colorado State head coach Jay Norvell. The Rams are resurrecting their program after a 3-9 season in 2021 and a complete rebuild in 2022.
This game will play apart in Norvell's quest to recruit the state of Colorado, as the school continues to build around Canvas Stadium.
The Rams have had as much personnel turnover as the Buffaloes, as only 19 players from the Colorado State 2021 team are on the current roster.
The big question for the Rocky Mountain Showdown is all on Colorado and its ability to focus on Colorado State, not the rest of its September schedule.
---
With all the preseason hype surrounding the program in Norvell's second year, Colorado State suffered a letdown in the opener against Washington State. The Rams failed to generate explosive drives despite gaining additional weapons at the skill positions.
Wide receiver Tory Horton was limited to just 81 yards on 12 targets, while the running game was non-existent at 2.5 yards per play.
At Mountain West Conference Media Day, Norvell was excited for the breakout of wide receiver Justus Ross-Simmons, the lone shining light for the offense in the opening loss.
There will be a change at quarterback, as incumbent Clay Millen was injured against the Cougars. Brayden Fowler-Nicolosi finished the loss for a Rams team that scored 21 points in the fourth quarter. Fowler-Nicolosi connected on two touchdown passes and threw for 210 yards despite three turnover-worthy plays.
The sophomore will get the start, but Millen will be active and ready to contribute if needed.
There were positives for the Colorado State defense, despite giving up 50 points to Washington State. The defense stuffed 13-of-35 rushing attempts, above the national average rate of 30%. The Cougars averaged just 3.5 points per scoring opportunity, as the Rams generated 10 tackles for loss.
The biggest area of opportunity is the pass defense, after Washington State connected on 14 passes that went over 15 yards.
---
The handicap for Colorado turned out as expected against Nebraska. The Buffaloes accumulated 28 plays in passing downs, averaging 10.9 yards per play. The Buffaloes converted 10-of-18 on third down with an average distance of 7.4 yards per attempt.
This is the most exciting third-down team in the nation, generating a Success Rate nearly double the national average through two games.
There are areas where this Colorado offenses can be exposed, as it ranks outside the top 100 in Havoc Allowed and Finishing Drives. The Buffaloes are heavy on the pass, with a current Rush Rate of 42%.
A defense that can play decent coverage — while rushing four or less — may have success containing quarterback Shedeur Sanders.
After two victories against TCU and Nebraska, there are even bigger gaps on the defense.
Opponents have struggled in targeting corner Travis Hunter, a two-way player responsible for three forced incompletions and 192 receiving yards. Hunter is most valuable against the opponent's pass, as he's been targeted 10 times this season and has allowed just three completions.
Outside of Hunter, the Colorado defense has bottom-25 ranks in Havoc and Passing Downs Success Rate. While Nebraska didn't have the offense to generate big passing plays, TCU was allowed to gain more than 70% of available yards.
The Pac-12 schedule is chock full of opponents that can get the ball downfield in a hurry-up manor, similar to what Colorado State will look to accomplish in Week 3.
---
The handicap on Colorado remains; it's a team that loves third-down explosives and defensive Havoc. An opponent with a strong secondary and discipline on offense to not turn it over will present a challenge to the Buffaloes, but that's not expected to come from Colorado State.
The Rams drew a coverage grade of 127th, per PFF, ranking 128th in Defensive Quality Drives. Because Colorado does its best work on third and long, Colorado State must improve a defense that allowed Washington State to post 11 conversions on 17 attempts.
The bigger handicap is if Colorado State can keep up on the offensive side of the ball. Nebraska will struggle the entire season in passing downs and generating chunk plays through the air, but TCU dominated in passing downs with a 53% Success Rate. The Horned Frogs generated at least two first downs on 8-of-12 drives, completing eight passes over 15 yards.
No matter if Millen or Fowler-Nicolosi is under center, getting the ball in space to Horton and Ross-Simmons will be the mission. Through two games, Colorado is near last in Defensive Passing Downs Success Rate.
The tempo of the game is also notable, as every college football investor knows coordinator Sean Lewis wants Colorado to immolate the "Flash Fast" pace from Kent State. The Buffaloes are one of the fasted teams in FBS at 24.6 seconds per play, only to be outdone by Colorado State.
Norvell had quick offensive possessions against Washington State, averaging a lightning pace of 21.1 seconds per play.
With two offenses running tempo as fast as possible against two defenses that severely struggle against the pass, look for improved red zone execution and a plethora of points in the Rocky Mountain Showdown.
How would you rate this article?
This site contains commercial content. We may be compensated for the links provided on this page. The content on this page is for informational purposes only. Action Network makes no representation or warranty as to the accuracy of the information given or the outcome of any game or event.