Ole Miss vs. Mississippi State Betting Odds, Picks & Predictions: How To Bet the Egg Bowl on Thanksgiving
Credit:
Matt Bush, USA Today Sports.
Mississippi State is a 1-point favorite over Ole Miss in the 2019 Egg Bowl after the odds dropped on Thursday morning.
The Bulldogs need a win over their rival to get bowl eligible, but the Rebels have found a playmaker at quarterback in John Rhys Plumlee.
Our experts break down the Egg Bowl from every betting angle, and give their picks and predictions.
Egg Bowl Odds: Ole Miss at Mississippi State
Spread: Mississippi State -1
Over/Under: 58.5
Time: 7:30 p.m. ET
TV: ESPN
Ole Miss at Mississippi State Line Movement
Two similarly standing teams in the SEC has most bettors finding value with the one getting points. To be exact, 61% of bets at the time of writing have landed on the Rebels, who opened at +3 but have fallen down to +2.5. Their backing has generated 67% of money wagered on the spread to this point.
As for the total, there's been little to no movement depending on the sportsbook. Most opened at 58, and most are currently sitting at that number as 56% of bets accounting for 45% of money have landed on the over.  —Danny Donahue
Collin Wilson: Can the Bulldogs Bottle Up John Rhys Plumlee?
The road team has won four consecutive Egg Bowls, including Mississippi State's 35-3 win last Thanksgiving. That game featured a bench-clearing brawl and several players were ejected. Ole Miss would love nothing more to avenge that loss and keep its in-state rival from making a bowl game.
This game will likely come down to the play of Ole Miss quarterback John Rhys Plumlee. Since taking over for Matt Corral, Plumlee leads the Rebels with 989 rushing yards to go along with his 789 passing yards. The freshman has amassed 15 touchdowns, but only four of them came through the air.
Mississippi State will need to keep Plumlee in the pocket if the Bulldogs want to have a chance in this game.
Ole Miss does not boast good rushing or passing success rates, but the Rebels rank inside the top-20 in both rushing and passing explosiveness. Those numbers give you an idea of the type of offense Ole Miss has become in 2019.
The Bulldogs have experience playing against run-first quarterbacks this season. Although it was earlier in the season, Mississippi State was able to contain Kentucky's Lynn Bowden Jr. to just 37 yards on the ground. Outside of Texas A&M's Kellen Mond, no quarterback has had much success running the ball against the Bulldogs.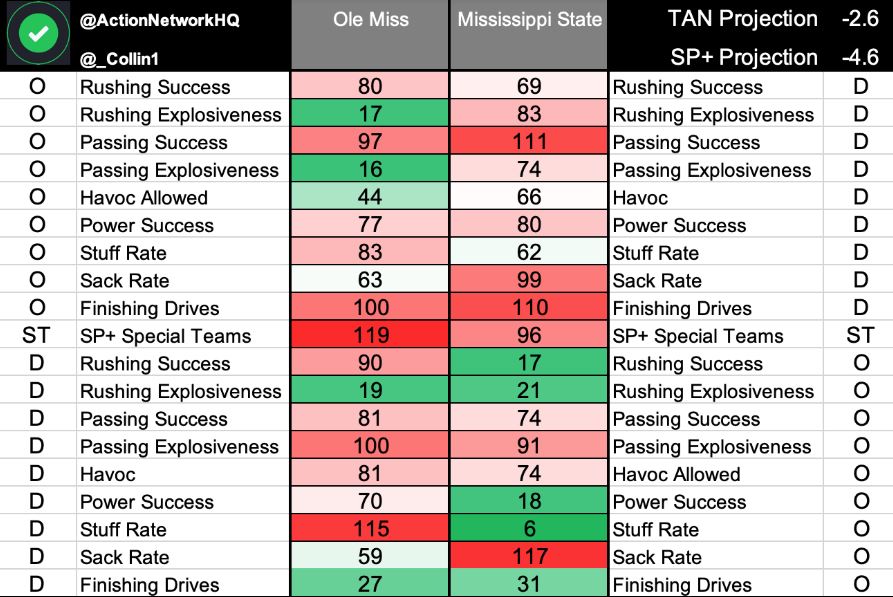 Mississippi State should put up points in this one. The Bulldogs rank 17th in rushing success rate and 21st in rushing explosiveness, so expect this offense to move the ball and eat up some clock. That's been the MO for Mississippi State, which ranks 27th in time of possession.
The Rebels don't have a great defense by any means, but they do rank 27th in finishing drives so we could see a lot of field goal attempts from Mississippi State.
Suspensions have been a huge problem for Mississippi State this season, but it looks like most of the punishments have been served so you can expect Mississippi State to be close to full strength for the Egg Bowl.
Our Action Network projections line this game at Mississippi State -2.5 with an Over/Under of 56.5, so I will look to back Mississippi State on a cheap moneyline, -135 or better, as the market develops.
[In New Jersey? Bet now at PointsBet]
Stuckey: Will the Clock Be Moving All Night?
I tend to think Mississippi State is a tad cheap, but this should be a competitive game between two teams that have similar profiles. This game is projected to be close, so I'd rather wait to see if the Bulldogs pop up as a live underdog in the first half.
Ole Miss will likely hit some explosive plays, but Mississippi State's rushing offense should have much more sustained success driving the ball down the field behind an offensive line that should control the line of scrimmage.
Mississippi State also has an advantage on special teams. The Bulldogs haven't been anything to write home about, but the they have performed better than Ole Miss, which has one of the worst special teams units in all of college football.
With such a small spread, the difference between these two kickers could decide who wins and covers. Mississippi State has a fairly reliable kicker in Jace Christmann, while Ole Miss' kicker Luke Logan has had an abysmal year at 11-for-19 overall. He's also just 2-for-10 in his career from beyond 40. Conversely, Christmann is 11-for-17 from beyond 40 in his career.
As for the total, I think this game sets up for an Under.
The Ole Miss defense has been inefficient against the pass (worst in the SEC by many metrics) but that's not something the Mississippi offense can really exploit. The Bulldogs have yet to throw for 250 yards against an FBS opponent this season.
The two primary areas of strength of the Rebels' defense are limiting explosive runs and bearing down in the red zone. Those also happen to be what Mississippi State's offense does best. Ole Miss can also get after the quarterback, which is a glaring area of weakness for the Bulldogs.
On the other side of the ball, Mississippi State's defense has really fell off compared to last year. It went from leading the nation at 4.1 yards per play allowed in 2018 to ranking 108th this year at 6.3 yards per play. That's more than a 2.0 yards per play drop.
Not only did the Bulldogs lose all of that NFL talent, they've also had to deal with a number of suspensions to key members of their defense all year. They will have everybody back for this game, including DT Lee Autry, LB Williy Gay and safety Marcus Murphy.
That's an important piece at every level of the defense that should give them a boost in production and potentially help address some of the issues Mississippi State has had with containing explosiveness, which is obviously a major concern against an uber-explosive Ole Miss offense.
The Ole Miss offense is very explosive, but it's not efficient. That has led to issues in the red zone when the field becomes condensed. The Rebels rank 100th in finishing drives.
Both teams have used two quarterbacks all year long. Plumlee and the two Mississippi State quarterbacks are mobile and capable runners, but I think the defenses will have the advantage since they practice against mobile quarterbacks every day.
I don't expect either team to have much success through the air and both to feature heavy ground-based attacks. Neither defense is great by any stretch but I think the Under holds a little bit of value here at 58.
[In New Jersey? Bet now at PointsBet]
Kyle Miller: Will Either Team Be Able To Get Stops?
The Egg Bowl is one of my favorite games of the season. Emotions are always running high between both players and fans in what might be the most heated rivalry in college football. While this year's edition isn't quite as juicy because both programs are down, it's still very interesting from a betting perspective.
Plumlee has become somewhat of a phenomenon in college football late this season. He rushed for 212 yards and four touchdowns against LSU in his last game and will likely go over 1,000 yards for the season in this one.
That spells trouble for the Mississippi State defense. Compared to how great the Bulldog defenses have been recently, this group has been shockingly bad in 2019. They rank 108th in yards per play, 69th in rushing success rate, and 83rd in defending rushing explosiveness. Ole Miss and Plumlee are going to have plenty of room to run in this one and I expect them to hit a bunch of big gainers.
Mississippi State's offense has had to pick up the slack from their struggling defense in order to put them in a position to reach a bowl game. Like Ole Miss, the Bulldogs get the job done on the ground behind a solid offensive line and running back Kylin Hill. Hill is one of the most explosive backs in the SEC, averaging nearly six yards per carry in 2019.
Ole Miss is explosive enough on the ground to form a solid offense, but their defense has really struggled. This unit ranks 84th in yards per play and 90th in rushing success rate. Mississippi State's offense will have a large advantage in those categories as well as in the trenches.
Even with the suspended players returning, I don't think the Bulldogs will be able to stop Plumlee and the Rebel run game. These guys managed 37 points and 402 rushing yards against LSU, a defense that I think much more highly of than Mississippi State's.
With the way Ole Miss pushes tempo, I think Mississippi State is going to have to play keep up in this one. I'm on the over 58 in what should be a very entertaining game.
How would you rate this article?