Pac-12 Odds, Picks: Our Best Bets for USC vs. UCLA, Utah vs. Oregon
Credit:
Tom Hauck/Getty Images, Michael Owens/Getty Images, Brian Rothmuller/Icon Sportswire via Getty Images and Alika Jenner/Getty Images. Pictured from left: Oregon Ducks quarterback Bo Nix (10), UCLA Bruins quarterback Dorian Thompson-Robinson (1), USC Trojans quarterback Caleb Williams (13) and Utah Utes quarterback Cam Rising (7).
Saturday's Pac-12 slate features two stellar games: USC vs. UCLA and Utah vs. Oregon.
Our staff broke down both games comprehensively, including best bets for each spread and total and more.
Check out our top bets for USC vs. UCLA and Utah vs. Oregon below.
The Pac-12 — the Conference of Cannibalization — every year finds a way to ruin its most legitimate bid at making the College Football Playoff.
The conference's champions have failed to make the CFP each of the last five seasons, with Washington being the Pac-12's most recent CFP representative all the way back in the 2016-17 season when Alabama beat the Huskies, 24-7, in the semifinals.
With Oregon's loss to Washington last week, the conference looks destined to miss a sixth straight CFP — unless it receives a hefty bit of help from a number of teams from other Power Five opponents ranked in front of USC.
With that said, the USC vs. UCLA and Utah vs. Oregon games this weekend will have some serious ramifications not just in the conference championship race, but also for futures bettors.
Let's take a closer look at each of the two aforementioned matchups and their potential impacts as it relates to futures bettors and conference-title hopes.
---
UCLA vs. USC Odds
UCLA Odds
Spread
Total
Moneyline

+2.5

-110

76.5

-110o / -110u

+108
USC Odds
Spread
Total
Moneyline

-2.5

-110

76.5

-110o / -110u

-128
The USC Trojans make the trip to Pasadena to face the UCLA Bruins in the Rose Bowl in a battle for the Victory Bell on Saturday night.
The Trojans lead the all-time series, 49–33–7, but the Bruins dominated the Trojans last year by a score of 62-33 as Dorian Thompson-Robinson led the way with six total touchdowns.
While USC had nearly its entire roster and head coach turn over from that game, there's still no love lost between these teams. DTR has stated publicly that he wants to put up 60 again this week.
USC has sole possession of first place in the Pac-12 with a 7-1 conference record. If the Trojans win at the Rose Bowl, they will punch a ticket to the Pac-12 Championship after hosting Notre Dame next week.
The Trojans could still potentially reach the Pac-12 title game with a loss to UCLA in a complicated tiebreaker scenario, but they need a win to keep their hopes of reaching the College Football Playoff alive.
With Oregon and UCLA falling last week as double-digit home favorites in surprising upsets, USC is the last remaining hope for the Pac-12 to reach the playoff.
The Bruins can still reach the Pac-12 Championship, but they need wins over USC and Cal, and they also need Washington to lose at least once to either Colorado (not going to happen) or Washington State.
Some of the tarps at the Rose Bowl have been removed for this matchup, as capacity has been increased for a sellout crowd of 70,865. UCLA has announced a record student section of 16,700 Bruins in what is setting up to be one of the most electric atmospheres in West Coast college football this season.
---
What's At Stake in UCLA vs. USC

USC Trojans
The Trojans now wear the crown as the conference's best hope for the College Football Playoff.
At 9-1, the path is pretty clear: Beat UCLA and beat Notre Dame before playing in the conference championship game. A win over UCLA guarantees a conference championship berth.
From a brand perspective, the biggest boost to USC's playoff resume would need to include a win over Oregon in the title game, but the Ducks need to beat Utah — the team the Trojans lost to this season — and Oregon State.
A rematch win over the Utes, however, could also redeem the Trojans in the CFP committee's eye. Washington also remains a potential opponent for USC, but we'll get to that later.
USC was the betting favorite to win the Pac-12 at +200 odds. Its win total was set at 9.5, so one more win in the next two games will cash the over.
The Trojans were +400 in August to make the CFP and are still available at +450 if you think they have a chance.

UCLA Bruins
Like the Ducks, UCLA picked up its second loss of the season last Saturday night against Arizona. Its CFP hopes are over, but the path to a Pac-12 title (+1000) remains intact, albeit extremely convoluted.
First and foremost, UCLA must beat the Trojans. That would then create a four-way tie for second place between USC, UCLA, Washington and the loser of Oregon vs. Utah with one game remaining in the regular season.
Since not all of these teams have played each other, the tiebreaker would be win percentage against common opponents.
For the sake of argument, let's say Oregon (-165) beats Utah on Saturday, and both the Utes and Washington win their remaining games. Oregon would be the No. 1 seed with only one conference loss, with UCLA, Utah, USC and Washington tied for second.
Their common opponents would be Arizona, Arizona State, Colorado and Stanford, with the records as follows:
USC: 4-0
Utah: 4-0
UCLA: 3-1
Washington: 3-1
Since Utah beat USC this season, Oregon and Utah would meet in the conference championship, and UCLA would be eliminated.
If Utah (+140) beats Oregon this weekend, the Ducks would join the four-way tie for second place. The common opponents among the four are now Arizona, California, Colorado and Stanford, with their records against those teams as follows:
USC 4-0
Oregon: 4-0
Washington: 4-0
UCLA: 3-1
We're still tied, so the next tiebreaker is record against common nonconference opponents, which isn't applicable here. So, then we move on to strength of schedule of conference opponents.
UCLA, USC and Washington would be hurt in this scenario because their non-common conference opponent is Arizona State. Oregon's non-common conference opponents are Utah and Washington, both of which are far better than the Sun Devils.
So, all of these mind-numbing machinations would lead to a rematch between Utah and Oregon in the conference championship in this scenario.
The only way UCLA makes the Pac-12 Championship is by hoping for some big upsets in the final weeks like Washington losing to Colorado or Washington State, USC losing out and one of Oregon or Utah losing out.
UCLA's win total was set at 8, so the Bruins must beat USC or Cal in the final two weeks to cash the over.
---
UCLA vs. USC Point Spread

USC -2.5
By William Boor
The 92nd meeting between USC and UCLA takes place Saturday night in Pasadena.
The No. 7 Trojans lead the all-time series, 51-33-7, but the No. 16 Bruins hold current bragging rights as they demolished the Trojans, 62-33, last season.
A sold-out crowd of over 70,000 fans will be in attendance for a game that features local bragging rights, as well as both Pac-12 Championship and College Football Playoff implications.
The Trojans are 9-1 for the first time since 2008 and are also 6-4 ATS (2-2 on the road). Meanwhile, the Bruins are 6-4 ATS, 4-3 at home.
This game's star power is clearly on the offensive side of the ball.
Quarterbacks Caleb Williams (3,010 passing yards, 31 touchdowns, 2 interceptions) and Dorian Thompson-Robinson (2,385 passing yards, 20 touchdowns, 4 interceptions) have been lighting up box scores all season. Both offenses are loaded with skill-position talent, and both defenses have been a bit leaky.
USC running back Travis Dye got hurt last week and is out for the season. Dye, one of the Trojans' leaders, will be missed, but USC has other quality backs in Austin Jones and Raleek Brown.
UCLA is giving up 128.6 (32nd in the nation) rushing yards per game, so the Trojans should be able to run the ball a bit and keep UCLA's offense off the field.
Of course, USC could also have success through the air against a defense yielding 257.9 passing yards per game (98th). Williams, who is completing 63.7% of his passes and has thrown for three or more touchdowns in four straight games, could be in line for another big day.
When the Bruins get the ball, the matchups are similar.
USC is giving up 252.7 yards per game through the air (92nd) and 141.5 yards on the ground (49th). That's good news for running back Zach Charbonnet, who has racked up 13 touchdowns and amassed 1,145 yards while averaging 7.5 yards per carry. Charbonnet has run for over 150 yards in four straight games and ran for 167 last year against USC.
A game between explosive offenses and suspect defenses certainly makes for an entertaining rivalry and should be a fun watch.
With such a short spread, it's easy to see why our staff is split, but ultimately, we lean toward USC. On that note, the favorite is 6-2 ATS in the past eight matchups between these two teams.

Staff Pick: USC -2.5
---
UCLA vs. USC Over/Under
Under 76.5
By CJ Vogel
First off, 76 points is a lot.
Yes, both USC and UCLA have been a part of several high-scoring ball games in each team's 2022 campaign thus far. In fact, both teams fall in the top 11 scoring offenses in the country with each scoring over 39.0 points per game.
However, my point comes with the number of points in this game. A total set at 76 is just too high in my eyes.
What's considered a rivalry game that will likely include an attendance ranging right around the 20,000 number, does in fact have higher implications than your normal Pac-12 game at this time of the year. That will likely ratchet up the intensity.
UCLA's pass rush, which ranks 18th nationally, should also flush Caleb Williams from the pocket, making it more difficult for the Trojans to sustain drives.
On the other side, USC ranks 33rd in Havoc. If it gets into the Bruins' backfield enough, we could be well on our way to an under. After all, we only need a few stops for it to cash.

Staff Pick: Under 76.5
---
This is expected to be a high-scoring affair, as the total has been set at 76.5 points with both offenses projected to have an edge on the opposing defenses in just about every statistic.
The UCLA rushing offense — which ranks third in Rush Success Rate, fourth in Line Yards and 23rd in Rush Play Explosiveness — should have consistent success against the USC defense that ranks outside of the top 85 nationally in all three of these categories.
Through the air, the Bruins also have an edge as they rank seventh in Pass Success Rate and 41st in PFF Pass Blocking Grade. The Trojans pass defense ranks 100th in Pass Success Rate Allowed and 60th in Pass Rush Grade.
The USC pass defense does have an edge in explosiveness, as it ranks seventh in Pass Play Explosiveness Allowed while UCLA ranks 98th in Pass Explosiveness.
The USC offense should have consistent success on the ground, as it ranks fourth in Rush Success Rate and second in Line Yards while the UCLA defense ranks outside the top 100 in both of these categories.
The USC rushing offense hasn't been explosive, however, as it ranks 77th in Rush Play Explosiveness and faces a UCLA defense ranked 20th in Rush Play Explosiveness Allowed.
The key matchup that may dictate who wins the game is between the UCLA pass rush, which ranks 18th in Pass Rush Grade and the USC offensive line that ranks 13th in Pass Blocking Grade.
The UCLA pass rush is the only defensive strength for either team, but UCLA has still allowed opponents to move the ball through the air consistently, as it ranks 102nd in Pass Success Rate Allowed.
However, the Bruins' pass rush limited explosive passes as the unit ranks 16th in Pass Explosiveness Allowed.
Most importantly, both offenses have a clear edge in Finishing Drives. UCLA's offense ranks 26th in this category and faces a USC defense ranked 98th. On the other side of the ball, USC ranks sixth nationally in Finishing Drives, while UCLA's defense is 112th. Both offenses also rank in the top 20 in Havoc Allowed.
While this total is set at 75.5, the battle for the Victory Bell has seen a combined 95 points, 81 points and 87 points in the last three matchups. Don't let the big number scare you, as the value here is on the over with both teams possessing significant edges on offense. As Collin WIlson might say, it would be more surprising to see consecutive punts than spying sasquatch at the Rose Bowl on Saturday.
With this being a rivalry game, if either team is up multiple possessions, they won't take their feet off the gas late as points will come no matter how the game script unfolds.
Pick: Over 76.5
---
I couldn't wait for this number to be released, and here we are with an over/under south of 30 — just as I had hoped.
Williams' rushing total is a good bet this week against UCLA, especially after a game in which he took three sacks. The dual-threat's limited them for the most part this season, but they're such a killer in college when betting quarterbacks over their rushing totals.
Williams doesn't have the recent trends to back up going over this number all too well, but I really don't care. UCLA is one of the worst tackling teams in the Pac-12 (83rd nationally), and despite posting a solid 2.4 sacks per game, has given way to opposing quarterbacks.
Utah's Cameron Rising posted 59 yards on the ground against the Bruins last month — a week before coughing up 51 more to Oregon's Bo Nix.
Running back Travis Dye's also out for the year, opening up a boatload of opportunities for Williams' volume to increase.
It's just too low.
Pick: Caleb Williams Over 28.5 Rushing Yards (Play to 33.5)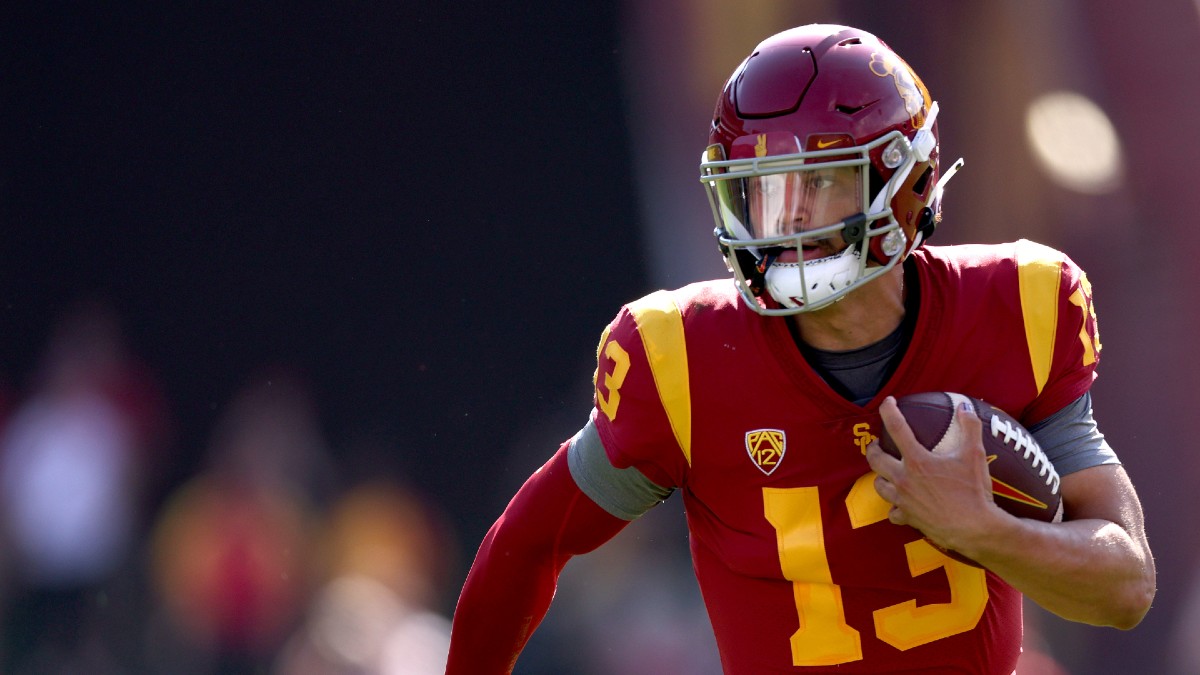 ---
Oregon vs. Utah Odds
Oregon Odds
Spread
Total
Moneyline

+2

-110

60.5

-110o / -110u

+105
Utah Odds
Spread
Total
Moneyline

-2

-110

60.5

-110o / -110u

-125
By William Boor
A rivalry seems to be developing between Utah and Oregon, as the two are making a habit of meeting in high-stakes games.
The Ducks and Utes have gone head-to-head in two of the past three Pac-12 Championship games, and while that's unlikely this year, a win on Saturday will go a long way toward one of these teams punching their ticket to Las Vegas.
These teams enter with identical 8-2 records and are each 6-1 in conference play. The Utes, who blew out the Ducks twice last season, are ranked 10th in the College Football Playoff rankings. Oregon comes in at 12th.
Oregon, albeit with a new coaching staff, will be seeking revenge against the Utes and looking to rebound from last week's loss against Washington. The Ducks haven't lost back-to-back home games since 2016, but that's in jeopardy on Saturday.
After a season-opening loss to Georgia, the Ducks caught fire and won eight in a row. The offense scored at least 40 points in each of those contests, but that streak came to a halt last week when Oregon lost, 37-34, to Washington.
Dreams of a College Football Playoff appearance evaporated, but a Pac-12 title and a Rose Bowl berth are still on the table.
Utah's season has followed a similar trajectory.
The Utes lost on the road against Florida in Week 1, then rattled off four straight wins before losing at UCLA. Utah responded with four more wins, including a thriller over USC.
The Utes have scored 40 or more points in three of their past four games and held Stanford to just 22 rushing yards last week. The Ducks love to run the ball, so that'll be one of several key matchups to watch.
Oregon quarterback Bo Nix got hurt late last week. He returned for the final drive, but Oregon coach Dan Lanning has been coy about Nix's status. If Nix is unable to go, Ty Thompson — who has struggled in limited opportunities this season — will get the start.
Oregon is favored by three points at Autzen Stadium, where, until last week, the Ducks hadn't lost since September 2018. The total sits at 62.
We polled several of our college football analysts to find a consensus on the matchup and to look for profitable angles in this massive Pac-12 matchup.
But first, let's take a look at what's on the line in this showdown.
---
What's At Stake in Oregon vs. Utah
This is a little simpler with either team controlling its own destiny. If USC beats UCLA, the loser of this game is eliminated from conference contention.
But if the Trojans lose, all of the chaos and tiebreaking tiebreakers listed above will go into effect.

Utah Utes
From a futures perspective, the Utes were one of the sexy picks of the offseason to win the conference. They trailed only USC with +225 odds to win the conference title and +425 odds to make the CFP.
Their win total was set at 9. With an 8-2 record, the Utes need to win out or beat one of Oregon or Colorado to push.

Oregon Ducks
Oregon's Pac-12 title odds were the third best at +300, with its win total set at 8.5.
A win here for the Ducks (8-2) would cash the over, but there would be another chance to hit this bet when Oregon takes on Oregon State to close the regular season.
[Takes deep breath]

Washington Wild Card
Then there's the dreaded five-way tie that could still happen, involving Washington, the fifth Pac-12 team with two or fewer conference losses.
The Huskies close with Colorado and Washington State, a pair of games they'll be favored in. If UCLA and Washington win, Oregon beats Utah and loses to Oregon State, and Utah tops Colorado, five teams would be tied at 7-2 in the conference.
It would leave us with the fifth tiebreaker, which is an overall 12-game record. In this scenario, UCLA and Washington would have 10 wins. Oregon and Utah would have nine, eliminating the Ducks and Utes.
If USC loses to Notre Dame, the Pac-12 Championship would be UCLA vs. Washington. Since not all three teams have played each other, if USC beats the Irish, the tiebreaker would move to record vs. common conference opponents that we calculated earlier (against Arizona, California, Colorado and Stanford).
As a reminder, those records are:
USC 4-0
Washington: 4-0
UCLA: 3-1
So, in the event of a five-way tie where USC beats Notre Dame, the Trojans will play Washington in the conference championship.
Washington was +1600 to win the conference with a win total of 7.5, a number it cashed last week with the Huskies' eighth win. If you root for chaos, you can still grab the Huskies at +5000 to win the conference title.
---
Oregon vs. Utah Point Spread
Oregon -3
The stakes don't get much higher than this one with the winner being extremely likely to make the conference championship and the loser likely not.
The Utes bullied Oregon on the ground twice last season, so why might things be different this time around?
Let's start with where this game will be held: Eugene. There's no dispute that Utah quarterback Cam Rising has been great at home, but he is essentially Auburn Bo Nix when it comes to playing on the road.
In six games at home, Rising averages 243.7 passing yards per game and has a 16:1 touchdown-to-interception ratio. In four games on the road, those stats drop to 190.8 passing yards per game and a 3:3 touchdown-to-interception ratio.
Rising's play on the road matches up with Utah's ATS record, as the Utes are just 1-3 ATS away from home this year.
There's the obvious question surrounding the status of Nix in this game, but even with his absence, the Ducks should be OK.
Oregon's strength on offense has been running the ball. And while Nix has 512 yards rushing and 14 rushing touchdowns, the Ducks still have two other running backs who have each rushed for more than 600 yards this season.
USC and UCLA, teams with talented running backs like Oregon, each rushed for at least 175 yards against the Utes.
Oregon's downfall against Washington, outside of getting super conservative when Nix went down, was a pair of home-run pass plays by the Huskies. Utah ranks just 72nd in passing plays of 20 yards or longer and won't pose the same sort of deep threat that other teams have against Oregon.
There's not much separating these two teams, especially with Nix potentially being less than 100%. But with Oregon getting home-field advantage, combined with Utah's struggles on the road, you have to give the slight edge to the Ducks.

Staff Pick: Oregon -3
---
Oregon vs. Utah Over/Under
Over 60.5
A pair of high-scoring offenses playing at night on the West Coast — need I say more? But in all seriousness, this should be another barnburner, something both of these teams have become accustomed to.
Utah has developed a bit of a reputation under Kyle Whittingham as being a physical, dominating defense. But that hasn't been the case this year.
The Utes' run defense has been extremely inconsistent this season, allowing north of 150 yards in five games and less than 50 in four others.
Even without Nix, the Ducks have one of the most dangerous running back tandems in the country that has combined for more than 1,400 yards on the season.
Then there's the Oregon defense, the team's Achilles' heel. The Ducks rank 91st in total defense, allowing 397.9 yards per game. They're almost dead last in third-down defense, an area where the Utes offense excels (10th).
The Ducks defense has struggled the most against the pass, and while Rising has struggled on the road, tight end Dalton Kincaid is a tough matchup for any secondary, let alone one as porous as Oregon.
Oregon's 34 points against Washington last week was its lowest total in nine games, while Utah has scored at least 32 points in eight of its 10 games this season.
The Utes have played two other offenses this season that average within a field goal of Oregon's scoring average (USC and UCLA), and in both those games, the Utes allowed 42 points.
While both teams are likely to focus on the run in this game, both teams have been prone to allowing explosive plays, with Oregon and Utah both ranking outside the top 40 in plays allowed of 30 yards in length or longer.
Sit back, and enjoy some Pac-12 After Dark fireworks.

Staff Pick: Over 60.5
---
I was coming into this Utah-Oregon matchup expecting to say that the Ducks can't possibly be worse after the dud vs. Washington.
However, it's actually alarming that Oregon is the nation's bottom-feeder in passing yards allowed per game (312.5).
The Utes are never sexy under Kyle Whittingham. Yet, there's a lot more finesse to this team's passing game, and Vele's really come on strong since the team lost star tight end Brant Kuithe in Week 4.
From that point on, Vele has at least five catches and 57 yards in six of his seven games.
He's also been good for a catch of 20 yards or longer in seven of his last nine. I see no reason to go over the total, as I expect Utah to flex its muscles over Oregon's spotty pass defense.
Pick: Devaughn Vele Over 60.5 Receiving Yards (Play to 74.5)
How would you rate this article?