Stuckey's Top Power 5 Win Total Bets for the 2021 College Football Season
Credit:
Dustin Bradford/Getty Images. Pictured: Alex Fontenot.
College football is here, which means Stuckey has his futures plays ready to go.
It all starts with his favorite Power 5 win total bets, including picks for Alabama, Indiana, and Colorado. But that's not all he has on his card.
Stuckey also has his top Group of 5 win totals, along with his favorite conference futures in all of college football. Oh, and he'll have a short novel about MACtion — the Action Network's annual MAC Manifesto.
All in all, it's a fun time to be a college football bettor. Now, let's get to the action.
---
Editors Note: The set of college football team logos below reflects each of Stuckey's positions in the college football Power 5 win totals market as of writing. Click any logo to navigate to a specific team section in this article.
---
---
Can Boston College secure its first eight-win season since 2009? That's what it will take to hit this win total, and I think the Eagles do just that.
I'm a huge fan of head coach Jeff Hafley, who has a brilliant defensive mind as evidenced by the quick turnaround job he did with the Ohio State defense in 2019.
I think the Boston College defense will see a similar jump in productivity in Year 2 of Hafley's scheme. The Eagles do need to replace a pair of excellent linebackers in Isaiah McDuffie (drafted by Green Bay) and Max Richardson, but I expect the secondary to take a massive leap under the tutelage of Hafley.
Bottom line, I'm buying what Hafley is selling in Chestnut Hill after a 6-5 season in his first year that came in unideal circumstances. I think he has the program headed in the right direction after years of mediocrity under Steve Addazio. The culture seems to be shifting in a positive direction. One piece of evidence to support this narrative is the fact that BC had zero positive COVID-19 cases in over 8,000 tests last year.
I didn't mention the offense yet, but there isn't much of a concern there to me.
Notre Dame transfer Phil Jurkovec shined in his first year under center. He has an NFL arm and plenty of weapons to throw to in the returning trio of CJ Lewis, Jaelen Gill and Zay Flowers in addition to the return of 2019 leading receiver Kobay White.
The rushing attack really struggled last year, but growing pains were expected in a new scheme.
Running back David Bailey has moved on, but I think the newer quicker backs fit the zone scheme much better. I also expect the offensive line to be much better in the run-blocking department after learning new splits. After all, this is a stellar group with four potential pros and 125 returning starts.
The offense will score and the defense will be better for Boston College, which has a schedule that includes only one unwinnable road game (the one you want at Clemson) and avoids UNC/Miami completely. Just take a look at the Eagles' other five road games:
My number for Boston College's win total is also supported by the fact that I'm lower than the market on four of those five. That's a good transition into my other ACC win total.
---
---
I did like the hire of Geoff Collins and think he'll eventually get the Georgia Tech program headed in the right direction, but it's going to be a long road. While many coaches see a significant improvement in Year 3 at a new school, this is not your usual turnaround.
Collins basically had to wipe everything clean in 2019 as he began the transition away from the triple-option. That's an enormous endeavor, especially when you consider all of the kids he inherited were recruited to fit the old scheme.
Everything had to change, down to the offensive line learning a brand new technique. Throw in a COVID-impacted 2020, and this year almost becomes Year 1.5 instead of Year 3.
The running back room has talent, but the wide receivers are still raw. I'm also still not sold on quarterback Jeff Sims, who had an astounding 25 total turnovers last season. He was only a freshman and has plenty of talent, but he still has a ways to go in regard to reading defenses and cycling through his progressions.
Collins is a defensive guy, but that side of the ball still has major holes to fill. It also doesn't help when the offense is inefficient and giving the ball away too frequently.
On top of all that, penalties (121st last year) and game/clock management have plagued the Yellow Jackets so far in Collins' tenure.
I show value on this under from a pure numbers perspective, but let me walk you through the case from a scheduling perspective.
Georgia Tech faces one of the most brutal schedules in the nation with five games against teams with serious College Football Playoff aspirations:
at Clemson
North Carolina (in Atlanta)
at Miami
at Notre Dame
vs. Georgia
That gauntlet essentially puts the Yellow Jackets' ceiling at seven wins.
Yes, they should start 2-0 with home wins over Kennesaw State and Northern Illinois, but it's tough sledding after that. Georgia Tech would need to go 4-1 in its other five games to get to six wins to bust the win total under. Those games include:
I just don't see it getting to six. Now, let's just hope Boston College doesn't lose at Georgia Tech for the ACC win total double-whammy.
---
---
I never thought I'd say this, but Indiana football seems to be getting a little bit too much love these days.
Yes, the Hoosiers went 6-2 last year, but they benefited from extreme turnover and red-zone fortune. They are a high-regression candidate in both areas this year after leading the nation in red-zone defense and finishing fourth in turnover rate.
I think Tom Allen has this program headed in a great direction, but he's only 21-21 in four years in Bloomington.
My biggest questions are on the offensive side of the ball. Yes, Michael Penix Jr. returns for another year under center and boasts an impressive 10-2 record as a starter. But is he 100% healthy, and can he finish the season healthy?
Those are two viable questions after Penix tore his ACL last year — the same one he previously tore. In fact, Penix has had three season-ending injuries during his time at Indiana. If he can't play a full schedule, I don't have much confidence in the quarterback depth.
IU will also have to replace wide receiver Whop Philyor and star center Harry Crider. There are still talented options to throw to in Peyton Hendershot and Ty Fryfogle, but Philyor will be sorely missed as a reliable possession receiver who can create in space after the catch.
Then there's the rushing attack, which was very underwhelming last year, averaging a mere 3.3 yards per carry. The run blocking is a problem, and IU will need to replace Stevie Scott, who was at least very reliable in short-yardage situations.
The defense will be under the guidance of a new coordinator, as IU hired Georgia defensive backs coach Charlton Warren after Kane Wommack left for the head coach position at South Alabama.
That said, I don't expect much to change for this very experienced and talented bunch with Allen still in charge.
The Hoosiers did lose safety Jamar Johnson (fifth round, Broncos) but seven of the top eight return in the defensive backfield. That includes All-American cornerback Tiawan Mullen (whose incompletion rate when targeted since 2019 leads all FBS), along with running mates Jaylin Williams and Reese Taylor — who both received All-Big Ten accolades. Throw in safety Devon Matthews, and IU potentially has a top-10 secondary in the country.
The linebacker group is also nasty with senior Micah McFadden and Cam Jones causing havoc all over the field. Plus, Indiana will benefit from getting sixth-year senior Marcelino Ball back from injury to play the "Husky" position. There's not much to worry about on the back end of this base 4-2-5 defense.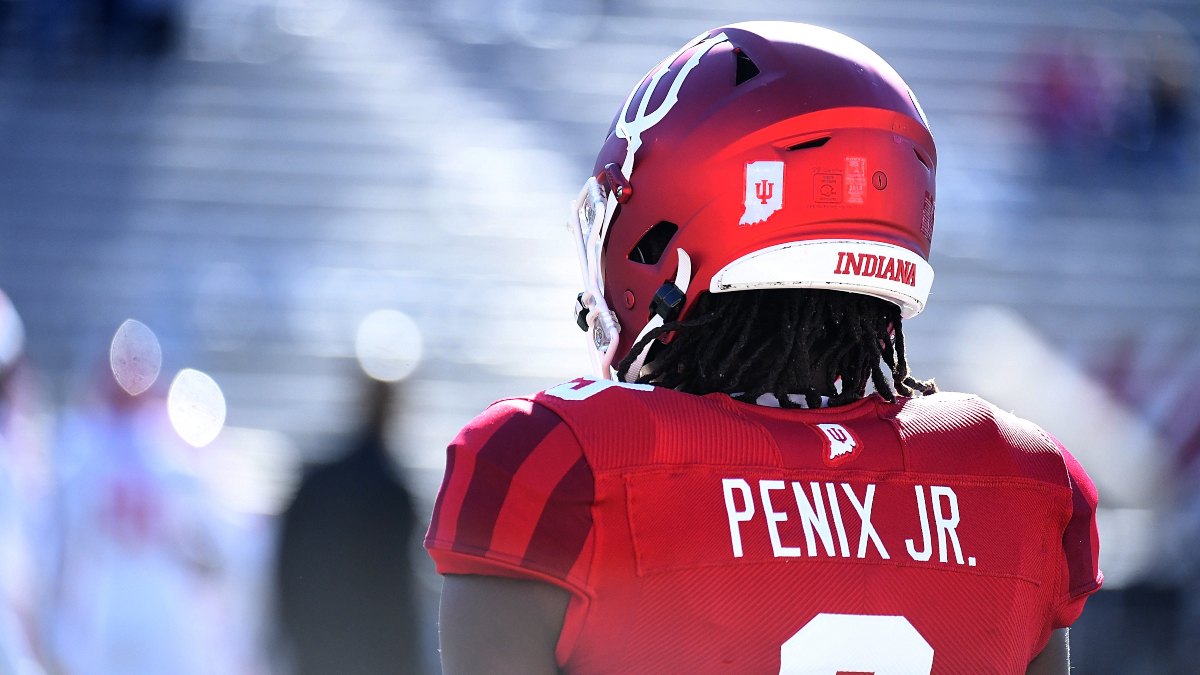 I do have some concern about the defensive line after losing Jerome Johnson, who accounted for 60% of the sacks and 36% of the tackles for loss that came from that unit.
Indiana hopes a few transfers can step in to help generate more pressure. I have my doubts. And without consistent pressure up front, it's even less likely IU can duplicate last year's turnover and red-zone numbers.
Look, Indiana has a good football team, but this win total is just too high compared to my projection. The Hoosiers could have a very successful season at 7-5 and finish in the top 25 given their brutal schedule. Just take a look at this quick summary:
Host two preseason top-10 teams in Ohio State and Cincinnati.
Have road games at Iowa (to start the season) and at Penn State.
The Hoosiers could easily drop all four, which would put their ceiling at eight wins. But the potential losses don't stop there.
They also have two tough away games at Maryland and Michigan — two more potential losses. And they better not get caught napping in a sleepy spot at Western Kentucky — a game sandwiched in between Cincinnati and Penn State. Finally, finishing up the season on the road at Purdue in a rivalry game won't be an easy task.
I wouldn't be shocked if Indiana lost any of the above eight games. I project its win total right around 7.0, so I fancy the under 8.0 at -130 I grabbed and talked about on the podcast, but that has since started to disappear. I do still like the current under 7.5 at -105 enough to warrant a play if you can't find a juiced 8.
---
---
While I don't think the ceiling is as high as Iowa State, TCU is a team that I'm also high on heading into this season.
I expect quarterback Max Duggan to make serious progress in his junior year under the guidance of quarterback coach Kenny Hill. Duggan will also benefit from a loaded running back room, led by former five-star Zach Evans for the Big 12's leading-rushing team last year.
He'll also have his entire starting wide receiving crew back in the fold.
And most importantly, the offensive line should get much better in pass protection after struggling last year. Those struggles weren't unexpected considering TCU had to replace all five starters and then had to deal with a plethora of injuries. For example, it started four different right guards throughout the season.
This year, the offensive line has much more experience and continuity. The Horned Frogs boast a stingy interior with center Steve Avila (Rimington Award Watch List) and right guard Wes Harris returning from injury. They also added massive Memphis transfer Obinna Eze to lock down Duggan's blindside at left tackle. This is the group I expect to make the biggest jump from last season, which I think will do wonders for Duggan and the offense.
Defensively, the line is accomplished and deep, led by relentless defensive ends Ochaun Mathis and Khari Coleman. Corey Bethley returns to lead the interior, which should also see a boost from UCF transfer Kenny Turnier.
TCU mustered only five sacks in its first four games last year before going off for 22 in its final six. I expect the defensive line to carry over that Havoc into the start of this year.
The defense does need to replace star linebacker Garret Wallow (fifth round, Texans) in the middle of Gary Patterson's patented 4-2-5. Plus, two safeties also departed for the NFL in Trevon Moehrig (Jim Thorpe Award winner) and Ar'Darius Washington. Another Memphis transfer, TJ Carter, can take over one of those spots, but Nook Bradford will have to step up at the other.
The Horned Frogs do at least have a solid group of cornerbacks to rely on in Tre'Vius Hodges-Tomlinson (NFL potential), Noah Daniels and CJ Cesar. Plus, I never really worry about a Patterson-coached defense.
The special teams should also be reliable.
TCU does have five Big 12 road games (including three tough ones at Iowa State, Oklahoma and Oklahoma State) and is only 18-17 the past three seasons. However, the Horned Frogs did finish very strong last year (5-1).
I expect that momentum to carry over into this season with a more consistent offense and your usual Patterson defense.
Ultimately, this is purely a numbers play since I project the Horned Frogs to win 8.3 games. It also could serve as a mini hedge for the Iowa State futures if either comes down to the season finale between the two.
---
---
Let's stay in the Evergreen state for the only win total I like in the North. I prefer the heavier juiced 6.5 but would also play Under 6 up to -120 if you don't have access to the former.
Fans in Pullman might point to the fact that head coach Nick Rolovich and a new staff had zero spring practices in his first year of transitioning the Cougars to his patented Run-n-Shoot offense. As a result, the team should be much better prepared this year.
While true, I still think this is a major work in progress for an offense that has major question marks at receiver after Jamire Calvin and Lucas Bacon left the program and stud "Y" wideout Renard Bell recently tore his ACL.
It's also still unknown who will get the nod as QB1 for the opener with a three-man competition between Jayden de Laura (who missed spring due to a DUI suspension), Tennessee transfer Jarrett Guarantano (who I'm not a fan of in this system) and Cammon Cooper.
Ultimately, I just expect more growing pains on both sides of the ball as Rolovich continues to transition the offense to his scheme and the defense, which allowed the second-highest frequency of 10-plus yard plays last year, continues its switch to a new 4-2-5 scheme.
And if the Cougars start to figure things out over the first half of the season, they unfortunately finish out their schedule with a brutal stretch of BYU, at Arizona State, at Oregon, Arizona and at Washington. I'd be floored if they got to seven wins.
Oh, and don't forget that Rolovich has publicly stated he won't get vaccinated. That could potentially lead to a higher percentage of unvaccinated players compared to the rest of the league and a greater risk of missed games. That's obviously pure speculation, but worth mentioning in these crazy times.
Moving over to the Pac 12 South…
The South is a much more fascinating race with three teams priced in the same neighborhood in USC, Arizona State and Utah.
There's also an intriguing sleeper in UCLA, which will try to turn the close losses of last year into wins in Chip Kelly's fourth year. You may recall that Kelly went 12-1 and made the National Championship in his fourth year at Oregon.
If you wanted to take a shot on the Bruins at 7-1, I wouldn't blame you, especially with some of the uncertainty surrounding the Arizona State investigation.
Oh, and Clay Helton is also still in charge of a USC team that could have major offensive-line issues.
---
---
The Utah win total over does act as a semi-hedge of the Arizona State future since the Utes do host the Sun Devils. But I also do really like the roster head coach Kyle Whittingham has at his disposal this year.
The Utes added Baylor grad transfer quarterback Charlie Brewer, who is just a flat-out winner. They also return 90% of their production from a defense that could finish as a top-15 unit after basically completely reloading last year.
I'd argue Utah has the best offensive and defensive lines in the conference, which is always a recipe for success. Oh, and don't sleep on the always-excellent special teams.
Utah does have two tough non-conference road games at BYU and at San Diego State, but I wouldn't be shocked if it won both. As long as the wide receivers can come together after some key pieces transferred out, this team could have a special season.
Plus, the Utes do get Arizona State at home and a bye week before traveling to USC. There's a decent chance they are favored in 11 of their 12 regular-season games.
---
---
Lastly, it might seem crazy to go under 4.5 on Colorado a year after the Buffs finished 4-2 in Pac-12 Coach of the Year Karl Dorrell's first season. While Dorrell deserves a ton of credit, the Buffs did benefit from an extremely easy schedule and a 2-0 record in one-possession games.
I have serious questions about both lines, especially with their best offensive lineman out for the first few games. And the defense remains suspect with the exception of linebacker but even there, a few key pieces are recovering from serious injury.
There is a plethora of skill-position talent but like at Washington State, the quarterback position remains unsettled. The competition between Brendon Lewis and Tennessee transfer J.T. Shrout should go down to the wire.
And look at the schedule! It gets exponentially tougher this season for the Buffs, who have one of the most difficult schedules in the nation. They have non-conference bouts with Texas A&M and Minnesota, in addition to conference road trips to Arizona State, Utah, Oregon and UCLA — plus two home games against Washington and USC. Brutal.
Colorado should beat Northern Colorado, Arizona and Oregon State at home, while another home contest against Minnesota is certainly winnable but not a guarantee. After that, I'm not sure where the fifth win comes from, assuming the Buffs do beat Minnesota in a coin flip.
---
---
I wanted no part of the National Championship futures market last year since I wanted to simply stay out of the way out of the Alabama revenge tour. The Crimson Tide had a historically great team in 2020 when you consider they swept an All-SEC regular-season schedule en route to Nick Saban's sixth national championship in Tuscaloosa and seventh overall.
However, similar to 2019, I think Alabama is a bit vulnerable this year with a brand new quarterback in Bryce Young, who still needs to prove himself. And I get that Alabama always reloads, but it must replace an unusually high amount of NFL skill-position talent over the past two seasons.
The defense should be one of Saban's best but an offense that lost its quarterback, running back, three offensive linemen, two wide receivers and four offensive assistants could have to deal with some growing pains. This is still obviously one of the two or three best teams (at worst) in the country, and it wouldn't shock me if it won a national title.
However, there's a reason Saban has only repeated as national champions once in six previous tries. That came back in 2012 when Alabama had much more roster and coaching continuity than it does this year. This year's team reminds me more of the one two years ago than the one last year.
Look, I'm obviously nitpicking here at a program that will always be in the mix for a National Championship under Saban.
What this really comes down to is I project this win total at 10.5. It's no surprise there's a tax on the Alabama win total, especially after what we saw last year, so I'll gladly take on the other side and go under here.
If I had to guess, Alabama likely drops one of the three following road games: Texas A&M, Florida or Auburn in the season finale.
---
---
How would you rate this article?
This site contains commercial content. We may be compensated for the links provided on this page. The content on this page is for informational purposes only. Action Network makes no representation or warranty as to the accuracy of the information given or the outcome of any game or event.