2020 NFL Draft Betting Picks: Our Staff's 12 Best First-Round Bets
Credit:
Getty Images. Pictured: Jeff Okudah, Justin Herbert, Justin Jefferson
Our staff compiled their favorite NFL Draft prop bets, featuring picks on player draft position, what certain teams will do and more.
NFL Draft odds move fast, so get these numbers while they're still available.
The 2020 NFL Draft begins at 8 p.m. ET on Thursday night.
Happy NFL Draft day!
We've been previewing the 2020 draft for weeks, and now that the big day is here, our experts are here to break down their favorite betting picks.
You'll find their top values, longshots and more bets outlined by expert — Matthew Freedman, Sean Koerner, Chris Raybon and Stuckey — below. Let's dig in!
NFL Draft Betting Picks
---
Odds as of Thursday morning and via various legal sportsbooks. Check out our reviews and list of the best promos at books in your state.
---
Value Pick: Under 0.5 RBs Drafted In Round 1 (+150) at FanDuel
Running backs D'Andre Swift (Georgia) and Jonathan Taylor (Wisconsin) are strong prospects, but both have their weaknesses: Swift has never been a high-volume rusher, and Taylor is a pass-catching liability.
Both make more sense in Round 2 than Round 1.
I take a "wisdom of the crowds" approach by surveying as many reputable mock drafts as possible. I find that these drafts — created by mockers with established records of success — collectively give me a good sense of the realistic range of outcomes.
In just 40% of these mocks do we see a running back go off the board in Round 1.
I'd bet this down to +100.
[Bet now at FanDuel. NJ, PA, IN and WV only.]
---
NFL Draft Promos!
---
Longshot Pick: Albert Okwuegbunam First TE Drafted (+1100) at BetMGM
I've invested in Albert O. at +1400 and +1600, and now the market has started to move toward me. I've seen him as low as +850 to be the first tight end off the board, so I like the line-shopping value I'm getting with him here at 12-to-1 odds.
Gil Brandt, a senior analyst with NFL Media and former NFL executive, is as locked in as anyone on how the league values draft prospects. In his Hot 150, he ranked Okwuegbunam as the No. 1 tight end in the class and No. 39 overall — far higher than I've seen him ranked anywhere else.
The odds are that a more traditional tight end like Cole Kmet (Notre Dame) will be the first tight end drafted, but I do think that Okwuegbunam has an under-appreciated chance of going off the board first.
All it takes is one team to fall in love with Albert O., and he has the raw tools. NFL.com draft analyst Lance Zierlein compares Okwuegbunam to Mark Andrews, and he absolutely crushed the combine with a blazing 40-yard dash, earning a position-high 99 Draft Score from Next Gen Stats.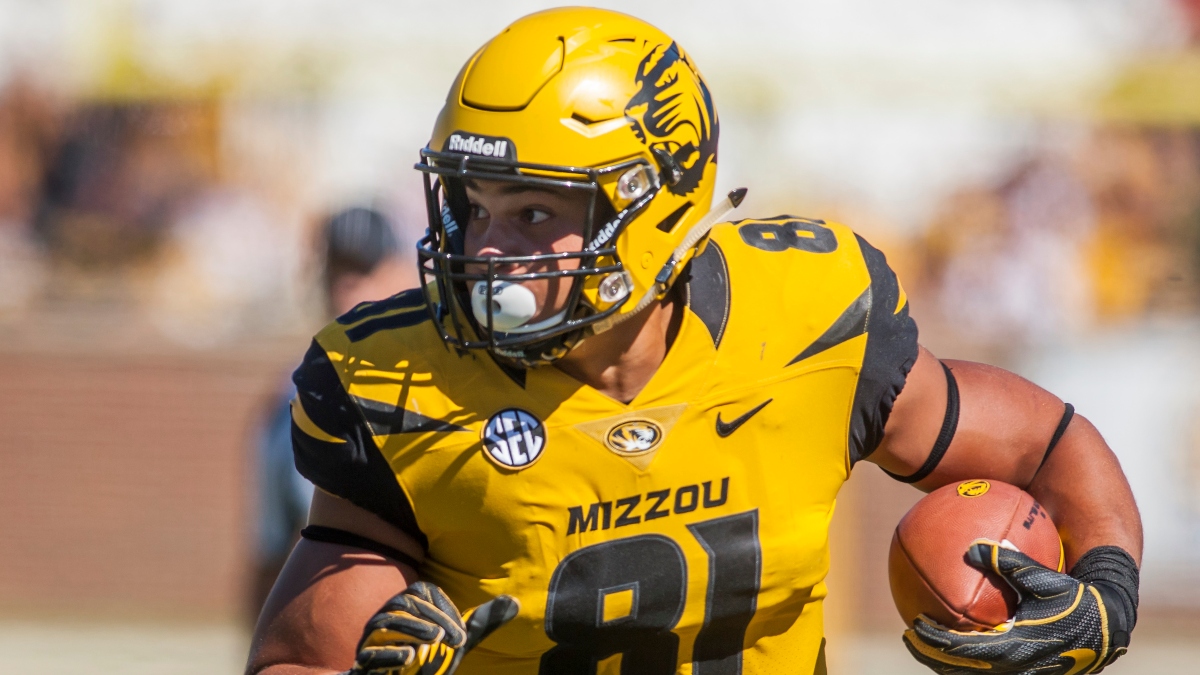 With his athleticism and production, Okwuegbunam is highly comparable to Noah Fant, who was selected at No. 20 last year.
Okwuegbunam: 6-foot-5, 258 pounds, 4.49-second 40, 98-1,187-23 receiving
Fant: 6-foot-4, 249 pounds, 4.50-second 40, 78-1,083-19 receiving
He's not a blocker or much of a route runner, but he has near-elite above-the-rim ability at the catch point, and if a team looked at him and thought, "That guy's a slightly smaller version of young Jimmy Graham," I would get it.
A massive boom/bust prospect, Albert O. has No. 1 overall tight end upside and "I can't believe I thought that guy was good" downside.
No tight end is likely to be drafted on Day 1, and starting in Round 2, it's incredibly hard to predict with accuracy the order in which players in a position group will be selected, and that's especially true with a cohort that is basically an amalgam of undistinguished and indistinguishable prospects aside from a few guys.
I'd bet on Okwuegbunam down to +1000.
Quarterback Pick: Tua Tagovailoa Draft Position Over 4.5 (-250) at PointsBet
Tagovailoa entered the 2019 college season as the presumptive No. 1 pick, but a potentially career-threatening hip injury in November has drastically changed his draft outlook.
His talent is unquestioned: In his abbreviated junior campaign, Tagovailoa completed 71.4% of his passes and had an elite 13.4 adjusted yards per attempt.
But multiple teams reportedly are worried about Tagovailoa's health.
He has dealt with all manner of injuries over the past two years — broken finger, sprained knee, strained quad, twisted ankles, dislocated and fractured hip. More than a few NFL evaluators reportedly believe that Tagovailoa is fragile. Brittle. Too small to be a dependable starter.
And that might be the case.
I like Tagovailoa as a rookie pick in dynasty, but his draft stock has plummeted over the past month. In only 5% of surveyed expert mocks does Tagovailoa go before pick No. 5.
I'd bet this up to -500.
[Bet now at PointsBet. NJ and IN only.]
Value Pick: Jeff Okudah To Be Third Overall Pick (+130) at FanDuel
It's pretty much a foregone conclusion that Joe Burrow and Chase Young will be the first two picks. The only questions surrounding the first five picks seem to be: Will the Lions trade down? Who will be the first OL drafted? Who will be the second QB drafted?
Okudah is the consensus No. 1 CB, and it's highly likely the Lions will draft him if they keep their third pick. I'm speculating the Lions end up keeping the pick given they do need a cornerback but also due to the uncertainty of the first-ever online NFL draft.
I think it's even more likely they take the safe road with the third overall pick and not attempt to make any aggressive moves until they, and the rest of the league, adapt to the online draft in real-time.
[Bet now at FanDuel. NJ, PA, IN and WV only.]
Longshot Pick: Denzel Mims To Be Eagles' First Pick (+600) at FanDuel
I think it's highly likely that the Eagles select a WR with their first pick. I also think Justin Jefferson is likely to be the primary name they are considering. However, I do believe Mims has enough of a chance to nibble on the 6-1 line.
The Eagles, according to Mims, have been the team that has reached out to him the most. His stock has been climbing ever since the combine, where he ran a 4.38 40-yard dash and the top 3-cone time by a WR at 6.66 seconds.
We also recently found out that Mims played with a broken hand in 2019. This could explain his issue with drops last year and could cause some teams to bump him up their draft board putting his 2019 in perspective.
It also tells the team he's willing to play through pain. After last season, the Eagles could use a WR who can stay on the field.
[Bet now at FanDuel. NJ, PA, IN and WV only.]
QB Pick: Justin Herbert Draft Position Over 5.5 (-130) at FanDuel
I would consider this to be a parlay with my bet on Okudah to be drafted third overall. If the Lions end up keeping the No. 3 pick and drafting Okudah, it would likely make this prop effectively "Who will the Dolphins draft?"
I realize there is a chance Miami decides to go with Herbert, but I'm willing to eat the -130 juice to bet against that happening. The only reason we are having this debate is because of Tua Tagovailoa's hip injury. It's a legitimate concern, but all reporting around it makes him sound likely to make a near-full recovery. If he does turn out to be healthy, he should be a top QB in the league in the next few years.
Herbert, on the other hand, has some serious question marks and is hardly a slam-dunk pick. I think, because of this, the Dolphins end up going with Tua. It will be easier down the road if Tua's injury concern ends up biting them to blame it on "bad luck" as opposed to how they will look if Tua ends up playing lights out for years to come.
[Bet now at FanDuel. NJ, PA, IN and WV only.]
Value Pick: Jalen Hurts Draft Position Over 55.5 (+100) at DraftKings
All of the various Tua Tagovailoa props will be more popular, but taking the over on his former Alabama teammate could be the best value in the board.
On average, Hurts goes off the board at pick No. 94 in ESPN's model, and he lasts into the third around in pretty much every mock draft out there.
[Bet now at DraftKings. NJ, PA, IN and WV only.]
Longshot Pick: Isaiah Simmons to Chargers +1200 & Dolphins +1600 at DraftKings
Simmons has kind of gotten lost among the quarterbacks projected to go early in Round 1 and has been slotted in at No. 7 to the Panthers by default in most mocks. But Simmons has legitimate top-five talent and his projected median draft spot in ESPN's model is, in fact, fifth overall, with an average of 5.8.
The Dolphins are sitting at No. 5 and the Chargers are at No. 6, and if the consensus is wrong at all about Tua and Herbert going No. 5 and 6, it would be very tough for the Dolphins or Chargers to pass on a player of this caliber. Alternatively, there's also the possibility the Chargers truly do feel good about Tyrod Taylor at QB and could pass on the position at No. 6 either way.
The odds are so good for non-Panthers and Giants that you could even hedge with the Jaguars +1400 (he's definitely not slipping past them) and even Lions at +800 (in the event they trade out of the No. 3).
[Bet now at DraftKings. NJ, PA, IN and WV only.]
QB Pick: Under 4.5 QBs Taken in Round 1 (-670) at FanDuel
Burrow. Tua. Herbert. Maaaybe Jordan Love. That's four. Who is this fifth impostor QB that goes in Round 1? Exactly.
The consensus fifth QB projected to go off the board is Jacob Eason (Washington), who has a median projection of pick No. 65 in ESPN's model. His best-case scenario in the model doesn't even make the first round, topping out at No. 34 overall. The other possibilities are Jake Fromm (Georgia) and Jalen Hurts (Oklahoma), who both have medians outside the top 80 and best-case projections no better than No. 50.
[Bet now at FanDuel. NJ, PA, IN and WV only.]
Value Pick: Cowboys Draft Defensive Player (-300) at FanDuel
I am willing to eat the chalk for this bet as I make the line closer to -500.
I can't see any way Dallas doesn't go with a defender with their first pick based on positioning and how loaded the team is on offense.
The price is steep but value is value.
[Bet now at FanDuel. NJ, PA, IN and WV only.]
Longshot Pick: LSU Over 5.5 Players Selected in Round 1 (+290) at FanDuel
One last time to bet on the 2020 LSU Tigers.
Joe Burrow should obviously go No. 1 overall. I also have K'Lavon Chaisson, Patrick Queen, Justin Jefferson and Kristian Fulton going in round one. That's five. Grant Delpit is borderline (although seemingly trending down) and maybe a team reaches for Clyde Edwards-Helaire or Lloyd Cushenberry late in the first round.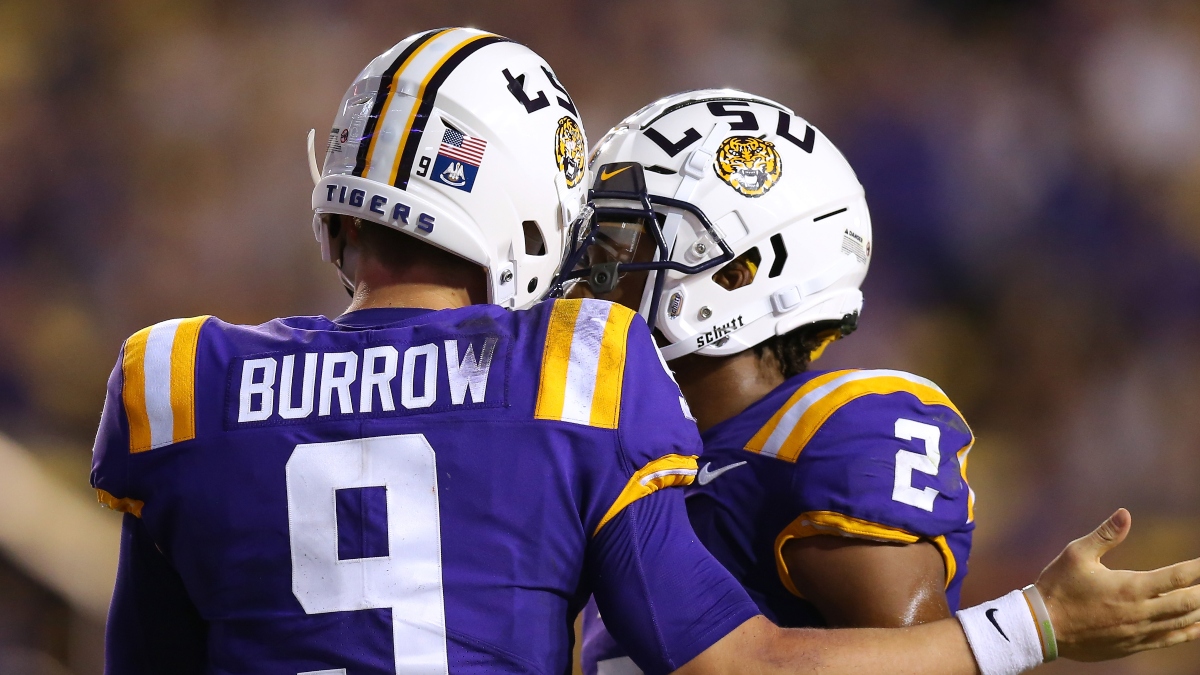 At this price, I'll take a flier on a historic first round for the historically great 2020 LSU Tigers. Just a fun dart here.
[Bet now at FanDuel. NJ, PA, IN and WV only.]
Bonus Pick: Ravens' First Pick An Offensive Player (+115) at DraftKings
This could go either way as the Ravens could go edge rusher, linebacker or even maybe get younger in the secondary with all of the money they have tied up there currently (there will be a hole or two in the next year or two), but I could also see them going offense.
Eric DeCosta has said that this draft is all about making the offense unguardable, which means I could see them going with a receiver late in the first round to give Lamar Jackson another weapon on the outside a la Marquise Brown last year.
Baltimore has actually drafted five offensive players in the first round since 2015, more than any other team over that span. The Ravens have had a lot of success doing so with those picks including Breshad Perriman, Ronnie Stanley, Jackson, Hayden Hurst and Brown.
The bottom line: As always, I believe the Ravens will go with the best player available on their board, so I'll take the plus money on the pick being an offensive player. Don't forget they also lost star guard Marshal Yanda to retirement, so they could go with an interior offensive lineman with this pick as well.
How would you rate this article?