Your Ultimate Week 8 AAF Betting Guide: Picks, Analysis, More For All 4 Games
Credit:
Courtesy of @TheAAF/Twitter. Pictured: Memphis QB Johnny Manziel, Birmingham RB Trent Richardson
March can be an exciting time for football fans. There's the combine, free agency and enough draft speculation to make the average NFL junkie forget there's no actual football being played.
And this year, we have the Alliance of American Football added into the mix.
We're on to Week 8 of the new league, and business is booming (for the most part). We have eight competitive teams thanks to some switches under center, and only the one-loss Orlando Apollos seem to have any sort of significant edge on the competition.
And if that's not enough, we have this lineup of comprehensive coverage:
Let's dig in.
Spread: Apollos -10
Over/Under: 42
Time: 2 p.m. ET on Saturday
TV: TNT
Betting market: The Apollos have remained steady as 10-point favorites, although the game total has dropped to 41 points since opening at 42.
Week 7 Takeaways
Orlando's 36-6 Win Over Atlanta
Garrett Gilbert tore up the Legends in Week 7, completing 19-of-23 (83%) passes for 217 yards (9.4 yards per attempt) and a touchdown.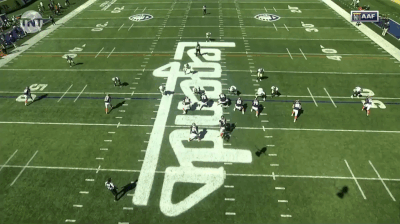 Gilbert did a good job getting everyone involved: Charles Johnson (4 receptions-31 yards-1 TD) and Jalin Marshall (4-26-0) were the only receivers who saw more than two targets.
Orlando utilized D'Ernest Johnson (40% snaps in Week 7) as its de facto starter and No. 1 pass-down back, De'Veon Smith (34%), as the goal-line and short-yardage specialist to the tune of three touchdowns. Akeem Hunt (26%) seems to be close to 100% and worked as the group's jack-of-all-trades.
Memphis' 31-25 Win Over Birmingham
It remains unclear exactly when the Johnny Manziel era will start in Memphis.
The former Heisman winner displayed a live arm and quick feet during his Week 7 debut, but incumbent backup Brandon Silvers has continued to play well enough to start instead of Manziel. Of course, the AAF is a business as well as a football league, so it would make sense for the Express (6% chance to make the playoffs) to turn to Johnny Football sooner rather than later in an attempt to cash in on the league's most famous and marketable players.
For now, both quarterbacks are best approached with extreme caution in fantasy formats of all types. Here's what head coach Mike Singletary said on the quarterback situation this week: "Right now, Brandon is our quarterback … I'm very excited about what Johnny does and what he brings to the team, but Brandon is our starting quarterback."
Which team is healthier? Orlando
Both teams are fairly healthy, but the Apollos are set up particularly well.
Only backup field-stretcher Chris Thompson was limited in practice to start the week, but Thompson returned to a full practice on Thursday and is expected to suit up on Sunday.
Starting Express receiver Alton 'Pig' Howard hasn't practiced all week, while No. 1 receiver Reece Horn was downgraded to a DNP on Thursday after getting in a limited session on Wednesday. Defensive back Justin Martin as well as three offensive linemen have also been limited in practice, but none are thought to be dealing with serious injuries.
Memphis also re-signed trendy AAF fantasy first-round pick Fabian Guerra after placing receiver Devin Lucien on the injured reserve list.
Key matchup: Orlando's Offense vs. Memphis' Defense
The Express boast the AAF's third-worst defense in both yards per carry and yards per attempt allowed and will square off with the Apollos' league-best offense in virtually every efficiency metric that matters:
Points per game: 28.9 (1st)
Yards per pass attempt: 8.35 (1st)
Yards per rush: 5.29 (1st)
Memphis' aforementioned three-headed backfield has proven to be lethal in both the pass and run game, while Charles Johnson and Jalin Marshall form arguably the league's premier tandem at receiver.
DFS edge: Stack Orlando in cash games
There's enough value at wide receiver this week to get plenty of exposure to Orlando's league-best offense in FanBall daily fantasy contests.
Iron running back Trent Richardson and Apollos wide receiver Charles Johnson remain cash-game staples as the consensus highest-scoring and most consistent options at running back and wide receiver.
You  can save salary by rostering Commanders receiver Gred Ward Jr. after his team-high snap count in Week 7. He hasn't caught a touchdown yet, but could be due for positive regression considering he's tied for third in red-zone targets.
This core of Richardson-Johnson-Ward leaves us with enough salary to pay up at quarterback and lock in Gilbert. Adding Marshall isn't a bad idea considering he's locked in as Orlando's No. 2 receiver, but I'd rather save an extra $1,000 and get D'Ernest Johnson considering there are more fantasy-viable options in the upper-$4,000 range than the upper-$3,000 range to complete the lineup.
Bet to watch: Apollos -10
Lost in the hoopla of Johnny Football and the Express' overtime victory last week is the fact that their defense has still largely struggled to stop anybody and everybody. Their run game has also had a tough time getting started in recent weeks, so Manziel and Silvers could be forced to throw at the AAF's best secondary a bit more than they might want to.
I'm riding with Steve Spurrier and Co. in what appears to be the week's largest mismatch between an offense and a defense.
---
Spread: Stallions -3
Over/Under: 40.5
Time: 8 p.m. ET on Saturday
TV: NFL Network
Betting market: Neither the spread nor game total have moved since open.
Week 7 Takeaways
San Diego's 32-15 Loss to Arizona
Mike Bercovici had another up-and-down performance, completing 22-of-43 (52%) passes for 310 yards (7.2 yards per attempt) with a touchdown … and two interceptions.
The backfield has dwindled down to Bishop Sankey (51% snaps in Week 7) and Terrell Watson (38%) after early-season stud Ja'Quan Gardner was placed on the injured reserve list. Meanwhile, slot receiver Nelson Spruce caught a league record 12-of-14 targets for 146 scoreless-yards.
Salt Lake's 19-15 Loss to San Antonio
Josh Woodrum had a meh performance against the Commanders, completing 22-of-35 (63%) passes for 229 yards (6.5 Y/A) with a touchdown and an interception.
Slot receiver De'Mornay Pierson-El (5-68-0) and tight end Nick Truesdell (4-74-0) continued to work as the Stallions' undisputed top-two pass-game targets. Meanwhile, the backfield has morphed into a two-back committee featuring Joel Bouagnon on early downs and short-yardage situations with Terron Ward coming in on passing downs.
Which team is healthier? Salt Lake
The Fleet are reeling, as difference-makers Dontez Ford (ankle) and Gardner (shoulder) were placed on injured reserve on Wednesday. They re-signed Paul James to replace Gardner. The only other injury to worry about appears to be tight end Gavin Escobar, who was limited in practice to start the week.
Stallions offensive lineman Nick Callender was forced out of last week's game early, but Salt Lake is otherwise believed to be mostly healthy.
Key matchup: Josh Woodrum vs. San Diego's Pass Rush
San Diego boasts Pro Football Focus' best overall pass rush thanks in large part to stud defensive end Damontre Moore, who has been arguably the league's best overall edge defender through seven weeks.
Still, Woodrum is positioned for success with the league's quickest average release (2.21 seconds). He threw for 380 yards against the Fleet in Week 5 and hasn't reached even 250 passing yards in another game.
The Fleet't ferocious front-seven has been the league's second-best unit in yards per carry allowed, so Woodrum's ability to quickly and efficiently get the ball out of his hands and to his playmakers on the outside will be pivotal for the Stallions' chances at establishing some consistent offense.
DFS edge: San Diego WRs
The aforementioned loss of Dontez Ford for the season opens up a ton of salary-saving opportunity for the Fleet's new starting wide receivers.
Spruce easily led the way in targets in Week 7, although he wound up playing just 46% of the offense's snaps and doesn't regularly line up in 2-WR sets.
Each receiver is in play considering Bercovici has emerged as the position's most fantasy-friendly signal-caller. He boasts league-high marks in passing yards (925) and passing touchdowns (5) between Weeks 5 and 7 thanks to a gunslinger mentality that's resulted in the second-most deep-ball attempts (20-plus yards downfield) over the past three weeks.
Bet to watch: Stallions -3
The Fleet defeated the Stallions 27-25 at home during Week 5 in what was maybe the best game of the season. But I like the Stallions to rebound and win this one with Woodrum's quick release and general ability to consistently keep games close.
Salt Lake hasn't lost by more than four points when getting a full game from Woodrum.
---
Spread: Iron -6
Over/Under: 38
Time: 4 p.m. ET on Sunday
TV: CBS Sports Network
Betting market: Neither the spread nor game total have moved since open.
Week 7 Takeaways
Atlanta's 36-6 Loss to Orlando
The Legends have distinguished themselves as the AAF's worst team. Their -117 point differential is far worse than either of the remaining 2-5 teams (Memphis -39 and Salt Lake -13).
Aaron Murray seems to be locked in as the starting quarterback. Still, he's failed to play the full game in consecutive weeks thanks to back-to-back blowout losses of 30-plus points. He's yet to throw for multiple touchdowns in a game and hasn't reached even 250 passing yards since Week 5.
The Legends have scored more than 14 points in just one game.
Birmingham's 31-25 Loss to Memphis
Birmingham suffered its third loss in an overtime thriller to the Express.
Luis Perez threw for zero touchdowns in 153 pass attempts in Weeks 1-5 compared to five scores through the air in 87 attempts in Weeks 6 and 7. Still, he's completed only 49% of his passes over this stretch and has averaged a pedestrian 6.8 yards per attempt.
Trent Richardson (84% snaps in Week 7) remains the league's most-fed workhorse while Quinton Patton continues to work as the offense's No. 1 receiver with Amba Etta-Tawo and Jamal Robinson seeing plenty of snaps.
Which team is healthier? Atlanta
The Legends don't have any offensive players listed on their injury report and appear mostly healthy on the defensive side of the ball — surprising news for the clear-cut worst team in the league.
The Iron, meanwhile, have a plethora of banged up skill position players.
Receivers Quinton Patton (neck) and L'Damian Washington (head) joined backup running back Ty Issac (ankle) on the sideline to start the week. The good news is that Patton and Isaac were able to get in a limited practice on Thursday. Stud cornerback Jamar Summers (knee) hasn't practiced all week.
Key matchup: Birmingham's Rush Offense vs. Atlanta's Front Seven
We know the Legends offense has had a tough time scoring against pretty much anyone, and that's not expected to change against Birmingham's Iron "Curtain" defense.
The problem is that Atlanta also boasts one of the league's worst defenses when it comes to stopping the run, which means T-Rich and Co. have a chance to finally take some relief off of their much-maligned passing game.
Atlanta ranks among the league's bottom-two rush defenses in …
106.4 rushing yards allowed per game (8th)
12 rushing touchdowns allowed (8th)
4.6 yards allowed per rush (7th)
Failure to slow down Trent "2.6" Richardson between the 20-yard lines this Sunday could be fatal for the chances of the AAF's worst team pulling a road upset.
DFS edge: Stack the Birmingham  Offense
Bercovici and Perez have separated themselves as tournament-friendly options at quarterback thanks to their consistent volume and penchant for throwing downfield.
Patton continues to be underpriced relative to his target share and offers value in a stack with Perez and Richardson. Patton (58 targets) and Richardson (43) are two of just nine players with at least 40 targets.
QB-RB-WR stacks aren't always the best-tournament options, but Richardson and Patton's uniquely large target shares gives each player a high floor worth paying up for.
Bet to watch: Iron -6
This spread is well below the -9.5 that Action Network's director of predictive analytics Sean Koerner predicted before the market opened.
It's easily my favorite bet of the week because:
The Iron have anyone's idea of a top-two defense in terms of ability to prevent points and limit opposing passing games.
Their typically poor pass offense has shown new life in recent weeks, but they might not even be needed if T-Rich can get going against what's been one of the league's worst run defenses.
The Legends have been the AAF's worst team since pretty much Week 1 and have consistently struggled to even keep games close.
---
>> Sign up for The Action Network's daily newsletter to get the smartest conversation delivered into your inbox each morning.
---
Spread: Commanders -1.5
Over/Under: 43.5
Time: 8 p.m. ET on Sunday
TV: NFL Network
Betting market: The Commanders opened as 1-point favorites at home, but they've since moved up to -1.5 across the industry.
The game total has held steady since open.
Week 7 Takeaways
Arizona's 32-15 Win Over San Diego
John Wolford has regained some of his early-season moxie over the Hotshots' two-game winning streak, most recently completing 15-of-19 (79%) passes for 212 yards (11.2 yards per attempt) and two touchdowns against San Diego's league-best pass rush.
Jhurell Pressley (61% snaps in Week 7) joins Trent Richardson (84%) and Zac Stacy (75%) as the league's only true featured backs, while Rashad Ross remains the team's top pass-game target even though nobody on the Hotshots had even five targets last week.
San Antonio's 19-15 Win Over Salt Lake
The Commanders continued to flex their muscles at home with a crucial victory over Salt Lake to all but secure a spot in the playoffs. They got help from a plethora of running backs and receivers, as an astonishing eight players registered at least one carry and 10 players caught a pass.
Logan Woodside has played the best football of his short AAF career for the better part of the past month, but he was forced out of action early due to an injury to his non-throwing shoulder. The good news is he's expected to start Sunday.
Which team is healthier? Arizona
Ross (shoulder) and Pressley (wrist) were limited in practice on Wednesday and Thursday. Both have been dealing with these injuries for several weeks. Still, Pressley was one of only three running backs in Week 7 to play at least 60% of their offense's snaps while Ross (58% snaps) played behind Richard Mullaney (88%), Marquis Bundy (60%) and Freddie Martino (63%).
San Antonio is banged up on both sides of the ball.
No. 1 receiver MeKale McKay (ankle) and starting safety Derron Smith (ankle) haven't practiced all week. McKay's injury appeared to limit him in Week 7, as he played on just 45% of the Commanders' offensive snaps. And while Woodside (non-throwing shoulder) wasn't able to finish last week's game, he wasn't listed on the injury report and is fully expected to start on Sunday night.
Key matchup: John Wolford vs. San Antonio's Pass Rush
The Hotshots have made a living of utilizing run-pass-options to get the ball to their playmakers (namely Ross) in space: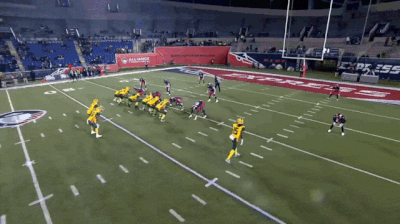 The Commanders boast the league's worst and second-worst defense in yards allowed per rush and pass attempt, respectively. Still, they've maintained an above-average unit thanks to Pro Football Focus' No. 2 pass rush that has helped consistently force negative plays and turnovers.
Wolford has posted two of three best games in terms of QB rating in the last two weeks. His ability to continue to play at a high level and get the ball out quickly will go a long way toward getting the Hotshots a W.
DFS edge: Greg Ward Jr. is this week's free square
Ward is just $3,200 despite leading all Commanders wide receivers in snaps last week. The former collegiate quarterback offers true versatility and is one of the league's only receivers with passing and rushing touchdowns in their potential range of outcomes. Ward also has plenty of fantasy-friendly opportunity as he's tied for third in the AAF with nine red-zone targets.
There's little doubt that Ward is #good at football once the ball in his hands.
Bet to watch: Hotshots +1.5
San Antonio defeated Arizona 29-25 back in Week 5, but the victory was surprisingly hard to come by after the Hotshots built a 26-0 halftime advantage.
I don't anticipate Arizona playing its worst half of the season against San Antonio (again).
Wolford and Co. seem to have regained some of their early-season explosiveness thanks to the return of Mullaney and emergence of Bundy, while the Commanders are far from 100% at both quarterback and receiver.