Sunday NFL Odds & Picks: Chargers vs. Bengals Preview (Sept. 13)
Credit:
Harry How/Getty Images. Pictured: Keenan Allen, Austin Ekeler
The Chargers are a short road favorite over the Bengals on Sunday at Cincinnati quarterback Joe Burrow makes his NFL debut.
Michael Arinze breaks down the matchup with an eye toward the total.
Check out his full Chargers vs. Bengals preview and analysis with updated odds below.
Chargers vs. Bengals Odds
| | |
| --- | --- |
| Odds | Chargers -3 [BET NOW] |
| Over/Under | 41 [BET NOW] |
| Time | 4:05 p.m. ET |
| TV | CBS |
Odds as of Sunday afternoon and via DraftKings. Get up to a $1,000 sign-up bonus at DraftKings today or see more offers and reviews for the best online sportsbooks.
---
It won't take long for Bengals fans to get their first look at who they hope will be their new franchise quarterback.
Joe Burrow was named the Bengals' starting quarterback on Aug 31. As a first-year quarterback, I'm sure Burrow wouldn't have objected to a few preseason games to get acclimated with the league and his new teammates, but the NFL Players Association nixed that idea as part of its COVID-19 negotiations with league owners.
Instead, the Bengals will spend their first game taking on the Chargers, who will be going through their own change at the quarterback position. For the first time since 2006, L.A. won't have Philip Rivers to lead the offense — it'll be Tyrod Taylor under center with rookie Justin Herbert the heir apparent.
With no preseason games, OTAs or minicamps, there won't be anything regular about this season once it kicks off.
I wouldn't be surprised if there are moments in this matchup when it feels like a preseason game, and that's not something that likely translates into a ton of scoring. Let's take a closer look at the total and how these teams match up.
Los Angeles Chargers
The Tyrod Taylor show starts Sunday in Cincinnati. How long he can hold his job will be determined by how well he and the Chargers perform out of the gates — Los Angeles has Herbert waiting in the wings after the Chargers selected the Oregon product with the sixth overall pick in the draft.
Outside of drafting their quarterback-in-waiting, the Chargers spent much of the offseason shoring up their personnel in the trenches. The Chargers traded with the Panthers for guard Trai Turner and signed free-agent tackle Bryan Bulaga from the Green Bay Packers. While tackle Russell Okung was shipped out in the Turner trade, Los Angeles will try to fill that void with Sam Tevi.
It's unclear whether Tevi will be the long-term solution at that position considering he graded out as the 61st-highest OT by Pro Football Focus. The fact he's even getting the starting job suggests to me the Chargers are less likely to be a passing team because a squad needs a more skilled player than that at the left tackle position.
Expect the Chargers to attack the Bengals with their run game. The Bengals finished last in the league with 148.9 rushing yards allowed per game last season. While it's true that opposing teams often held a lead against Cincinnati and racked up rushing yards in the later quarters, the fact is the other team still gets the chance to stop them by playing defense. The Bengals still gave up 4.7 yards per carry to the opposing team, so I'm not sure if it matters much when opposing teams gained their rushing yards.
Cincinnati wasn't going to stop them.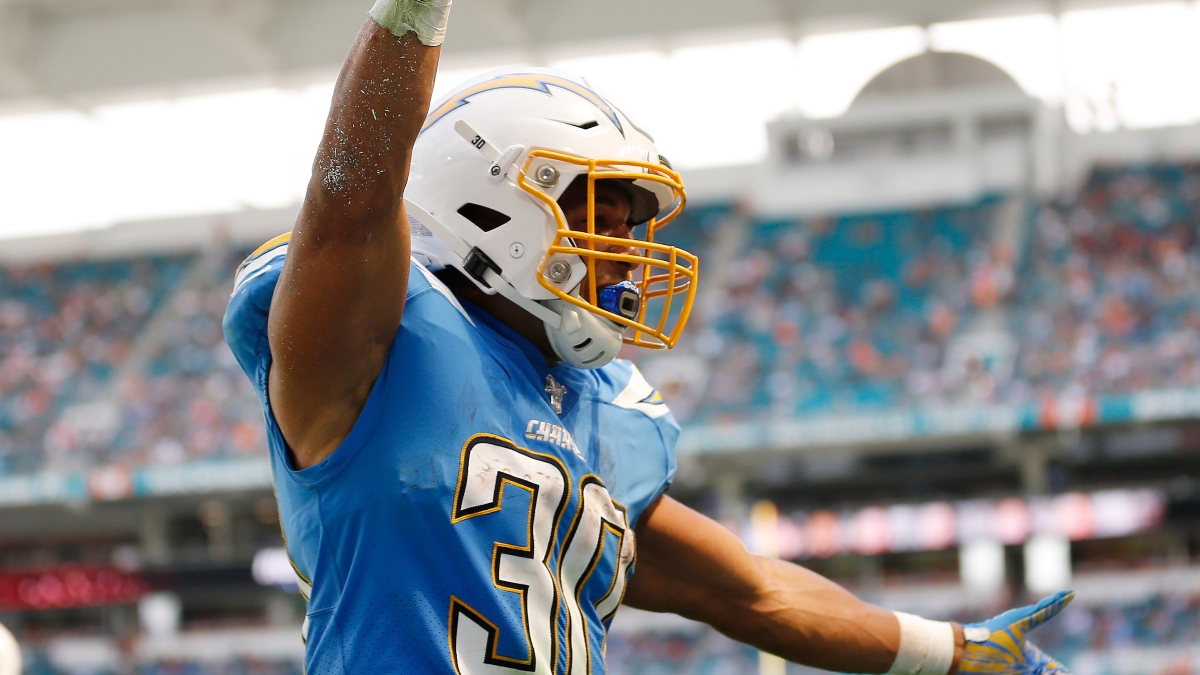 Running backs Melvin Gordon and Austin Ekeler split time as the feature back despite Ekeler averaging 4.2 yards a carry compared to Gordon's 3.8. With Gordon now off to Denver, Ekeler figures to be the primary ball carrier. He'll be backed up by Justin Jackson, who recorded 29 carries and averaged 6.9 yards per carry.
Last season, the Chargers ranked 21st in the league with an average of 21.1 points per game. They also posted 62.3 plays per game, ranking 23rd. I don't expect the Chargers to all of a sudden run more plays with Taylor than they did with Philip Rivers at the helm. Los Angeles' offseason moves on the offensive line signals more of a run-first approach with some Taylor running plays likely mixed into the call sheet. In Taylor's last start, he only had six passing first downs.
I expect the Chargers to give the ball to their running backs and keep the clock moving in this game.
They finished 22nd in the league in red-zone scoring last year under Rivers, and I don't see how Taylor turns that around in one season. Note that the Bengals secondary was often beat over the top last year with plays of 20 or more yards. The Bengals were ranked 28th in the league in the category, per NFL.com, but they ranked third in the red zone with opponents only scoring 49% of the time.
On the injury front, the Chargers will be without former All-Pro safety Derwin James after tearing his meniscus in a non-contact drill. Mike Williams remains limited with a shoulder sprain but underwent a limited practice on Wednesday, while center Mike Pouncey is still battling a hip injury that kept him out of practice entirely.
Cincinnati Bengals
Like other NFL teams, the Bengals had their first practice with pads on Aug. 17. Prior to that, live contact was barred under the new training camp agreement. It's certainly unlikely for a team's franchise QB to take any hits in practice, but preseason games against an opponent are another story.
Burrow has actually been hopeful the Bengals coaching staff would allow him to take a few shots during practice for game simulation. While he's unlikely to get his wish, it would be natural to expect some happy feet in the pocket on Sunday until the signal-caller gets settled.
In preparation for Week 1, the Bengals treated their second intrasquad scrimmage of training camp like it was the third game of the preseason under the normal schedule.
Some notable takeaways were that the Bengals continued to struggle in the red zone just as they did last season (ranked 30th  in the league) after their opening drive stalled. Burrow even threw a pick in the scrimmage, but to be fair, he was without top wideout A.J. Green and starting running back Joe Mixon. Burrow finished the game 19-of-34  passing with one touchdown.
I'm not sure how that scoreline will translate to a Chargers defense led by Joey Bosa, but my guess is that it won't be to the Bengals' benefit. The Chargers ranked 13th in the league last season in points allowed (21.6 per game). Not only will they be going up against a first-year quarterback, but Bengals tackle Jonah Williams will make his first NFL start after the 2019 first-round pick missed all of last season due to a shoulder injury.
With Rivers now gone, expect the Chargers to lean heavily on the defense this year. They've used some of the available cap space with the Rivers departure to further improve their defense, and that could mean a long day at the office for Burrow and Co.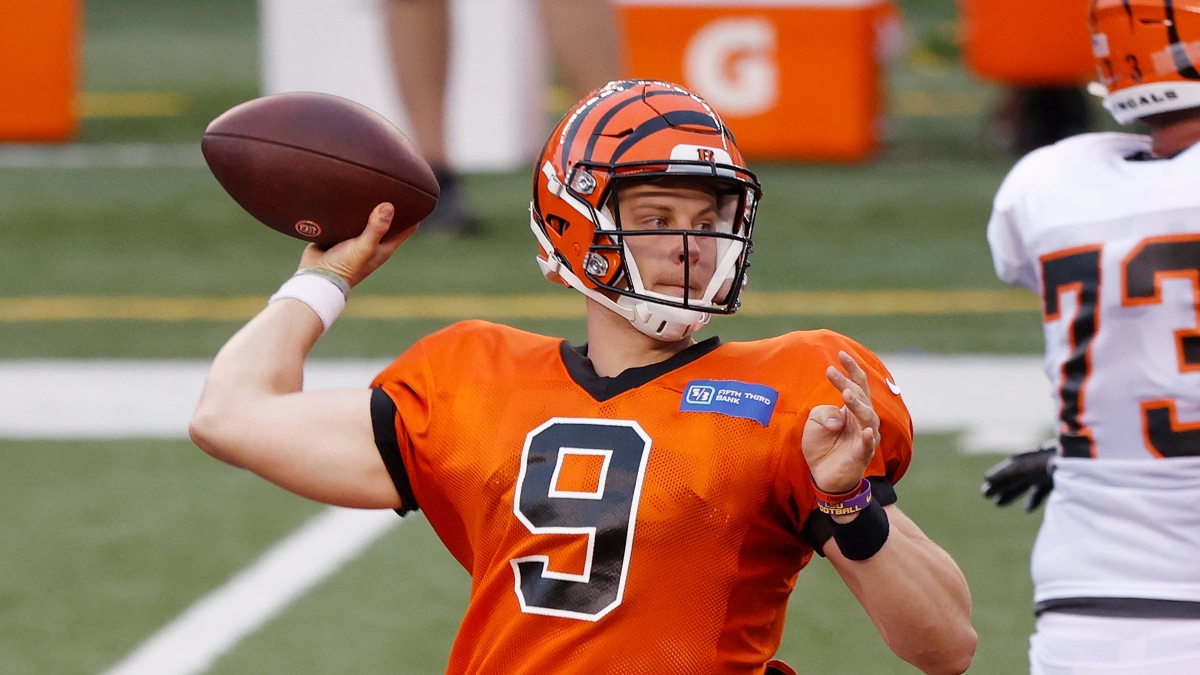 While it might take some time for the Bengals defense to catch up with the Chargers, many pundits feel they took a giant step forward. The Bengals spent almost $150 million in free agency on eight players, with six of them playing on the defensive side of the ball.
The marquee name was obviously defensive tackle D.J. Reader (86.7 PFF rating) from the Texans for $53 million. They also boosted their secondary by adding cornerbacks Trae Waynes and Mackensie Alexander and safety Vonn Bell. They also poached linebacker Josh Bynes.
The Bengals then used the draft to add four more players to their defense, including two linebackers in the third and fourth rounds in Logan Wilson from Wyoming and Akeem Davis-Gaither out of Appalachian State. In the fifth round, they took Khalid Kareem out of Notre Dame and grabbed another linebacker in the seventh round with former Purdue Boilermaker Markus Bailey.
The Bengals now have tremendous depth on defense and a bunch of hybrid backers who can cover in space. This game won't be a picnic by any stretch for Taylor, and I fully expect the Bengals to be disruptors in his backfield.
As far as injuries are concerned, the Bengals are banged up in the middle of their defensive line with both tackles — Geno Atkins and Mike Daniels — listed as questionable for this week. Atkins is dealing with a shoulder injury, while Daniels has an issue with his groin. Both players did not participate in practice Wednesday.
Chargers-Bengals Pick
This might not be a sexy matchup on paper, but if you like hard-nosed, hit-you-in-the-mouth defense, then this game's for you. I think both coaching staffs will be somewhat timid to start this game as both teams look to establish the run.
Bengals head coach Zac Taylor will have to figure out the right play-calling on passing downs without getting his quarterback exposed to a Bosa-led pass rush. I think the Bengals' defense will be a surprise going into this game, and I expect them to create real problems for Taylor and Co.
Rather than picking a side in this game, I'm going to hone in on the total. It opened up at 44, and it's now sitting at 42 at most shops.
PICK: Under 42 (play down to 41.5)
How would you rate this article?