Chiefs vs. Ravens Picks: Cases For Both Sides Of Monday Night Football Spread
Credit:
David Eulitt/Getty Images. Pictured: Lamar Jackson
Finally, the rematch we've waited an entire calendar year to watch.
When the Chiefs and Ravens met in Week 3 of 2019, it felt like a preview of the AFC Championship Game. Baltimore, of course, was later upset by Tennesse in the Divisional Round and we never got that rematch. But now we get to close out Week 3 of the 2020 season with Patrick Mahomes vs. Lamar Jackson — the last two NFL MVPs — in primetime.
Our staff outlines how they're betting the Monday Night Football showdown, with cases for both sides of the short spread.
Chiefs vs. Ravens Picks
We've included books offering the best lines as of writing, but you can compare real-time odds here.
Chris Raybon: Chiefs +3.5
These are two evenly matched teams that I have power rated almost dead-even. The Ravens have the better run game and defense, but the Chiefs' passing game and Tyrann Mathieu are the equalizers. (I break down the full matchup here.)
The Ravens enjoy intangible edges over most opponents thanks to head coach John Harbaugh, who is 23-14-2 (64%) against the spread in primetime overall, including 10-4 ATS on Monday Night Football. But it's difficult to get an edge in the preparation against an Andy Reid-coached team: Reid has led the Chiefs to a 36-19-1 (65%) ATS record on the road, a 17-11-1 (61%) overall ATS record in primetime, and a 5-1-1 (83%) ATS record on Monday Night Football.
Even at kicker, a spot which these teams usually enjoy a decisive edge over the opponent, is pretty even as the career field-goal percentages of Justin Tucker (90.9%) and Harrison Butker (90.2%) are nearly identical.
I make this line Chiefs +2.75, so there's value in locking them in at more than a field goal.
The Chiefs are tough to beat, much less than by more than a field goal: Since the start of 2018 (including the postseason), just five of the Chiefs' 40 games (12.5%) have ended with them behind by more than three on the scoreboard.
[Bet now at BetMGM and get a $500 INSTANT deposit match]
Raheem Palmer: Ravens -3 & 1H -2.5
You have the reigning Super Bowl champions and the best quarterback in the league in Patrick Mahomes catching 3.5 points on the road to the Baltimore Ravens — a team that he's beaten twice over the past two seasons. As if getting 3 points in a season in which home-field advantage is reduced due to lack of fan attendance isn't sweet enough, oddsmakers are even nice enough to give you the hook.
Aww, they're such kind people.
What's the catch?
Right away, it's clear that the Kansas City Chiefs are suffering their own Super Bowl hangover. For starters, they're 23rd in Football Outsiders' defensive DVOA. The pass defense ranks 27th in the NFL, allowing a 54% success rate to opposing offenses. The run defense is especially concerning, as they're allowing a 62% success rate, good for 30th overall.
In their Week 1 matchup, the Chiefs allowed 7.0 yards per carry to David Johnson, who has since averaged 1.95 yards per carry since against the Ravens and Steelers. With a rookie quarterback in Justin Herbert, the Chargers were committed to running the ball against the Chiefs, who gave up 183 yards on 44 carries to Austin Ekeler and Joshua Kelley. They now face perhaps the best rushing attack in the league with Lamar Jackson at quarterback and Mark Ingram, Gus Edwards and J.K. Dobbins at running back.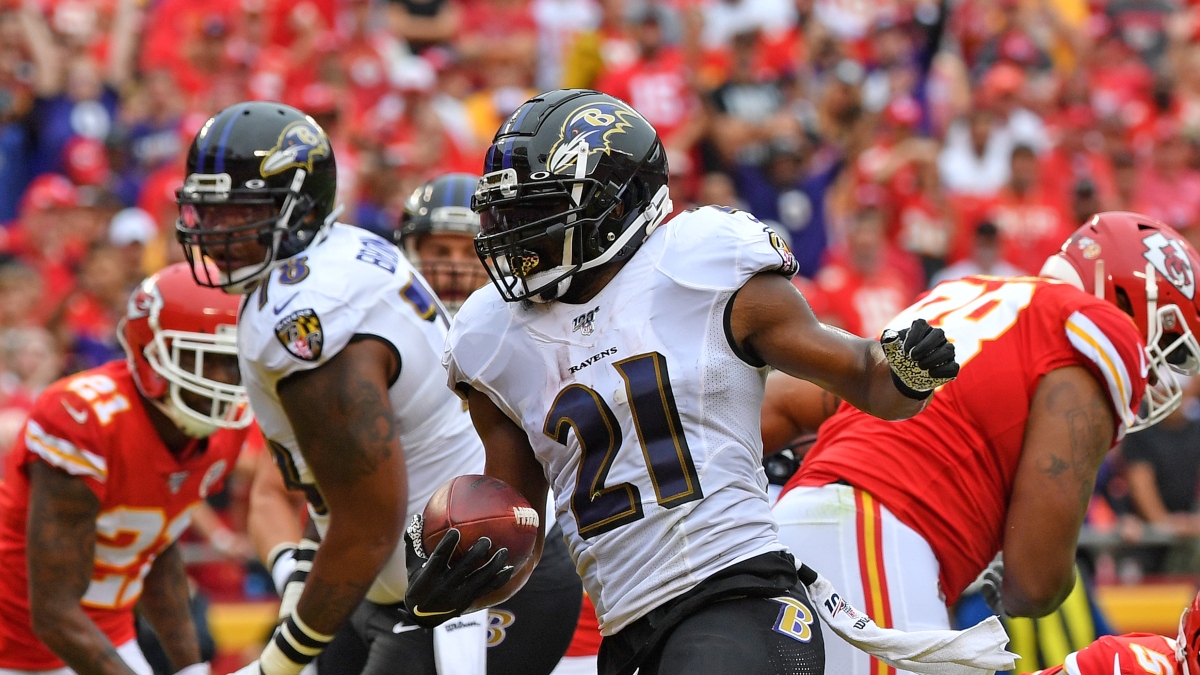 Kansas City's offense also hasn't been what it was over the past two seasons: They're just 22nd in explosive play rate and dead last in explosive pass rate in 2020. They've also seen their net yards per pass attempt drop from 7.5 per play (fifth) down to 6.1 (24th).
If the Chiefs are going to struggle defending the run and can't create explosive plays offensively, they have a long night ahead of them.
All things considered, the Ravens are the best team in the league. They can run the ball and control the clock, create explosive plays in the passing game and have an elite defense with a pass rush and a secondary to slow down Mahomes and the Chiefs offense.
Despite being 0-2 against Mahomes in his career, Jackson has grown leaps and bounds since the last time they played in Week 3 of the 2019 season. I expect him to show that on Monday night and get off to a fast start and a wire-to-wire victory.
I'm grabbing the Ravens at -3 (-121) at one of the few books still offering it as of early Monday.
[Bet now at PointsBet and get $150 if the Ravens score a point]
Brandon Anderson: Ravens -3
Close your eyes and picture the Chiefs winning the Super Bowl. Feel the confetti fall gently on your shoulders. Smell the champagne dripping in the locker room. Smile as you recall the repeated Mahomes comebacks. Watch as Andy Reid sends a thank you card over to the Tennessee Titans.
Wait, what?
All last season, we waited for this rematch in the AFC Championship Game. Chiefs vs. Ravens. Mahomes vs. Lamar. MVP vs. MVP. But when the Titans upset the Ravens in the Divisional Round, we never got our shot, and the Chiefs dodged their most dangerous opponent.
Imagine you're trying to build the perfect team to beat Kansas City. You'll definitely need a great defense. You'll want a strong, versatile pass rush. And you'll definitely need an excellent secondary with multiple corners capable of covering Tyreek Hill and limiting the deep ball.
On offense, you'll want control.
The best defense is keeping Mahomes off the field, after all. So you build the ultimate modern rushing attack, with multiple runners to wear the defense down and an electrifying MVP who can break the game open on any play. You'll want to own the time of possession battle. You'll want 8-, 10- and 12-play drives, chewing up the clock while Mahomes watches helplessly.
You just built the Baltimore Ravens, the perfect modern antidote to Mahomes and the Chiefs. Mahomes is the best player in any game, but he can't play defense and the Chiefs haven't stopped the run in a long time.
I love the Ravens in this spot enough that I'm even checking alternate lines at -6.5 and -9.5 for longer odds to really stake my claim.
[Bet now at Parx and get a $75 if the Ravens score a touchdown]
Mike Randle: Mark Ingram Over 11.5 Receiving Yards
While many feel the Baltimore backfield as one to avoid, I trust the veteran Mark Ingram in this home game against the Chiefs.
Ingram simply hasn't needed to see high volume in Baltimore's first two wins of the season. The Ravens outscored the Browns and Texans by a combined 49 points, which has led to high usage for rookie J.K. Dobbins and plodder Gus Edwards. But in a projected close game with a 3- to 3.5-point spread, Baltimore should lean more on Ingram to keep Mahomes off the field.
After zero targets in Week 1, Ingram tallied three receptions for 22 yards in the win over Houston. The 30-year-old veteran was a solid receiving back in New Orleans and had nine games with two or more receptions for the Ravens in 2019.
The Chiefs are only 26th in run defense DVOA and have allowed an average of 68 receiving yards to opposing running backs over the first two games — that's the sixth-most among all NFL teams, with Week 3's game still not included. The Chiefs can be attacked on the ground and in the short to intermediate area of the field.
Kansas City will focus on containing Jackson on the ground and the Mark Andrews/Marquise Brown duo through the air. I expect Ingram to turn his easy short targets into an over on this 11.5 total. This grades out as a 9 out of 10 in our FantasyLabs Prop Tool, and 9-graded props have hit at a 53% (59-49-3) rate this season.
I would bet this up to 12.5 total yards.
[Bet now at DraftKings and get a $1,000 bonus, including a $500 risk-free bet]
How would you rate this article?