Freedman: Why I Didn't Hesitate to Bet on the Cowboys' Massive Moneyline
Credit:
Matthew Emmons, USA Today Sports. Pictured: Dak Prescott
I'm not a big-time bettor: I'm mainly a fantasy football guy. But over the past couple of years, I've had significant success betting on props and built up a sports-betting bankroll I'm not entirely ashamed of.
And today I'm betting a significant chunk of that bankroll that the Cowboys as home favorites will beat the Dolphins. With a -2400 moneyline, I need to bet $2,400 to win $100. I'm not going to say how much I'm betting … but I'm looking to get more than $100 out of my investment.
Never before have I put thousands of dollars on one bet. But there's no time like the moment.
This is the point where I should say that I'm a Cowboys fan. Does that mean I'm biased? Yes. Probably. But not in the way you think.
For years, it has been my pleasure to bet against the Cowboys, especially as home favorites. Under head coach Jason Garrett — of whom I have a rather low opinion — the Cowboys when favored at home yielded a 30-17-1 record against the spread to opponents, good for a 25.1% return on investment (per Bet Labs).
But that was a different era: That was before Kellen Moore was offensive coordinator.
Kellen Moore Is the Anti-Jason Garrett
In so many ways, Moore is the second coming of Garrett: A cerebral but limited career backup quarterback who played for the Cowboys and then became the team's offensive coordinator shortly after retiring as a player.
And like Garrett in his first year calling plays for the Cowboys, Moore has impressed. We have a sample of just two weeks, but under his direction the offense has utterly transformed.
For much of the post-Tony Romo era, the Cowboys have been offensively passive and unimaginative. For years, I've felt that this timidity and banality were the direct result of Garrett's flaccid leadership. Although maybe I've been too hard on him.
I must admit that Garrett is almost unrivaled when it comes to chewing gum and clapping.
But with Moore coordinating the offense, the Cowboys have been much more aggressive and inventive, so much so that they basically seem like a new team. In prior years, I would have happily faded Garrett's Cowboys as 22-point home favorites.
But these are no longer Garrett's Cowboys. He's still the coach, but for the purposes of sports betting, I'm no longer treating the Cowboys as Garrett's team.
In today's NFL, offense means more than defense — it's more predictive — and the Cowboys offense is what has significantly changed since last year. As far as I'm concerned, these Cowboys belong to Moore.
Dak Prescott Is Playing Better Than Ever
Again, I know that we've seen just two games of quarterback Dak Prescott this year, but with Moore as his mentor, Prescott is easily having the best season of his career.
Dak leads the league with an 82.3% completion rate, 10.9 yards per attempt and 93.1 Total QBR (per ESPN). Last year, he took the second-most sacks in the league with 56. This year, he has just one sack, good for a league-low 1.6% sack rate.
Through two weeks, No. 4 has been transformed into über Dak.
And it's not as if Dak's improvement is the result of Moore alone. It doubtlessly helps that All-Pro center Travis Frederick (Guillain-Barre Syndrome) has returned and second-year left guard Connor Williams and wide receiver Michael Gallup have developed. Slot receiver Randall Cobb has capably replaced Cole Beasley and is maybe even an upgrade.
There are a number of reasons why Dak is currently producing as if he's one of the best quarterbacks in the league.
And his strong play is a primary reason I am confident the Cowboys will beat the Dolphins.
Dak Prescott Dominates as a Home Favorite
This should not be a surprise, but Dak has historically played his best as a home favorite. Some quarterbacks actually don't. But Dak does.
The team's splits with him as a home favorite are significant (regular season only, per the RotoViz Team Splits app).
Cowboys as Home Favorites (19 games): 26.7 points, 2.6 points per drive, 65.6 offensive plays, 258.5 yards and 1.84 touchdowns passing
Cowboys in All Other Circumstances (31 games): 21.7 points, 2.0 points per drive, 61.9 offensive plays, 217.6 yards and 1.32 touchdowns passing
As a home favorite, Dak traditionally doesn't underperform.
And against the Dolphins, he seems likely to dominate.
The Dolphins Are Horrible
It's almost needless to say that the Dolphins are horrible — but I don't believe the market appreciates just how bad the Dolphins actually are.
On a scale of 1-10, they are Sex Panther-level bad.
In Weeks 1-2, the Dolphins allowed an NFL-record 102 points. Gone from last year's defense are such key players as edge defenders Cameron Wake and Robert Quinn, tackle Akeem Spence, linebacker Kiko Alonso and do-it-all defensive back Minkah Fitzpatrick.
And on offense, quarterback Josh Rosen is starting. Last year, he had a league-low mark of 4.8 adjusted yards per attempt (AY/A) among qualified passers. This year, he has a horrid 0.6 AY/A.
On 25 dropbacks, he has eight completions, four sacks and two interceptions. To say that he's a statue in the pocket is to insult Michelangelo.
The Dolphins are dead last in both points scored (5.0 per game) and points allowed (51.0).
And some of the advanced numbers for them look even worse.
Cowboys Passing Offense vs. Dolphins Passing Defense
Let's compare the Cowboys to the Dolphins using some of the data available at Football Outsiders, Pro Football Focus and Sharp Football Stats.
To start with, let's all just accept that the Cowboys are good at passing the ball and the Dolphins are bad at defending the pass.
The Cowboys offense is No. 1 in Football Outsiders' pass DVOA (100.1%) while the Dolphins defense is No. 32 (109.1%). Similarly, the Cowboys have the No. 1 PFF passing grade (90.8), and the Dolphins have the No. 31 coverage grade (30.0) — and they should be even worse this week without Fitzpatrick, who was just only recently traded away.
Per Sharp Football Stats, the Cowboys are No. 1 in passing success rate (67%). The Dolphins are No. 32 in pass-defense success rate (67%). In this metric, the Cowboys are excellent to the same exact extent as the Dolphins are horrendous.
The Cowboys are No. 4 in PFF pass-blocking grade (80.8), and the Dolphins are No. 27 in PFF pass-rushing grade (60.1). The Cowboys offense is No. 2 in Football Outsiders' adjusted sack rate (2.1%), while the Dolphins defense is No. 26 in the metric (5.4%).
The Cowboys should be able to give Dak plenty of protection.
Because the passing game is so predominant in the NFL, unless Dak suffers an in-game injury before the Cowboys have a chance to build up a significant lead, I don't see how the Cowboys lose this game.
And even if that happens, I still don't think they'll lose.
It might be dangerous to put too much stock into what we see in the preseason, but I've been impressed by third-year backup quarterback Cooper Rush. He has just three official pass attempts in the NFL, but he was a preseason superstar as an undrafted non-major rookie, completing 74.5% of his passes for 398 yards and six touchdowns to zero interceptions.
And this year he was once again impressive in the preseason with a 61.2% completion rate for 398 yards, one touchdown and zero interceptions.
Rush is not a toolsy player with strong measurables. He has a weak arm. He's a low-ceiling fill-in.
But he also has a high floor. He doesn't make mistakes because he's experienced and intelligent. He started all four years in college at Central Michigan, and he had a 3.9 grade point average as an actuarial science major.
Here's what Lance Zierlein had to say about him in his NFL scouting report.
Started all but three games during career and was team captain his junior and senior seasons. Defined by cerebral approach. Has bachelor of science degree in actuarial science off-the-field and masters in full-field reads on the field. Juggernaut in film room. Hits the field with well-conceived plans of attack based on his studies. Makes all the pre-snap decisions rather than looking to sideline. Quick processor able to scan and decide rapidly. Interceptions rarely the result of poor decisions. Overcomes arm deficiencies with outstanding timing and accuracy. Anticipatory thrower with feel for developing windows. Able to lead receivers on crossing routes and long balls and can throw receivers open underneath. Very good natural accuracy. Completion percentage penalized by excessive drop totals. Good pocket poise. Climbs pocket with eyes downfield when heat comes around the corners and can slide left or right before delivering accurate strikes. Has history from under center in play-action, pro-style attack and works all three levels of the field. Dump-downs are only a final option.
Does that sound like the kind of guy who's going to lose a game to a team with the league's worst pass defense? No.
In fact, you know who that sounds like? Kellen F—king Moore, because that's basically who he is. He's the younger, on-field version of the guy now calling the plays for the team.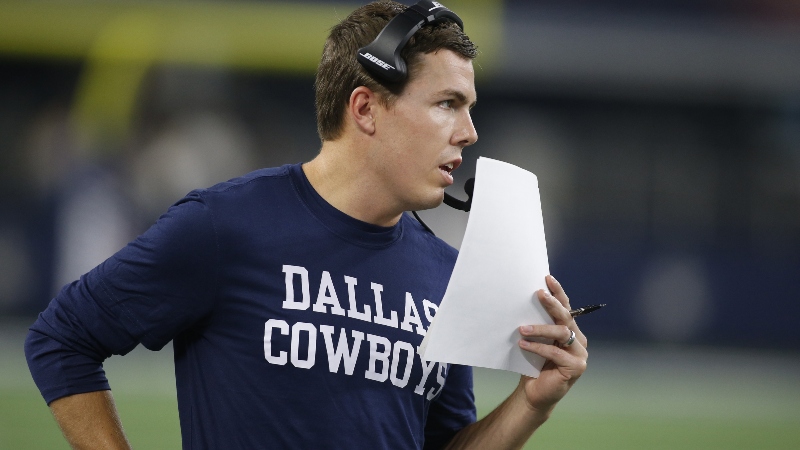 Don't believe me? Let's see what else Zierlein had to say about him as a prospect.
NFL COMPARISON Kellen Moore

BOTTOM LINE His body type and lack of functional arm strength will immediately make him a draft reject on some team's boards, but that could be a mistake. Processes as quickly as any quarterback I've studied over the last five years and has the anticipation and accuracy to counter his lack of velocity. Mental makeup and consistency of production make him a legitimate NFL roster candidate.
Even if on the fly Moore has to adapt has game plan for Rush — whom he's known for years, first as a teammate, then as a quarterbacks coach and now as a coordinator — he should be able to figure out something that works for the guy who is basically his doppelgänger.
I should mention that the Cowboys will be without Gallup (knee).
But I'm not worried. Devin Smith looked up to the task of filling in for him last week, when he had a 3-74-1 receiving line on three targets. Smith is likely to run many of his routes against cornerback Eric Rowe, who has allowed a 10-136-2 receiving line on 12 targets through two games.
I like Smith to win that matchup.
Cowboys Rushing Offense vs. Dolphins Rushing Defense
The Cowboys have returned their entire offensive line and gotten back their All-Pro center, while the Dolphins have lost four of their starters from last year's front seven.
I don't see why the Cowboys won't be able to run at will.
The Cowboys offense is No. 5 in Football Outsiders' stuffed-run rate (11%), while the Dolphins are No. 32 (12%). The Cowboys are one of the best teams in the league at getting the ball past the line of scrimmage on running plays, and the Dolphins can't help but let opposing runners pick up positive yardage.
The Cowboys are No. 8 in PFF run grade (75.5). The Dolphins are No. 21 in PFF tackling grade (56.5). It seems like a problem that the Dolphins aren't good at bringing down ball carriers when the Cowboys are good at moving the ball via the ground game.
Per Sharp Football Stats, the Cowboys are No. 12 in rushung success rate (52%). The Dolphins are No. 30 in rush-defense rate (58%). It's hard not to imagine running back Ezekiel Elliiott having a big game.
Dolphins Passing Offense vs. Cowboys Passing Defense
The Dolphins are No. 29 in PFF passing grade (54.4) — but they've had Ryan Fitzpatrick at quarterback for most of the snaps to this point. If Fitz were the starter, there's 100% no way I'd bet on the Cowboys moneyline. I'd be way too scared of getting struck by a sudden case of FitzMagic.
But Rosen is now the starter, and I expect the Dolphins will let him stay in the game — even if he struggles — because they want to see what they have in him. Plus, they're tanking. Let's be honest. And they're almost certainly less likely to win with Rosen playing.
The Cowboys are No. 8 in PFF coverage grade (73.9). I think their pass-defense is actually pretty decent.
I must admit that if you look at Sharp Football Stats, you'll see that the Cowboys have a subpar No. 28 pass-defense success rate (56%). But I think this number is mitigated by a few factors.
Firstly, the Dolphins are No. 32 in passing success rate (32%). The Dolphins are far worse at passing than the Cowboys are at pass defense.
Secondly, the Cowboys have played with a lead for most of the past two weeks, and that's perhaps changed the focus they have on defense. Maybe they've sacrificed some yardage underneath in order to prevent longer gains.
Finally, although the Cowboys have allowed opposing success via the pass, they have toughened up when it matters: They are No. 3 in third-down pass-defense success rate (18%). Meanwhile, the Dolphins are No. 30 on third-down passing success rate (14%).
The Dolphins have explosive big-play wide receivers in DeVante Parker, Preston Williams, Jakeem Grant and Allen Hurns — but it's unlikely that Rosen will be able to connect with them frequently enough to challenge the Cowboys defense.
Dolphins Rushing Offense vs. Cowboys Rushing Defense
The leading rusher for the Dolphins is running back Kenyan Drake, who has 31 yards on 10 carries. Backup rusher Kalen Ballage has five yards on nine attempts.
Per Sharp Football Stats, the Dolphins are No. 31 in rushing success rate (30%) — and I truly have no idea how they rank that high. The Cowboys are No. 23 in run-defense success rate (53%), but on third down that number improves to No. 9 (33%).
Even if the Dolphins have success running against the Cowboys, I doubt that will matter.
And I doubt even more they'll actually have success.
How Have Big Favorites Historically Done?
As of writing, the Cowboys are favored by 22 points. Now let's assume that Dak is worth maybe seven points to the line, and let's imagine that in a worst-case scenario he gets injured on his first offensive snap.
In that case, the Cowboys might drop seven points, from -22 to -15?
So let's look in the Bet Labs database (which goes back to 2003) and see how teams favored by at least 15 points have done on the moneyline.
The result is 50-1 with an average point differential of +18.3. That's good for an A-graded 6% return on investment.
The one time a favorite lost?
That was last year, when the home Vikings suffered a dumbfounding 27-6 loss as 16.5-point favorites to the upstart Buffalo Bills.
Here's what scares me: That was in Week 3, after the Bills had looked like maybe the worst team in the league for two weeks. I mean, déjà vu.
But here's what gives me some comfort: Rosen is not nearly as dynamic as Josh Allen. And the Dolphins defense is not nearly as imposing as the Bills defense was last year.
Plus, the Vikings were without running back Dalvin Cook, whereas the Cowboys will finally have Zeke back at full capacity after they eased him into the offense over the past two weeks. And the Cowboys offensive line is significantly better than the 2018 Vikings line, which was No. 27 in PFF pass-blocking grade (63.6) and No. 25 in PFF run-blocking grade (53.0).
The Cowboys are not nearly as weak as the Vikings were last year, and the 2019 Dolphins are clearly not as potential-filled as the 2018 Bills.
Cowboys -2400 Over Dolphins
I'll be honest: Putting a sizable portion of my bankroll on the Cowboys was not an easy decision, especially considering I'm betting a lot to win a little.
There's no doubt that -2400 is a massive number: No one ever likes the way that juice tastes. But I see this as a bet that offers significant expected value.
With -2400 odds, the Cowboys have a 96% implied probability to win. That's a high number. And I must remind myself that on any given Sunday yada yada yada.
In reality, I think that number is closer to 100% than 96%.
How would you rate this article?