Eagles vs. Cowboys Odds & Picks: How Our Staff Is Betting Sunday Night Football
Credit:
Steven Ryan/Getty Images. Pictured: Michael Gallup.
Eagles vs. Cowboys Odds & Picks
We've included books offering the best lines as of writing, but you can compare real-time odds here.
Stuckey: Cowboys +10.5
I can't remember many times when you get to buy low on America's team, but this could be that time after everyone has apparently jumped ship given how the Cowboys have burned everyone's money over their first seven games.
Dallas has actually been historically bad through its first seven games: Last week, the Cowboys became the first team since the 2005 Dolphins to not cover in any of their first seven games.
I do actually like what Jerry Jones and Co. did this week with trading and threatening to release underperforming players. If anything was going to light a fire under this corpse of a team, it would be something like that.
Obviously, a major part of this handicap comes down to how much you downgrade the Cowboys for having a third-string quarterback. No matter what you think of DiNucci or Andy Dalton, you have to downgrade Dallas for the simple fact that it's a rookie quarterback making his first start. But while I know some respectable bettors who consider it a four-point drop, I actually disagree — I accounted for a 1.5-point drop to DiNucci.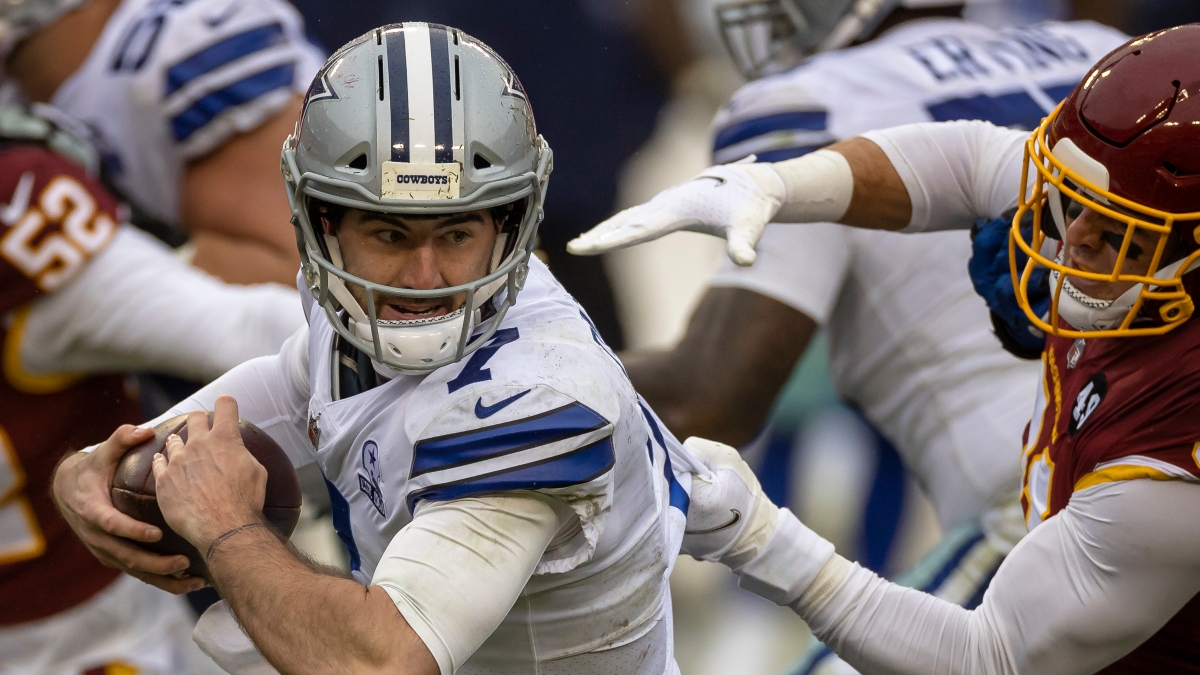 As I mentioned before, at least DiNucci got some live snaps against a ferocious defensive line last week. He also has some mobility, which Dalton does not have at this point in his career. And it's not like Dalton has been any good in recent years. I'm not sure the quarterback play with him under center could get any worse than what we've seen. Plus, I'm actually like DiNucci. He can make all of the throws and projects as a very good backup.
Both of these teams have had very similar seasons with two wins and bad injury luck. They've also committed way too many turnovers, although the Eagles did force six turnovers in their two wins. For reference, the Cowboys have forced three all season. It's been a problem for a few seasons in Dallas, but maybe it's due for a few bounces.
The Eagles do also have their starting quarterback, while Dallas has lost their top two. But this line is still too high. Before some of the positive injury news, I liked Dallas at anything better than a touchdown. That's a little dicier, but the line has since risen to +10.5, and I like the Cowboys at anything 10 or better.
I know experts who have dropped the Cowboys down in their power ratings to the second-worst team in the league — only above the Jets. And while I've dropped the Cowboys significantly, I don't think they're as bad as the market assumes here. I'm also lower than the market on the Eagles, which definitely is influencing my bet here.
Maybe I'm wrong — and it certainly wouldn't shock me if it ended in disaster for DiNucci — but I'll pay to find out on Sunday night. It's a "hold your nose" special. My favorite.
[Bet now at PointsBet and get $125 if the Cowboys gain a yard]
Boston Scott! Ben DiNucci! It's the Eagles and Cowboys on Sunday Night Football for the NFC East lead!!
The line for this game has been like watching a heart monitor as this week has unfolded. The Eagles opened as around a touchdown favorite, which felt about right. The early money quickly came in on Dallas and moved the line all the way down to Eagles -3.5, which looked like a great play, and settled in there for a day or two.
Then, the injury report came out. It confirmed Andy Dalton would be out and that the Eagles were getting a couple of players back, and the line skyrocketed. Suddenly, the Eagles are double-digit favorites! Against a real NFL team!
The Eagles are 2-4-1. One win came against the 49ers backups' and third-stringers. The other came last Thursday against a horrible Giants team, and they needed a miraculous comeback to pull it off. The tie was against the lowly Bengals.
The Eagles are not good. They're starting to get healthy, so that will certainly help. Right tackle Lane Johnson returns this week, but we'll see how effective he is. Jalen Reagor and Dallas Goedert return to give Carson Wentz more than just Travis Fulgham to throw to. That helps.
Dallas is somehow even more banged up than Philly. Its defense has a few key absences, the offensive line is in rough shape — even with Zach Martin back — and of course, there's the quarterback problem. With Dak Prescott and Dalton both out, seventh-round rookie DiNucci will make his first start. And that news alone moved this line nearly a touchdown.
Really? Is Ben DiNucci really a full touchdown worse than Andy Dalton? Than Dak, sure, but what had Dalton done to merit any confidence? Is it even possible for DiNucci to be much worse? James Madison is an awesome FCS school, and lest you forget, Wentz is from FCS, too. DiNucci can play, and he has far superior weapons than Philly.
In fact, where is Philadelphia better here? Dallas by far boasts the better receivers and running back. The line is probably better. The defense might be a little worse, but really, the difference is at quarterback. And even though you've never heard of Ben DiNucci, don't forget that Wentz has been one of the worst starters in the NFL this year. That quarterback advantage might not be as distinct as some think.
There's no way in the world I'd touch the Eagles as double-digit favorites — maybe not even if they were playing James Madison. I'm grabbing the Dallas points, and at this absurd line, I'll sprinkle a little on the +425 moneyline, too. Expect another ugly, weird one, and expect both teams to have the chance to lose late.
[Bet now at PointsBet and get $125 if the Cowboys gain a yard]
Sean Koerner: Ezekiel Elliott Under 67.5 Rush Yards
I will be fading Elliott's rushing production on Sunday night.
The Cowboys are 10.5-point underdogs as seventh-round rookie Ben DiNucci will be starting in place of the injured Andy Dalton (find real-time NFL odds here). The Eagles should stack the box as they won't need to worry about DiNucci beating them, which could make for tough sledding for Zeke as the Eagles have surrendered the third-fewest adjusted line yards (per Football Outsiders).
Once the Eagles get out to a sizable lead, which I think they will, it'll force the Cowboys into more of a pass-heavy game script. I can see them using dump-offs to Zeke as an extension of the run game at that point.
The last factor in favor of the under here is that the Cowboys have been using Tony Pollard a bit more. He has seen eight and 10 carries over their last two games. You have to wonder if the Cowboys consider 2020 a lost season and will begin limiting Elliott's workload because they're looking ahead to 2021 when they get Dak Prescott back.
The market is a bit inflated for Zeke because he is still one of the game's best running backs. However, he typically benefits from the offense when it's playing at a high level and variables outside of his control will hold him back for all the reasons I mentioned above.
I would bet this down to 61.5, but here are the projected chances of him going over or under various lines for you to compare to your sportsbook:
| Rec Yards | Over | Under |
| --- | --- | --- |
| 60.5 | 48.6% | 51.4% |
| 61.5 | 46.6% | 53.4% |
| 62.5 | 44.6% | 55.4% |
| 63.5 | 43.7% | 56.3% |
| 64.5 | 41.6% | 58.4% |
| 65.5 | 40.5% | 59.5% |
| 66.5 | 39.2% | 60.8% |
| 67.5 | 38.2% | 61.8% |
[Bet Ezekiel Elliott's rushing prop at DraftKings and get a $1,000 bonus, including a $500 risk-free bet]
Mike Randle: Michael Gallup Over 23.5 Receiving Yards
Take advantage of a low passing yardage prop for Dallas wideout Michael Gallup, who is coming off a zero-reception game against Washington.
With rookie quarterback Ben DiNucci starting, the Cowboys project for a heavy negative game script throughout this divisional battle. Look for Gallup to draw the very forgiving cornerback Nickell Robey-Coleman, who has a -34.9 (86th-best) coverage rating, per PlayerProfiler.
Philadelphia's top cornerback, Darius Slay, will likely match up with Amari Cooper, leaving Gallup with opportunities to beat this prop with one catch. Having to constantly play catch-up as a result of the Cowboys' horrific defense, Gallup ranks first among all wide receivers with 302 routes run. That volume against such a low receiving total is too good to pass up.
With the Cowboys as 10.5-point underdogs NFC East matchup on this road, I project a ton of second-half passing for Dallas. Coming off a zero-reception game, the Cowboys will need Gallup to get involved to even have a chance to keep this game competitive.
This is an 8-rated prop bet on our FantasyLabs prop projections. This season, props with a rating of 8 are hitting at a 58% (319-227-7) rate. I would comfortably bet this prop up to 25.5 receiving yards.
[Bet Michael Gallup's receiving yards prop now at DraftKings and get a $1,000 bonus, including a $500 risk-free bet]
How would you rate this article?