Falcons Fantasy Rankings, Projections, Analysis for Every Player
Credit:
Brett Davis-USA TODAY Sports. Pictured: Matt Ryan and Julio Jones
See our experts' fantasy rankings, projections and analysis for every relevant Atlanta Falcons player.
The Falcons' offense ranked fourth in passing yards last season, but Atlanta still replaced offensive coordinator Steve Sarkisian with the man whose offense ranked first: Dirk Koetter.
Koetter, who led the Falcons offense 2012-2014, heads up a unit that features 2018's receiving yards leader (Julio Jones), and a quarterback who finished third in passing yards (Matt Ryan). Can we expect this offense to be even better in 2019?
Our analysts rank all their key players by scoring format, project their season-long stat lines and analyze their overall outlooks heading into the season.
Falcons Fantasy Rankings, Projections
Matt Ryan, QB
Pass: 390 comp | 577 att | 67.6 comp% | 4,581 yds | 29.9 TDs | 10.9 INTs
Rush: 33 car | 123 yds | 0.9 TDs
Devonta Freeman, RB
Rush: 192 car | 850 yds | 8.1 TDs
Rec: 40 catches | 324 yds | 1.6 TDs
Ito Smith, RB
Rush: 101 car | 406 yds | 4.1 TDs
Rec: 25 catches | 165 yds | 0.8 TDs
Julio Jones, WR
Rec: 94.4 catches | 1,448 yds | 7 TDs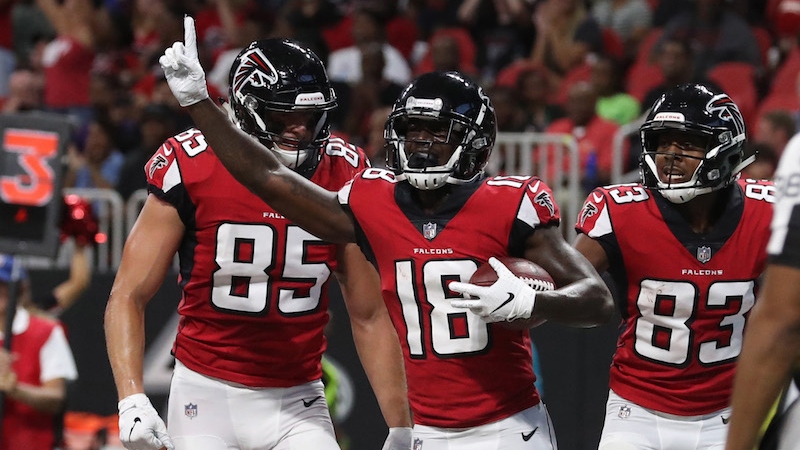 Calvin Ridley, WR
Rec: 67.1 catches | 876 yds | 7.1 TDs
Mohamed Sanu, WR
Rec: 52.7 catches | 627 yds | 3.9 TDs
Austin Hooper, TE
Rec: 61 catches | 640 yds | 4.5 TDs
Note: Projections as of August 22.
---
>> Get our experts' latest fantasy rankings and projections in our Draft Kit.
---
Falcons Fantasy Outlooks
Chris Raybon analyzes returning Falcons offensive coordinator Dirk Koetter's playcalling tendencies and if Atlanta's offense can remain potent.
On first and second down inside the 10 last season, the Falcons ran the ball just 43% of the time and their running backs had only eight rushing TDs to show for it, a Quinn-era low after they punched in 14.7 per year in his first three seasons. Koetter's offense ran 55% of the time in that situation over the last four years, and his No. 1 back has a 78% share of running back TDs over that span. Despite missing 14 games last season, Devonta Freeman ranks sixth among running backs in rushing touchdowns since 2015 with 29. He's the PPR RB7 and standard RB8 over that span. With Tevin Coleman now in San Francisco, Freeman is in line to get his largest workload since 2015. Coleman averaged 11.1 touches with Freeman active from 2016-18, while Ito Smith averaged 8.9 as the No. 2 back from Week 3 on last season.
Matt Ryan's play has tended to drop off in Year 1 under a new offensive coordinator before rebounding in Year 2. Starting with 2014, Ryan's passer ratings have gone 93.9 (Koetter Year 3), 89.0 (Kyle Shanahan Year 1), 117.1 (Shanahan Year 2), 91.4 (Steve Sarkisian Year 1), 108.4 (Sarkisian Year 2). Year 1 of Koetter's initial stint breaks with the trend, though, as Ryan saw his rating increase from 92.2 in 2011 to a then-career high 99.1 in 2012. That familiarity should help Ryan adapt quickly to a Koetter scheme that will include more hurry-up. Koetter's offenses went no-huddle 10.9% of the time in his first go-round with Atlanta and 10.7% of the time with the Bucs, while the Falcons used it just on just 7.4% of snaps while he was gone. Ryan's no-huddle vs. huddle splits over that span favor no-huddle in completion rate (75.8% vs. 66.8%), yards per attempt (9.1 vs. 8.0), and TD rate (6.1% vs. 4.9%). Julio Jones has posted an 85.7% catch rate, 13.5 yards per target, and an 11.9% TD rate on 42 no-huddle targets over that span.
Mohamed Sanu and Calvin Ridley drew 5.7 targets per game apiece last season, but Sanu's advantage was volume based. Ridley was targeted on 19.6% of his routes compared to 16.1% for Sanu, but Sanu's role in two-wide sets allowed him to run 6.3 more routes per game than Ridley. Last season, Koetter's offense passed out of sets with at least three wide receivers 83% of the time, compared to 74% for the Falcons.
How would you rate this article?