Koerner's Week 3 Fantasy Football Tiers: Ranking Every QB, RB, WR, TE, More
Credit:
USA TODAY Sports. Pictured: Panthers running back Christian McCaffrey (22), Cowboys quarterback Dak Prescott (4), Falcons wide receiver Julio Jones (11).
Sean Koerner unveils his fantasy football tiers for Week 3, including the players who are being undervalued and overvalued two games into the season
See his Week 3 rankings for QB, RB, WR, TE, D/ST, K -- and get a window into his strategy at each position.
Week 2 was full of breakout fantasy performances. Chiefs WR Demarcus Robinson was the top scorer in PPR formats. 49ers RB Raheem Mostert posted 151 total yards. And TE Mark Andrews made yet another case to be considered among the elite players at his position with a 8/112/1 line.
Which players should you be buying and selling as the season kicks into gear? Let's dive into my Tiers, which should be viewed as a window into how I'm approaching the week. As always, check out this piece for my most up-to-date rankings.
If you're looking for streaming advice, you can find my favorite streamers for Week 3 here.
---
Go To: QB | RB | WR | TE | K | DEF
---
Week 3 Fantasy Tiers
Quarterbacks
Tier 1
Patrick Mahomes (vs. BAL)
Dak Prescott (vs. MIA)
It's pretty remarkable that Patrick Mahomes has not only defied regression from his 50 passing TDs a year ago, but he's ahead of that pace two weeks into 2019.
He is the default QB1 regardless of matchup until further notice.
Dak Prescott joins him in Tier 1 due to his equally hot start and a cupcake matchup against the tanking Dolphins.
He is an extremely high-floor QB1; the only concern for his Week 3 outlook is the Cowboys taking a huge lead on the Dolphins early in the second half, which would limit Dak's pass attempts.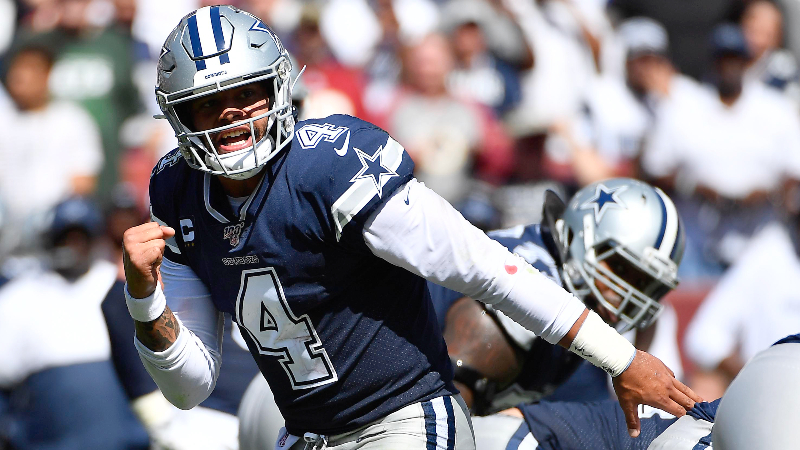 Tier 2
Lamar Jackson (@ KC)
Tom Brady (vs. NYJ)
In Week 2, Lamar hit the optimal pass/rush combo I have been saying would make him a fantasy god, posting 272 passing yards and 120 rushing yards. After starting the season two of the easiest matchups he'll see all year (Miami and Arizona), Lamar won't face much more of a challenge against K.C.
The Ravens are 6.5-point underdogs this week, so we'll get to see Jackson play in what should be the first negative game script this year. I'm dinging him just a tad for that until he proves he can put up elite numbers when opponents know he's likely to throw.
Brady gets another cupcake matchup this week. While I urged caution about Belichick possibly limiting Brady in a blowout, we saw him still in throwing touchdowns to James White when the Pats were up 30-plus points late in the fourth. Start Brady with confidence this week.
Tier 3
Josh Allen (vs. CIN)
Carson Wentz (vs. DET)
Kyler Murray (vs. CAR)
Deshaun Watson (@ LAC)
Aaron Rodgers (vs. DEN)
Jameis Winston (vs. NYG)
Kyler Murray's schedule is about to open up, and despite back-to-back games of more than 300 passing yards to start his career, we have yet to see anything near a ceiling game from him yet. His rushing ability will only be contained for so long; he's due for a top-five QB score in the next few weeks.
Josh Allen was my favorite quarterback streamer last week and after his QB7 finish in Week 2, coupled with how many top-20 quarterbacks have gone down due to injury in the past week, he's a hold as your starting quarterback until further notice.
Last week, I wrote a piece on what to do with Winston. If he is available in your league and you're desperate for a Week 3 play or potential long-term solution at quarterback, I would pick up Winston. He has a fantastic matchup this week against the Giants, who have given up huge games to Allen and Prescott through the first two games.
If he can't get it going against them, I'll be downgrading his rest-of-season outlook and he'll be droppable again.
Tier 4
Jared Goff (@ CLE)
Matt Ryan (@ IND)
The Falcons have been unable to establish their running game so far in 2019, which has resulted in them leaning on the passing game even more.
With Calvin Ridley looking like a Year 2 breakout, Matt Ryan's stock is on the rise for the rest of the season. He is going to have to start limiting the interceptions (five through two games), but if you are in a league that only docks a point per interception, it likely hasn't killed you so far.
Tier 5
Jacoby Brissett (vs. ATL)
Russell Wilson (vs. NO)
Philip Rivers (vs. HOU)
Baker Mayfield (vs. LAR)
You're likely surprised to see Jacoby Brissett this high, but given the weapons at his disposal, it hasn't been surprising to see him average 2.5 passing touchdowns per game. While that will surely regress down, it has been positive seeing his rushing ability flash a bit with 25 yards on the ground in Week 2. More importantly, with Brees, Big Ben and likely Cam Newton now on the shelf, it is going to boost guys in this range up three spots.
Russell Wilson faces a Drew Brees-less Saints this week at home, which means we are likely to see a much more conservative, run-heavy gameplan. Look for a typical low-volume, high-efficiency game from Wilson in Week 3.
Tier 6
Cam Newton (@ ARI)
Daniel Jones (@ TB)
Kirk Cousins (vs. OAK)
Jimmy Garoppolo (vs. PIT)
As I am writing this on Tuesday afternoon, it appears Cam Newton's Week 3 status is in doubt. I'm treating all Panthers skill players in this column as if he will be able to suit up for Week 3, but be sure to check my updated rankings if/when Newton is ruled out to see how it impacts my QB rankings and the other Panthers.
The Daniel Jones era begins! It only took until Week 3 for the Giants to bench Eli Manning for Jones. It was several weeks before even I thought it would occur. He is an interesting QB2 in 2QB and Superflex leagues.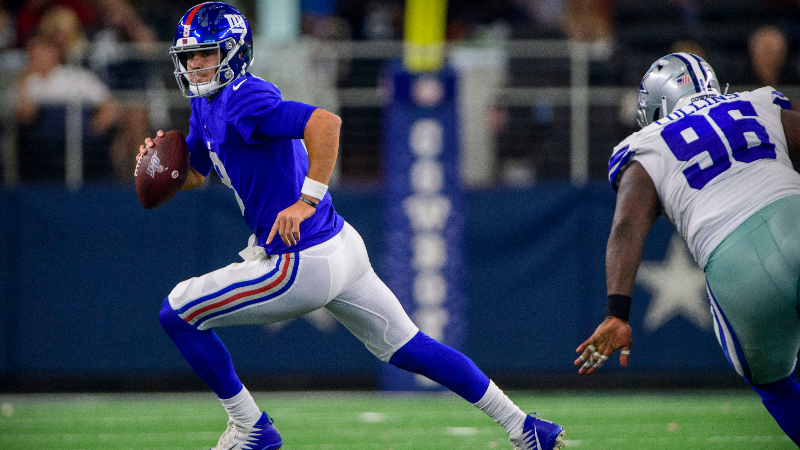 Jones' rushing ability will allow him to have a higher floor/ceiling than people realize. He gets a decent matchup at Tampa Bay to begin his career; I would expect a solid QB2 score from him this week.
Tier 7
Mitchell Trubisky (@ WAS)
Matthew Stafford (@ PHI)
Mason Rudolph (@ SF)
Mitchell Trubisky needs to remain on your benches until further notice. My knock on Trubisky has always been his inconsistency. The big games will come and he has QB1 potential any given week due to his pass/rush ability. But his all-too-frequent floor games make it impossible to trust him in 1QB leagues as a streaming option right now.
Mason Rudolph is set to takeover as the Steelers' starting quarterback for the remainder of 2019. He has the talent around him to be a solid QB2 most weeks, but overall the loss of Big Ben is a downgrade to all Steelers skill players.
Tier 8
Andy Dalton (@ BUF)
Marcus Mariota (@ JAX)
Gardner Minshew (vs. TEN)
Andy Dalton salvaged a decent outing in garbage time last week, but his performance acted as a reminder that he is a solid QB2 who will have streaming potential with the right matchups. This week, he is not a streaming option at Buffalo, but will be back in play again starting next week at Pittsburgh.
Tier 9
Teddy Bridgewater (@ SEA)
Case Keenum (vs. CHI)
Derek Carr (@ MIN)
Joe Flacco (@ GB)
Teddy Bridgewater will be asked to hold down the fort until Drew Brees gets back from thumb surgery. Bridgewater is going to be nothing more than a game manager as the Saints lean heavily on their running game and defense to keep them in games.
We also don't know how much more Taysom Hill will be involved, but any additional work there would only lower Bridgewater's floor even more. Bridgewater is a decent stash in 2QB leagues, but should only be played this week out of desperation.
Tier 10
Luke Falk (@ NE)
Ryan Fitzpatrick (@ DAL)
Both quarterbacks should have pass-happy game scripts; they're both 20-plus-point underdogs. Unfortunately, the extra pass attempts are more likely to result in interceptions than touchdowns or a ton of passing yards.
---
Running Backs
Tier 1
Christian McCaffrey (@ ARI)
After a disappointing Week 2, look for CMC to bounce back in a huge way against the Cardinals, regardless of whether Newton suits up.
Tier 2
Ezekiel Elliott (vs. MIA)
Saquon Barkley (@ TB)
Ezekiel Elliott should eat this week against the Dolphins as a 21.5-point home favorite. Saquon Barkley has popped off at least 100 rushing yards in each of the first two games this season. The switch to Daniel Jones may actually help him going forward if the rookie QB is able to keep defenses honest.
Tier 3
Dalvin Cook (vs. OAK)
Austin Ekeler (vs. HOU)
Both backs in this tier have made a push to join the "elite" class. You can make the case to sell high on both, as Dalvin's injury history could become a factor again and the potential return of Melvin Gordon will certainly hurt Ekeler if that time comes.
In the meantime, both players need to be treated as high-end RB1 options who are elevated by Alvin Kamara/James Conner losing their first ballot HOF quarterbacks due to injury.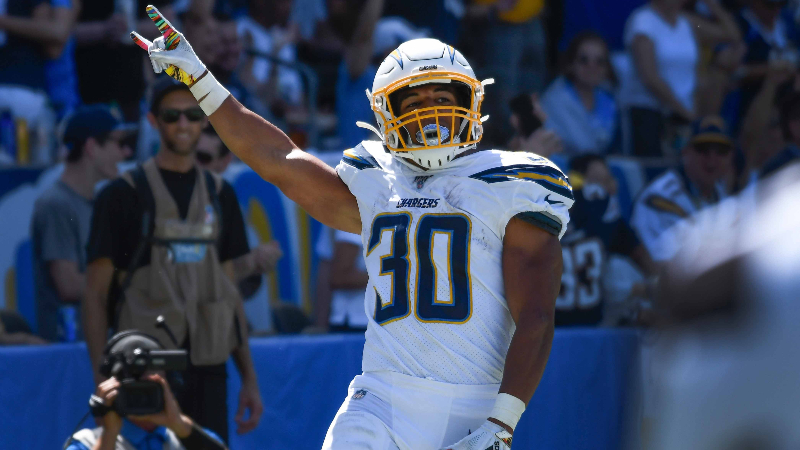 Tier 4
Nick Chubb (vs. LAR)
Alvin Kamara (@ SEA)
Chris Carson (vs. NO)
The loss of Brees should knock Kamara closer to the low-end RB1 range. I expect the Saints to lean on him even more in Brees' absence, but New Orleans will be in scoring position far less often without Brees and that hurts Kamara's touchdown potential and upside.
Chris Carson has now fumbled in each of the first two games, and Rashad Penny erupted for a 10/62/1 game in Week 2. The threat of Penny is always going to be there, but that threat is especially real right now. I expect Carson to be fine this week: He should see at least 20 touches at home against the Saints. But this is a situation to monitor for its longer term implications.
Tier 5
Leonard Fournette (vs. TEN)
Le'Veon Bell (@ NE)
Le'Veon Bell played his heart out on Monday Night Football in a 23-3 blowout loss to the Browns. The Jets are 0-2 and their is season swirling down the drain now that they are leaning on their third-string quarterback for the next several games.
This is going to negatively impact Bell's long-term value: I'm not so sure the Jets will be giving him 20-ish touches come fantasy playoff time if they are completely out of the race. It may be time to sell high if you can.
Tier 6
Aaron Jones (vs. DEN)
Derrick Henry (@ JAX)
Todd Gurley (@ CLE)
David Johnson (vs. CAR)
David Johnson had an injury scare in Week 2, as he appeared to hurt the same wrist that cost him the 2017 season.
He is expected to be OK, and it's important not to overreact to his poor Week 2 performance as he was sidelined a good portion of the game. Expect him to bounce back this week.
Tier 7
Marlon Mack (vs. ATL)
Sony Michel (vs. NYJ)
Both backs should get plenty of work as home favorites. The Patriots are massive favorites again (-23 now!), so Michel should be set up with the perfect game script.
We have to at least wonder if Belichick will choose to bubble wrap Michel in the second half if the Patriots are blowing out the Jets. Regardless, if you have him you have to start Michel as your RB2/Flex.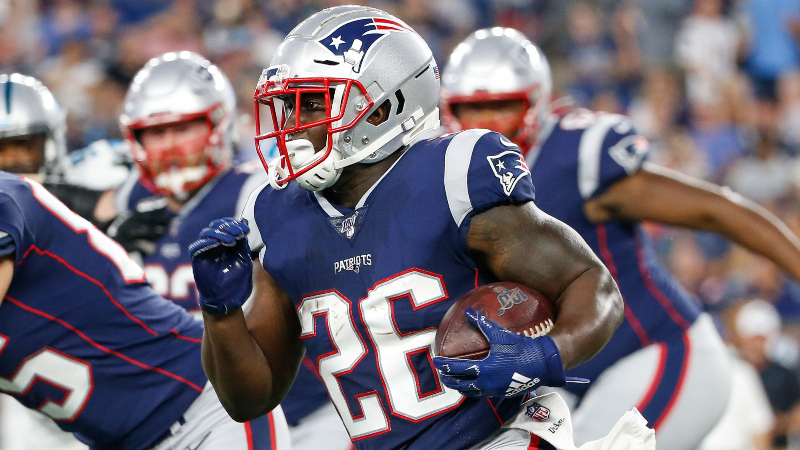 Tier 8
James Conner (@ SF)
Phillip Lindsay (@ GB)
David Montgomery (@ WAS)
Devonta Freeman (@ IND)
Peyton Barber (vs. NYG)
Damien Williams (vs. BAL)
Josh Jacobs (@ MIN)
Kerryon Johnson (@ PHI)
Matt Breida (vs. PIT)
Joe Mixon (@ BUF)
Mark Ingram (@ KC)
James White (vs. NYJ)
James Conner not only lost his starting quarterback for the season, but he also suffered an injury himself. He appears to be OK for Week 3, but it's something we need to monitor up until Sunday.
The rest of this tier consists of backs who lead their team's RBBC and make for low-end RB2/Flex plays this week.
Tier 9
Frank Gore (vs. CIN)
Royce Freeman (@ GB)
Miles Sanders (vs. DET)
Devin Singletary tweaked his hamstring Week 2, so Frank Gore is a speculative add just in case Singletary ends up having to miss this week. In that event, Gore should be the Bills' workhorse back in a game they are favored by six points. He may not be the sexiest play, but Gore could end up being a low-end RB2 this week.
Royce Freeman and Phillip Lindsay are in a true 50/50 timeshare now. It might not be a bad idea to try to pry Freeman from someone while his stock is relatively cheap. He's already a solid Flex play but would become a high end RB2 if/when Lindsay were to ever miss time.
Tier 10 
Adrian Peterson (vs. CHI)
Duke Johnson Jr. (@ LAC)
Raheem Mostert (vs. PIT)
Chris Thompson (vs. CHI)
Carlos Hyde (@ LAC)
Tarik Cohen (@ WAS)
Rex Burkhead (vs. NYJ)
LeSean McCoy (vs. BAL)
Kenyan Drake (@ DAL)
It's hard to trust any of these backs this week, but they can make for RB3/Flex-type plays if you're in a pinch.
Tier 11
Jamaal Williams (vs. DEN)
Justin Jackson (vs. HOU)
Devin Singletary (vs. CIN)
Giovani Bernard (@ BUF)
Jordan Howard (vs. DET)
Rashaad Penny (vs. NO)
Malcolm Brown (@ CLE)
Latavius Murray (@ SEA)
Ito Smith (@ IND)
Ronald Jones (vs. NYG)
These are all backup running backs who need to be stashed on your bench. They see enough touches on a weekly basis that they will have RB3/Flex value most weeks and can be helpful in a pinch.
However, if the other half (or third) of their RBBC were to miss time, most of these backs will become must-starts as RB2s. There is a pretty good chance that at least one of these backs ends up becoming a RB2 value for four-plus games the rest of the season, which would make them a potential league winner.
---
Wide Receivers
Tier 1
DeAndre Hopkins (@ LAC)
Odell Beckham (vs. LAR)
Keenan Allen (vs. HOU)
Julio Jones (@ IND)
Davante Adams (vs. DEN)
With Brees and Roethlisberger injured, we have lost Michael Thomas and JuJu Smith-Schuster from the elite tier. This leaves these five wide receivers to claim that title.
Tier 2
Amari Cooper (vs. MIA)
Sammy Watkins (vs. BAL)
Cooper and Watkins are just on the fringe of Tier 1. Cooper is tricky to project this week as he faces the potential 0-16 Dolphins. It's key for him to put up useful numbers in the first half while the game is still competitive.
Watkins had a bit of a down week as we saw Demarcus Robinson and Mecole Hardman breakout. Expect Watkins to regain his No. 1 WR role this week in the box score, but last week's downturn serves as a reminder that Mahomes will target whoever is open.
Tier 3
Michael Thomas (@ SEA)
Adam Thielen (vs. OAK)
Chris Godwin (vs. NYG)
T.Y. Hilton (vs. ATL)
Kenny Golladay (@ PHI)
Thomas gets a downgrade with Brees out.  However, with the conservative game plan the Saints are likely to install with Bridgewater, Thomas should still be peppered with plenty of targets.
While he still possesses a high floor, we likely won't see many ceiling games from him until Brees returns.
Tier 4
Mike Evans (vs. NYG)
JuJu Smith-Schuster (@ SF)
Cooper Kupp (@ CLE)
Tyler Lockett (vs. NO)
Brandin Cooks (@ CLE)
Antonio Brown (vs. NYJ)
Larry Fitzgerald (vs. CAR)
Robert Woods (@ CLE)
Tyler Boyd (@ BUF)
Christian Kirk (vs. CAR)
Julian Edelman (vs. NYJ)
Smith-Schuster suffered a huge blow to his fantasy stock with Big Ben having season-ending surgery. I'm treating him as a high-end WR2 going forward.
Antonio Brown made his Pats debut Week 2, and it went better than expected. It seemed like he was able to pick up enough of the playbook for Brady to trust him with anticipated throws, even catching a few back-shoulder balls.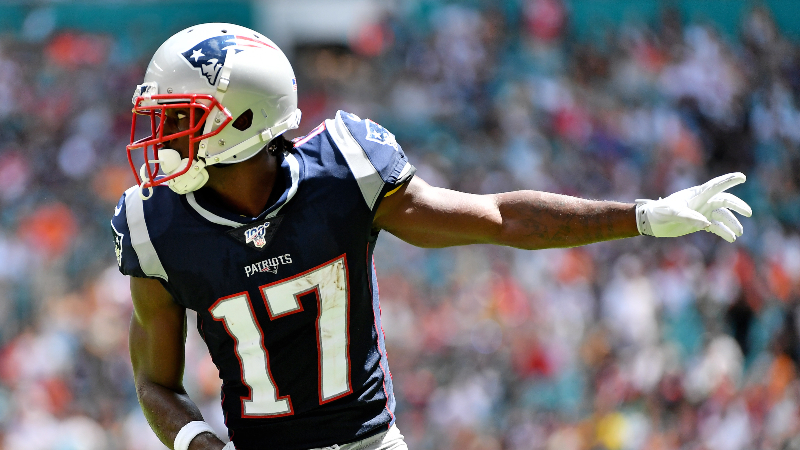 His value will only go up as he becomes more involved in the offense, but the off-the-field issues surrounding him makes his long-term value a bit dicey. Julian Edelman seemed to take a pretty big hit from AB taking over part of his role.
This week the Pats are likely to be involved in another blowout, which hurts Edelman's outlook even more.
Tier 5
D.J. Moore (@ ARI)
Stefon Diggs (vs. OAK)
Calvin Ridley (@ IND)
John Brown (vs. CIN)
Marquise Brown (@ KC)
Emmanuel Sanders (@ GB)
Allen Robinson (@ WAS)
John Ross (@ BUF)
Tyrell Williams (@ MIN)
Marquise Brown predictably saw an increase in snaps (65%) and targets (13) in Week 2 for another big game. It's scary to think he hasn't even become a full-time player yet, but he should get there in over the next few games. He's a high-end WR3 this week at Kansas City with WR1 potential upside.
John Brown has seven receptions in each of the first two games and is making it clear that he is more than just a high-ceiling/low-floor deep threat in this Bills offense. He has made the case to be a high-end WR3 who we can trust going forward.
John Ross has also enjoyed a breakout season with another huge game. Granted, he caught his 66-yard touchdown in garbage time, but I don't think that should be used as a knock against him.
Tier 6
D.K. Metcalf (vs. NO)
Curtis Samuel (@ ARI)
Nelson Agholor (vs. DET)
Randall Cobb (vs. MIA)
Will Fuller (@ LAC)
Mike Williams (vs. HOU)
Jarvis Landry (vs. LAR)
Desean Jackson (vs. DET)
Most players in this tier are due for some massive games in the near future. D.K. Metcalf is still only a few weeks removed from minor knee surgery and is already flashing his upside. He should only get better as the season goes on.
Nelson Agholor is already in the WR3/Flex range this week, and with DeSean Jackson out and Zach Ertz/Dallas Goedert both banged up, Agholor's rank should only go up this week if either of those pass-catchers end up having to miss Week 3.
Tier 7
Courtland Sutton (@ GB)
Marvin Jones (@ PHI)
Terry McLaurin (vs. CHI)
Robby Anderson (@ NE)
Marquez Valdes-Scantling (vs. DEN)
Demarcus Robinson (vs. BAL)
Josh Gordon (vs. NYJ)
These high-ceiling/low-floor WRs are the perfect ones to target if you are an underdog this week. Their high week-to-week variance will act as a weapon: You'll make up a ton of ground if they put up a massive performance, and a dud likely won't hurt you that much.
Robinson should absolutely be added in all leagues, as any pass-catcher for the Chiefs has the potential we saw from him Week 2. With that said, don't make the mistake of automatically plugging him in as a WR3 play this week.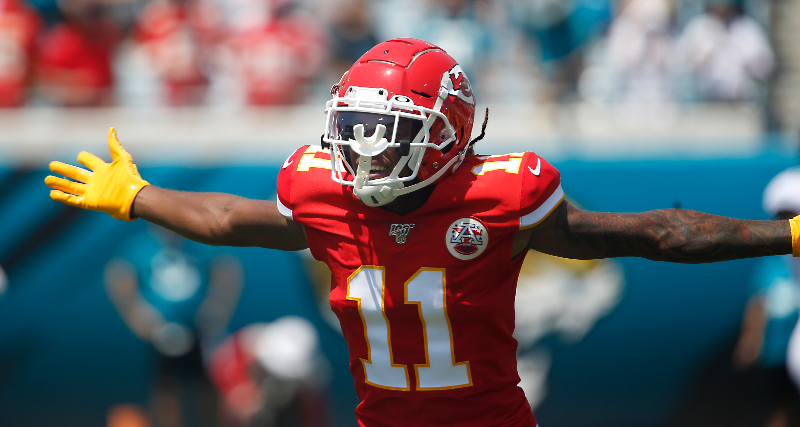 He will come back down to earth this week; Watkins should reclaim the alpha receiver role now that defenses know they have to take Robinson/Hardman seriously.
Marquez Valdes-Scantling owners need to be patient. He has another tougher matchup this week, but I think he will eventually become Rodgers' No. 2 target rest of season. It will pay off once their schedule opens up. Keep MVS on the bench right now as an upside stash.
Tier 8
Jamison Crowder (@ NE)
Dede Westbrook (vs. TEN)
Mecole Hardman (vs. BAL)
Cole Beasley (vs. CIN)
Mohamed Sanu (@ IND)
D.J. Chark (vs. TEN)
Danny Amendola (@ PHI)
Marquise Goodwin (vs. PIT)
Mecole Hardman is sort of an oddball in this tier. Most of these receivers are high-floor, low-ceiling plays you can absolutely play in a PPR format if you are in a pinch. Hardman is the high-ceiling, low-floor play I recommend if you are an underdog.
Mahomes is more than capable of making three or four of his pass catchers hit fantasy value, but all five (including running backs) is a stretch. Every week we are likely going to see one wide receiver left out of the mix so you have to be careful with Robinson/Hardman coming off huge games.
Tier 9
DeVante Parker (@ DAL)
Corey Davis (@ JAX)
Damiere Byrd (vs. CAR)
Hunter Renfrow (@ MIN)
Sterling Shepard (@ TB)
Devin Smith (vs. MIA)
Ted Ginn Jr. (@ SEA)
Chris Conley (vs. TEN)
KeeSean Johnson (vs. CAR)
Deebo Samuel (vs. PIT)
Preston Williams (@ DAL)
Paul Richardson (vs. CHI)
Trey Quinn (vs. CHI)
A.J. Brown (@ JAX)
James Washington (@ SF)
Geronimo Allison (vs. DEN)
Phillip Dorsett (vs. NYJ)
James Washington is the receiver to keep an eye on. He's been buried on the depth chart a bit, but if the Steelers promote him over the struggling Donte Moncrief it could make him a WR4/Flex-type option going forward.
Big Ben going on IR hurts all Steelers players, but Mason Rudolph was Washington's signal caller in college so they already have chemistry together. He's the only Steelers player I can see having his value increase as the season progresses.
---
Tight Ends
Tier 1
Travis Kelce (vs. BAL)
Kelce has Tier 1 permanently locked up until further notice.
Tier 2
George Kittle (vs. PIT)
Zach Ertz (vs. DET)
Evan Engram (@ TB)
George Kittle is off to a slow start (for him) to 2019. It's worth floating an offer to a Kittle owner to see if they are getting impatient. He should breakout soon — potentially this week.
The Giants are starting Daniel Jones in Week 3, and it will be interesting to see if this actually helps Evan Engram. I'm thinking it does and his ceiling should be even higher with Jones in the lineup.
Tier 3
Mark Andrews (@ KC)
Mark Andrews is also making the case to join the elite TE1 Tier. He gets a great matchup this week against K.C., where the Ravens will be forced to throw more. He's a locked-and-loaded TE1 play this week.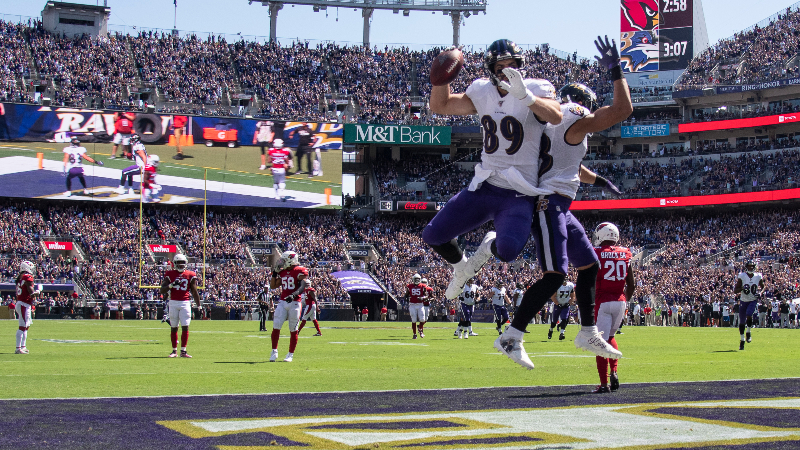 Tier 4
Greg Olsen (@ ARI)
Darren Waller (@ MIN)
Delanie Walker (@ JAX)
Austin Hooper (@ IND)
Vance McDonald (@ SF)
T.J. Hockenson (@ PHI)
OJ Howard (vs. NYG)
The rest of the TE1 group is fairly solid compared to other seasons. Greg Olsen, Darren Waller, Delanie Walker and Austin Hooper should be steady PPR options going forward.
Vance McDonald likely gets a bit of a hit with Big Ben out for the season. It's worth noting that both of his touchdown receptions last week came from Mason Rudolph, so hopefully that's a sign that his production won't drop off too much.
T.J. Hockenson came back down to earth with a 1/7/0 line in Week 2. The tight end position is brutal, so if we just benched every tight end after a dud, the only guy left would probably be Travis Kelce. Expect more poor games from Hockenson in his rookie season, but he should still be treated as a low-end TE1 with upside.
O.J. Howard has been asked to block more due to the Bucs' offensive line issues. It's still no excuse for Howard's Week 2 goose egg. This again goes back to the position being very volatile. We still need to treat Howard as a low end TE1 unless this downward trend continues.
Tier 5
Jared Cook (@ SEA)
David Njoku (vs. LAR)
Jimmy Graham (vs. DEN)
Eric Ebron (vs. ATL)
Kyle Rudolph (vs. OAK)
This should be the high-end streaming options tier for Week 3. Impatient owners may have dropped Jared Cook, Eric Ebron or Kyle Rudolph. They make for a decent streamer plays if they are the best tight ends available.
Tier 6
Jason Witten (vs. MIA)
Will Dissly (vs. NO)
Vernon Davis (vs. CHI)
Noah Fant (@ GB)
Tyler Eifert (@ BUF)
Trey Burton (@ WAS)
Jack Doyle (vs. ATL)
Gerald Everett (@ CLE)
James O'Shaughnessy (vs. TEN)
Michael Gesicki (@ DAL)
Tyler Higbee (@ CLE)
I wouldn't want to dip this far down unless you have to. The only players with upside worth investing in deep leagues are Will Dissly and Noah Fant. There's a chance they can grow into low-end TE1 options once heavy BYE weeks start to hit.
Tyler Higbee is questionable for Week 3 and if he is unable to play, Gerald Everett would shoot up my rankings. If Higbee is ruled out, check my updated rankings to see how you should value Everett.
---
Kicker
Tier 1
Brett Maher (vs. MIA)
Stephen Gostkowski (vs. NYJ)
Harrison Butker (vs. BAL)
Greg Zuerlein (@ CLE)
Matt Gay (vs. NYG)
Tier 2
Jake Elliott (vs. DET)
Justin Tucker (@ KC)
Robbie Gould (vs. PIT)
Dan Bailey (vs. OAK)
Jason Myers (vs. NO)
Adam Vinatieri (vs. ATL)
Mike Badgley (vs. HOU)
Steven Hauschka (vs. CIN)
Mason Crosby (vs. DEN)
Joey Slye (@ ARI)
Tier 3
Ka'imi Fairbairn (@ LAC)
Matt Bryant (@ IND)
Austin Seibert (vs. LAR)
Eddy Pineiro (@ WAS)
Matt Prater (@ PHI)
Aldrick Rosas (@ TB)
Wil Lutz (@ SEA)
Zane Gonzalez (vs. CAR)
Cairo Santos (@ JAX)
Josh Lambo (vs. TEN)
Dustin Hopkins (vs. CHI)
Tier 4
Daniel Carlson (@ MIN)
Randy Bullock (@ BUF)
Chris Boswell (@ SF)
Brandon McManus (@ GB)
Jason Sanders (@ DAL)
Sam Ficken (@ NE)
---
Defenses
Tier 1
New England Patriots (vs. NYJ)
Dallas Cowboys (vs. MIA)
Green Bay Packers (vs. DEN)
Tier 2
Minnesota Vikings (vs. OAK)
San Francisco 49ers (vs. PIT)
Tennessee Titans (@ JAX)
Buffalo Bills (vs. CIN)
Carolina Panthers (@ ARI)
Chicago Bears (@ WAS)
Tier 3
Philadelphia Eagles (vs. DET)
Tampa Bay Buccaneers (vs. NYG)
Los Angeles Rams (@ CLE)
Indianapolis Colts (vs. ATL)
Seattle Seahawks (vs. NO)
Washington Redskins (vs. CHI)
Tier 4
Los Angeles Chargers (vs. HOU)
Jacksonville Jaguars (vs. TEN)
Atlanta Falcons (@ IND)
Pittsburgh Steelers (@ SF)
New York Giants (@ TB)
Cincinnati Bengals (@ BUF)
Cleveland Browns (vs. LAR)
Detroit Lions (@ PHI)
Arizona Cardinals (vs. CAR)
Tier 5
New Orleans Saints (@ SEA)
Denver Broncos (@ GB)
Kansas City Chiefs (vs. BAL)
Houston Texans (@ LAC)
Oakland Raiders (@ MIN)
Baltimore Ravens (@ KC)
Tier 6
Miami Dolphins (@ DAL)
New York Jets (@ NE)
How would you rate this article?