Koerner's Week 8 Fantasy Football Tiers: Ranking QBs, RBs, WRs, TEs, More
Credit:
USA TODAY Sports. Pictured: Raiders TE Darren Waller (83), Lions QB Matt Stafford (9), Buccaneers WR Chris Godwin (12).
Sean Koerner sorts his Week 8 fantasy football rankings into tiers to help perfect your lineup decisions.
He digs deep into every position below -- quarterback, running back, wide receiver, tight end, defense and kicker.
This week there are a high number of relevant players looking like true game-time decisions and the trade deadline is approaching. (Emmanuel Sanders was literally traded as I typed this out.)
Take these tiers/rankings as a window into where I am starting the week off in my model. There is going to be a ton of volatility in rankings movement so, as always, be sure to check my updated rankings before it's time to make the final sit/start calls this week.
And if you're looking for streaming advice, you can find my favorite streamers here.
---
Go To: QB | RB | WR | TE | K | DEF
---
Week 8 Fantasy Football Tiers
Quarterbacks
Tier 1
Deshaun Watson (vs. OAK)
Russell Wilson (@ ATL)
Patrick Mahomes is set to miss a few games after the knee injury he suffered on Thursday Night Football. This means these two quarterbacks take over as the top of the class. Both are dual threats with great matchups that make their potential ceiling game even more likely.
It looks like Watson lost his deep threat Will Fuller for a couple of games, but Kenny Stills was brought in likely as Fuller insurance and should help prevent Watson from being affected too much.
Tier 2
Tom Brady (vs. CLE)
Matthew Stafford (vs. NYG)
Jared Goff (vs. CIN)
Aaron Rodgers (@ KC)
Matt Ryan (vs. SEA)
The quarterback position has suffered a ton of big-name injuries in 2019, so this group of veteran pocket passers have seen their value shoot up as a result.
Stafford is my top streaming quarterback this week as he's available in more than 40% of leagues.Hopefully if you have Mahomes, you have access to Stafford, who should stop the bleeding the next few games. With Kerryon Johnson out this week, I expect the Lions to lean on Stafford and the passing game more this week against a weak Giants defense.
I talked up Rodgers two weeks ago after Aaron Jones' four-touchdown game saying that Rodgers had been conceding a ton of short yardage touchdowns to Jones. His touchdown rate was due to regress positively and boy did it in Week 7. Rodgers went for 429/5/0 (including a rushing score) against the Raiders.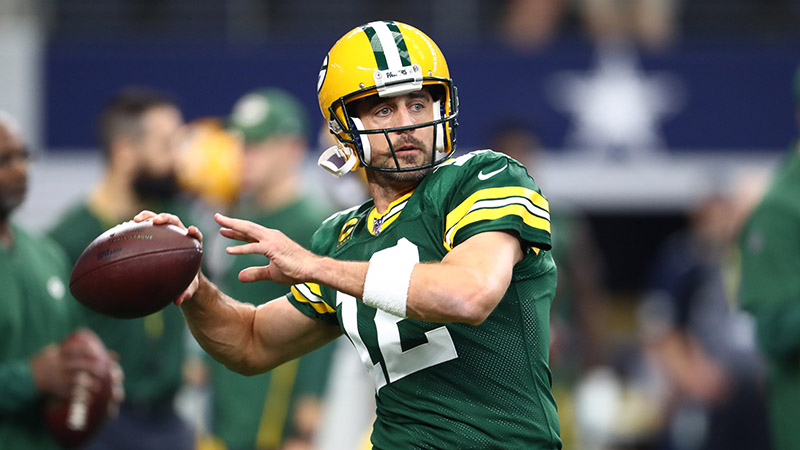 The NFL is very much an ebb-and-flow league where simply banking on regression can give you an edge every week.
This week I expect Rodgers to come back down to Earth and the Packers might implement a more run-heavy approach against the Mahomes-less Chiefs. I would recommend selling high on Rodgers if you can get someone to give you a King's ransom for him.
Ryan suffered an ankle injury that isn't expected to be serious. If he's able to practice and appears to be 100% heading into Week 8, I think we should expect him to bounce back after burning his owners in Week 7.
Tier 3
Josh Allen (vs. PHI)
Kyler Murray (@ NO)
Jacoby Brissett (vs. DEN)
Gardner Minshew (vs. NYJ)
Kirk Cousins (vs. WAS)
Mason Rudolph (vs. MIA)
Teddy Bridgewater (vs. ARI)
The high-upside tier offers a ton of streaming potential this week. Allen faces an Eagles defense that could lure the Bills to throw a bit more Week 8. We could see a true ceiling game from Allen.
Murray bombed last week, but it was mostly due to the Cardinals getting off to an early lead on the back of Chase Edmonds. Murray wasn't needed much here so we saw a true floor game from him. This week at New Orleans will be a different story as he will be forced to throw and run more.
Rudolph is a bit tricky to peg for Week 8. The Steelers have implemented very conservative run-heavy game plans ever since Ben Roethlisberger went down. Expect more of the same this week as massive favorites. Rudolph could put up streamer worthy numbers this week, but it will likely have to come in the first half.
Tier 4
Jameis Winston (@ TEN)
Carson Wentz (@ BUF)
Daniel Jones (@ DET)
Ryan Tannehill (vs. TB)
I'd lean toward benching this tier.
Wentz draws another tough matchup against the Bills, and it won't get easier with the Bears and Patriots up next. I'd try to buy low on him over the next couple weeks. He should get DeSean Jackson back by Week 12 when the schedule opens up vs. Seattle, at Miami, vs. New York Giants and at Washington — a stretch over which he'll be a QB1 most weeks.
Tannehill makes as a decent quarterback streamer in deeper leagues. The Titans would be wise to air it out against the Buccaneers' pass funnel defense. I wouldn't be surprised if he comes close to his Week 7 line of 312/2/1 through the air.
Tier 5
Jimmy Garoppolo (vs. CAR)
Andy Dalton (@ LAR)
Derek Carr (@ HOU)
Matt Moore (vs. GB)
Philip Rivers (@ CHI)
Mitchell Trubisky (vs. LAC)
Garoppolo saw his long-term value rise with the 49ers trading for Sanders. It may take a couple of weeks to get Sanders fully involved, but he's a nice addition to an offense that's been struggling to find a No. 1 WR.
Dalton could be playing for his job with the Bengals likely to carry an 0-8 record into their Week 9 bye. Speculation of them turning the offense over to fourth-rounder Ryan Finley is founded as it would make sense for them to see what they have in Finley before heading into a loaded 2020 draft class, in which they'll likely have a top pick.
Andy Reid will get 10 days to build the dynamic Chiefs offense around Moore. He's certainly a massive drop-off from Mahomes, but there are enough dynamic pass-catchers in this offense that Moore could put up borderline QB1 numbers in a game or two.
Tier 6
Sam Darnold (@ JAX)
Baker Mayfield (@ NE)
Darnold admitted to seeing ghosts in the pocket on Monday night. We can't blame him given how good the Patriots defense has been this season.
I expect him to bounce back against the Jalen Ramsey-less Jaguars, but I'd buy low on Le'Veon Bell and Robby Anderson for the second half of the season rather than treat Darnold as a must-own quarterback in standard 12-team, 1QB leagues.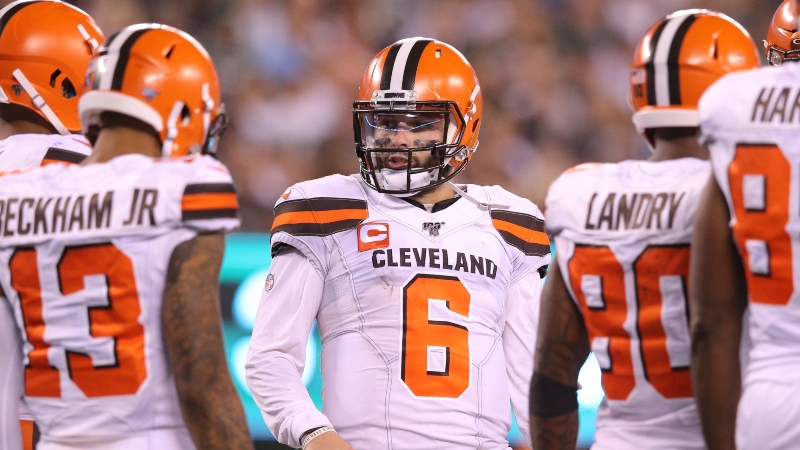 It's Mayfield's turn against the Patriots defense. He currently leads the NFL with 11 interceptions and is facing a defense that's allowed a downright silly 1-to-18 touchdown-to-interception ratio. This one could get ugly.
Tier 7
Joe Flacco (@ IND)
Sanders' departure is only going to hurt Flacco, who shouldn't be starting beyond deep 2QB leagues. I consider Flacco to be the reason Courtland Sutton's current WR1 potential is being held back.
Tier 8
Kyle Allen (@ SF)
Ryan Fitzpatrick (@ PIT)
The Patriots' pass defense is getting all the attention, and rightfully so, but the 49ers have also been lethal against the pass. They've allowed 100 or fewer passing yards in three straight games, and more than 200 yards only once to Dalton in a blowout in which most of his 311 yards came in garbage time. So I'm avoiding Allen at all costs this week.
Fitzmagic made an appearance this past week, but I'm guessing he'll turn back into Fitzpatrick this week. We could see Josh Rosen re-enter as the Dolphins quarterback at some point in the second half.
Tier 9
Case Keenum (@ MIN)
Keenum gets the revenge game narrative as he plays at Minnesota this Thursday. The last time he played there he was their starter in 2017 before the team decided to upgrade with Kirk Cousins. Beyond that, there isn't much to see here. Avoid him at all costs.
Running Backs
Tier 1
Christian McCaffrey (@ SF)
Dalvin Cook (vs. WAS)
Cook joins McCaffrey thanks to a combo of his great matchup and McCaffrey's brutal matchup. With Adam Thielen out and the Vikings currently massive 16-point favorites, expect them to go back to their extreme run-heavy approach.
Cook arguably has the highest floor/ceiling combo this week.
Tier 2
Leonard Fournette (vs. NYJ)
Saquon Barkley (@ DET)
The best way to treat Fournette is basically like an Ezekiel Elliott with poor touchdown luck. Fournette is getting massive workloads in both the run and passing game. Unfortunately, he has only one touchdown to show for it on the season.
Much like the Rodgers/Jones dynamic in Green Bay, you can expect a certain level of balance between passing/rushing touchdown production in short range. Minshew has benefited a ton from accounting for all but one of the Jaguars' offensive touchdowns since Nick Foles went down, so expect Fournette to start seeing some positive regression in the touchdown department.
Tier 3
Chris Carson (@ ATL)
Latavius Murray (vs. ARI)
James Conner (vs. MIA)
Nick Chubb (@ NE)
Murray was my most targeted running back in Rounds 5-7. I had mentioned that he would likely inherit enough of Mark Ingram's role to warrant Flex value most weeks even when Alvin Kamara is healthy. However, whenever Kamara were to miss time, he'd be a rock-solid RB1. We saw that occur last week as the Saints gave him a true workhorse role.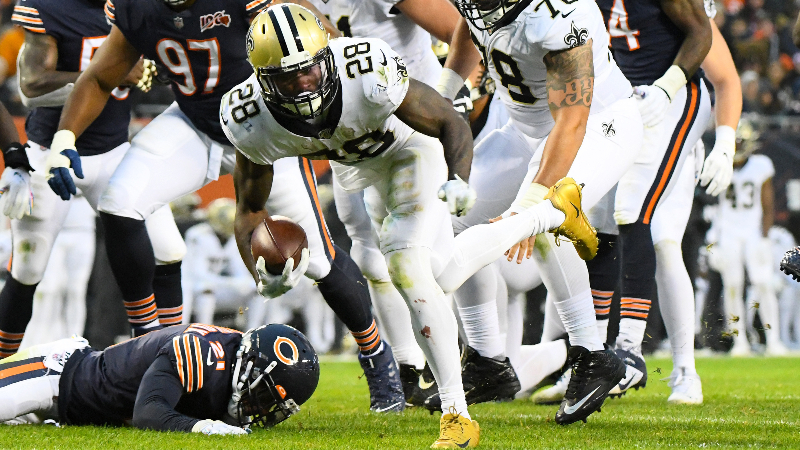 I'm expecting the Saints to hold Drew Brees and Kamara out again this week in an easy home matchup against the Cardinals to let them both get back to 100% health during their Week 9 bye.
Tier 4
Aaron Jones (@ KC)
Marlon Mack (vs. DEN)
Derrick Henry (vs. TB)
Le'Veon Bell (@ JAX)
Henry faces one of the toughest run defenses in the league this week in the Buccaneers. They've allowed just one back to tally more than 60 rushing yards (Kamara dropped 62 on them in Week 5) despite facing McCaffrey twice, Todd Gurley, Barkley and the 49ers' rushing attack.
Henry needs to be viewed as a dicey low-end RB1, who could bust if he's unable to score a short-range touchdown.
Tier 5
Josh Jacobs (@ HOU)
Sony Michel (vs. CLE)
Todd Gurley (vs. CIN)
Chase Edmonds (@ NO)
Edmonds erupted for a 27/126/3 and 2/24/0 game last week as David Johnson tried to play through a back/ankle injury and tapped out almost immediately. It would've been much nicer if the Cardinals just ruled DJ out altogether as I've considered Edmonds one of the top handcuffs to own.
While we can't expect anywhere near an encore performance, Edmonds would make a solid to low-end RB2 if he gets the start again this week.
Tier 6
Devonta Freeman (vs. SEA)
LeSean McCoy (vs. GB)
Royce Freeman (@ IND)
David Montgomery (vs. LAC)
Tevin Coleman (vs. CAR)
Austin Ekeler (@ CHI)
James White (vs. CLE)
Phillip Lindsay (@ IND)
Ty Johnson (vs. NYG)
Melvin Gordon (@ CHI)
Carlos Hyde (vs. OAK)
McCoy might be the only Chiefs player who is able to maintain his fantasy value with Mahomes out as he could see an uptick in his workload as the team opts to be more balanced. Still, with defenses not having to worry about Mahomes, they could focus on shutting down the running game more, so I expect McCoy's efficiency to suffer a bit.
I mentioned last week that it was time to buy low on Montgomery. After the Week 7 dud with the Bears falling way behind, it likely made Montgomery that much cheaper to pry away. The thing with targeting buy-low players is that it doesn't imply that they'll pay off the upcoming week, but instead will pay off over the next several weeks.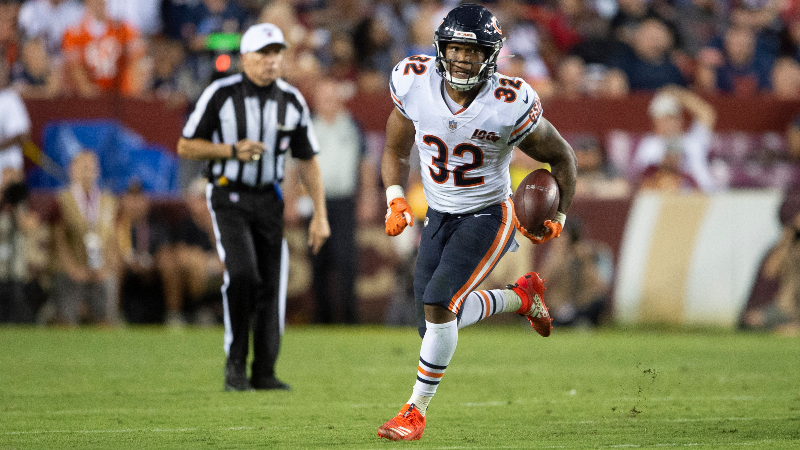 Monty averages 4.5 more half PPR points Bears wins. With the Bears listed as 4-point favorites this week against the Chargers, we can expect a more favorable game flow for Montgomery. I like his long-term value because of how much they've phased Mike Davis out of the offense. Davis played zero snaps last week and is more of an injury-only backup at this point.
Johnson is set to take over as the Lions lead back with Kerryon Johnson heading to IR. It's unclear if Johnson will return this year, so I think it's likely the Lions bring in a veteran back that could give Johnson's value a pretty big hit. In the meantime, though, he should be treated as a low-end RB2/Flex.
Tier 7
Joe Mixon (@ LAR)
Jamaal Williams (@ KC)
Jordan Howard (@ BUF)
Frank Gore (vs. PHI)
Adrian Peterson (@ MIN)
Devin Singletary (vs. PHI)
Mixon's value has officially bottomed out, but you can still likely get a decent return on him based on his name value alone. The offensive line is a serious issue, and with the Bengals' season swirling down the drain, I find it hard to imagine they'll be giving him RB1 workloads during the fantasy playoffs.
It might also be a time for them to get rookie Trayveon Williams some work. The Bengals had a goal-line scenario later in their last game where Mixon was seen on the sideline with his helmet off. A non-Mixon owner might not be aware of how much his stock has dropped.
Tier 8
J.D. McKissic (vs. NYG)
Tarik Cohen (vs. LAC)
Kenyan Drake (@ PIT)
Matt Breida (vs. CAR)
Ronald Jones (@ TEN)
Duke Johnson Jr. (vs. OAK)
Benny Snell (vs. MIA)
Miles Sanders (@ BUF)
Damien Williams (vs. GB)
This grab bag of backups aren't must-starts, but can certainly be useful Flex type plays if you are in a pinch this week.
McKissic has some hidden upside given we don't exactly know what the expected running back usage will be for the Lions this week. He's a Darrell Bevell guy from the Seahawks, so there's a chance McKissic has a larger role than we expect. And he's a much cheaper alternative to Johnson from the waiver wire this week.
Snell could see some extended snaps in the second half if the Steelers blow out the Dolphins, and has some sneaky upside as a result.
Tier 9
Peyton Barber (@ TEN)
Darrell Henderson (vs. CIN)
Giovani Bernard (@ LAR)
Mark Walton (@ PIT)
Alexander Mattison (vs. WAS)
Dare Ogunbowale (@ TEN)
Ito Smith (vs. SEA)
Chris Thompson (@ MIN)
Dion Lewis (vs. TB)
Nyheim Hines (vs. DEN)
DeAndre Washington (@ HOU)
Mattison is another back who could end up producing as a Flex or RB2 depending on how big of a workload he gets in the second half. It's very likely the Vikings have a big enough lead on the Redskins to bubble-wrap Cook and let Mattison carry the load to ice the game.
Henderson could be a similar play if Malcolm Brown is ruled out again. I can see the Rams using the second half against the Bengals as a way to limit Gurley's workload if they're up big.
---
Wide Receivers
Tier 1
DeAndre Hopkins (vs. OAK)
Michael Thomas (vs. ARI)
Julio Jones (vs. SEA)
While this top tier hasn't been as consistent as we'd like, they're still the best bets at the position.
Hopkins should see a bit of a spike with Will Fuller out and Jones should see a similar spike with Mohamed Sanu gone.
Thomas has been an absolute beast without Drew Brees. We have to wonder if the return of Brees could open up the offense again and hurt Thomas just a tad. He's been one of the best early-round wide receiver values so far this season as the overall WR1 to date.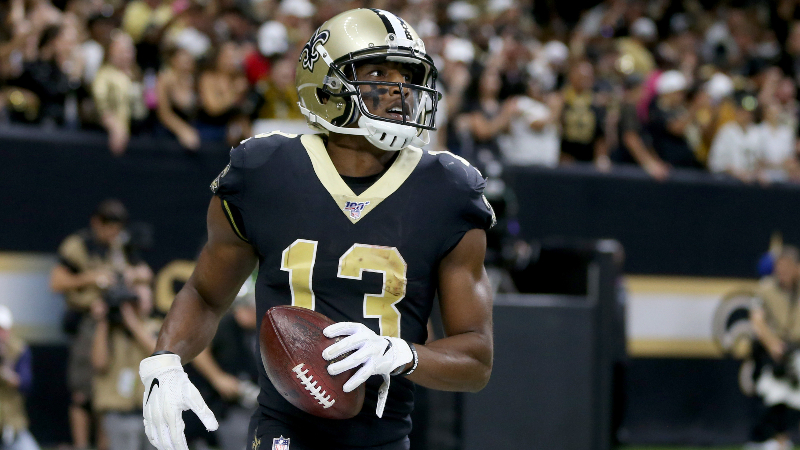 Tier 2
Cooper Kupp (vs. CIN)
Chris Godwin (@ TEN)
Both receivers in this tier have weekly Tier 1 potential, but have lower odds of having ceiling games this week. The Rams likely won't have to throw much to put away the 0-7 Bengals while Godwin has a tougher matchup on the road, however, his role in the Buccaneers offense provides him a high floor every week.
Tier 3
Tyler Lockett (@ ATL)
Stefon Diggs (vs. WAS)
Kenny Golladay (vs. NYG)
Keenan Allen (@ CHI)
Odell Beckham (@ NE)
T.Y. Hilton (vs. DEN)
Julian Edelman (vs. CLE)
Allen Robinson (vs. LAC)
Mike Evans (@ TEN)
Diggs has now put up back-to-back games with at least seven receptions and 140 receiving yards. He should stay hot against the Redskins with Thielen out. They likely won't need to throw much, but Diggs' target share will see a boost.
There's reason to speculate the Sanu trade could ding Edelman's value a tad. Both players operate in the same area of the field, so it'll be interesting to see what role they carve out specifically for Sanu.
Tier 4
D.J. Chark (vs. NYJ)
Brandin Cooks (vs. CIN)
Courtland Sutton (@ IND)
Calvin Ridley (vs. SEA)
Marvin Jones (vs. NYG)
Robert Woods (vs. CIN)
Tyler Boyd (@ LAR)
Tyreek Hill (vs. GB)
Sutton is a WR1 who is unfortunately being held back by poor quarterback play, though I don't think turning the offense over from Flacco to Drew Lock will help much if/when that time comes. The loss of Sanders will likely increase Sutton's target share, but also attract even more attention from opposing defenses.
Ridley was a winner from the Sanu trade as he's likely to stay on the field in 2-WR sets. If he can see 90% of the snaps going forward, it'll help with inconsistency.
Hill has the talent to still produce without Mahomes, however, his value takes a huge hit with Moore under center. If you're 7-0 or 6-1 and Hill has a poor game this week, you should absolutely try to pry him away from that owner.
Tier 5
Davante Adams (@ KC)
Kenny Stills (vs. OAK)
D.K. Metcalf (@ ATL)
Juju Smith-Schuster (vs. MIA)
Larry Fitzgerald (@ NO)
Terry McLaurin (@ MIN)
Alshon Jeffery (@ BUF)
Stills should see a big spike with Fuller out. We already saw Stills' potential with his 4/105/0 line while Fuller was out . The Raiders, who just surrendered 400 yards and five touchdowns to the depleted Packers a week ago, are next up.
Metcalf has yet to even sniff a true ceiling game, but it could happen against the Falcons.
Tier 6
Golden Tate (@ DET)
D.J. Moore (@ SF)
Dede Westbrook (vs. NYJ)
John Brown (vs. PHI)
Mike Williams (@ CHI)
Josh Gordon (vs. CLE)
We have to be a bit cautious with Tate given that Sterling Shepard could be returning soon, though it seems like he's a lock to miss this week, so if Tate puts up another great line it might be time to sell high.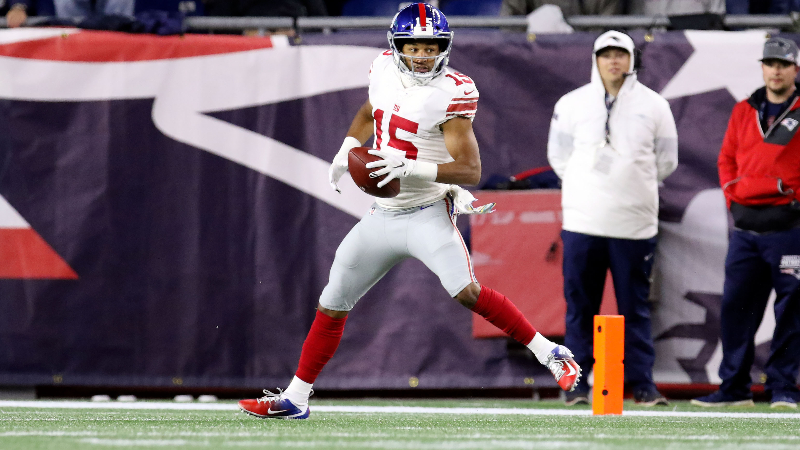 This offense won't be able to sustain Barkley, Tate, Evan Engram and Shepard once the latter returns. Tate relies on volume and we likely won't be able to bank on that as much in the second half of the season.
Brown has a fantastic matchup against a burnable Eagles secondary. He's surprisingly turned into a receiver with a high weekly floor, but has an elevated ceiling. You don't want him post a crooked score this week on your bench.
Tier 7
Robby Anderson (@ JAX)
Jarvis Landry (@ NE)
Desean Jackson (@ BUF)
A.J. Brown (vs. TB)
Curtis Samuel (@ SF)
Diontae Johnson (vs. MIA)
Christian Kirk (@ NO)
Olabisi Johnson (vs. WAS)
Marquez Valdes-Scantling (@ KC)
Auden Tate (@ LAR)
Jamison Crowder (@ JAX)
Corey Davis (vs. TB)
Keke Coutee (vs. OAK)
Brown benefited from the quarterback change to Ryan Tannehill, reeling in career highs in targets and receptions last week. Next up is a burnable Bucs secondary, so he should keep it rolling.
Olabisi Johnson is the biggest beneficiary of Thielen's expected absence. He's worth a WR3/Flex flier for teams desperate for a WR in deeper leagues.
Marquez Valdes-Scantling finally had his breakout game, but it came at a time when he was dicey to even suit up and could even be limited. It's been a frustrating season to own him, to say the least, but hanging on to him was a wise choice — we could see WR3 value now with the potential for spiked weeks.
Tier 8
Tyrell Williams (@ HOU)
Cole Beasley (vs. PHI)
Alex Erickson (@ LAR)
DeVante Parker (@ PIT)
Preston Williams (@ PIT)
Zach Pascal (vs. DEN)
Adam Humphries (vs. TB)
I viewed Erickson as a deeper-league flier once he took over for John Ross. Now that we saw him erupt for 8/137/0, he'll likely come at too high of a cost to acquire.
If he's somehow still available after waivers in deeper leagues, you can do worse than Erickson.
Pascal has slowly but surely taken over the role vacated by Devin Funchess. He's another flier worth taking if the price is right. Humphries could benefit from a more pass happy game script against his former team this week.
Tight Ends
Tier 1
George Kittle (vs. CAR)
The Mahomes injury has caused a bit of a ripple effect that's impacted the overall tight end position. With Moore under center, Kelce isn't reliable enough to be a top three. I have Kittle pegged as the top tight end as a result.
Tier 2
Austin Hooper (vs. SEA)
Evan Engram (@ DET)
Darren Waller (@ HOU)
Travis Kelce (vs. GB)
Zach Ertz (@ BUF)
Hunter Henry (@ CHI)
We'll need to see if Matt Ryan can suit up before declaring Hooper a top-three tight end. He's also likely going to benefit from Sanu's departure as they competed for check down plays over the middle. Hooper may see a few more more targets per game as a result.
Waller finally found the end zone last week — he was due for so much positive regression in that regard he decided to score twice (and it's worth noting he had a third touchdown that was called back on a hold).
A trend I've noticed quite a bit this year is players who have huge games have been somehow leaving even more points on the table.
Tier 3
Greg Olsen (@ SF)
T.J. Hockenson (vs. NYG)
Gerald Everett (vs. CIN)
Jared Cook (vs. ARI)
The Lions should turn to a more pass heavy approach against the Giants given their issues at running back. I think there's a chance we see flashes of Hockenson's Week 1 debut when Stafford was airing it out against a leaky defense.
Tier 4
Dallas Goedert (@ BUF)
Eric Ebron (vs. DEN)
Jimmy Graham (@ KC)
Delanie Walker (vs. TB)
Irv Smith (vs. WAS)
Kyle Rudolph (vs. WAS)
Darren Fells (vs. OAK)
Vance McDonald (vs. MIA)
I had never recommended stashing a second tight end on your bench until Goedert this season. The reasoning was simple: He was talented enough to potentially carve out enough of a role in Year 2 to put up streaming value some weeks, and would become a top-five tight end if/when Ertz were to ever miss time.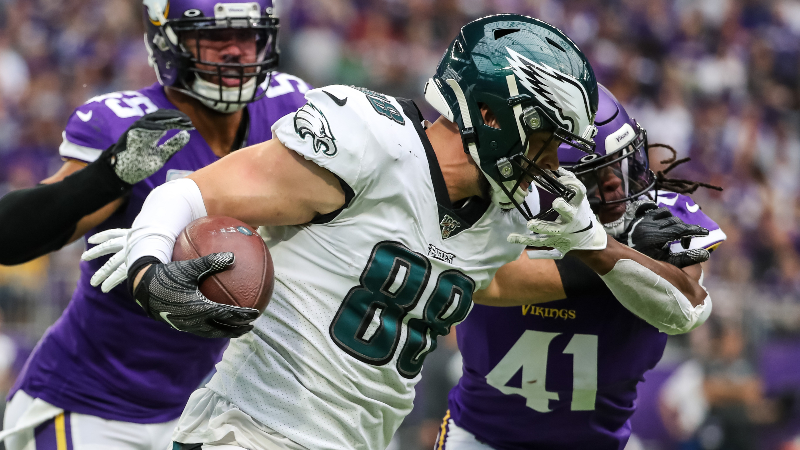 Well, we have reached the point where Goedert can be considered a top 15 going forward even with a healthy Ertz. But Goedert possesses one of the most valuable ceilings in all of fantasy that would be unlocked by Ertz missing extended time.
Tier 5
OJ Howard (@ TEN)
Jack Doyle (vs. DEN)
Chris Herndon (@ JAX)
Noah Fant (@ IND)
Dawson Knox (vs. PHI)
Jordan Akins (vs. OAK)
Ricky Seals-Jones (@ NE)
Trey Burton (vs. LAC)
This "desperation streamers" tier offers quite a bit of potential this week. Herndon could finally return (suspension/injury), Knox has a ton of upside that could be unlocked against a leaky Eagles pass defense and Fant could be one of the biggest winners of the Sanders trade. Fant faces a Colts defense that plays a soft zone, which is susceptible to tight ends underneath, so we could see Flacco pepper him with targets this week as a result.
---
Kicker
Tier 1
Greg Zuerlein (vs. CIN)
Wil Lutz (vs. ARI)
Matt Prater (vs. NYG)
Jason Myers (@ ATL)
Ka'imi Fairbairn (vs. OAK)
Tier 2
Dan Bailey (vs. WAS)
Mike Nugent (vs. CLE)
Chris Boswell (vs. MIA)
Mason Crosby (@ KC)
Adam Vinatieri (vs. DEN)
Robbie Gould (vs. CAR)
Matt Bryant (vs. SEA)
Josh Lambo (vs. NYJ)
Tier 3
Cody Parkey (vs. TB)
Daniel Carlson (@ HOU)
Steven Hauschka (vs. PHI)
Harrison Butker (vs. GB)
Aldrick Rosas (@ DET)
Eddy Pineiro (vs. LAC)
Matt Gay (@ TEN)
Jake Elliott (@ BUF)
Brandon McManus (@ IND)
Zane Gonzalez (@ NO)
Randy Bullock (@ LAR)
Tier 4
Joey Slye (@ SF)
Sam Ficken (@ JAX)
Mike Badgley (@ CHI)
Austin Seibert (@ NE)
Dustin Hopkins (@ MIN)
Jason Sanders (@ PIT)
---
Defenses
Tier 1
Pittsburgh Steelers (vs. MIA)
Minnesota Vikings (vs. WAS)
New England Patriots (vs. CLE)
Tier 2
Chicago Bears (vs. LAC)
Los Angeles Rams (vs. CIN)
Jacksonville Jaguars (vs. NYJ)
Tennessee Titans (vs. TB)
Indianapolis Colts (vs. DEN)
San Francisco 49ers (vs. CAR)
Tier 3
New Orleans Saints (vs. ARI)
Detroit Lions (vs. NYG)
Buffalo Bills (vs. PHI)
Green Bay Packers (@ KC)
Houston Texans (vs. OAK)
Los Angeles Chargers (@ CHI)
Tampa Bay Buccaneers (@ TEN)
Tier 4
Philadelphia Eagles (@ BUF)
Carolina Panthers (@ SF)
New York Jets (@ JAX)
Denver Broncos (@ IND)
Seattle Seahawks (@ ATL)
Kansas City Chiefs (vs. GB)
Arizona Cardinals (@ NO)
Oakland Raiders (@ HOU)
Tier 5
Washington Redskins (@ MIN)
New York Giants (@ DET)
Cleveland Browns (@ NE)
Atlanta Falcons (vs. SEA)
Cincinnati Bengals (@ LAR)
Miami Dolphins (@ PIT)
How would you rate this article?