Thursday Night NFL Pick: Back Gardner Minshew & the Jaguars vs. Dolphins
Credit:
James Gilbert/Getty Images. Pictured: Gardner Minshew
Senior NFL analyst Chris Raybon explains why he's betting the Jaguars to cover as 3-point favorites against the Dolphins on Thursday Night Football [bet now]. He has a 269-205-16 (56.8%) all-time record on NFL bets he's tracked in the Action app.
---
Don't look now, but the Jaguars may have beat their interstate rival to the punch at finding their quarterback of the future.
Heck, with all due respect to the GOAT, Jacksonville has had the best quarterback in the state of Florida through two weeks.
Just for fun…
Gardner Minshew: 49-of-65 (75.4%), 512 yards (7.9 YPA), 6 TD, 2 INT, 115.7 rating, 78.8 QBR
Tom Brady: 46-of-71 (64.8%), 456 yards (6.4 YPA), 3 TD, 3 INT, 79.3 rating, 47.3 QBR
Ryan Fitzpatrick: 51-of-72 (66.2%), 519 yards (6.7 YPA), 2 TD, 3 INT, 77.8 rating, 67.9 QBR
Last week, I wrote about how Russell Wilson was being criminally underrated — and that was before he came out and torched the Patriots for five touchdown passes on Sunday Night Football.
Well, I think we're underrating Minshew as well.
According to Pro Football Reference, Wilson leads the NFL with a 90.0% on-target throw rate. Who is No 2? That's right: It's Minshew, at 85.9%.
I should point out that both of these teams have injury concerns.
The Dolphins will be without prized free agent cornerback Byron Jones (groin), whose departure from last week's game against the Bills left rookie first-rounder Noah Igbinoghene to get flamed for 7 catches, 145 yards and two touchdowns on 11 targets in a 400-yard passing effort by Josh Allen, of all people.
Meanwhile, the Jags will be without ultra-consistent kicker Josh Lambo (hip) and quality center Brandon Linder (knee). As a bettor, an injured center always sounds the alarm bells for me, but I'm not sure Miami is equipped to take advantage: Despite blitzing at the second-highest rate in the league, the Dolphins are tied for the fifth-fewest quarterback pressures (11). The Jags didn't miss a beat last week once Tyler Shatley took over for Linder, pulling off a near comeback in a 33-30 loss to the Titans, and Pro Football Focus grades the Jags with the fourth-best pass-blocking offensive line overall.
Wide receiver D.J. Chark (chest/back) is also trending toward playing on Thursday night, but Minshew has gotten it done in 2020 while targeting Chark all of seven times, tied for just fourth-most among Jags pass catchers.
Ultimately, the most impactful injuries will be those that affect passing efficiency, and I believe losing Jones will hurt a Miami defense that ranks dead-last in Football Outsiders' pass defense DVOA than Linder's absence for a Jags offense that ranks top-10 in rushing DVOA (fifth) and passing DVOA (10th). Miami has the lesser offense in this game — 22nd in overall DVOA, 18th in passing and 20th in rushing — and even manages to our-bad Jacksonville on defense, clocking in at 32nd overall (32nd vs. the pass, 31st vs. the run) while the Jags tank 27th overall (31st vs. the pass, 10th vs. the run).
Earlier this offseason, I wrote that Minshew was worth monitoring based on his solid-all-around numbers as a rookie in a sample size that was large enough to provide at least some degree of predictiveness in his for his non-interception metrics.
As that sample size has grown, evidence continues to mount in Minshew's favor.
Thirty-two quarterbacks — including Ryan Fitzpatrick — have attempted at least 300 passes since Minshew was drafted last season, and 574 dropbacks into his career, he stacks up quite well. He ranks above-average in numerous key passing metrics while producing at a top-20% clip as a rusher and beating Fitzpatrick across the board:
Interception rate: Minshew 1.5% (eighth of 32) vs. Fitzpatrick 2.8% (26th)
Passing touchdown rate: Minshew 5.0% (tied ninth) vs. Fitzpatrick 3.8% (24th)
Passer rating: Minshew 94.2 (14th) vs. Fitzpatrick 84.5 (24th)
Adjusted Net Yards per Attempt: Minshew 6.50 (14th) vs. Fitzpatrick 5.67 (22nd)
Rushing yards per game: Minshew 23.9 (fifth) vs. Fitzpatrick 16.1 (10th)
Yards per carry: Minshew 5.03 (sixth) vs. Fitzpatrick 4.40 (12th)
After back-to-back covers to start 2020 — including an outright upset of the Colts in Week 1 — Minshew's career against the spread mark (ATS) stands at 9-5. And four of those five losses coming against quarterbacks who are in a different league than Fitzpatrick: Deshaun Watson, Matt Ryan, Philip Rivers, and the Saints version of Teddy Bridgewater, who covered in all five starts.
Fitzpatrick, meanwhile, is slightly below average ATS in his career as a starter, compiling a 65-68-6 (48.9%) ATS mark overall, according to our Bet Labs database. More importantly, he's a dismal 12-22-3 (35.3%) as an underdog with a spread between +1 and +4.5.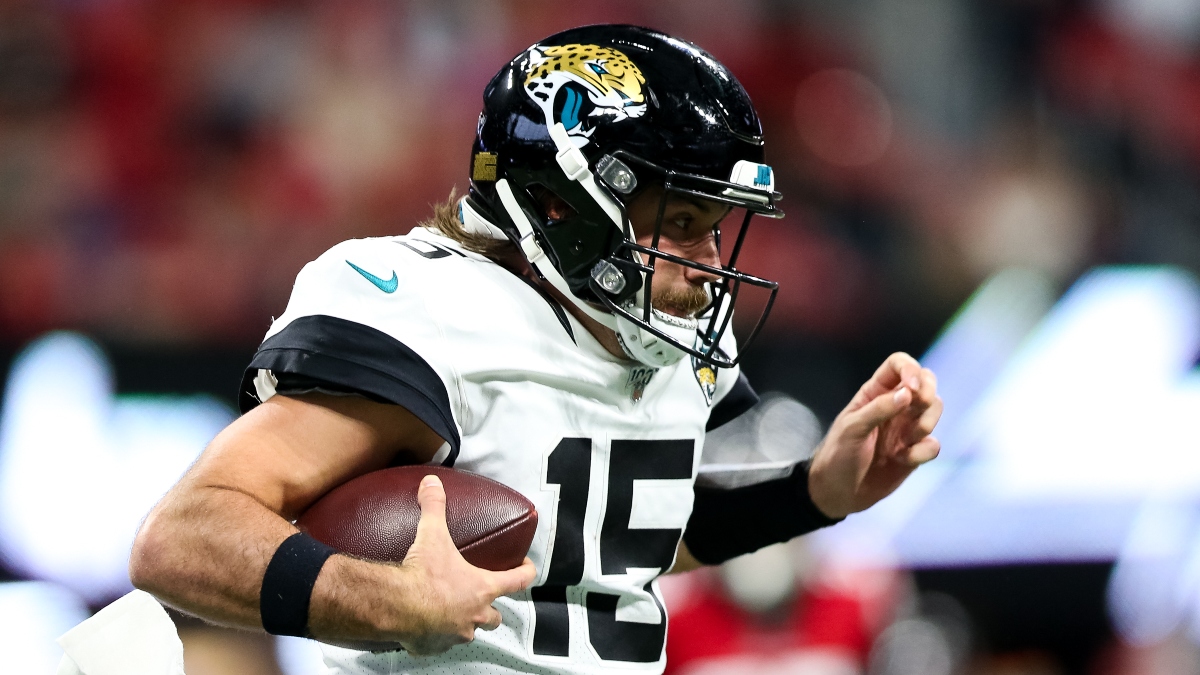 This is the perfect time to get in on young quarterbacks before the market catches up, and this season has been no different: Minshew is 2-0 ATS, Joe Burrow is 1-0-1 ATS, Justin Herbert covered against the reigning Super Bowl champion in his first ever NFL start, Dwayne Haskins pulled off an upset in Week 1, Daniel Jones got the cover in Chicago last week despite losing Saquon Barkley, and the Broncos are sitting at 2-0 against the number in Drew Lock's two starts (with an assist from backup Jeff Driskel after Lock suffered a shoulder injury last week at Pittsburgh).
I rate the Jags as one point better than the Dolphins on a neutral field, and it would be closer to 1.5-2 if the Jags were healthier. Either way, I like the Jaguars at a field goal or below.
Additionally, I wouldn't hesitate to bet the Jags live if they fall behind early, as Minshew is tied for second in fourth-quarter comebacks (four) among quarterbacks with at least 300 pass attempts since he entered the league.
PICK: Jaguars -3
[Bet now at PointsBet and get $150 if the Jaguars score a point]
How would you rate this article?