Melvin Gordon Fantasy Football Projections & What Broncos Signing Means for Phillip Lindsay
Credit:
Dustin Bradford/Getty Images. Pictured: Melvin Gordon
Melvin Gordon is staying in the AFC West.
With MG3 agreeing to two-year deal with the Broncos, what can we expect from him in Denver? And what does it mean for Phillip Lindsay?
Our fantasy football experts — Sean Koerner, Matthew Freedman and Chris Raybon — give their takes on both backs' 2020 outlooks, complete with Koerner's projections.
Melvin Gordon Fantasy Football Projections
Koerner
Denver seems like an odd landing spot for Gordon.
The Broncos' running back position was in decent shape with the 1-2 punch of Phillip Lindsay and Royce Freeman. Neither back was having much impact on the salary cap. It makes the two-year, $16 million deal for Gordon pretty baffling to me.
We can at least assume that Denver plans on making Gordon its lead back. It's also possible that the Broncos decide to trade away either Lindsay or Freeman.
Usually I'm busy running March Madness, MLB and NBA models this time of year, which means I typically let general managers settle on what their rosters will be heading into the draft before making my initial projections. But while predicting what a GM may do is new for me, I decided to make these initial projections under the assumption the Broncos will offer up Freeman to a RB-needy team.
If Gordon and Lindsay form a lightening-and-thunder committee, it would lower each of their ceilings. MG3 would likely see more rush attempts and receive all of the goal-line work while Lindsay would be the change-of-pace back and could be used more in the passing game.
Looking ahead to fantasy drafts, this would set Lindsay up to be the type of RBs I love targeting in the mid- to late-rounds. His draft stock is surely to plummet with MG3 coming on board, but Lindsay would be an MG3 injury away from becoming an instant high-end RB2. But again, that assumes he wouldn't have to split the work with Freeman.
If the Broncos end up keeping Freeman on the roster, it would only lower the value for all three backs, making it a situation to avoid.
Koerner's 2020 Projections
Gordon: 864 rush yards; 7.5 rush touchdowns; 36 receptions; 272 rec yards; 2.0 rec TDs
Lindsay: 759 rush yds; 5.0 rush TDs; 38 receptions; 245 rec yards; 1.1 rec TDs
Freedman
Gordon has played more than 13 games only once over the past four years, but in that time he has still somehow managed 1,320 yards and 11.8 touchdowns from scrimmage per year.
Even last year, he had 908 yards and nine touchdowns in just 12 games while losing a significant share of his workload to Austin Ekeler.
Despite the near certainty that Gordon will cede some snaps to Lindsay, Gordon is still a decent bet for 1,000-plus yards and eight-plus touchdowns. With his goal-line history, Gordon is likely to get the bulk of backfield touchdowns for the Broncos, and he's a good pass-catching back with at least 50 targets and 40 receptions in each of the past four years.
Gordon won't run away with the backfield, but he's likely to be a fantasy RB2.
And that doesn't mean Lindsay won't still be productive. Even though he's opened his career with back-to-back 1,200-yard campaigns as an undrafted free agent, the Broncos have seemed desirous to cut down his workload, so I expect Lindsay to play in an Ekeler-lite fashion behind Gordon.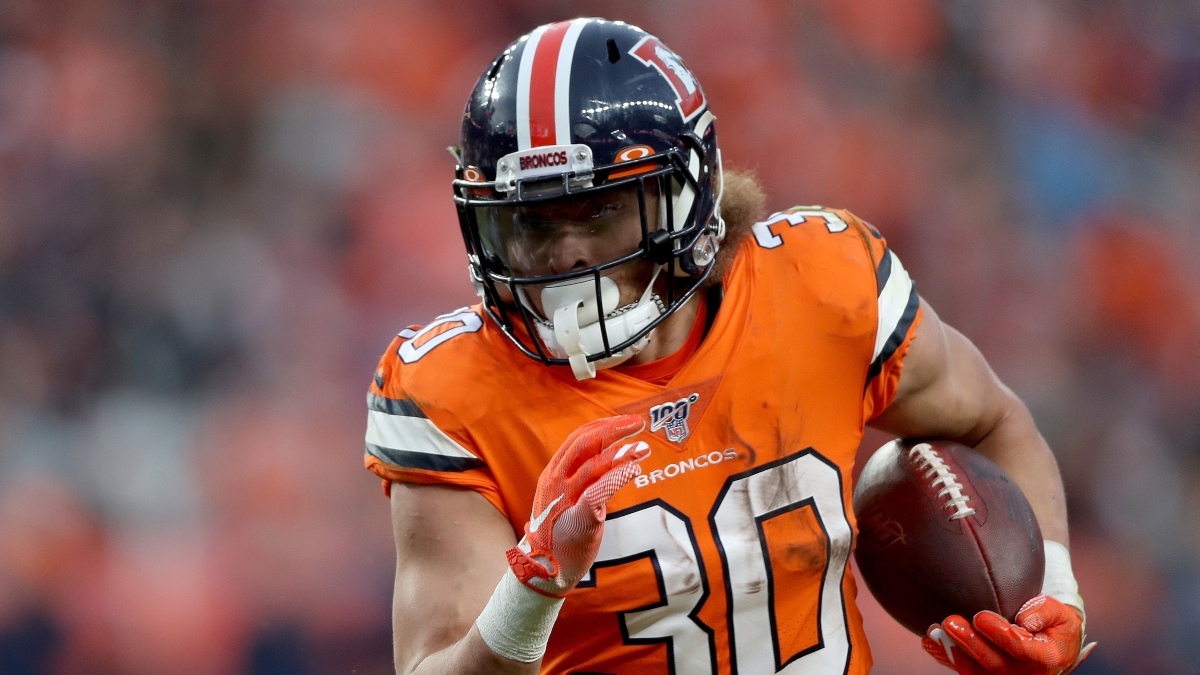 But because of his efficiency (4.9 yards per carry) and pass-catching ability (35 receptions in each of the past two years), Lindsay could still be a 1,000-yard producer with 6-8 touchdowns.
And if Gordon misses multiple games, as he has in every year of his career but one, then Lindsay could once again go over 1,200 yards. Because of his built-in role and Gordon-injury upside, Lindsay is a high-end RB3.
Raybon
Vic Fangio is known as a defensive guru, but you can tell he's been itching to make some changes on offense.
He canned offensive coordinator Rich Scangarello after just one season and brought in Pat Shurmur, shipped one of the better fullbacks in the league (Andy Janovich) off to Cleveland, and now he has brought in Gordon, effectively demoting both halves of what was once thought to be a promising backfield duo in Lindsay and Freeman.
But despite the presence of the two-headed monster that never was, there are $13.5 million guaranteed reasons to expect Gordon to be featured.
For one, Freeman is unlikely to seriously threaten for carries after a low-key disastrous second season as a runner. The 71st overall selection in 2018 carried 175 times last season, yet failed to break a run longer than 14 yards after Week 1 and failed to crack 4.0 yards per carry in 10 of his last 11 games. Thirty games, 814 snaps and 262 carries into his professional career, Freeman has just one run of 25 or more yards (and barely, at that; it went for 26).
Lindsay has shown to be a far superior runner than Freeman and is a better to stay involved, but he's going to need a Gordon injury to be a worthwhile fantasy pick.
Gordon has punched in 47 touchdowns over the past four years and should have scoring-position work on lock. And while he's found success on the ground, Lindsay has been nothing short of a liability in all facets of the passing game: His career yards per target average stands at a lowly 4.6, and last season he allowed a whopping 10 pressures on 31 snaps in pass protection, according to Pro Football Focus, which unsurprisingly assigned him the stone cold worst pass-blocking grade among 60 qualifiers at his position (19.5). Per PFF, Lindsay played more than 100 fewer snaps on passing plays than Freeman.
No goal-line work and no passing down work is a one-way ticket to fantasy purgatory for Lindsay.
Gordon, meanwhile, is set up well to regain his productivity through the air after a down year that saw him post his fewest receptions per game (3.5) since 2016 and fewest yards per game (24.7) since 2015. On a Broncos offense that lacks for reliable targets beyond Courtland Sutton — and perhaps, Noah Fant — Gordon has the upside to replicate the back-to-back 50-catch, four-touchdown seasons he produced in 2017 and 2018. And not like the Broncos him $13.5 mil guaranteed to block: per PFF, Gordon's 5.9% of pass snaps spent in protection was the second lowest among 60 qualifiers.
As is the case with any running back allowed to hit the market, there's some risk due to uncertainty in a new situation, but this spot reminds me of DeMarco Murray's first year on the Titans in 2016, when Murray was an unsexy middle-round pick and ended up being a league-winner. I like Gordon in the mid-fourth; love him in the fifth.
And back in Gordon's old stomping grounds, Ekeler should be viewed as a top-10 back while Justin Jackson is back in play as a sneaky dart-throw sleeper late.
How would you rate this article?