Our Experts' Favorite Week 11 NFL Picks
Credit:
Kyle Terada-USA TODAY Sports. Pictured: Hunter Renfrow (13), Darren Waller (83), Derek Carr (4)
Our experts run through their Week 11 NFL picks, featuring spread and over/under bets for all of Sunday's games.
What are the best bets for Week 11?
Our experts reveal their favorites for Sunday's main slate, featuring spread and over/under picks for the following games:
Jets at Redskins: 1 p.m. ET
Jaguars at Colts: 1 p.m. ET
Bills at Dolphins: 1 p.m. ET
Cowboys at Lions: 1 p.m. ET
Texans at Ravens: 1 p.m. ET
Falcons at Panthers: 1 p.m. ET
Saints at Buccaneers: 1 p.m. ET
Broncos at Vikings: 1 p.m. ET
Cardinals at 49ers: 4:05 p.m. ET
Patriots at Eagles: 4:25 p.m. ET
Bengals at Raiders: 4:25 p.m. ET
Let's dig in.
---
Odds as of Sunday morning and via PointsBet, where Action Network users can access an exclusive promotion to get a 200% deposit match (deposit $50, bet with $150). No strings attached. No rollover required.
---
There's some sneaky value on the Redskins given that their defensive line has been on fire, ranking ninth in generating pressure at 25.5% on the season.
Sam Darnold struggles mightily when under pressure and even admitted "seeing ghosts" in the pocket against the Patriots just a few weeks ago. He ranks 30th in QB rating when facing pressure. Dwayne Haskins is just as bad under pressure, but with improved offensive line health and a Jets defense that ranks 23rd in QB pressure (21.3%), he may not face it as much as Darnold.
With Derrius Guice set to return from IR, the Redskins should employ he and Adrian Peterson for a solid one-two punch that will allow the Redskins to take the ball out of Haskins' hands. I'm going to plug my nose and take Washington here.
[In New Jersey? Bet now at PointsBet]
The Colts were a different team without Jacoby Brissett. Since he left in the second quarter of Week 9, they've lost to Pittsburgh and were upset at home by a Dolphins team that entered the game 1-7.
However, with Brissett set to return, it will force the Jacksonville defense to avoid loading up against the run. The Jaguars ranks 24th in Football Outsiders' run defense DVOA, providing Mack with his best matchup since their 19-13 win at Kansas City in Week 5.
The Jaguars will also need to limit their turnovers, ranking fifth-worst with eight lost fumbles this season. They're hoping for a boost from Nick Foles, especially after Gardner Minshew was responsible for four turnovers in their 26-3 loss to Houston in London, a team Jacksonville normally plays very well.
Indy has lost two straight, but with Brissett returning in a critical home matchup, I like the Colts -3 and would bet this line up to -4.
[In New Jersey? Bet now at PointsBet]
Stuckey: Bills -3 1H/-6 Game Split at Dolphins
Listeners of our podcast know I haven't been a fan of the Bills lately. I've thought they've been overvalued in the market in recent weeks after racking up wins against subpar competition. And that sentiment paid off against the Eagles then the Browns.
Well, I've done a 180 — I think the Bills actually have value at anything under a touchdown this week.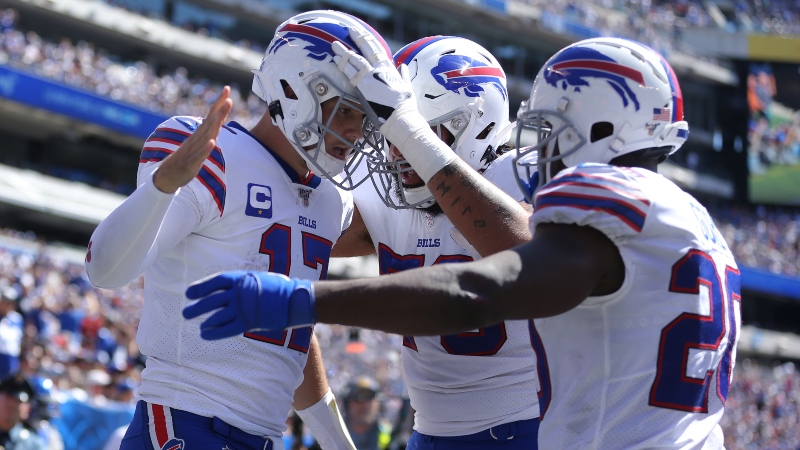 If you recall, just a few weeks back, the Bills were 17-point home favorites against Miami. Even if we assume three points for home-field advantage for both teams (I have Miami's as less), that would imply this line should be about Bills -11. Now, the market has soured on the Bills a little and has seen some effort out of a Dolphins team many thought wouldn't win a game, so I get adjustments were made. But going under a TD here is too much in my opinion.
In the first meeting in Buffalo, the Dolphins did actually put up 21 points and 381 yards in a 10-point loss. But let's take a look at who did the damage:
Leading rusher: Mark Walton
Second-leading rusher: Kenyan Drake
Leading receiver: Preston Williams
All three will not be available on Sunday.
Buffalo is just so much better in the trenches and significantly more talented on both sides of the ball. That should ultimately be the difference in what sets up as a good matchup for the Bills defense. Josh Allen can do just enough to cover this number, which I like at anything below a touchdown for the full game.
[In New Jersey? Bet now at PointsBet]
Koerner: Lions +7 vs. Cowboys
Earlier in the week I mentioned that I would dock the adjust the spread 3-4.5 points if the Lions had to start Jeff Driskel again, and sure enough, Matthew Stafford has since been ruled out for his second straight game.
I have this spread projected at 5.5, so there's value on the Lions at +7.
[In New Jersey? Bet now at PointsBet]
My first instinct when I saw the opening line of Ravens -4.5? Uh-oh, bookmakers are gonna get taken. Wiseguys felt the same way, as they hit the 4.5 and dropped this down to 4. I bought it at the opening number, because I think it will dip a bit further before game time.
Every week it seems the public forgets that Deshaun Watson has spent the past three years being insanely accurate, insanely comfortable throwing downfield and insanely good at winning or keeping games close. There is always someone overshadowing him. Last year it was Patrick Mahomes and Andrew Luck. This year it's Lamar.
The truth is that the Ravens are just plain over-valued right now. Their win over the Patriots started it, but dominating the Bengals on the road as double-digit faves sealed it. There is never a better time to fade a team than when it's got momentum and public support. And, of course, when it is playing Deshaun Watson.
[In New Jersey? Bet now at PointsBet]
Stuckey: Falcons +4.5 at Panthers
Out of 32 centers who have played at least 300 snaps this season, Matt Paradis ranks dead last with a 27.2 pass blocking grade from Pro Football Focus. The guard performance in Carolina has also been subpar. Really, in total, the Panthers offensive line has done a very poor job in pass protection, ranking 26th as a unit in pass-blocking efficiency.
Well, where is the strength of the Falcons defense? Up the middle, specifically in the interior defensive line and at middle linebacker. Grady Jarrett and the rest of the Atlanta interior could make life miserable for Kyle Allen, who already has more turnovers than touchdown this season.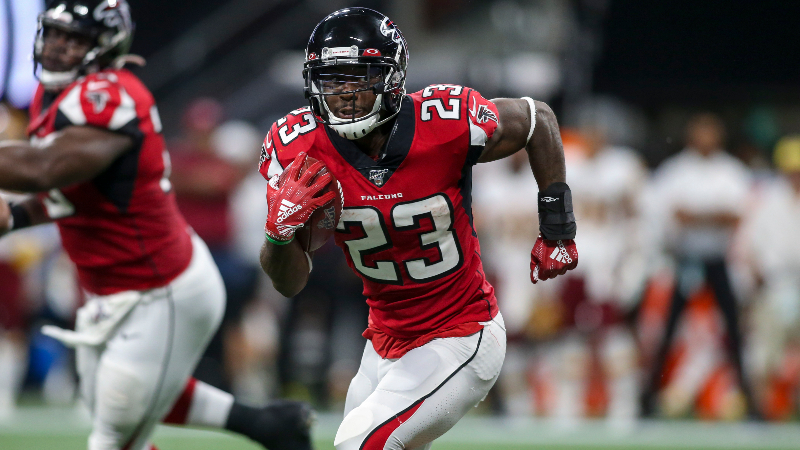 Meanwhile, the Falcons should establish the run like they did last week with Brian Hill, and that was against a much better run defense than Carolina's, which is allowing a league-high 5.2 yards per rush. I think Matt Ryan and the running game can get it done inside the 20 against a Panthers defense that has a 70% red-zone TD percentage allowed, last in the NFL.
I rate these teams close to even, so give me the better quarterback in Carolina.
[In New Jersey? Bet now at PointsBet]
Koerner: Buccaneers +5.5 vs. Saints
The Saints lost straight up to the Falcons despite being 13.5-point favorites last week. It was not only a shocker that they lost, but that they got blown out 26-9 in their own building.
Before that game I had mentioned the Falcons had a ridiculous +3.1 edge in expected wins vs. actual compared to the Saints — a sign that the matchup would be much closer than their records indicated and that the market would offer value as a result.
Now this week the Buccaneers have a +3.0 edge in expected wins vs. actual. A lot of this has to do with the fact the Saints are 5-0 in one-score games while the Bucs are 2-4. The public is likely overrating the Saints and underrating the Bucs with 60% of the action coming in on New Orleans as of writing (see live public betting data here), dropping the line from -6 to -5.5.
Marshon Lattimore is also missing this game, which means the Saints won't be equipped to contain the lethal WR duo of Mike Evans and Chris Godwin.
I have this spread pegged at 4, so Bucs +5.5 is one of my favorite plays of the week. Given that these are two higher-variance teams, I'd say the Bucs moneyline (+200 to +210) is also offering some sneaky value.
[In New Jersey? Bet now at PointsBet]
I've been impressed with the Vikings this season, and under Mike Zimmer (since 2014), they've offered a strong return on investment in several different scenarios:
At home: 30-13-1, 35.1% ROI
As favorites: 34-17-1, 29.3% ROI
Outside of division: 41-15-1, 41.8% ROI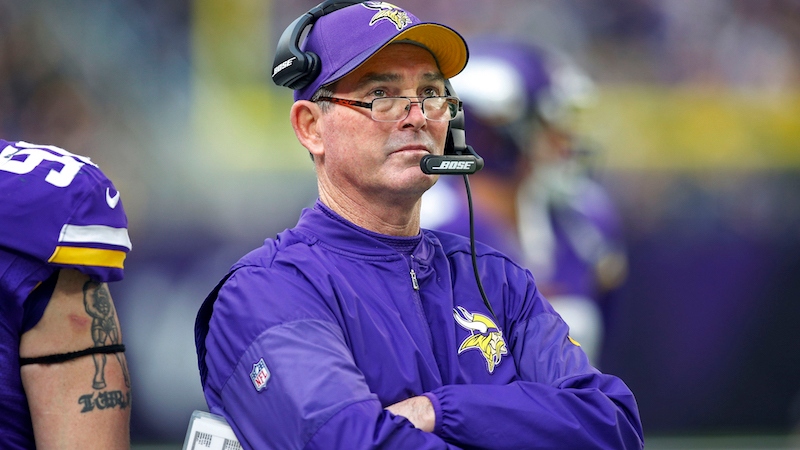 Zimmer is a risk-averse, process-oriented, defense-directed "manager" (for lack of a better word). As a result, the Vikings are a disciplined team that doesn't often make big mistakes. They don't waste the natural advantage they have at home and they don't play down to the level of their underdog opponents.
This week, the Vikings are in a "solar eclipse" spot with all of Zimmer's historical edges lining up. As non-divisional home favorites, the Vikings are 19-3-1 against the spread (66% ROI).
Even though the Broncos are coming off their bye, I still doubt they will be able to keep this game competitive given their dearth of offensive talent.
I bet this at -10, but would take it at -10.5.
[In New Jersey? Bet now at PointsBet]
John Ewing: Cardinals +10 at 49ers
San Francisco suffered its first loss in Week 10, but oddsmakers expect the 49ers to bounce back against the Cardinals, having initially opened Kyle Shanahan's team as 14-point favorites.
On the surface this matchup favors the 8-1 Niners, but there are a few reasons to think this line is inflated. For starters, it's historically been profitable to fade teams that have been easily covering the spread.
The 49ers have covered the spread on average by more than five points per game, making them a match for this system that has gone 389-312-21 (56%) against the spread since 2003.
Then there's the Niners defense, which is second in DVOA but has been susceptible to the run — San Francisco has allowed 4.6 yards per carry (24th). This matchup sets up well for a Cardinals team that's averaged 4.9 yards per attempt this season.
Our simulations project the 49ers to win on average by nine points. Sharp bettors agree as they've bet this line down to San Francisco -12. Even though the line has moved, there is still value on the Cardinals. I would bet Arizona down +10.
[In New Jersey? Bet now at PointsBet]
Stuckey: Patriots-Eagles Under 44.5
I think the Eagles have figured out they need to be a rush-first offense that controls the clock and keeps opposing offenses off the field, especially ones with competent quarterbacks who can exploit their vulnerable secondary.
Their rushing offense hasn't been flashy, but they have an excellent offensive line that can run block as well as any unit in the league — they have Pro Football Focus' highest run-blocking grade.
And using that same PFF measure from above, the Patriots' run defense ranks 24th in the league. The Eagles should generate a push up front and convert on most short-yardage situations on the ground against the weakest part of the Patriots team. That should keep the clock moving.
However, even when they put some long drives together, I don't see them having much success in the red zone.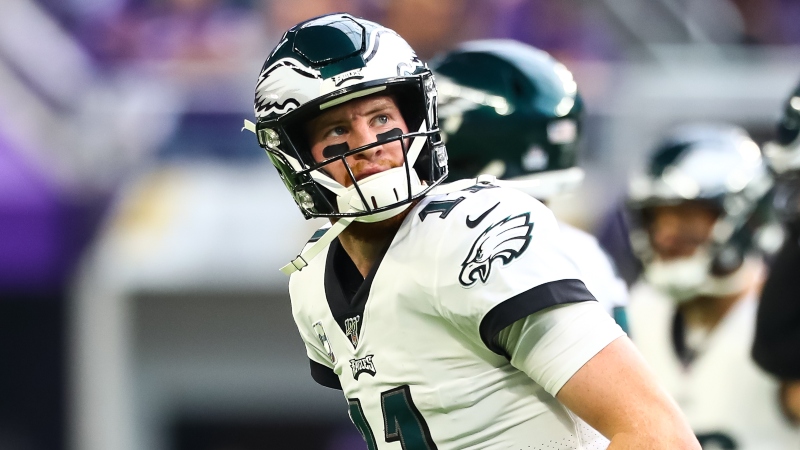 Tom Brady will get his, as always, especially against a poor set of Eagles corners but this isn't as explosive of a Patriots offense as we're used to seeing. Can it be? Sure, and it probably will once it gets the timing down and the offensive line comes together even more, which you can bank on with one of the best O-line coaches in the biz.
But for now, I think the Eagles' dominant defensive line can completely kill the run game and get pressure on Brady, which is the only way you can really contain him.
Still, I think the Patriots win this game, which means I think they'll have a lead in the second half. And while they always play fast in the first half, they tend to slow it way down in the second half with leads.
I don't see much value on the spread, but I will be taking a piece of the under pregame, though I'll wait to see where the market goes as I'd like to have 45 or better if possible.
[In New Jersey? Bet now at PointsBet]
Stuckey: Bengals-Raiders Over 48.5
I still don't think the market has fully adjusted to Raiders totals as I consistently have them a point or two higher. They're my favorite over team in the NFL right now. Why? Well, they have a really good offense — maybe the most underrated in the NFL.
It all starts with their excellent offensive line, which is giving Derek Carr plenty of time in the pocket. Of the 30 NFL quarterbacks with a minimum of 200 dropbacks this season, Carr has been under pressure at the lowest rate (just north of 25%).
And he hasn't got enough credit for how well he's been playing. When he's been under pressure, he's been uber-efficient. Carr ranks first among all 30 of those qualified quarterbacks when under pressure in the following categories:
Completion percentage: 62.5%
Adjusted completion percentage: 82.4%
Passer Rating: 109.2
The Raiders also have a top rushing attack with Josh Jacobs, who I already rate as one of the best backs in the NFL. And Carr has weapons to work with on the outside, including tight end Darren Waller.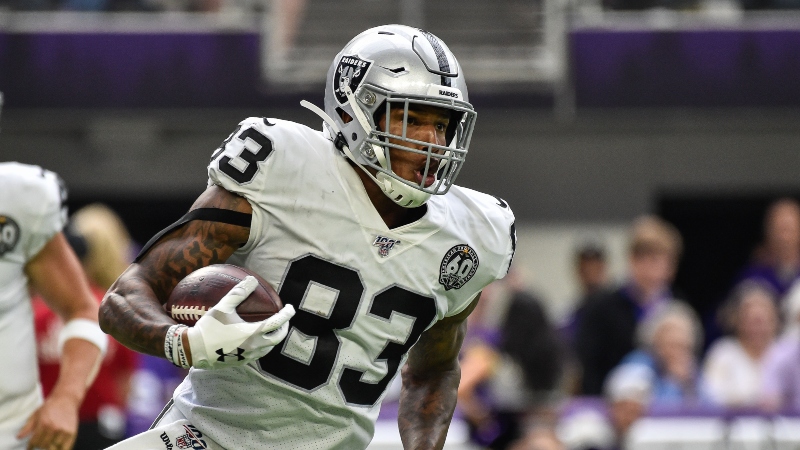 Waller and Jacobs could have huge days against a horrendous Bengals defense that's particularly weak at the linebacker and safety positions.
The other reason I'm loving Raiders overs is their defense is putrid. They get absolutely no pressure on opposing quarterbacks and their secondary struggles in coverage. That's not a formula for success in today's NFL, even against a rookie QB like Finley.
I'd look at over anything 49 or below in a matchup of the NFL's two worst defenses in terms of yards per play allowed (Bengals 6.8; Raiders 6.3).
How would you rate this article?