Chargers vs. Broncos Odds & Picks: Bet L.A. To Cover This Spread Before It's Too Late
Credit:
James Gilbert/Getty Images. Pictured: Justin Herbert
Chargers vs. Broncos Odds
Broncos Odds

+3 [BET NOW]

Chargers Odds

-3 [BET NOW]

Over/Under

48.5 [BET NOW]

Time

4:05 p.m. ET

TV

CBS

Odds as of Saturday evening and via PointsBet, where you can bet $20 on the Broncos or Chargers to win $125 if they score.
The Los Angeles Chargers achieved something last Thursday that they hadn't all season — they won a second consecutive game.
The Chargers scored the winning touchdown in overtime after the Raiders won the coin toss, but were forced to settle for a 23-yard field goal. The win was the just fifth of the season, and despite already being eliminated from the playoffs, the Chargers have responded well after a 45-0 loss to the Patriots three weeks ago.
The Chargers' last two wins carry some significance in that both occurred by a margin of three points. The common narrative about the Chargers is that they've struggled to win close games. Now they'll hope these consecutive wins in a similar manner help to change the perception around them and in the locker room.
Ironically, we'll find that they've actually done well against the spread when coming off games with a margin of three or fewer points.
Denver Broncos
In Week 8, the Broncos battled back from a 21-point deficit in the third quarter to defeat the Chargers, 31-30. Since then, Denver has won only two games, with just one victory in its last four attempts.
This was expected to be the season in which the Broncos would determine if Drew Lock is their quarterback of the future, but his performances have produced mixed results.
According to ESPN's Total QBR metric, which tracks each quarterback's quarterback's contributions to winning a game, Lock is ranked 26th in the league with a 51.4 rating.
What's even more frustrating is that Lock has played well for some stretches during the season. In Week 14, he received his highest rating of the season at 87.0, and averaged a 79.0 rating from Weeks 11 through 14.
Lock has particularly struggled with turnovers this season. He's near the bottom of the league with eight fumbles and he's tied for the second-most interceptions in the league with 13.
In fact, Denver has the worst turnover margin in the league at -1.3 per game.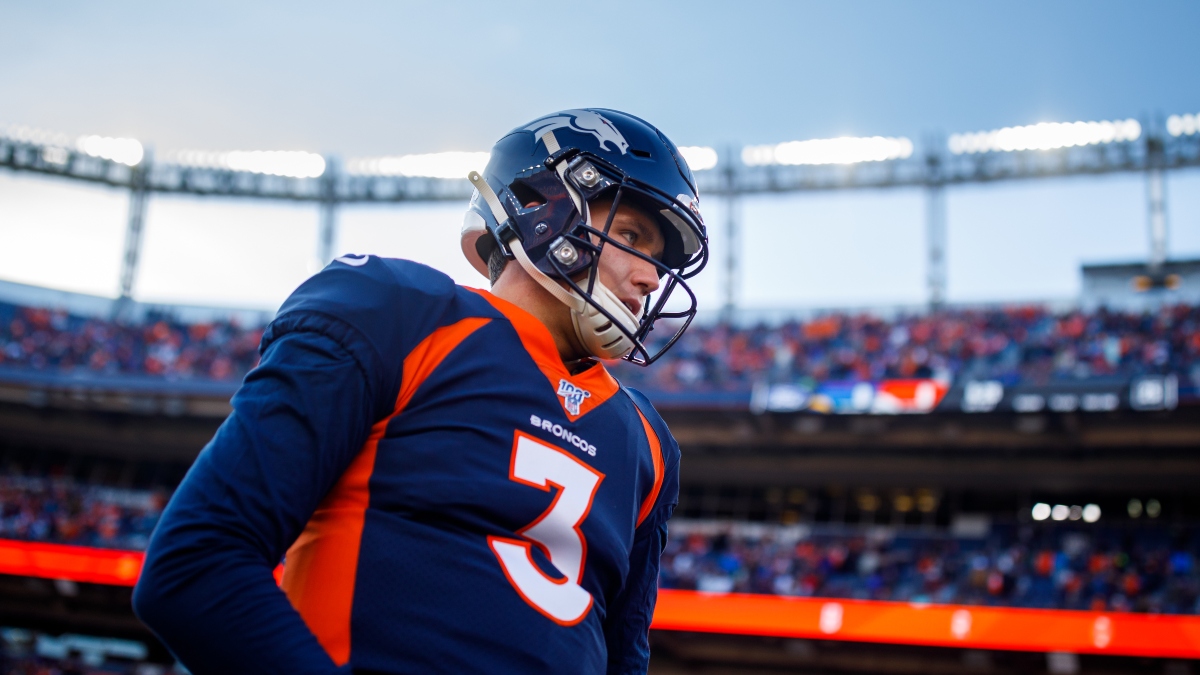 Another issue for the Broncos has been their inability to sustain their drives when they have the football. Denver is ranked 28th in the league with a third-down conversion rate of 38%.
Part of what's influenced Denver's poor results on third down is their play-calling on earlier downs.
It's almost no surprise that Denver is dead last in the league with a 42% total success rate on first down. This means that on first downs, Denver has often failed to pick up at least 40% of the yardage necessary to move the chains.
It doesn't help that Denver is ranked in the bottom of the league with 34 penalties on first down, which often puts the Broncos behind the chains and further complicates their ability to sustain long drives. This trickle-down effect causes them to lose the time of possession battle and forces their defense to stay out on the field for longer periods of time.
Cluster injuries to the secondary likely won't help matters much for the remainder of the season. Just in the last month, Denver lost cornerbacks Bryce Callahan, Essang Bassey, Duke Dawson and Kevin Toliver II to season-ending injuries, while A.J. Bouye out with a six-game suspension. Denver has now been forced to elevate rookie Michael Ojemudia into a starting role.
Bradley Chubb, who picked up an ankle injury in last week's loss to the Bills, is also out. On the offensive side of the ball, running back Phillip Lindsay has also been ruled out with a hip and knee injury. Denver's other backup running back, Royce Freeman, is also dealing with a knee injury and is listed as questionable for Sunday.
Los Angeles Chargers
It's not clear if a late-season surge will prevent Chargers' head coach Anthony Lynn from being fired after another lackluster season.
It's not just that the Chargers are losing games, but rather the manner in which they've lost them. Seven of their nine losses this season have been by one possession, with two of them occurring in overtime.
From poor clock management to special teams mistakes, the Chargers' coaching staff has made a number of mistakes over the course of the season.
Chargers special teams:
-Allowed 70-yard punt return TD
-Allowed blocked FG for TD
-Muffed kick return
-Missed FG
-Kick returner ran into teammate
-Hold on kick return
-Allowed 61-yard punt return
-10 men on field for PR
-12 men on field for PR
-10 men on field for PR (again!)

— Jeff Howe (@jeffphowe) December 7, 2020
There's no question that the Chargers have underperformed this season. Their Pythagorean expectation is that they should have won at least one additional game given the number of points they've scored vs. points allowed.
Los Angeles will now face a Denver team that's actually overachieved this season. Even if you take out the Broncos' game against the Saints in which they essentially played without a quarterback, the Broncos are a five-win team at best.
This game sets up as a classic revenge spot for Los Angeles after it blew a three-touchdown lead in the teams' first meeting.
Chargers quarterback Justin Herbert comes into this game in relatively good form. He's had 78.2 and 85.1 marks in Total QBR over his last two games with a 68.6 average for the season.
I would expect Herbert to be able to move the ball against a Broncos secondary that's currently decimated by injuries. He's been impressive in his rookie campaign, as the Chargers are fifth in the league with 272.9 passing yards per game.
Meanwhile, the Broncos defense has really sprung a leak over their last three games, with opponents out-gaining them by 1.8 net yards per play. When you factor in the injuries to key personnel on defense, in addition to an offense that is extremely turnover-prone, there's enough to like about the Chargers in this spot.
As far as injuries are concerned, the Chargers will be without starting linebacker Uchenna Nwosu (knee) and Joey Bosa (shin/concussion).
Keenan Allen isn't expected to go on Sunday, but was more of a decoy last week as he was on a limited snap count and caught only one pass for 17 yards.
Broncos-Chargers Pick
With two games left, the Chargers look determined to keep their win streak alive.
They have the momentum going into this game, and they're probably the more motivated side once you factor in the revenge angle. And while they're always capable of imploding — particularly with Lynn at the helm, this game should favor Herbert given the injuries to the Broncos' secondary.
The fact that Los Angeles has been able to win consecutive close games bodes well for the team's psyche in this matchup. In fact, the Chargers have historically done well against the spread coming off games with a margin of three or fewer points, according to our Bet Labs database:
If effort is a big part of how teams respond after close games, the Chargers will put forth a representative performance.
PointsBet is offering them as 3-point favorites while other sportsbooks have already moved the line by a half-point. I'll go ahead and lock in Chargers at -3 or better while it's still available.
Pick: Chargers -3
How would you rate this article?