NFL Odds, Picks, Predictions: 49ers, Steelers, Seahawks To Cover Are the Spreads Worth Betting In Week 18
Credit:
Douglas P. DeFelice/Getty Image. Pictured: 49ers QB Jimmy Garoppolo
We made it to Week 18, so it's time to finalize picks for every NFL spread.
The regular-season finale is all about incentives and motivations, which means there are edges to exploit if we can make the right reads. We've already covered every game at length below, but let's circle back with a few late updates on the cusp of our final regular-season NFL Sunday.
NFL Odds, Picks, Predictions
With so much uncertainty, both by way of COVID and the unknown incentives that can change even during the games, I'm betting on a whole heap of underdogs.
I'll be playing moneylines for the three picks graded as "bets" below. I also bet on the 49ers to win the NFC and the Super Bowl heading into the week. I'm sprinkling the Texans, Falcons, Dolphins and Jets moneylines, too.
Here are the picks that are unchanged from the early-week edition of this column — as a reminder, I grade each on a confidence scale from "bet" to "lean" to "pass":
Bet Steelers +3.5 at Ravens
Bet 49ers +5.5 at Rams
Bet Seahawks +6.5 at Cardinals
Lean Chiefs -10.5 at Broncos
Lean Texans +10.5 vs Titans
Lean Falcons +3.5 vs Saints
Lean Jets +16.5 at Bills
Lean Dolphins +6.5 vs Patriots
Lean Raiders +3 vs Chargers
The Eagles have been hit with a COVID outbreak and look certain to rest their key players on Saturday while the Cowboys say they're committed to playing for the win. We'll switch to the Cowboys' side, but pass on actually betting a phony-looking game that should be a rest spot for both teams.
Here are all the picks we're passing on this week:
Pass Cowboys -4 at Eagles
Pass Colts -14.5 at Jaguars
Pass Giants +7 vs WFT
Pass Vikings -5.5 vs Bears
Pass Panthers +8.5 at Bucs
Alright, let's take a look at the two games we "waited" to make picks on earlier this week, even though there's not a whole lot to see there.
Bengals at Browns (-6)
It was always a question of whether the Bengals would go all-out in this game after clinching the division and badly needing a week of rest, but Joe Burrow's knee injury late in Week 17 along with their COVID outbreak has effectively made the decision for them.
The Bengals will be without Burrow, Joe Mixon, most of their offensive line, star pass-rusher Trey Hendrickson and as many as seven defensive starters. This is basically a preseason game for the Bengals — they'd like a win, but will be locked into the 3- or 4-seed with a Chiefs win on Saturday, so resting is more important at this point.
Cleveland is the far healthier team and will look to end its season on a high note after a disappointing campaign.
Baker Mayfield is out after having surgery, but Case Keenum is probably an upgrade at this point. Otherwise, the offense is mostly healthy. And the defense has some injury issues, but hasn't been the problem.
The Browns are the far better team on paper … if they try to win. They've owned the Bengals lately, winning six of the last seven. Browns head coach Kevin Stefanski is only 1-10 against the spread (ATS) in division games, but that one was against the Bengals earlier this season.
This is a "pass" in what has become a meaningless game, but it's a nice spot for the Browns to end the season with a big win against a playoff team and instate division rival.
THE PICK: Pass Browns -6 | Previously "Wait"
Packers (-3.5) at Lions
The Packers continue to insist they'll try in this game, but there's no reason we should believe them.
It looks like Aaron Rodgers and Co. will start the game, but it would be a big surprise to see them finish it. Maybe their starters play a few series, maybe a whole half, but the 1-seed is locked up and they've seen injuries to Rodgers, Aaron Jones, the whole offensive line and key defensive players. They just need to stay in rhythm and get healthy.
The Lions are actually less healthy than the Packers. Jared Goff will play, but the Lions are decimated on the O-line, at receiver and at corner. There wasn't much talent on this team to start with. Now, there's even less.
Still, we know Dan Campbell's guys will fight hard and bite kneecaps all the way to 0:00. The Packers are infinitely better and should build an early lead, but I expect the Lions to fight back in the second half and try to end the season on a winning note.
I have no interest in betting this before the game, but we might get a shot at Lions +7.5 or longer live right as the Packers pull their good players. The Lions are locked into their draft position unless the Jaguars lose to the Colts, so Detroit might as well try.
THE PICK: Pass Lions +3.5 | Previously "Wait"
---

Editor's note: The rest of this story was published on Wednesday. Please check out the information above to see how Brandon Anderson's picks have changed — and why — since then.
---
Holy cow, we made it.
It's our first NFL Week 18 ever, and it felt like we'd never get here. We've waited out rescheduled games and a barrage of injuries and COVID protocols, sorted through betting chaos, fought hard all the way, and we're finally ready for postseason ball.
But first, we have one last week of games. And I love betting on regular-season finales because there are serious edges to be had if we can decipher motivations. Some of these teams are already planning Cancun vacations, others are taking a mental break before a postseason run, and only certain teams are really showing up with a full effort. All our usual DVOA and EPA metrics are only so useful in Week 18 — motivation is key.
That's why we'll consider what's at stake for every game with the utmost importance as we cap each Week 18 matchup. That means thinking a lot about playoff seeding, draft order and more because it's our best edge this week. Here are the playoff scenarios for every team, and we'll hit the pertinent info with each pick below too:
Tread carefully this week.
Some games have little at stake for either team and probably aren't worth much of our cash. Others are unpredictable since we could still get news of teams resting. And of course, we've still got COVID. That means we need to get our analysis set and be ready to pounce on the right line.
We'll circle back Saturday with final picks once we have better info, but make early decisions on every game now so you're prepared to bet during the week as news comes in. Be sure to follow me on Twitter and on the Action app at @wheatonbrando as we update our positions in real time and make bets throughout the week. For now, we'll label every pick as a "bet," "lean" or "wait."
Note: Odds highlighted below are the best available for each pick as of writing. Shop for the best real-time lines with our NFL odds page. Week 17 trends noted below are since 2010 when the schedule changed to end the season with division games and do not include Week 17 games from this season.

---
Saturday Games
Chiefs (-10) at Broncos

That Chiefs' loss in Cincinnati was shocking and damaging. Kansas City led by two touchdowns three times but couldn't put the game away, and now the Chiefs have lost position for the 1-seed. That could mean an extra playoff game, and one against a dangerous opponent — and it means a week of rest lost too.
But it can get worse — the Chiefs can still drop to the 3- or even 4-seed with a loss. It can also get better. Kansas City moves right back into the top spot with a win plus a Titans loss. And I think they'll do their part and take care of business on Saturday afternoon.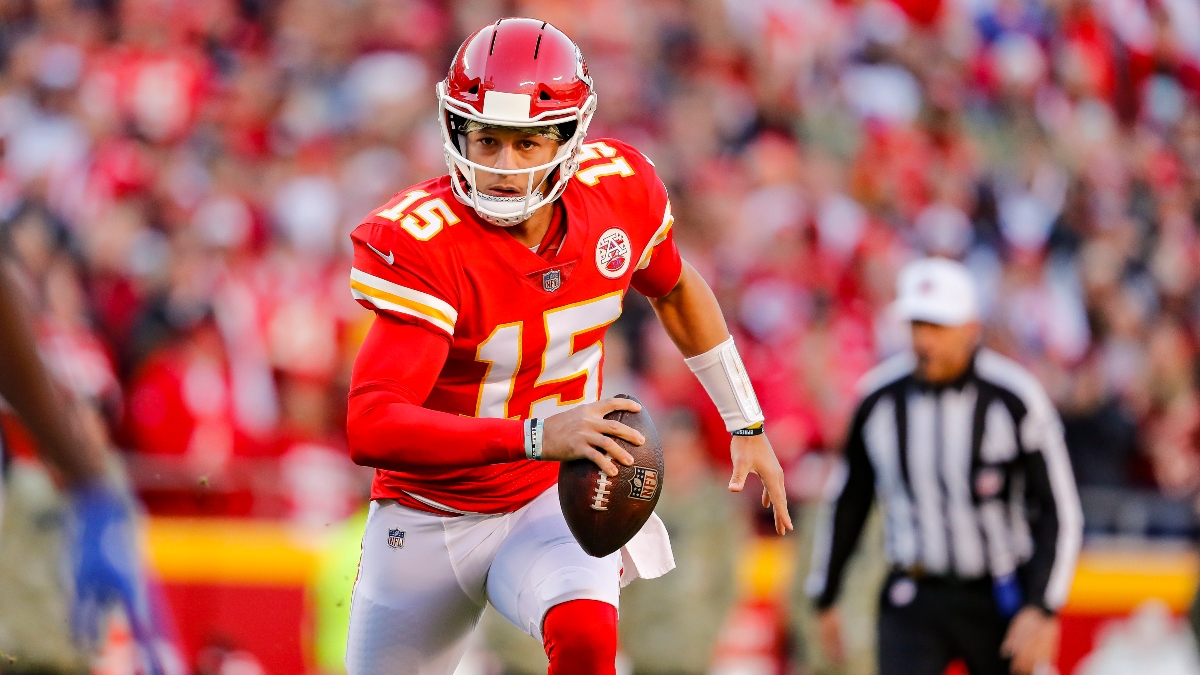 Patrick Mahomes is 8-0 against the Broncos, including 6-2 against the spread (ATS), covering by 6.6 PPG, and the Chiefs have won 12 in a row against Denver. Mahomes has covered three straight times as a favorite of over seven points after struggling in that spot for some time, and the Broncos have cratered without Teddy Bridgewater. They've scored just 13 points in both Drew Lock starts, and if they do that again, the Chiefs only need to hit 24 to cover.
I'm looking to buy Chiefs stock, even after their second half collapse against the Bengals. I expect them to win comfortably here and remind everyone why they're the clear AFC favorite, regardless of seed.
The Chiefs are +500 at just about every book to win the Super Bowl. They're +225 at DraftKings to win the AFC. I'd expect the Chiefs to be favored against any playoff opponent, and I won't be shocked if they still get the 1-seed. I'm grabbing some of that +500 before this game.
THE PICK: Lean Chiefs -10
Cowboys (-7) at Eagles

Why did the NFL give us this game on Saturday night? It's not particularly meaningful for either team. The Eagles have already clinched a playoff berth, and the Cowboys have clinched the division but probably can't move up from the 4-seed after Sunday's loss. The 3-seed is in play but not a very meaningful change, and the 2-seed is a long shot. Will the Cowboys care? They shouldn't.
This line jumped from -1.5 to -7 after news of some Eagles COVID mess. It looks like Philly will use this game effectively as a bye week, giving Jalen Hurts a needed week off and waiting out their guys in health protocols. But I'm not convinced Dallas has any real reason to try. The Cowboys could badly use a week off themselves. Dak Prescott and Ezekiel Elliott have been banged up all year along with the offensive line.
If both teams were trying, I'd like the Eagles at this number. They have an advantage running the ball, and I like their chances to win the trenches. But the line is only this high because the books don't expect a full effort from Philly. I'm just not expecting one for Dallas either. It's Eagles or pass and I'll probably just stay away, but don't be afraid to jump on this number if you see news of Dallas sitting guys.
THE PICK: Lean Eagles +7
---
Early Sunday Afternoon
Titans (-10.5) at Texans

The Titans have it all in front of them now. The formula is simple: win against the lowly Texans and Tennessee clinches the 1-seed and a week off to rest up and get A.J. Brown, Julio Jones and maybe even Derrick Henry healthy. The Titans defense is playing well, and a team built around Henry is made for playoff football. All Tennessee has to do is win.
And yet… I still just can't talk myself into the Titans.
Tennessee crushed Miami 34-3 to win the division, but that game was far more even than it looked, and it made us forget how mediocre this team has been. The Titans went 2-3 in their previous five with a second-half escape against the 49ers and losses to the Steelers, Patriots and these very Texans. Tennessee's offense ranked 27th in EPA per play during that stretch, per RBSDM, behind Houston. The Titans are not playing good ball.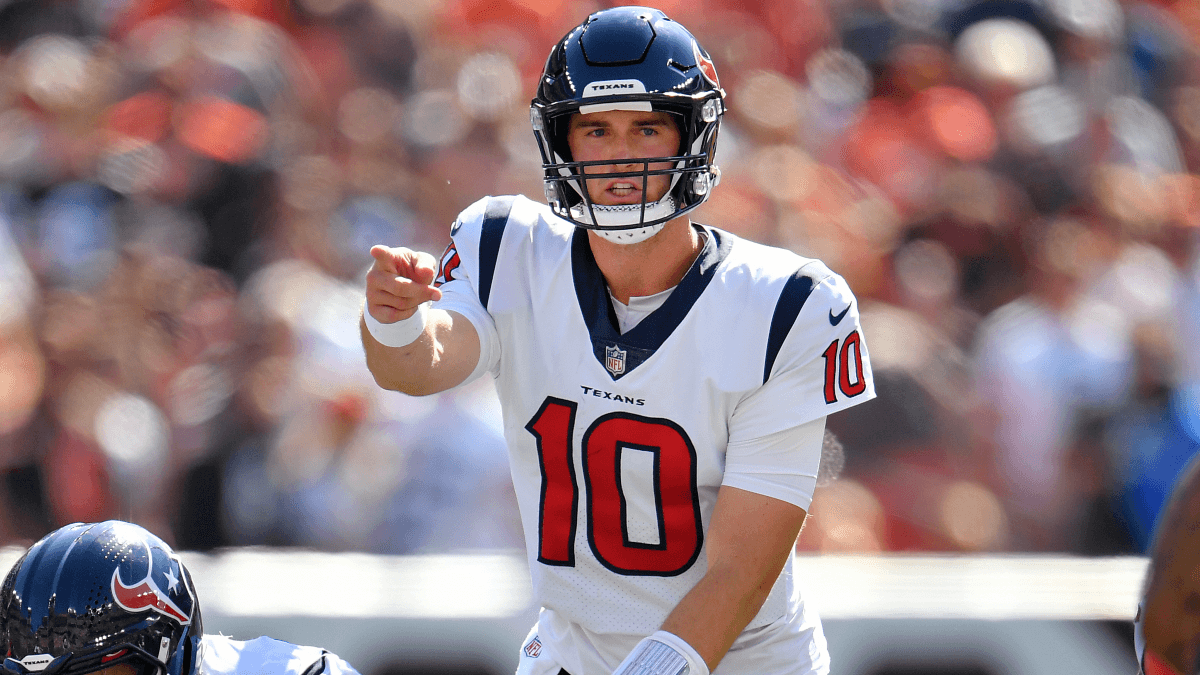 The Texans have actually been decent. The offense has improved as rookie Davis Mills has settled in, and the defense has been stout all season. This shapes up as a defensive battle, lower scoring and close, and that keeps the Texans live and gives them a shot at a huge upset.
The trends favoring Houston are myriad. Eight of the last 11 games in this rivalry covered this spread. Underdogs of 10 or more are 32-18 ATS in December or later since 2003, covering 64% of the time. Ryan Tannehill is 2-5 ATS in finales, and teams coming off blowout ATS wins like the Titans cover only 44% of the time. And then there's this Week 17 trend: teams that have won two or three in a row entering the finale are just 28-46-1 ATS, covering under 38% of the time. As always, what goes up must come down.
Be careful just counting on an easy Titans win. That's just not how these things go. This is the Texans' Super Bowl. These guys want to go into their offseason celebrating. I'm playing Houston to cover and playing the +440 moneyline too.
If you think this is all baloney, there's a better angle than playing for a Titans cover. Mike Vrabel is +400 to win Coach of the Year at FanDuel, with Zac Taylor and Matt LaFleur the favorites. If the Titans do get the 1-seed after everyone the team has missed time at some point this year with injuries, he'll have a real shot.
THE PICK: Lean Texans +10.5
Bengals (-3.5) at Browns

I grabbed the Bengals here on The Hot Read segment of The Action Network Podcast on Sunday night because Cincinnati was ludicrously a three-point underdog even after its huge win over the Chiefs. The Browns had already been eliminated at that point and had nothing left to play for.
Well, everyone woke up to that quickly and now this line is more what it should have been, with the Bengals favored by a field goal instead. Baker Mayfield will miss the finale, but the switch to Case Keenum is lateral at worst and might be an upgrade at this point.
Something feels a bit fishy. We don't know who will play for the Browns, but I'm not convinced the Bengals will be a full go either since Joe Burrow had that late knee injury. As three-point dogs, Cincy was worth the early risk. With the line flipped, we'll wait and see where this ends up Saturday before making a call.
THE PICK: Wait for news on who's playing for either side
Steelers at Ravens (-5.5)
It's one last rah-rah Mike Tomlin underdog spot with Big Ben.
The Steelers kept their faint playoff hopes alive with that emotional Monday night win in Roethlisberger's final home start, and Baltimore is still alive too. Both teams need to win and get help — but both will be trying.
That means we can handicap this game regularly. And the only regular thing about this rivalry is that the games are virtually always close. Nine of the last 13 matchups have been one-score games, and Pittsburgh won 20-19 just a month ago. Baltimore has lost by one or two in four of its last five games anyway, so the Ravens are already playing close games.
And then there's this crazy stat from Action Labs: since 2005, when either team in this rivalry is favored by more than a field goal, the underdog is 17-2 ATS! That is not a typo. It is, in fact, an 89% cover rate. Pittsburgh is 5-0 ATS as the dog in that spot with three outright wins.
Credit the Ravens for fighting all the way, but this team has been doomed by relentless injuries at QB, RB and CB. Lamar Jackson is still questionable and won't be fully healthy if he does play. Baltimore ranks dead last in EPA per play defensively over the past seven weeks. Even the Steelers should score on them.
ESPN put up a wild stat Monday night in Pittsburgh: in Big Ben's entire career, he's only ever played two games without playoff implications. Roethlisberger and Tomlin always have a shot. And we know how good Tomlin's Steelers are as underdogs: 36-14-1 ATS after Week 5, covering 72%, and 30-21 straight up with a 59% ROI. If this is Ben's last game, he will not go down without a fight.
I'm playing this early because the line will drop, especially if Jackson is out. Grab the moneyline too. One last time for Big Ben and Mike Tomlin as underdogs.
THE PICK: Bet Steelers +5.5
Colts (-15) at Jaguars
This line ballooned by a whole touchdown Sunday night, but that's because Indy's loss last week means the Colts need to win here to make certain they're in the playoffs. And they should be able to against the worst team in the NFL.
Jacksonville has lost and failed to cover in seven straight. Other than a game against the Jets, the Jaguars are averaging 10.0 PPG in nine games since their bye week with five losses by 20 or more points. This team absolutely stinks, and they're incentivized to lose and keep the No. 1 draft pick.
The history here says we have to take Jacksonville seriously because the home team has won 12 of the last 13 games in this division rivalry. Even last year when the Jaguars went 1-15, that one win was against the Colts. I'll sprinkle a tiny bet on the Jags moneyline, just in case.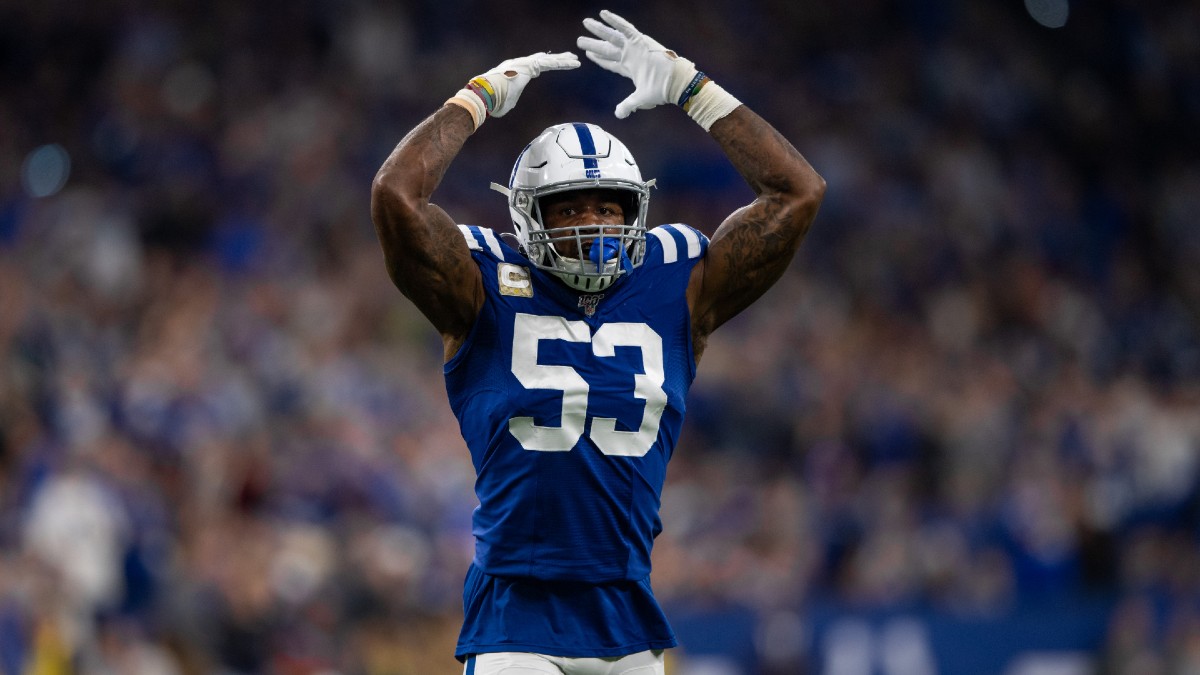 But the trends here say to trust the Colts. Since 2010, teams with a 50-to-66 winning percentage playing the finale against one at 0-to-33 are 17-10-1 ATS, covering 63% of the time by almost six points. Carson Wentz is 7-3 ATS as a double-digit favorite. He's at his best as a game manager out in front, with the run game and defense leading the way.
Since 2010, we've seen 13 teams favored by 14 or more in the regular season finale. All of them won except for Tom Brady's Patriots in Miami in his last regular-season game with New England. Four of those 13 games came down to a field goal, but six of them were 20+ point blowouts. History says this will either be a teeth-clencher all the way or a blowout. I don't see anything from Jacksonville to make us clench our teeth.
THE PICK: Lean Colts -15
Washington (-7) at Giants

This one is meaningless for both teams outside of draft position and good offseason feelings. And there aren't many good feelings for either side right now. The Giants have lost five in a row all by double digits, but four of those games came on the road and four were against playoff hopefuls. Washington has lost four in a row itself amidst a COVID mess.
This is one of those division rivalries that just seems to produce wonky games. The last four in a row have been one-score games, including that weird one-point Washington win way back in Week 2 on a Thursday night. The Giants had won five in a row in this rivalry before that.
New York is playing like the worst team in football right now, and Mike Glennon's numbers are genuinely embarrassing for everyone involved. It makes me absolutely sick: I'm 4-12 ATS on Giants games this season, including 1-7 backing New York, but I just can't take Washington as a road TD favorite. I'll be passing on this one entirely unless the line keeps moving up.
THE PICK: Lean Giants +7
Bears at Vikings (-2.5)

It's another meaningless game for both teams who must surely be playing their final games with these coaching regimes. Matt Nagy and Mike Zimmer should have their walking papers by noon on Monday, so it's just a matter now of which one will go out a winner.
Kirk Cousins should be back, and that means the Vikings are the solidly more talented team, playing at home for a coach the players seem to like. As tepid as Minnesota looked Sunday night, it would be just like the Vikings to go out and blow the doors off the Bears and look like the team nobody wants to face but doesn't have to because they didn't make the playoffs.
THE PICK: Lean Vikings -2.5
Packers (-2.5) at Lions

Not that you'll be waiting with bated breath, but I'm waiting to make a pick on this odd game. Green Bay has the 1-seed clinched and should surely rest most or all of the game with that Aaron Rodgers toe injury, a makeshift O-line and all the other issues. But we don't have news yet on what Green Bay will do.
If for some reason the Packers try, the offense should hang any number it wants on this team and win by double digits with ease. But I'm not holding my breath. Detroit can still get the No. 1 pick, so its motivations are muddy too. I'm not sure we'll get any more information about Packers starters playing a quarter or half before kickoff, but we'll wait and see just in case.
THE PICK: Wait for possible news of Packers resting
---
Late Sunday Afternoon
49ers at Rams (-5.5)

Like usual on the regular-season finale, the NFL saved its most meaningful games for the late afternoon. And I think we'll get fireworks, especially in the NFC West. This looks like the best game on the slate.
The Rams are the favorite and have everything to play for. Win and they're division champs with a home game next weekend, probably as the 2- or 3-seed. Lose and they leave the door open. A Cardinals win would knock the Rams into a wild-card spot instead and a road trip to Dallas. The 49ers have it all on the line too. Win and they're in the playoffs as the 6-seed and a likely NFC West battle. Lose and they may be out entirely unless the Saints lose too.
It's easy to think the Rams are firing on all cylinders again. Los Angeles has won five in a row, and that includes what appears to be a division clincher over the Cards plus wins against Seattle, Minnesota and Baltimore that crippled each opponent's playoff chances. But I'm still not sold.
Matt Stafford is making huge mistakes. He's thrown six interceptions the last three games and feels like he could've had twice that many, and he leads the NFL in both interceptions and pick-sixes. And we know Stafford struggles against good teams. In November or later, he's just 10-40 lifetime against teams over .500, including an ugly 6-7 as a favorite and a horrible 13-32-2 ATS, covering only 28% of the time.
The Rams should've lost each of the last two weeks, and Stafford's the reason why. L.A.'s offense ranks sixth in DVOA on the season but only 13th in Weighted DVOA. This team is going in the wrong direction.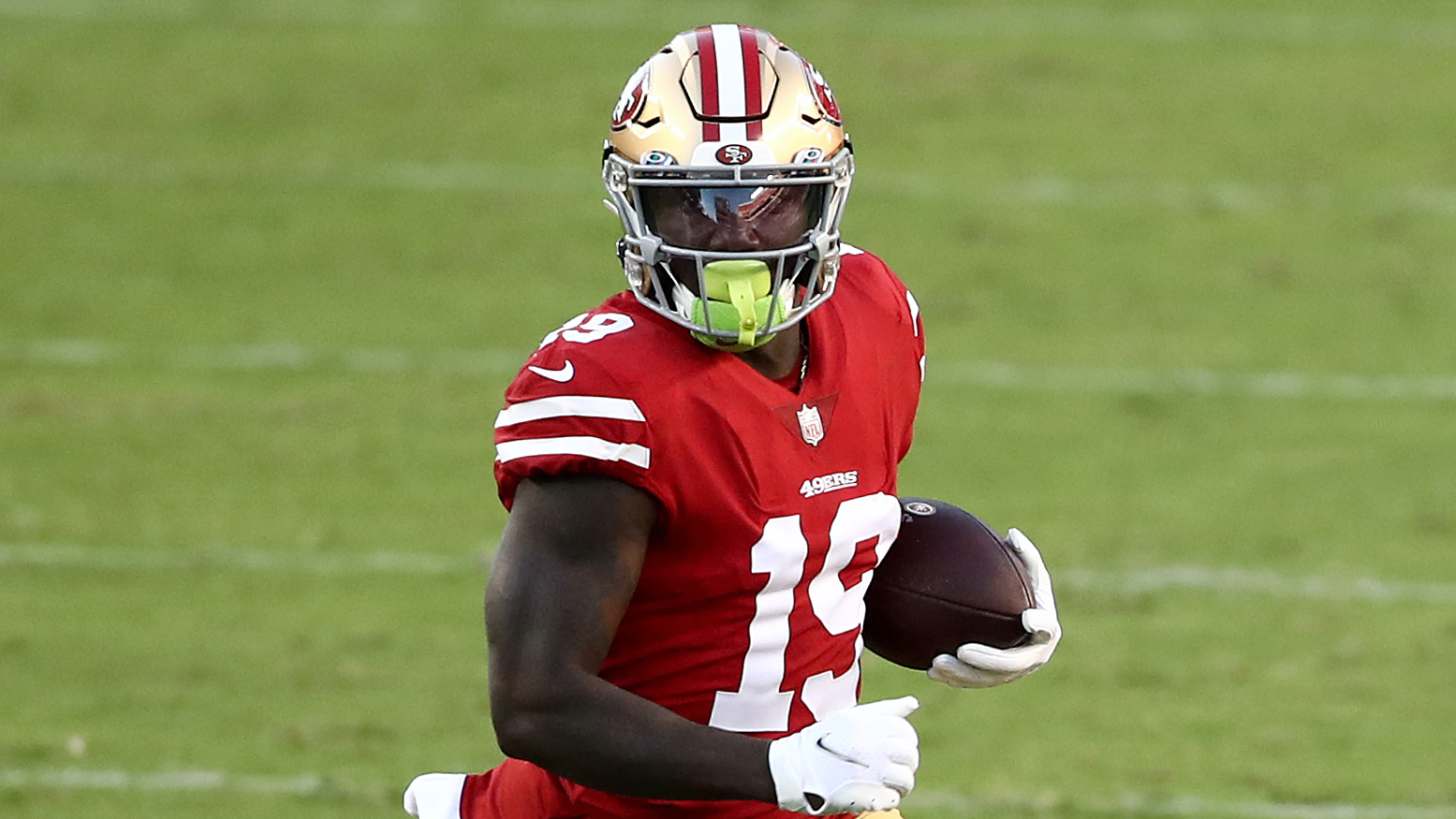 The 49ers might just be better. The Niners have the higher-rated offense that has quietly been among the league's best thanks to Trent Williams, George Kittle and Kyle Juszczyk. Those guys are winning games in the trenches and opening everything up for Deebo Samuel and the rest of Kyle Shanahan's offense.
And Shanny has owned Sean McVay. He's 6-3 ATS against McVay and has beaten him three straight times as an underdog. That includes a 31-10 beatdown two months ago when the Niners dominated every facet of the game, doubling the Rams in time of possession and running all over them.
I love the 49ers. San Francisco needs this more badly than L.A., and they're the better, deeper, more rounded team. This is a "Bet" all the way, though we may want to wait on Niners COVID news and make sure we know which QB is playing. I'll like San Francisco with Trey Lance too, but if it's him instead of Garoppolo, we might get this to +6 or +7.
We fade Kyle Shanahan as a favorite but back him as a dog, where he's 24-17 ATS, covering 59% of the time. I'll play the moneyline too — but I may wait out the news and see if we can get an even better price. It's +5.5 right now and probably won't kill us if it drops a point or two, so it's worth waiting to see if it moves longer. Be ready to bet when it does.
THE PICK: Bet 49ers, but wait and watch for +6 or better if it hits
Seahawks at Cardinals (-7)

If the Rams do lose on Sunday, then a Cardinals' win gives Arizona the NFC West crown. But I'm not sure that win is a fait accompli either.
The Seahawks are only 6-10, but the metrics suggest this team is far better than its record. Seattle ranks 12th in DVOA, including seventh on offense, and Football Outsiders has the Seahawks at 8.6 expected wins. This team should be contending for the playoffs, and it surely would be if not for Russell Wilson's injury. But Wilson is healthy now, and that makes Seattle dangerous.
The Seahawks have been competitive all the way in each of their last seven games, including losses to these Cards. Seattle's offense has been better than Arizona's on the season, and the Seahawks have a big special teams advantage.
The history of this rivalry also favors the Seahawks hanging around. Eight of the last 11 matchups have been one-score games, and these teams have been weirdly even over the past decade or so, with 10 wins each in Arizona and 11 each in Seattle. For whatever reason, when these teams play, the games are almost always close and a little weird.
Besides, are we sure the Cardinals are magically all better now that they beat a struggling Cowboys squad? Arizona had lost three straight before that one, and it looked like it the Cards might blow a 22-7 fourth quarter lead against Dallas too before a Dak Prescott fumble saved them. Arizona's offense has faded down the stretch, and the defense has fallen off badly without J.J. Watt.
Last week we bet Arizona in a buy-low/sell-high spot. This week we're fading the Cardinals for the exact same reason. The Cardinals were better than they were getting credit for a week ago, and now after one big national TV win, they've flipped right back to being overvalued.
I think Seattle is just as good, and I expect them to show up in what could be Russell Wilson's final start as a Seahawk. I'll take Seattle to cover, and I'm playing the +250 moneyline too. Time for NFC West chaos.
THE PICK: Bet Seahawks +7
Saints (-5.5) at Falcons

The Falcons were finally, mercifully eliminated from the playoffs, but the Saints are still alive. New Orleans must win this game to have any shot, and it'll also need a 49ers loss to get to the postseason.
For viewers' sake, let's hope it doesn't happen. The Saints have been dreadful to watch over the back half of the season. They just can't move the ball. Other than one game against the Jets, the Saints have scored 53 points in their past five games, just 10.6 PPG. Remember that Week 8 win over the Bucs? The Saints are 3-6 since with the fourth-worst EPA in the NFL. Their defense has been great, especially against the run, but the offense ranks bottom three both running and passing.
Taysom Hill simply isn't getting the job done. Unders are 7-1 in Hill starts, and that includes two games against the Falcons last season. Hill is a gimmick player, a tight end playing QB, and a defense familiar with him should limit Hill, especially with a makeshift O-line and no receivers. I like the under 40.5, and if it's low scoring, then 5.5 is asking a lot of the Saints to cover.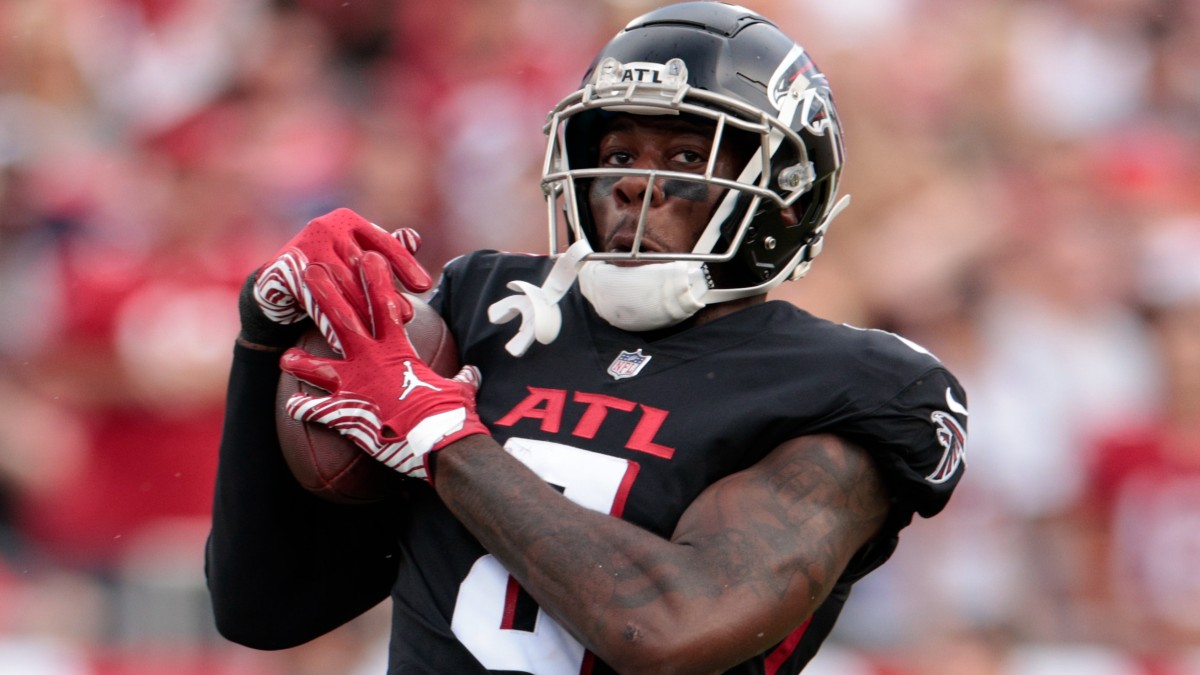 Besides, we know the Falcons are horrendous against good teams but decent against everyone else. Atlanta went 0-7 against teams currently in the playoff field with a -159 point differential, but the Falcons are 7-2 in their other games, all nine of them one-score affairs.
New Orleans is the better team, but I would've made them a two- or three-point favorite. That's about where they were before the weekend, but the line doubled when this game's importance became clear. That's silly, and it means we're getting a field goal of value.
These teams played in November, and the Falcons led 24-6 before a Saints comeback came up short. New Orleans is not a good team. Atlanta can close out Arthur Smith's debut season in style. I'll play the +180 moneyline too.
THE PICK: Lean Falcons +5.5
Panthers at Bucs (-8)
I just can't figure out why the Bucs should care about this game.
The 1-seed is gone. The Bucs are likely the 2- or 3-seed, and I'm not sure they really care which. If Dallas loses Saturday night — before this game — then Tampa can't drop to the 4-seed, and needs help from the 49ers to move up even if they win. Besides, this is a Super Bowl champion. Do you think Tom Brady cares who he's playing in the first round? The Eagles are by far the most likely opponent as things stand anyway, so why mess with that?
The Bucs needed that 1-seed because they needed the week of rest for this banged-up roster. This game is an opportunity to take that bye. Shaq Barrett and Jason Pierre-Paul are out. Chris Godwin and Leonard Fournette are on IR. Mike Evans needs to rest his hammy. The entire secondary needs a week off. And you know old man Brady and his guy Rob Gronkowski can use a rest.
I just don't know why the Bucs would play those guys when they can take a week to catch their breath after a long season of drama and injuries, get right, and get ready for four playoff games. This team has its sights set on the Super Bowl, not a 2-seed.
This is an easy Bucs win if Tampa tries, but I don't know why they would. That's why I told you to bet Carolina +17 on The Lookahead on The Action Network Podcast last Friday. You're getting almost 10 points of value on that line now, and we bet the +900 moneyline too. The value has dropped off mightily now, but if the Bucs do rest the starters, this could close around a pick'em. There's still value there.
THE PICK: Lean Panthers +8
Jets at Bills (-17)

The Bills can't get the 1-seed anymore, but they need a win to lock up the AFC East crown and a home playoff game. All they have to do is beat the Jets.
Careful, though. The Jets haven't been as bad as you think lately. New York has scored at least 24 points in three straight games and 17-plus in nine of the last 10. The Jets offense is 15th in Weighted DVOA — top half of the league!! — and almost beat the Bucs last week, plus Zach Wilson has settled in a bit. Buffalo's defense has declined some as well late in the season. I think the Jets score some points here, maybe two or three TDs, and that makes this an awfully high line for Buffalo to cover.
The Jets defense is terrible and missing names all over the place, and the Bills can roll up big points against bad teams when they get going. Buffalo could put up a big number here and roll over whatever offense the Jets attack brings. If you do like the Bills, I think you have to take the over too. I really like the over 43.5 either way. With the Jets' offensive improvements, this could be much higher scoring than you'd think.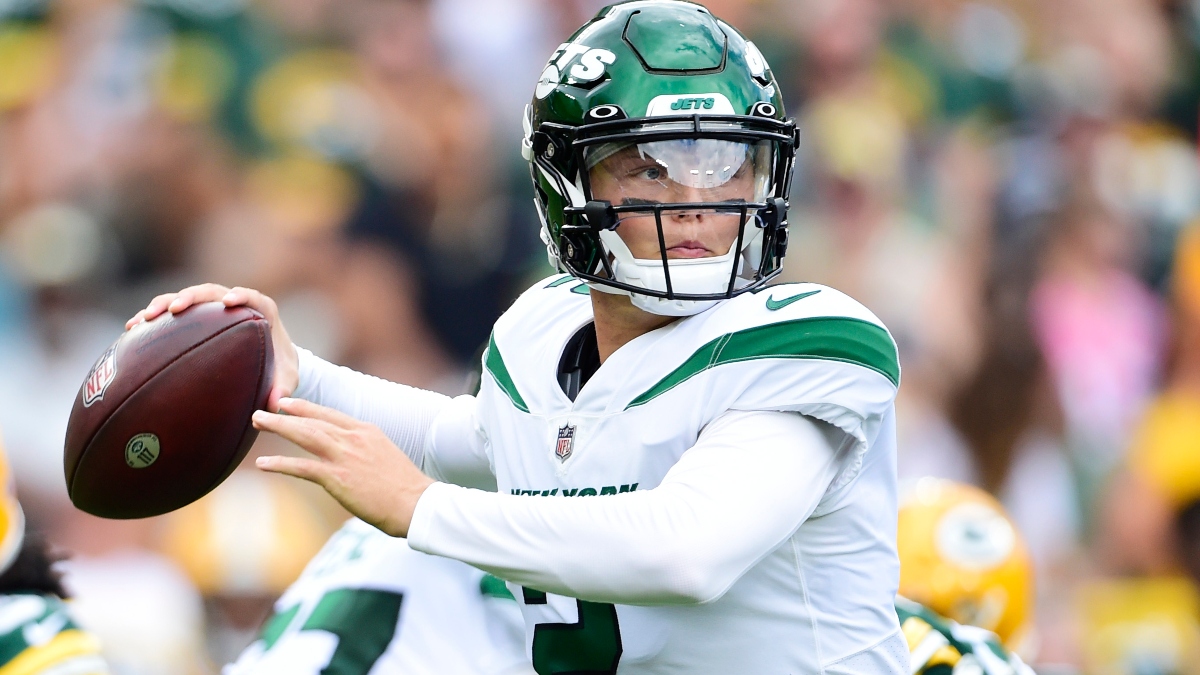 This is just a really high line, and the Jets are the exact profile of a late-season improver that makes things tough on opponents down the stretch. It seems crazy, but the numbers say you should sprinkle just a tiny bet on the moneyline.
Underdogs of 16 or more points are only 4-17 straight up over the past four seasons, but those four wins alone have given this bet a 77% ROI. The Jets are +850 on the moneyline. They're very likely to lose. But even these huge dogs are winning about once every five times, and we're getting odds that imply twice that.
The trends conflict on this game, so it may end up a pass for me, especially if the line drops a couple points. But I will be sprinkling a tiny bet on that Jets ML, no matter how gross it looks. You just never know in these games, and the Jets have been better down the stretch.
THE PICK: Lean Jets +17
Patriots (-7) at Dolphins

The Patriots will be scoreboard watching and hoping the Jets pull off a miracle, because New England can only win the division with a victory plus a Bills loss. That means we need to be careful here. It's entirely possible Buffalo goes up big on the Jets by halftime of these games, and that could mean New England calls off the dogs and gets some rest before the playoffs.
At full strength, you have to like the Pats in this matchup. Miami is 1-4 against teams already locked into the playoffs, with the four losses by 24.8 PPG, and the gimmicky Dolphins offense has been exposed against good defenses.
New England's defense is elite, and there's no way Tua Tagovailoa et al will move the ball consistently against Bill Belichick's schemes. But Miami's defense is good too and should keep Mac Jones in check on the road in a big game, so this could be low scoring, and that keeps it close.
For whatever reason, Belichick has struggled mightily in Miami. He's only covered in two of his last nine visits to Miami, and that includes six outright losses as a favorite, five of them in December of January. This has been his Waterloo. Miami has won five of the last eight games in this rivalry. And remember, the Patriots may not have much incentive to win this anyway.
This is another one of those lines that more than doubled after Sunday, once Miami was eliminated, but we know the Dolphins always show up for this matchup. Brian Flores has been good against his mentor, and his aggressive defense could give Jones some problems.
We're getting over a field goal of value on Miami plus a key number. I'll be playing the +255 moneyline too. If we're right about these games, it could be a very upsetting late afternoon around the NFL.
THE PICK: Lean Dolphins +7
---
Sunday Night Football
Chargers (-3) at Raiders

Our final game of the night has the easiest motivations to decipher: barring some weird tie scenarios, this is a playoff game. As long as this game has a winner, that winner heads to the playoffs while the loser goes home.
That doesn't mean this one's easy to figure out.
The Raiders have been impossible to figure out all season. It feels like we've had like five Raiders seasons in one already. This team started 3-0, fired a racist coach, booted a first-round pick off its team for off-field issues, fell off the map entirely, and now has won three in a row to get this shot at the playoffs. Six of nine Vegas wins have been heart stoppers late or in overtime, and even in these last three wins, the Raiders have lost the turnover battle 7-0. Nothing about this team makes sense.
The Chargers are absolutely the better team. This offense ranks third in DVOA on the season and has gotten better and more consistent as the year has gone on. They've scored at least 28 in five straight, averaging 33.8 PPG during that span, and Justin Herbert should shred this leaky Raiders secondary that ranks 25th in passing DVOA.
But the Chargers defense can't get off the field either, and that means no lead is safe. L.A. has allowed 21 or more points in 11 of its last 12, and the Chargers have the worst run defense in the league by DVOA.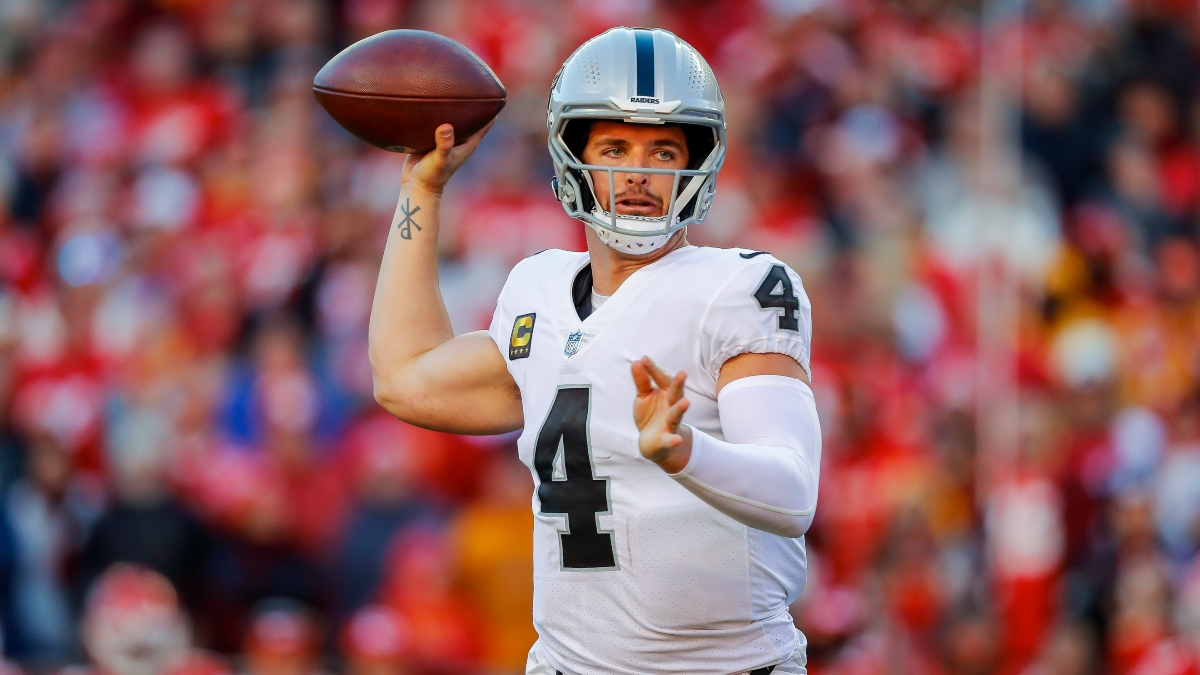 That's why my favorite play on this game is the over 49.5. It's the highest line of the week, but it feels like we'll get a shootout in our season finale. I might even look to play an alternate over — I think we could approach 60 or more.
As for the game itself, this line feels exactly right. The Chargers are better but prone to leaving the door open, and Derek Carr and the Raiders have consistently been better late in games. This has all the makings of a shootout where the last QB with the ball has a chance to win the game. And a raucous home Las Vegas crowd could make a real difference.
Home underdogs of three points or less are 14-6-1 ATS in regular-season finales since 2010, covering 70% of the time. The Chargers always seem to find a way to screw things up late, and my gut says this is too many points on the road for a team that just doesn't know how to slam the door. I'll wait, though, because I think we might move past this key number.
Everybody wants this young Chargers team in the playoffs. You can't always get what you want. But if you wait for +3.5 sometimes, you get what you need.
THE PICK: Lean Raiders +3, but watch for +3.5 or better
How would you rate this article?
This site contains commercial content. We may be compensated for the links provided on this page. The content on this page is for informational purposes only. Action Network makes no representation or warranty as to the accuracy of the information given or the outcome of any game or event.